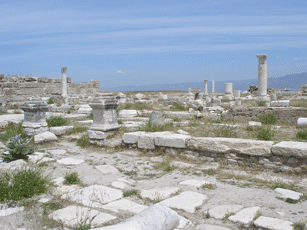 Ancient Laodicea contains many ineffective structures

In August 2009, UCG decided that although its elders once voted to move to Texas, because they later voted against it, that they would sell the property they had purchased for a Texas headquarters (see August posts titled UCG: What Next? and UCG on Its Governance).
Here is the property listing information:
918 (Milam) FM 3163

918 (Milam) FM 3163, Lantana, TX 76226

$2,239,875

81.45 AC

Land

Residential (land)

Last Verified  12/10/2009 Listing ID  16463886

1 Lot Available

Lot 1

$2,239,874.92

81.45 AC

Residential (land)

South Side of Milam Road, East of I-35

Description

1,060 Feet of Frontage on Milam Road; Zoned: Agricultural (Denton ETJ); includes house

One of the highest spots in N. Denton County, beautiful views

Map of 918 (Milam) FM 3163, Lantana, TX 76226 (Denton County)
A December 2007 report from UCG in its United News states that the property was originally purchased for "• Cost: $1,599,784, or $19,610 per acre" (see United Church of God Buys Texas Property). Perhaps UCG will not lost money on this deal, only time.

Some articles of related interest may include:

Differences between the Living Church of God and United Church of God This article provides quotes information from the two largest groups which had their origins in WCG as well as commentary.
Polycarp, Herbert W. Armstrong, and Roderick C. Meredith on Church Government What form of governance did the early church have? Which form of governance would one expect to have in the Philadelphia remnant? The people decide and/or committee forms, odd dictatorships, or the same type that the Philadelphia era itself had?
The Laodicean Church Era was predominant circa 1986 A.D. to present. Non-Philadelphians who mainly descended from the old WCG.