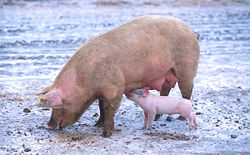 This morning, CGOM-UK's James McBride sent out an email containing the following:
MiniStudy 57 
                          Is Anything 'Unclean'?
'I [the apostle Peter] have never eaten any thing that is common or unclean' (Acts 10:14)…
 Peter's comment sounds reasonable for a first century Jew. Indeed would anyone disagree? Only in most extreme circumstances –  or in a celebrity game-show – would we eat some of the vilest species on the planet.  Yet virtually anything that moves is eaten somewhere. So why would the Creator set aside some creatures as unfit to eat? Are 'unclean foods' merely an obsolete religious ritual? Did Jesus transmute unclean to become clean?
…..The background to this topic is the instruction God provides in regard to food suitable for consumption – or not: '…The LORD told Moses and Aaron to say to the community of Israel: You may eat any animal that has divided hoofs and chews the cud. But you must not eat animals such as camels, rock badgers, and rabbits that chew the cud but don't have divided hoofs. And you must not eat pigs… ' (Leviticus 11:1-4 CEV). He continues to identify other 'clean and unclean' creatures, and to give sound environmental and hygiene advice in their handling…
….. It's well known that the 'unclean' animals were generally considered unwholesome. This is especially true of the pig, the very digestive system of which is totally unsuited for adequate processing of its food intake. It is designed as a scavenger, and is prone to worm infestation among other drawbacks
…..Today there is widespread disregard for this divine guidance – either through misunderstanding of the concept or simply because it is considered to be 'Jewish' (ie 'Old Testament stuff') – now obsolete since it is claimed that 'Jesus nailed it to the cross'. Should we ignore the difference between clean and unclean?
…..Unless your conscience dictates otherwise (Romans 14:23), eating an 'unclean' substance won't affect your salvation, nor will observance of these physical laws save you. However, as they are instructions handed down to us from the Creator of these creatures surely they are worth consideration. God has a concern for mankind's health.   JHVH covenanted: '…you will no longer suffer with the same horrible diseases that you sometimes had in Egypt. You will be healthy' (Deuteronomy 7:15 CEV). To reap the benefits of the Covenant  Israel's part was to follow the guidelines issued through Moses – including the food  laws. In the context of 'clean and unclean' the LORD said:  '…I brought you out of Egypt so that I could be your God. Now you must become holy [separate], because I am holy! (Leviticus 11:45 CEV). .
…..What about Peter (Acts 10:14)? Did he change his mind and tuck into a pork chop? Not likely. Interpreting the vision he says: '…God has shown me that he doesn't think anyone is unclean or unfit' (v.28 CEV). He needed to learn to abandon his racial exclusivism – not to change his diet
…..Did Jesus wave a magic wand over every unclean – and perhaps poisonous – animal, bird or fish to make them edible (Mark 7:17-19)? Jesus here confirms that what we eat won't defile us spiritually. All that goes into the mouth passes through the digestive system and expelled without making us better or worse people – though it may cause illness. It's what is generated in the human mind that defiles us (vv.20-23). Not here, not anywhere does Jesus change these fundamental food principles. The expression '…purging all meats' (KJV) is foods in general – not just animal flesh. 'Foods' are those items of our diet that are '…sanctified [set apart] by the Word of God [the truth – v.3] and prayer' (I Timothy 4:5). The only Bible texts that set apart certain natural products as food are Genesis 9:3, Leviticus 11 and Deuteronomy 14             Ω
——————————————————————-
Comments By COGwriter
While I do not agree with everything that James McBride wrote on this, I would add here that "uncleanness" is specifically condemned for Christians in the New Testament (Colossians 3:5) and that perhaps showing a few more scriptures may be helpful for some.
Also notice what is written in 1 John 2:15-16,
Do not love the world. If anyone loves the world, the love of the Father is not in him. For all that is in the world–the lust of the flesh, the lust of the eyes, and the pride of life is not of the Father but is of the world.
Could not consuming unclean meats be considered a "lust of the flesh" that we Christians are to avoid? Notice what the Apostle Paul wrote:
Therefore God also gave them up to uncleanness, in the lust of their hearts, to dishonor their bodies among themselves, who exchanged the truth of God for the lie (Romans 1:24-25)
This I say, therefore, and testify in the Lord, that you should no longer walk as the rest of the Gentiles walk, in the futility of their mind, having their understanding darkened, being alienated from the life of God, because of the ignorance that is in them, because of the hardening of their heart; who, being past feeling, have given themselves over to lewdness, to work all uncleanness with greediness. But you have not so learned Christ (Ephesians 4:19-20).
Do you walk as the Gentiles walk? Gentiles eat unclean animals. Do you eat unclean meats?
Paul urges such who claim to be Christians to change and repent,
For just as you presented your members as slaves of uncleanness, and of lawlessness leading to more lawlessness, so now present your members as slaves of righteousness for holiness (Romans 6:19)
I shall mourn for many who have sinned before and have not repented of their uncleanness, fornication, and lewdness which they have practiced (II Corinthians 12:21).
But fornication and all uncleanness or covetousness, let it not even be named among you, as fitting for saints" (Ephesians 5:3).
Paul also wrote,
Therefore put to death your members which are on the earth: fornication, uncleanness, passion, evil desire, and covetousness, which is idolatry" (Colossians 3:5).
And what agreement has the temple of God with idols? For you are the temple of the living God. As God has said:
"I will dwell in them
And walk among them.
I will be their God,
And they shall be My people."

Therefore

"Come out from among them
And be separate, says the Lord.
Do not touch what is unclean,
And I will receive you" (2 Corinthians 6:16-17).
For I fear lest, when I come, I shall not find you such as I wish, and that I shall be found by you such as you do not wish; lest there be contentions, jealousies, outbursts of wrath, selfish ambitions, backbitings, whisperings, conceits, tumults; lest, when I come again, my God will humble me among you, and I shall mourn for many who have sinned before and have not repented of the uncleanness, fornication, and lewdness which they have practiced (2 Corinthians 12:20-21).
There is a lot more to this matter of unclean meats that most who profess Christ realize.  To learn more about it (as well as how the professing mainstream "Christians" began to eat biblically prohibited meats), please see the article The New Testament Church and Unclean Meats (the article also contains a detailed listing of clean and unclean animals).