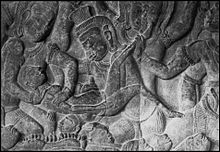 Bas-relief at Angkor Wat depicting a demon performing an ancient abortion.
A reader sent me a link that contains the following information:

One of the Most Inexcusable Vaccine Revelations of All…

Posted By Dr. Mercola | July 10 2011…

Former drug company scientist Helen Ratajczak recently created a firestorm of debate from all sides of the vaccine-autism issue when she published her comprehensive review of autism research. However, her 79-page review contains one detail that could easily go unnoticed—five words that reveal one of the most shocking secrets Big Pharma has ever kept from you.

"…Grown in human fetal tissue."

The line reads (page 70):

"An additional increased spike in incidence of autism occurred in 1995 when the chicken pox vaccine was grown in human fetal tissue."

If you are struggling to recall how you could have missed this important fact when signing your vaccine consent form, it wasn't your error—because it wasn't disclosed on any consent form…Chicken pox vaccine is not the only vaccine manufactured in this way. According to Sound Choice Pharmaceutical Institute (SCPI)…24 vaccines are produced using cells from aborted fetuses and/or contain DNA, proteins, or related cellular debris from cell cultures derived from aborted human fetuses…http://articles.mercola.com/sites/articles/archive/2011/07/10/this-shocking-fact-is-never-disclosed-on-any-vaccine-informed-consent-form.aspx?e_cid=20110710_SNL_Art_N
I have known for some time that the "abortion industry" was trying to come up with "uses" for aborted human babies.  Dr. Mercola's article basically hints that this may be increasing the incidence of autism.  Whether it does or not, if pharmaceutical companies are using aborted human tissue, it is a moral outrage.
Using human fetal tissue is not the unpardonable sin, but is a horrifying sign of the times (presuming the report is correct).
National repentance seems unlikely, but personal repentance is still available.
Some articles of possibly related interest may include:
Abortion, the Bible, and a Woman's Right to Choose Do you know what the Bible teaches on this? What do the Living Church of God and the Church of Rome teach?
The Ten Commandments Reflect Love, Breaking them is Evil Some feel that the ten commandments are a burden. Is that what Jesus, Paul, Peter, James, and John taught?
What is the Unpardonable Sin? What is it? Can you repent of it? Do you know what it is and how to avoid it?
Born Again: A Question of Semantics? Many Protestants use the term born-again. Do they know where the concept came from or does it matter? Are you born or begotten upon proper baptism?
Are You Saved? Do You Love Jesus? What is a True Christian? What is the Gospel? Evangelist Richard Ames answers those important questions.