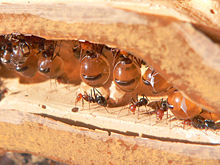 Honey Pot Ants Storing Food (Greg Hume)

In the latest LCG commentary, Justin Ridgeway has the following:
Storms, wildfires, earthquakes and other natural disasters are increasing at a staggering rate. These catastrophes cause massive power outages, food shortages, and billions of dollars in damages to personal lives and property. Do we see these events, and think to ourselves, "Wow! I am glad that didn't happen to me!" or are we asking ourselves the question, "Am I ready for such an event?" Natural disasters are going to happen, and sometimes they come without warning. Will you be ready when disaster comes? Are you preparing like the ant?

The ant is a small creature without human intelligence, yet it teaches an important lesson in preparing for future disasters. The ant treats each coming winter as a natural disaster. If it is caught above ground during the freezing temperatures, it will die. To survive the winter, an ant colony must prepare and store a surplus of food during the summer; then its members can live below ground and survive on their provisions.

How does this relate to us? God admonishes us to "consider the ant and be wise, which, having no captain, overseer or ruler, provides her supplies in the summer and gathers her food in the harvest" (Proverbs 6:6-8). The ant diligently prepares to survive the winter. Its lesson for us is to be industrious and proactive in our preparations. The ant gathers supplies and food, storing it away for the coming disaster—and we should do the same. Begin making a plan now. Do not wait! Like the ant, your very survival may depend on it.

The Federal Emergency Management Agency (FEMA) offers many helpful hints on how to prepare for disasters. One example is to have a plan for communicating with family members in case of disaster. Power may be cut, cellphones and GPS systems may be down, and roads may be unusable. So, family members and loved ones should plan in advance how they will re-connect after a disaster, so they can avoid becoming confused or panicked.

FEMA also encourages citizens to build a supply of canned food and water at home. An easy way to do this is to buy some extra cans of food and a jug of water whenever you go to the grocery store. Make storage space at home and be disciplined about not using the food and water unless it is near its expiration. Even two weeks of supplies may make the difference in surviving a disruption.

Another way to prepare is to pick up some cold weather survival equipment from an outdoor retail store, in case disaster happens in winter and there is no working heat. Consider purchasing a tent and some sleeping bags in case your home is destroyed and the emergency shelters are full. If you have a working fireplace at home, or a fire drum, prepare wood under a tarp, in a shed or in a garage. Start formulating ideas now and build your survival plan. Prepare like the ant and be ready for the next disaster.

Jesus Christ warned that at the end of the age, there would be "famines, pestilences, and earthquakes in various places" (Matthew 24:7-8). He said there would be a time of confusion and great fear with "the sea and the waves roaring" and "men's hearts failing" (Luke 21:25-26). Christ knew there would be massive hurricanes, tornadoes, wildfires, earthquakes and tsunamis that would cause billions of dollars in damage, and would devastate large communities.

Food shortages and diseases are always linked to disasters, by which many will be taken off guard. Christ gave us these warnings for our admonition, encouraging us to "watch therefore, and pray always that you may be counted worthy to escape all these things that will come to pass" (v. 36). Will you be caught off guard or will you be ready? Consider the ant and prepare, being wise to escape the coming danger.

For those called by God, there are also spiritual preparations to be made for the momentous times ahead…The word of God is a vital part of any good plan.
Natural and other disasters are coming to the United States, and it is true that everyone should try to have supplies to handle disasters.
Notice also the following:
3 A prudent man foresees evil and hides himself, But the simple pass on and are punished.  (Proverbs 22:3)

4:17 Therefore, to him who knows to do good and does not do it, to him it is sin. 5:1 Come now, you rich, weep and howl for your miseries that are coming upon you" (James 4:17; 5:1).
Bad times are coming per Jesus (Matthew 24:4-21).  What will you do about it?
Before you think that you will always have time, please consider something else that Jesus said:
42 Watch therefore, for you do not know what hour your Lord is coming.  43 But know this, that if the master of the house had known what hour the thief would come, he would have watched and not allowed his house to be broken into.  44 Therefore you also be ready, for the Son of Man is coming at an hour you do not expect.  (Matthew 24:42-44)
Be ready!  To be ready means to prepare.  In the above case spiritually, but likely in several ways physically.
Notice the following passages in the Bible related ants and preparation:
6 Go to the ant, you sluggard!
Consider her ways and be wise,
7 Which, having no captain,
Overseer or ruler,
8 Provides her supplies in the summer,
And gathers her food in the harvest.
9 How long will you slumber, O sluggard?
When will you rise from your sleep?
10 A little sleep, a little slumber,
A little folding of the hands to sleep —
11 So shall your poverty come on you like a prowler,
And your need like an armed man.  (Proverbs 6:6-11)

24…they are exceedingly wise:
25 The ants are a people not strong,
Yet they prepare their food in the summer; (Proverbs 30:24-25)
The Bible says that humans should at least do what the ants do.  Do you?
Some articles of possibly related interest may include:
Physical Preparation Scriptures for Christians. We all know the Bible prophecies famines. Should we do something?
What is the Gospel? True religion should be based upon the true gospel. What are some of the different gospels and where did they come from? Do you believe the true or a false gospel?
The Gospel of the Kingdom of God was the Emphasis of Jesus and the Early Church Did you know that? Do you even know what the gospel of the kingdom is all about?
What Do You Mean — Repentance? Do you know what repentance is? Have you truly repented? Repented of what? Herbert W. Armstrong wrote this as a booklet on this important subject.
God's Grace is For All Is being Jewish a hinderance to salvation? What about not being a descendant of Israel? What does the Bible really teach?
Are You Saved? Do You Love Jesus? What is a True Christian? What is the Gospel? Evangelist Richard Ames answers those important questions.
True vs. False Conversion Are you really converted or willing to be? What is true conversion? What is false conversion? What are the dangers of false conversion? Evangelist Roderick Meredith provides information on those important questions.
Barack Obama, Prophecy, and the Destruction of the United States This is a 160 page book for people truly interested in prophecies related to Barack Obama and the United States, including learning about many that have already been fulfilled (which the book documents in detail) and those that will be fulfilled in the future. It also has a chapter about Mitt Romney. This book is available to order at www.barackobamaprophecy.com. The physical book can also be purchased at Amazon from the following link: Barack Obama, Prophecy, and the Destruction of the United States: Is Barack Obama Fulfilling Biblical, Islamic, Catholic, Kenyan, and other America-Related Prophecies?
Barack Obama, Prophecy, and the Destruction of the United States–Amazon Kindle edition. This electronic version is available for only US$2.99. And you do not need an actual Kindle device to read it. Why? Amazon will allow you to download it to almost any device: Please click HERE to download one of Amazon's Free Reader Apps. After you go to for your free Kindle reader and then go to Barack Obama, Prophecy, and the Destruction of the United States–Amazon Kindle edition.)