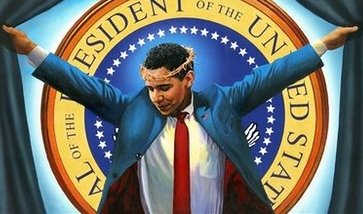 The picture of Barack Obama looking like he is supposed to be some type of a savior like Jesus Christ is on public display for the next couple of weeks:
The painting by Michael D'Antuono is part of a larger exhibit called "Artists on the Stump – the Road to the White House 2012." It's on display at the Bunker Hill Community College Art Gallery until Dec. 15th.

The painting is called "Truth" – and shows the president with his arms outstretched. A crown of thorns rests on his head.

It was originally supposed to debut nearly four years ago at New York City's Union Square. But that event was cancelled due to public outrage…

A spokesperson for the art gallery told Fox News there hasn't been any criticism of the painting….
As the USA regresses, it has become more tolerant of such falsehoods–it is absurd to call that painting "Truth."  Sadly, some others have suggested that Barack Obama is some type of lord and savior (see, for one example, Obama Called 'Lord and Savior').  Of course, those who read enough of the Bible are aware that Barack Obama is not our "lord and savior." 24 of the 24 times (NKJV) the New Testament uses the term "savior" it is a direct reference to God and/or Jesus Christ.
Interestingly, the following item was sent to me in an email that I just opened:
Is Obama The Christ or The Anti-Christ?

November 28, 2012 …President Obama comically addressed the Obama as Christ thing in a joke he made about not being born in a manger, despite what some people think. Many were just as equally offended by this casual reference to Jesus Christ. Ameritocracy has that quote from October 17, 2008:

"Contrary to the rumors you've heard, I was not born in a manger. I was actually born on Krypton, sent here by my father Jor-El, to save the planet Earth."

These incidents have only thrown gasoline on the already-flaming story about President Barrack Obama as The Anti-Christ prophesied about in the Bible in the book of Revelations. Many see these depictions of President Obama as Jesus as additional proof that he is the Anti-Christ….http://www.examiner.com/article/is-obama-the-christ-or-the-anti-christ
Now as far as the Barack Obama being the final Antichrist stuff goes, this is still in the news from time to time.  Notice, for example the following from November 29, 2012:
Bible interpretation names 'o bamah' as antichrist…
The above reference to Satan is not a reference to Barack Obama.  The New Testament was written in Greek, and not Hebrew.  Here is transliteration of that verse:
Luke 10:18

18 he said And  unto them, I beheld
2036    1161 846                       2334      3588
Eípen   dé   autoís              Etheoóroun tón

Satan    as    lightning  from        heaven.  fall
4567     5613  796        1537 3588 3772     4098
Satanán  hoos  astrapeén  ek   toú  ouranoú  pesónta

(Interlinear Transliterated Bible. Copyright © 1994, 2003, 2006 by Biblesoft, Inc. All rights reserved. [For more detail see the full copyright page.])
Strong's words 1299 and 1116 are Hebrew and Strong did not show them in Luke 10:18.  Anyway, they mean lighten (or lightening) and elevation, and could be considered to mean elevated lightening.  But to claim that Jesus, who specifically mentioned Satan as the one who fell from heaven like lightening, is a verse telling us that Barack Obama is the final Antichrist is false.  Barack Obama is NOT Satan, nor did Jesus use any term in Luke 10:18 that means "antichrist."
While I do believe that Barack Obama is apocalyptic (his office and actions are leading to the time that the Beast and final Antichrist will rise up) and even list 17 reasons why I feel that Barack Obama is apocalyptic in my book Barack Obama, Prophecy, and the Destruction of the United States, there is no possible way that Barack Obama is the final Antichrist (my book explains more on that as well).
Now one of the reasons that I believe that Barack Obama is apocalyptic (the word apocalypse means revealing) is how he not only continued with the debt increasing policies of the last US President George Bush, but because Barack Obama's policies have accelerated the increase.  Notice the following items:
November 30 2012  Fiscal cliff talks stall. Will a deal get done by Christmas?

Obama makes fresh demands on fiscal cliff

Washington Post – Nov 29, 2012

President Obama demanded Thursday that Congress relinquish control over federal debt levels and approve at least $50 billion in fresh spending to boost the economy next year as part of a deal to avert the year-end fiscal cliff, senior Republican aides said.http://www.washingtonpost.com/business/economy/fiscal-cliff-talks-bogged-down-by-dispute-over-cost-of-retirement-programs/2012/11/29/99022ac0-3a2e-11e2-b01f-5f55b193f58f_story.html

The New American-30 November 2012

President Obama has hardened his views on "fiscal cliff" … in higher taxes over 10 years, and presidential control over the national debt limit.
Notice something that the Bible warns about:
3 For the vision is yet for an appointed time; But at the end it will speak, and it will not lie. Though it tarries, wait for it; Because it will surely come, It will not tarry…5 Indeed, because he transgresses by wine, He is a proud man… 6 "Will not all these take up a proverb against him, And a taunting riddle against him, and say, 'Woe to him who increases What is not his–how long? And to him who loads himself with many pledges'? 7 Will not your creditors rise up suddenly? Will they not awaken who oppress you? And you will become their booty. 8 Because you have plundered many nations, All the remnant of the people shall plunder you. Because of men's blood And the violence of the land and the city, And of all who dwell in it. (Habakkuk 2:3,5,6-8).
The above prophecy will be fulfilled at the time of the end (cf. "The message was true, but the appointed time was long…in the latter days, for the vision refers to many days yet to come", Daniel 10:1,14).  Habakkuk 2 was not fulfilled in its entirety anciently.  (Also, it makes little sense that Habakkuk would be directed towards the modern nation of Israel as it does not have enemy creditors.)  Habakkuk's writings must be referring to a nation or group of nations with some prominence at the appointed time.  And now the USA, which is a highly prominent nation, is the most indebted nation of all time.
Let's briefly look at another warning in Isaiah 30:12-13:
12 Therefore thus says the Holy One of Israel:

"Because you despise this word, And trust in oppression and perversity, And rely on them,  13 Therefore this iniquity shall be to you Like a breach ready to fall, A bulge in a high wall, Whose breaking comes suddenly, in an instant.
Of course, more and more, the Anglo-American nations are trusting in policies that encourage perversity.  US President Barack Obama now endorses homosexual marriage, as do more and more states in the USA.  This is also apocalyptic.
Much is going on in the USA that is of religious and prophetic concern.
But, despite what some may say or hope, while Barack Obama is a political leader, he is not the USA's savior nor is he the final Antichrist.  But he has taken steps that I have often characterized as apocalyptic.
Some articles of related interest may include:
Barack Obama, Prophecy, and the Destruction of the United States This is a 160 page book for people truly interested in prophecies related to Barack Obama and the United States, including learning about many that have already been fulfilled (which the book documents in detail) and those that will be fulfilled in the future. It also has a chapter about a Republican choice. This book is available to order at www.barackobamaprophecy.com. The physical book can also be purchased at Amazon from the following link: Barack Obama, Prophecy, and the Destruction of the United States: Is Barack Obama Fulfilling Biblical, Islamic, Catholic, Kenyan, and other America-Related Prophecies?
Barack Obama, Prophecy, and the Destruction of the United States–Amazon Kindle edition. This electronic version is available for only US$2.99. And you do not need an actual Kindle device to read it. Why? Amazon will allow you to download it to almost any device: Please click HERE to download one of Amazon's Free Reader Apps. After you go to for your free Kindle reader and then go to Barack Obama, Prophecy, and the Destruction of the United States–Amazon Kindle edition.)
Anglo – America in Prophecy & the Lost Tribes of Israel Are the Americans, Canadians, British, Scottish, Welsh, Australians, Anglo-Southern Africans, and New Zealanders descendants of Joseph? Where are the lost ten-tribes of Israel? Who are the lost tribes of Israel? Will God punish the U.S.A., Canada, United Kingdom, and other Anglo nations? Why might God allow them to be punished first?
When Will the Great Tribulation Begin? 2012, 2013, or 2014? Can the Great Tribulation begin today? What happens before the Great Tribulation in the "beginning of sorrows"? What happens in the Great Tribulation and the Day of the Lord? Is this the time of the Gentiles? When is the earliest that the Great Tribulation can begin? What is the Day of the Lord? Who are the 144,000?