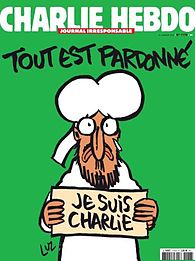 Front cover of January 14, 2015 edition of Charlie Hebdo
The Yemeni branch of the terrorist group Al-Qaeda is claiming responsibility for last week's murders in France:
January 14, 2015
Yemen's al-Qaida branch officially claimed responsibility for last week's attack on the Paris offices of French satirical magazine Charlie Hebdo, saying it was an "act of vengeance" for the Prophet Muhammad.

Charlie Hebdo regularly publishes anti-religious pieces and has several times published illustrations featuring the Prophet, an act many Muslims consider sacrilegious.

On Wednesday, the magazine put out its first edition since last week's attack, with a cover that featured a cartoon illustration of a weeping Prophet Muhammad on the cover, along with the line "All is Forgiven." The issue has been selling out across France.

In a video posted online Wednesday, a man identified as Nasr al-Ansi, a top leader of Al-Qaida in the Arabian Peninsula, said his group planned and financed the Charlie Hebdo attack that killed 12 people.

"As for the blessed Battle of Paris, we, the Organization of al-Qaida al Jihad in the Arabian Peninsula, claim responsibility for this operation as vengeance for the Messenger of God," Ansi said in the recording. …

Attackers

French police killed the Charlie Hebdo attackers, Said and Cherif Kouachi, on Friday, the same day another Islamic militant, Amedy Coulibaly, killed four Jewish victims at the kosher supermarket in eastern Paris before being killed by police. Coulibaly had also killed a French policewoman one day earlier.

The al-Qaida in Yemen leader said Coulibaly was not operating as a part of the group and that his actions were a coincidence.

Meanwhile, French comedian Dieudonne was arrested Wednesday for defending terrorism, after posting a statement on social media that seemed to support last week's attackers.

Dieudonne has won notoriety with his outspokenness in the past, most notably for popularizing an arm gesture deemed by some to be anti-Semitic because it resembles the Nazi salute.  http://www.voanews.com/content/charlie-hebdo-publishes-post-attack-edition/2597549.html

January 14, 2015

ISIS released a video Wednesday praising last week's Paris terror attacks and urging more violence in Europe and the United States. The latest propaganda video features interviews with three French-speaking jihadists belonging to ISIS, according to Flashpoint Partners, a service that monitors jihadist groups. The men threaten to extend ISIS's caliphate, or territory, into Europe, and urge the killing of more police officers and "infidels" in the streets. http://www.nbcnews.com/storyline/paris-magazine-attack/isis-releases-video-praising-paris-terror-attacks-n286131
Religiously connected groups should oppose what happened and encourage peace, not more violence. Calling the cowardly attack 'the blessed Battle of Paris' again shows the depravity many terrorists hold to.
While the translated front cover of Charlie Hebdo states 'All is forgiven,' the reality is that French have not forgiven the terrorists, the terrorists are not repentant, and there remain other problems associated with all of this.
Some of the French now have new issues with Israel and the USA–which they are not inclined to forgive.  In a biblical context, this is not unexpected.
Notice something that the late evangelist Dibar Apartian wrote over five decades ago:
But contrary to what you may think, it will NOT consist only of Gentile nations. It will INCLUDE a group of ISRAELITISH nations. "Come out of her , my people," says God in Revelation 18:4. "My people" means Israelites in Bible prophecy. Yes, once again, Joseph' s own brothers will sell him to the Gentiles!
Once again REUBEN (the first-born of Jacob who anciently conspired with his brothers, will "act" in terms of saving him, but end · up by compromising with his brothers to send him into CAPTIVITY.
Ever since the early days of American history, the French have been on our side. There exists a brotherly link among all the ISRAELITISH nations. Nevertheless, by uniting politically with the "beast," some of the modern Israelites will be instrumental in conquering the United States and Great Britain.
So says YOUR Bible! (Apartian D. De Gaulle and the Next World War. Plain Truth, September 1964, p. 11)
While there are many reasons why France would be involved in betraying the USA, UK, and Israel, some matters associated with the aftermath of the terrorist attacks may be factors as well.  A reader sent me the following last night:
Hollande Furious After Netanyahu Participates In Paris March, Disobeying French President's Request

Jan 12, 2015   excerpts…

French President Francois Hollande conveyed a message to Prime Minister Benjamin Netanyahu over the weekend asking him not to come to Paris to take part in the march against terror on Sunday…

After the French government began to send invitations to world leaders to participate in the rally against terror, Hollande's national security adviser, Jacques Audibert, contacted his Israeli counterpart, Yossi Cohen, and said that Hollande would prefer that Netanyahu not attend, the source said…

Audibert explained that Hollande wanted the event to focus on demonstrating solidarity with France, and to avoid anything liable to divert attention to other controversial issues, like Jewish-Muslim relations or the Israeli-Palestinian conflict. Audibert said that Hollande hoped that Netanyahu would understand the difficulties his arrival might pose and would announce that he would not be attending.

According to the source, when Cohen informed Audibert that Netanyahu would be attending the event after all, Audibert angrily told Cohen that the prime minister's conduct would have an adverse effect on ties between the two countries as long as Hollande was president of France and Netanyahu was prime minister of Israel.

Audibert made it clear that in light of Netanyahu's intention to arrive, an invitation would also be extended to Abbas. And indeed, several hours after Abbas announced that he would not be traveling to Paris, his office issued a statement stating that he would in fact be at the march.

Hollande's anger at Netanyahu was evident during the ceremony held Sunday evening following the march at the Grand Synagogue in Paris, an event attended by hundreds of members of the local Jewish community.

Hollande sat through most of the ceremony, but when Netanyahu's turn at the podium arrived, the French president got up from his seat and made an early exit.  http://www.zerohedge.com/news/2015-01-12/diplomatic-fallout-after-israels-netanyahu-participates-paris-memorial-march-disobey

Obama's Paris snub wasn't an oversight

Jan 12, 2015   excerpt…

The uproar over whether President Obama or another top administration official should have attended the massive unity rally in Paris has obscured an important point about the White House's reaction to the latest terror attacks in Europe. The administration no-shows were not a failure of optics, or a diplomatic misstep, but were instead the logical result of the president's years-long effort to downgrade the threat of terrorism and move on to other things…

Even as the march wound its way through Paris, the White House sent out yet another sign of its unseriousness. On Sunday morning, the press office announced the president will host a "Summit on Countering Violent Extremism" on Feb. 18. The plan is to bring together "social service providers, including education administrators, mental health professionals, and religious leaders, with law enforcement agencies to address violent extremism as part of the broader mandate of community safety and crime prevention."

As the world watched images of black-clad, AK-47-wielding terrorists killing Parisians, Obama proposed to meet the threat with social service providers.

So when the president chose not to attend the Paris march, nor to send the Vice President or Secretary of State, the problem wasn't a tin-ear sense of public relations. It was Obama's actual attitude toward the terror threat facing not only Europe but the United States. http://www.washingtonexaminer.com/obamas-paris-snub-wasnt-an-oversight/article/2558546
So the Israeli Prime Minister attended an event that the French President did not want him to attend and the USA failed to send a high level representative to the same event, despite being invited.  There already is a lot of antisemitism in France (see France and Israel mourn terrorist deaths, while many Jews fear the rise of antisemitism in France) and a distrust of the USA. Even The Boston Globe felt the USA did not handle this correctly:
Obama let France down

January 13, 2015

America's failure to march with world leaders against terrorism marked an embarrassing diplomatic misstep. As leaders from some 40 countries joined more than 1 million demonstrators Sunday in a solemn and extraordinary progression along the boulevards of Paris, the highest-ranking United States official on the scene was America's ambassador to France, Jane D. Hartley — hardly a familiar face on the world stage.

And that simply wasn't stature enough, not for a display of solidarity against violence by Islamic radicals that turned into what French officials described as the most massive rally in the history of America's oldest ally. The numbers of marchers in other cities around the world — from Boston to Sydney — surpassed 3 million, according to news reports. Seventeen people died in the attack last week on the satirical French newspaper Charlie Hebdo and a related hostage-taking at a kosher grocery, also in Paris.

The bewilderment and international criticism were justified. In a belated concession, the Obama administration on Monday said that it should have dispatched an official of greater prominence to join France's Francois Hollande, Germany's Angela Merkel, Britain's David Cameron, and dozens of other leaders. "I think it's fair to say we should have sent someone with a higher profile to be there,'' White House spokesman Josh Earnest told reporters.

No one questions that the United States is deeply committed to battling terrorism. The tone of many analysts who noticed the absence of a top-rank American leader at the solemn Paris march was more rueful than angry. "I wish our American president had gone to Paris to stand with our European allies,'' tweeted James Stavridis, dean of Tufts University's Fletcher School of Law and Diplomacy and a former US Navy admiral.  https://www.bostonglobe.com/opinion/editorials/2015/01/12/obama-let-france-down/scps691hnYoshHr92eeagO/story.html
The fallout from the terrorist events may have deepened the rift between the USA and France.
As Dibar Apartian wrote, the French will betray some of the descendants of Israel in the end times.  And while the events of the past week or two are not the most important in this context, they will likely be remembered by the French when they do at least acquiesce to the destruction of the USA and its British-descended allies.
As many of you are aware, my wife and I returned from a trip to France a couple of weeks and put together two sermons related to France: specifically its origins and prophecies related to France. These are The 'Lost Tribe' of Reuben and France and Prophecy.  They were able to be available around the time of the incidents in Paris as they were videoed just prior them.
Knowledge of the origin of the French and Bible prophecy helps us to understand what will end up happening in France and elsewhere.
Some items of possibly related interest may include:
The 'Lost Tribe' of Reuben: France in Prophecy? What is the origin of this in France? What is prophesied to happen to them? A two-part sermon related to history and prophecy is available online: The 'Lost Tribe' of Reuben and France and Prophecy.
Jerusalem: Past, Present, and Future What does the Bible say about Jerusalem and its future? Is Jerusalem going to be divided and eliminated? Is Jesus returning to the area of Jerusalem? There is also a related YouTube video you can watch titled Jerusalem To be divided and eliminated.
Must the Ten Kings of Revelation 17:12 Rule over Ten Currently Existing Nations? Some claim that these passages refer to a gathering of 10 currently existing nations together, while one group teaches that this is referring to 11 nations getting together. Is that what Revelation 17:12-13 refers to? The ramifications of misunderstanding this are enormous. A related sermon is titled Ten Kings of Revelation and the Great Tribulation.
Ten clues tying Belgium and Luxembourg with the tribe of Asher Who did some in Belgium and Luxembourg descend from?
Ten clues tying Zebulun with the Dutch Who did sgome in the Netherlands descend from?
Europa, the Beast, and Revelation Where did Europe get its name? What might Europe have to do with the Book of Revelation? What about "the Beast"? Is an emerging European power "the daughter of Babylon"? What is ahead for Europe? Here is a link to a video titled: Can You Prove that the Beast to Come is European?
European Technology and the Beast of Revelation Will the coming European Beast power would use and develop technology that will result in the taking over of the USA and its Anglo-Saxon allies? Is this possible? What does the Bible teach? Here is a related YouTube video: Military Technology and the Beast of Revelation.
Might German Baron Karl-Theodor zu Guttenberg become the King of the North? Is the former German Defense Minister (who is also the former German Minister for Economics and Technology) one to watch? What do Catholic, Byzantine, and biblical prophecies suggest?
Germany's Assyrian Roots Throughout History Are the Germanic peoples descended from Asshur of the Bible? Have there been real Christians in Germanic history? What about the "Holy Roman Empire"? There is also a You-Tube video sermon on this titled Germany's Biblical Origins.
Germany in Biblical and Catholic Prophecy Does Assyria in the Bible equate to an end time power inhabiting the area of the old Roman Empire? What does prophecy say Germany will do and what does it say will happen to most of the German people?
Who is the King of the North? Is there one? Do biblical and Roman Catholic prophecies for the Great Monarch point to the same leader? Should he be followed? Who will be the King of the North discussed in Daniel 11? Is a nuclear attack prophesied to happen to the English-speaking peoples of the United States, Great Britain, Canada, Australia, and New Zealand? When do the 1335 days, 1290 days, and 1260 days (the time, times, and half a time) of Daniel 12 begin? When does the Bible show that economic collapse will affect the United States? Here is a link to a video titled: The Future King of the North.
Can You Prove that the Beast to Come is European? The Book of Revelation tells of a beast power that will rise up. Some think that this must be Russia or could be Islamic, while others say that this power is European. The Book of Daniel tells of the rise of an end time King of the North that some think must be referring to a Russian leader, while others say that this power is European. How can you be sure? This YouTube video has all the scriptural proofs that you should need to prove that this power must be a European one.
The Arab and Islamic World In the Bible, History, and Prophecy The Bible discusses the origins of the Arab world and discusses the Middle East in prophecy. What is ahead for the Middle East and those who follow Islam? What about the Imam Mahdi? What lies ahead for Turkey, Iran, and the other non-Arabic Muslims? An item of possibly related interest in the Spanish language would be: Líderes iraníes condenan la hipocresía de Occidente y declaran que ahora es tiempo para prepararse para el Armagedón, la guerra, y el Imán Mahdi.
The Prophesied 'Islamic' Confederation Where is an Islamic caliphate prophesied? Will one happen? Should you be concerned about it? Here is a link to a related video video: Will an Arabic Calphiphate Destroy the West?
Will the Interfaith Movement Lead to Peace or Sudden Destruction? Is the interfaith movement going to lead to lasting peace or is it warned against?
Anglo – America in Prophecy & the Lost Tribes of Israel Are the Americans, Canadians, English, Scottish, Welsh, Australians, Anglo-Saxon (non-Dutch) Southern Africans, and New Zealanders descendants of Joseph? Where are the lost ten-tribes of Israel? Who are the lost tribes of Israel? What will happen to Jerusalem and the Jews in Israel? Will God punish the U.S.A., Canada, United Kingdom, and other Anglo-Saxon nations? Why might God allow them to be punished first? Here is a link to the Spanish version of this article: Anglo-América & las Tribus Perdidas de Israel. Information is also in the YouTube sermons titled Where are the Ten Lost Tribes? Why does it matter? and British are the Covenant People. A short YouTube of prophetic interest may be Barack Obama and the State of the Apocalypse.
Will the Anglo-Saxon Nations be Divided and Have People Taken as Slaves? Will the lands of the United States, United Kingdom, Canada, Australia, and New Zealand be divided? What about Jerusalem? What does Bible prophecy teach? Are there non-biblical prophecies that support this idea? Who will divide those lands? Who will end up with the lands and the people? Here is a link to a video titled Will the USA and other Anglo-nations be Divided and Their People Made Slaves? Here is a related item in the Spanish language ¿Serán divididas las naciones anglosajonas?
British are the Covenant People What do 'British' and 'Britain' mean in Hebrew? Are the descendants of the Anglo-Saxons people of the covenant? Does the British royal family connect to the throne of David? What does the Bible teach? What does history show us? Is there any DNA evidence related to British-Israelism? When did Christianity make it to the British Isles? Could Jeremiah have made it to the British Isles? What type of Christians made it to the British Isles? Did the last King of England believe in British Israelism?
WTO/TTIP and the Babylonian Beast Will international trade agreements like WTO/TTIP/CETA lead to the fulfillment of end time prophecies concerning the Babylonian Beast power that the Book of Revelation warns against? What does the Bible teach? A related video would be WTO Trade Deal and the Rise of the European Beast Power.
World War III: Steps in Progress Are there surprising actions going on now that are leading to WWIII? Might a nuclear attack be expected? Does the Bible promise protection to all or only some Christians? How can you be part of those that will be protected? A related video would be Is World War III About to Begin? Can You Escape?
Barack Obama, Prophecy, and the Destruction of the United States-Second Edition for Second Obama Term This is a 160 page book for people truly interested in prophecies related to Barack Obama and the United States, including learning about many that have already been fulfilled (which the book documents in detail) and those that will be fulfilled in the future. It also has a chapter about a Republican choice. This book is available to order at www.barackobamaprophecy.com. The physical book can also be purchased at Amazon from the following link: Barack Obama, Prophecy, and the Destruction of the United States: Is Barack Obama Fulfilling Biblical, Islamic Catholic, Kenyan, and other America-Related Prophecies? What About Republican Leaders? Second Edition for Second Obama Term.
Barack Obama, Prophecy, and the Destruction of the United States-Second Term-Amazon Kindle edition. This electronic version is available for only US$2.99. And you do not need an actual Kindle device to read it. Why? Amazon will allow you to download it to almost any device: Please click HERE to download one of Amazon s Free Reader Apps. After you go to for your free Kindle reader and then go to Barack Obama, Prophecy, and the Destruction of the United States-Second Term-Amazon Kindle edition.