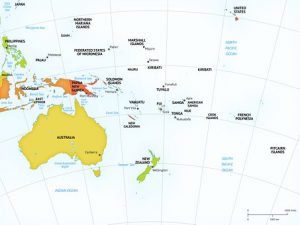 China and Australia have been embroiled in trade and other disputes. Here is something related to trade:
May 24, 2021

BEIJING, June 24 (Reuters) – China has made a complaint to the World Trade Organization (WTO) over Australia's anti-dumping and anti-subsidy measures on three products, its commerce ministry said on Thursday.

Ties between the two nations are at their worst in decades, and Canberra has launched two appeals to the WTO amid what it describes as Beijing's "economic coercion" against it.

In an apparent tit-for-tat measure, Gao Feng, a Chinese commerce ministry spokesman, said Beijing would now appeal against Australia's duties on imports of railway wheels, wind towers and stainless steel sinks. https://www.reuters.com/world/asia-pacific/china-lodges-complaint-with-wto-over-australias-trade-measures-against-some-2021-06-24/
While initial aspects of a trade war seem to be happening, a real war is a major concern in Australia (see also ZH: China Warns Australia's Military Is "Weak", Will Be "First Hit" In Any War With Western Alliance and Australian leaders expect war with China, so does COGwriter).
A reader from Australia sent me a link to the following from the Sydney Morning Herald:
China warning: Joyce calls on MPs to prepare for end of Pax Americana

Nationals leader Barnaby Joyce has issued a stark warning to government MPs about the risk to Australia from the waning power of the United States, calling for unity as China emerges as a new superpower.

Mr Joyce urged Liberal and Nationals MPs to unite behind the mission of making Australia "as strong as possible as quickly as possible" when it could not rely on the US to guarantee regional security.

The message resonated with government MPs who are increasingly concerned about the Chinese government's construction of military bases in the South China Sea and provocations in the Taiwan Strait.

Liberals noted the remarks were made in Mr Joyce's first speech to the Coalition party room after he regained the Nationals leadership on Monday and was sworn in as Deputy Prime Minister on Tuesday. …

"He said the world is changing … we're moving from the Pax Americana to a new superpower that's different and there are different ways of seeing the world.

"Our liberties and freedoms that we took as a birthright and never really thought about, in the future might be challenged like they never have before." https://www.smh.com.au/politics/federal/china-warning-joyce-calls-on-mps-to-prepare-for-end-of-pax-americana-20210622-p583bo.html
So, the Australians are waking up to the fact that relying on the waning power of the USA is a mistake and that China is a real military threat to them.
This Chinese threat to Australia is something I have been warning about for over a decade as I have long believed China would likely make a deal with the coming European Beast power to enable it to end up with at least part, if not all, of Australia.
Perhaps it should be mentioned that back in 2009, I came across some interesting Chinese prophecies from the Tang Dynasty (7-10th century). Notice one Chinese prophecy might hint that it involves dividing Australia and New Zealand. It states:
Population mouth takes territories south of the Yangtze river. The capital is moved again. The two divide up the territories, of which each maintains and defends (Pui-Hua R. Ancient Chinese Prophecies Till the End of the World. AuthorHouse, Bloomington (IN), 2008, p. 164).
This may be related to a deal that perhaps the Chinese will make in the future with Europe (there are some ancient Chinese prophecies that discuss arrangements with some from the West).
On June 24, 2010, the day it was announced that she became Prime Minister of Australia, I warned that I felt that Julia Gillard would take steps to fulfill prophecies that also could get the Chinese interested in taking over Australia (see Australia Now Has a Female Prime Minister: Prophetic Ramifications?).
And that happened.
Five years ago, the Continuing Church of God put together the following video on our Bible News Prophecy YouTube channel:
The Chinese paper 'Global Times' has carried threats in 2011 and 2016 suggesting the China would militarily intervene against Australia. It has declared that Australia is a 'paper cat,' that China will get revenge against it, and that Australia would be no more. Is this possible? Are there biblical and other reasons to think that this threat is real? Dr. Thiel answers these questions and brings up the fact that he has been warning about this threat since last decade.
Here is a link to our video: Are Chinese threats against Australia for real?
Years ago, Australia concluded that it had to rely on the US to stop a power like China. And it has taken steps, but they will not be enough. Nor will those now being called for be enough.
Furthermore, notice the following Roman Catholic prophecy:
American Catholic Prophecy (c. early 20th century): The yellow hordes of the Rising Sun and the middle kingdom will pour out their wrath on the people of the island kingdom which had gathered riches through trade (Dupont, Catholic Prophecy: The Coming Chastisement. TAN Books, Rockford (IL), 1973, p. 78).
Australia and New Zealand are island nations that have gained riches through trade. Since the USA owes Japan (the "land of the rising sun") and China (the "middle kingdom") massive amounts of money, it may be since Australia and New Zealand will be allies of the USA and UK, that Europe will help give Australia over to China (and/or others in Asia) and New Zealand over to Japan (and/or others in Asia–like China) to help satisfy the USA/UK debt. Both China and Japan have longed for more land and the proximity of the island nations of Australia and New Zealand to the Asian powers seems to make this a likely scenario. The fact that Australia has about 78% as much land as China and New Zealand about 71% of the land of Japan make them interesting candidates for takeover.
What about biblical prophecies?
Let's start with Isaiah 11
11 It shall come to pass in that day
That the Lord shall set His hand again the second time
To recover the remnant of His people who are left,
From Assyria and Egypt,
From Pathros and Cush,
From Elam and Shinar,
From Hamath and the islands of the sea.

12 He will set up a banner for the nations,
And will assemble the outcasts of Israel,
And gather together the dispersed of Judah
From the four corners of the earth.
13 Also the envy of Ephraim shall depart,
And the adversaries of Judah shall be cut off;
Ephraim shall not envy Judah,
And Judah shall not harass Ephraim. (Isaiah 11:11-13)
The "islands of the sea" in Isaiah 11 seems to suggest that people will be in various islands. This likely includes some left in Australia and New Zealand, but also may include Asian lands such as Japan and Indonesia.
The following from Ezekiel and Isaiah seem to suggest that the Asians will end up with peoples, which would probably include Anglo-Saxon descended ones:
13 Javan, Tubal, and Meshech were your traders. They bartered human lives and vessels of bronze for your merchandise. 14 Those from the house of Togarmah traded for your wares with horses, steeds, and mules. (Ezekiel 27:13-14)

9 That You may say to the prisoners, 'Go forth,' To those who are in darkness, 'Show yourselves.' "They shall feed along the roads, And their pastures shall be on all desolate heights. 10 They shall neither hunger nor thirst, Neither heat nor sun shall strike them; For He who has mercy on them will lead them, Even by the springs of water He will guide them. 11 I will make each of My mountains a road, And My highways shall be elevated. 12 Surely these shall come from afar; Look! Those from the north and the west, And these from the land of Sinim. (Isaiah 49:9-12)
Tubal and Meshech are related to Russia (see Russia: Its Origins and Prophesied Future) (Meshech with Moscow and Tubal possibly with Siberia). Javan was the son of Japheth, from whom the Oriental/Mongoloid race developed (but some have identified the Greeks as Javan). Others have considered that the Japanese could have descended from one or more of Javan's sons like Elishah and perhaps Tarshish (see Japan, Its Biblical Past and Future, Part 1: Any Witness?). Islamic and other scholars have somewhat suggested that Javan may be related to China (see China, Its Biblical Past and Future, Part 1: Genesis and Chinese Characters). Some believe that Sinim refers to China and/or others in Asia.
Those in New Zealand and Australia are descended from Ephraim, and are subject to biblically-prophesied captivity.
The deals that New Zealand and Australia have been making with China and other Asian nations will not protect them.
The Continuing Church of God, also put together this sermon on our ContinuingCOG channel, which I gave while in New Zealand:
Who are the ancestors of the British peoples who went to Australia and New Zealand? Are there biblical and even non-biblical prophecies that point to the nations of Australia and New Zealand? If so, what do they teach? Have any been fulfilled? What are some of the blessings and cursings the Bible tells of? Does prophecy help explain the wealth of Australia and New Zealand? Will future prophecies still be fulfilled? Does Isaiah 49:12 refer to Australia or New Zealand? What about the Five Eyes? Are there any Catholic or Chinese prophecies that point to Australia and New Zealand? What about the Cook Islands and Australia's external territories? How will the Great Tribulation affect Australia and New Zealand? Will military alliances fail? Are Australians and New Zealanders prophesied to be slaves? Is China a real threat? What about Japan?
The current world order dominated by the USA, and formerly by the British Empire is being changed. The Bible shows that the time of Jacob's trouble (Jeremiah 30:7) is getting nearer–and that will greatly affect the USA, the UK, Canada, Australia, and New Zealand which have descendants from Jacob, also known as Israel.
Other biblical prophecies point to the end of the UK Canada, and USA–such as Daniel 8:23-25 and Daniel 11:39 (see also USA in Prophecy: The Strongest Fortresses).
Though in the case of those three, this will primarily come from continental Europe (Isaiah 10:5-12; Daniel 11:39).
But it these biblical prophecies also show that Australia will not be able to be protected by the UK or USA.
So, what is the ONLY real solution for Australia?
Well, Australia and the other Anglo-nations need national repentance. God would listen:
13 When I shut up heaven and there is no rain, or command the locusts to devour the land, or send pestilence among My people, 14 if My people who are called by My name will humble themselves, and pray and seek My face, and turn from their wicked ways, then I will hear from heaven, and will forgive their sin and heal their land. 15 Now My eyes will be open and My ears attentive to prayer made in this place. (2 Chronicles 7:13-15)
But because they are not expected to, notice that lack of repentance is listed as a reason that the King of Assyria (the final King of the North) will become Ephraim's king:
3 I taught Ephraim to walk…5…But the Assyrian shall be his king, Because they refused to repent. 6 And the sword shall slash in his cities, Devour his districts, And consume them, Because of their own counsels. 7 My people are bent on backsliding from Me. Though they call to the Most High, None at all exalt Him. (Hosea 11:3a, 5b-7)
The prophesied shame is starting to come upon the Anglo-American powers. Without repentance, increased pride is occurring, and this will be followed by the prophesied destruction of the Anglo-nations. And yes, other nations have their sins, but they will be punished later–But you personally can and SHOULD repent.
Australia (and the rest of the world) needs the Kingdom of God.
Individually, and nationally, repentance is needed:
20 The soul who sins shall die. The son shall not bear the guilt of the father, nor the father bear the guilt of the son. The righteousness of the righteous shall be upon himself, and the wickedness of the wicked shall be upon himself.

21 "But if a wicked man turns from all his sins which he has committed, keeps all My statutes, and does what is lawful and right, he shall surely live; he shall not die. 22 None of the transgressions which he has committed shall be remembered against him; because of the righteousness which he has done, he shall live. 23 Do I have any pleasure at all that the wicked should die?" says the Lord God, "and not that he should turn from his ways and live? (Ezekiel 18:20-23)

30 "Therefore I will judge you, O house of Israel, every one according to his ways," says the Lord God. "Repent, and turn from all your transgressions, so that iniquity will not be your ruin. 31 Cast away from you all the transgressions which you have committed, and get yourselves a new heart and a new spirit. For why should you die, O house of Israel? 32 For I have no pleasure in the death of one who dies," says the Lord God. "Therefore turn and live!" (Ezekiel 18:30-32)
Your Bible says many people have made an OUTWARD show of returning to Him or repenting, but they haven't done it WITH THEIR HEARTS! Ephraim's repentance, and for that matter, that of the rest of the world, is the outward, superficial, WORLDLY REPENTANCE with no real sincerity or DEEP feeling.
If God may be calling you, you may wish to read the free online booklet: Is God Calling You?
Australia will NOT be able to defend itself from being taken over–and based on biblical prophecies, I expect that within the decade.
Some links of possibly related interest may include:
Australia and New Zealand in Prophecy Do biblical prophecies help explain the wealth blessings for Australia and New Zealand? Might cursings from disobedience come in the 21st century? Here is a link to a related sermon: Australia and New Zealand: Origins and Prophecy.
Is God Calling You? This booklet discusses topics including calling, election, and selection. If God is calling you, how will you respond? Here is are links to related sermons: Christian Election: Is God Calling YOU? and Could God be Calling You? A short animation is also available: Is God Calling You?
Christian Repentance Do you know what repentance is? Is it really necessary for salvation? A related sermon is also available titled: Real Christian Repentance.
Does God Have a 6,000 Year Plan? What Year Does the 6,000 Years End? Was a 6000 year time allowed for humans to rule followed by a literal thousand year reign of Christ on Earth taught by the early Christians? Does God have 7,000 year plan? What year may the six thousand years of human rule end? When will Jesus return? 2028 or or 2031 or 20xx? There is also a video titled 6000 Years: When will God's Kingdom Come? Here is a link to the article in Spanish: ¿Tiene Dios un plan de 6,000 años?
When Will the Great Tribulation Begin? 2021, 2022, or 2023? Can the Great Tribulation begin today? What happens before the Great Tribulation in the "beginning of sorrows"? What happens in the Great Tribulation and the Day of the Lord? Is this the time of the Gentiles? When is the earliest that the Great Tribulation can begin? What is the Day of the Lord? Who are the 144,000? Here is a version of the article in the Spanish language: ¿Puede la Gran Tribulación comenzar en el 2020 o 2021? ¿Es el Tiempo de los Gentiles? A related video is: 2021: The Great Tribulation or the Great Reset? Here is a video in the Spanish language: Es El 2021 el año  de La Gran Tribulación o el Grande Reseteo Financiero.
Europa, the Beast, and the Book of Revelation discusses the largest church since the second/third century, which in a real sense is the eighth church mentioned in the Book of Revelation (it also endorses "eighth day" worship). What church would support the Beast? Here is a link to a video titled: Europe and the 'Holy Roman Empire'.
China, Its Biblical Past and Future, Part 1: Genesis and Chinese Characters Where did the Chinese people come from? Japeth, Javan, Magog? Is there evidence that the Chinese peoples must have known about various accounts in the Book of Genesis up until their dispersion after the Tower of Babel? What do Chinese writings and characters help show? What about the Garden of Eden, Noah's Flood, and the Tower of Babel? Here is a link to a version of this article in Spanish: ¿Prueban los caracteres chinos la exactitud de la Biblia? A related sermon is also available: China's biblical past and prophetic actions.
China, Its Biblical Past and Future, Part 2: The Sabbath and Some of God's Witness in China When did Christianity first come to China? What about the Apostle Thomas? Did Confucius say anything to get the Chinese to possibly consider Christianity? Is there early evidence that they observed the seventh day sabbath? What about the Ten Commandments? What type of Church of God witness has there been to China? What has been happening with China that ties it together with prophecies in Revelation? What about the 200 million man army and Armageddon? What about the Belt and Road Initiative and end time Babylon the Great? A related sermon is also available: China's biblical past and prophetic actions. Watch also China's Silk Road and Babylon the Great.
Asia in Prophecy What is Ahead for Asia? Who are the "Kings of the East"? What will happen to nearly all the Chinese, Russians, Indians, and others of Asia? China in prophecy, where? Who has the 200,000,000 man army related to Armageddon? Here is a link to a related sermon: Asia in Prophecy. Two YouTube video are Is China THE Threat to the United States of America? and China: A King of the East.
USA in Prophecy: The Strongest Fortresses Can you point to scriptures, like Daniel 11:39, that point to the USA in the 21st century? This article does. Two related sermon are available: Identifying the USA and its Destruction in Prophecy and Do these 7 prophesies point to the end of the USA?
Who is the King of the West? Why is there no Final End-Time King of the West in Bible Prophecy? Is the United States the King of the West? Here is a version in the Spanish language: ¿Quién es el Rey del Occidente? ¿Por qué no hay un Rey del Occidente en la profecía del tiempo del fin? A related sermon is also available: The Bible, the USA, and the King of the West.
Who is the King of the North? Is there one? Do biblical and Roman Catholic prophecies for the Great Monarch point to the same leader? Should he be followed? Who will be the King of the North discussed in Daniel 11? Is a nuclear attack prophesied to happen to the English-speaking peoples of the United States, Great Britain, Canada, Australia, and New Zealand? When do the 1335 days, 1290 days, and 1260 days (the time, times, and half a time) of Daniel 12 begin? When does the Bible show that economic collapse will affect the United States? In the Spanish language check out ¿Quién es el Rey del Norte? Here are links to two related videos: The King of the North is Alive: What to Look Out For and The Future King of the North.
Anglo – America in Prophecy & the Lost Tribes of Israel Are the Americans, Canadians, English, Scottish, Welsh, Australians, Anglo-Saxon (non-Dutch) Southern Africans, and New Zealanders descendants of Joseph? Where are the lost ten-tribes of Israel? Who are the lost tribes of Israel? What will happen to Jerusalem and the Jews in Israel? Will God punish the U.S.A., Canada, United Kingdom, and other Anglo-Saxon nations? Why might God allow them to be punished first? Here is a link to the Spanish version of this article: Anglo-América & las Tribus Perdidas de Israel. Information is also in the YouTube sermons titled Where are the Ten Lost Tribes? Why does it matter? and British are the Covenant People. A short YouTube of prophetic interest may be: Are Chinese threats against Australia for real?
Will the Anglo-Saxon-Celtic Nations be Divided and Have People Taken as Slaves? Will the lands of the United States, United Kingdom, Canada, Australia, and New Zealand be divided? What about Jerusalem? What does Bible prophecy teach? Are there non-biblical prophecies that support this idea? Who will divide those lands? Who will end up with the lands and the people? Here is a link to a video titled Will the USA and other Anglo-nations be Divided and Their People Made Slaves? Here is a related item in the Spanish language ¿Serán divididas las naciones anglosajonas?
British are the Covenant People What do 'British' and 'Britain' mean in Hebrew? Are the descendants of the Anglo-Saxons people of the covenant? Does the British royal family connect to the throne of David? What does the Bible teach? What does history show us? Is there any DNA evidence related to British-Israelism? When did Christianity make it to the British Isles? Could Jeremiah have made it to the British Isles? What type of Christians made it to the British Isles? Did the last King of England believe in British Israelism?
Canada in Prophecy: What Does Bible Prophecy, Catholic Prophecy, and other Predictions Suggest About the Future of Canada? There are prophecies that suggest involvement with Canada. And many are not positive about its future. A sermon of related interest is also available: Canada in Prophecy.
The Gospel of the Kingdom of God This free online pdf booklet has answers many questions people have about the Gospel of the Kingdom of God and explains why it is the solution to the issues the world is facing. Here are links to three related sermons: The World's False Gospel, The Gospel of the Kingdom: From the New and Old Testaments, and The Kingdom of God is the Solution.