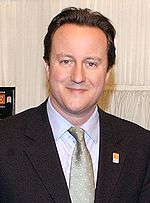 David Cameron

UK Prime Minister David Cameron is warning about the threat from Islamic State terrorists:
Islamic State militants could grow strong enough to target people on the streets of Britain unless action is taken, David Cameron has warned.

The PM, writing in the Sunday telegraph, said a "humanitarian response" to IS was not enough and a "firm security response" was needed.

It comes as Church leaders expressed concern that the UK had no "coherent" approach to tackling Islamic extremism.

IS has seized large parts of northern Iraq and Syria over the summer…

Mr Cameron said: "True security will only be achieved if we use all our resources – aid, diplomacy, our military prowess – to help bring about a more stable world.

"If we do not act to stem the onslaught of this exceptionally dangerous terrorist movement, it will only grow stronger until it can target us on the streets of Britain."

He warned that if IS was able to "carve out its so-called caliphate", the UK would be "facing a terrorist state on the shores of the Mediterranean and bordering a Nato member". …

The UK has made aid drops to people stranded in northern Iraq but the prime minister warned a "broader political, diplomatic and security response" was needed, in addition to humanitarian action.

"We need a firm security response, whether that is military action to go after the terrorists, international co-operation on intelligence and counter-terrorism or uncompromising action against terrorists at home," he wrote.

The prime minister suggested that anyone walking around in the UK with an Islamic state flag should be arrested.  http://www.bbc.com/news/uk-28823281
The Islamic State is a murderous and terroristic organization.  At this moment it probably is planning on lashing out against Western nations such as the USA, UK, and elsewhere.
The UK is NOT immune from terrorism.  Because of its relative proximity to Iraq, compared to the USA, it could be considered to be an easier target.
Notice also the following:
August 16, 2014

Members of the Islamic State (formerly known as ISIS) are planning to carry out major terror attacks against targets in the United States or in Europe, American intelligence officials said Saturday.

Five intelligence officials stated to Bloomberg News that there is evidence that the organization is running a sleeper cells around the world, outside of Iraq and Syria. The goal: to gain a greater foothold in the Islamic world – politically and militarily.

According to retired U.S. Army Colonel Derek Harvey, the Middle East is gripped in a "competition for jihadi leadership" between IS and Al-Qaeda chief Ayman al-Zawahiri, following the falling out between the two groups last year.

Harvey also said that US President Barack Obama has severely underestimated IS's current hold in Iraq and Syria, due to a reluctance to put his "toe, foot, and then leg" back in Iraq. http://www.israelnationalnews.com/wap/Item.aspx?type=0&item=184107
I have warned for some time that ISIS would do that if they got a chance.
Irrespective of what the Islamic State and United Kingdom do, there will be a type of caliphate confederation that will encompass many nations in the Middle East and North Africa (Daniel 11:40-43; Ezekiel 30:2-8).  Because such a confederation will NOT be considered as radical and murderous as the Islamic State now is, it will not face massive Western resistance when it finally forms.
Actually, I suspect that when the final King of the South begins to rise up, he and his supporters will indicate that such a confederation/caliphate is precisely what is needed to keep the more radical terrorists under control.  And while I do believe that such a confederation will take militaristic as well as terroristic actions against the USA and UK (cf. Psalm 83:3-8) , it is likely that politicians in both countries will endorse various aspects of such a confederation.
Of course, people in territories affected by terrorists are being affected themselves.  It is difficult for the Kurds, Yazidis, Shi'ites, Catholics, Orthodox, Protestants, certain Sunnis, and others that the Islamic State has affected.  But also notice the following report related to Gaza and Hamas:
August 17, 2014

An emotional letter purportedly smuggled out of Gaza details one man's harrowing participation in digging the tunnels that Israel blames for triggering the latest round of fighting and paints a bleak picture of life under Hamas control.

The 30-year-old Palestinian to whom the letter is attributed describes accepting a cryptic job offer, then being taken in a windowless truck with five others to a building where they were forced to dig tunnels for long, gruelling shifts in stretches that lasted 10 days.

"We drove for an hour and finally they stopped and took us into a closed building. We didn't know where we were," reads the letter, the text of which has been released on the Internet. "They showed us a hole in the ground and told us to go down. …

"We walked for a few hundred meters, and when we got to the end, two Hamas members were waiting for us," the letter continues. "They gave us working tools and explained to us what to do in order to make the tunnel longer."

It goes on to describe back-breaking labor performed in unventilated shafts, with Hamas overseers screaming and even assaulting workers not deemed to be working hard enough. In the end, after the workers were taken back home and paid meager wages for their work, "We didn't know where we'd been, or what tunnel we dug," the letter said.

Earlier this week, The Times of Israel reported that Hamas killed dozens of tunnel diggers after their work was done to prevent leaks to Israel about the locations of the underground shafts. In addition to tunnelers purposely killed, The Journal of Palestine Studies in 2012 reported that Hamas leaders had admitted that, "at least 160 children have been killed in the tunnels," reflecting the fact that many children are also used as forced labor to dig the terror tunnels. …

"We heard about the tunnels that Hamas dug and I understood that I helped them," read the letter. "We pray that the world will help to free us from the fearful and cruel Hamas rule in the Gaza Strip. I pray for death to all Hamas members and that we will get freedom and a chance to live a normal life for our children in Gaza. Inshalla."  http://www.foxnews.com/world/2014/08/17/purported-letter-from-inside-gaza-tells-tunnel-toil-hamas-cruelty/
So, Hamas is terrorizing Gazites. This is further evidence these extremists groups are a threat even to many that are considered supporters.
Other Muslims have concerns about groups like the Islamic State.  Hezbollah is a Shi'a Islamist militant group which the USA, EU, Israel and others consider to be a terrorist group, yet even it is warning about the Islamic State:
August 16, 2014

Hezbollah leader Hasan Nasrallah is greatly concerned about the Islamic State (IS), formerly known as ISIS.

A day after he said in a meeting with the Lebanese Druze leader that IS is planning "on expanding toward Jordan and Saudi Arabia", Nasrallah said in a speech on Friday that the group is an "existential threat" menacing Lebanon and the whole region.

"The Lebanese need to be aware of this existential threat and the need to confront it," Nasrallah said during the televised speech to mark the end of the 2006 war with Israel, according to the Daily Star.

"We must find true, realistic and serious means to counter this threat," he added.

Nasrallah said IS is now selling oil and receiving funding from regional groups, adding that this "raises serious questions."

"Therefore, let's gather our forces and strong points to counter those threats," he was quoted as having said.

Nasrallah said fighting the terrorist threat did not require "national consensus."

"Logic, our religion, ethics and experience have taught us that if a society is facing an existential threat, the priority becomes to counter that existential threat and whoever fails to do so expose their people to danger and slaughtering," he said, according to the Daily Star.  http://www.israelnationalnews.com/News/News.aspx/184091#.U_CyuGN_T3k
Groups such as Islamic State, Boko Haram, and Hamas are major concerns to Arabic leaders.  Many want nothing to do with those groups and want them gone or at least contained.
One of the reasons that a "King of the South confederation" will form is because some national leaders will consider that they are facing a worse threat by NOT agreeing to a confederation.  Steps for fulfilling the biblical prophecies related to the formation of that confederation are taking place.
Some items of possibly related interest may include:
Iraq, the King of the South, Armageddon, and Prophecy What will happen to Iraq? Is it the prophesied Mystery Babylon? What is Armageddon and how does that have to do with Iraq? Here is a related video Iraq, Armageddon, & Prophecy.
Gaza and the Palestinians in Bible Prophecy What does the Bible teach about Gaza and the fate of the Palestinians? Here is a link to a related video: Gaza and Palestine in Prophecy.
The Arab and Islamic World In the Bible, History, and Prophecy The Bible discusses the origins of the Arab world and discusses the Middle East in prophecy. What is ahead for the Middle East and those who follow Islam? What about the Imam Mahdi? What lies ahead for Turkey, Iran, and the other non-Arabic Muslims? An item of possibly related interest in the Spanish language would be: Líderes iraníes condenan la hipocresía de Occidente y declaran que ahora es tiempo para prepararse para el Armagedón, la guerra, y el Imán Mahdi.
The 'Peace Deal' of Daniel 9:27 This prophecy could give up to 3 1/2 years advance notice of the coming Great Tribulation. Will most ignore or misunderstand its fulfillment? Here is a link to a related sermon video Daniel 9:27 and the Start of the Great Tribulation.
The Prophesied 'Islamic' Confederation Where is an Islamic caliphate prophesied? Will one happen? Should you be concerned about it?
Is the Future King of the South Rising Up? Some no longer believe there needs to be a future King of the South. Might Egypt, Islam, Iran, Arabs, or Ethiopia be involved? Might this King be called the Mahdi or Caliph? What does the Bible say? A YouTube video of related interest may be: The Future King of the South is Rising.
Anglo – America in Prophecy & the Lost Tribes of Israel Are the Americans, Canadians, English, Scottish, Welsh, Australians, Anglo-Saxon (non-Dutch) Southern Africans, and New Zealanders descendants of Joseph? Where are the lost ten-tribes of Israel? Who are the lost tribes of Israel? What will happen to Jerusalem and the Jews in Israel? Will God punish the U.S.A., Canada, United Kingdom, and other Anglo-Saxon nations? Why might God allow them to be punished first? Here is a link to the Spanish version of this article: Anglo-América & las Tribus Perdidas de Israel. Information is also in the YouTube sermons titled Where are the Ten Lost Tribes? Why does it matter? and British are the Covenant People. A short YouTube of prophetic interest may be Barack Obama and the State of the Apocalypse.
Will the Anglo-Saxon Nations be Divided and Have People Taken as Slaves? Will the lands of the United States, United Kingdom, Canada, Australia, and New Zealand be divided? What about Jerusalem? What does Bible prophecy teach? Are there non-biblical prophecies that support this idea? Who will divide those lands? Who will end up with the lands and the people? Here is a link to a video titled Will the USA and other Anglo-nations be Divided and Their People Made Slaves? Here is a related item in the Spanish language ¿Serán divididas las naciones anglosajonas?
British are the Covenant People What do 'British' and 'Britain' mean in Hebrew? Are the descendants of the Anglo-Saxons people of the covenant? Does the British royal family connect to the throne of David? What does the Bible teach? What does history show us? Is there any DNA evidence related to British-Israelism? When did Christianity make it to the British Isles? Could Jeremiah have made it to the British Isles? What type of Christians made it to the British Isles? Did the last King of England believe in British Israelism?
Prophecies of Barack Obama? Reasons why Barack Obama is apocalyptic and reasons why Barack Obama is not the Antichrist. This article
Barack Obama, Prophecy, and the Destruction of the United States-Second Edition for Second Obama Term This is a 160 page book for people truly interested in prophecies related to Barack Obama and the United States, including learning about many that have already been fulfilled (which the book documents in detail) and those that will be fulfilled in the future. It also has a chapter about a Republican choice. This book is available to order at www.barackobamaprophecy.com. The physical book can also be purchased at Amazon from the following link: Barack Obama, Prophecy, and the Destruction of the United States: Is Barack Obama Fulfilling Biblical, Islamic Catholic, Kenyan, and other America-Related Prophecies? What About Republican Leaders? Second Edition for Second Obama Term.
Barack Obama, Prophecy, and the Destruction of the United States-Second Term-Amazon Kindle edition. This electronic version is available for only US$2.99. And you do not need an actual Kindle device to read it. Why? Amazon will allow you to download it to almost any device: Please click HERE to download one of Amazon s Free Reader Apps. After you go to for your free Kindle reader and then go to Barack Obama, Prophecy, and the Destruction of the United States-Second Term-Amazon Kindle edition.