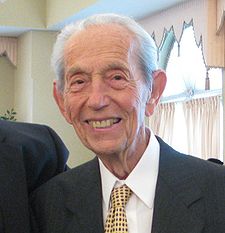 Harold Egbert Camping
According to certain, but not completely confirmed, news reports, false prophet Harold Camping has retired:
Harold Camping worst prophet ever: Camping retires, and Family Radio removes doomsday warnings from its website–finally…
October 21st has come and gone with no Rapture, which makes it a total Doomsday Fail.   Family Radio perhaps is getting the idea–they've removed doomsday warnings from their website after having them up for the last five months–perhaps for good.  http://www.goddiscussion.com/83473/harold-camping-worst-prophet-ever-camping-retires-and-family-radio-removes-doomsday-warnings-from-its-website-finally/

Harold Camping Update: Has the Family Radio Bible Teacher Really Retired?

Harold Camping has reportedly retired, hanging up his hat on his radio ministry, but does that mean Camping will also retire his predictions?

COLUMN: Harold Camping is world's worst prophet…

The troubling part with Camping's predictions is that individuals have actually taken this mad prophet seriously in the past, and several suicides and deaths resulted from his prediction in May…Camping justified his latest prediction…

"Indeed, on May 21 Christ did come spiritually to put all of the unsaved throughout the world into judgment. But that universal judgment will not be physically seen until the last day of the five-month judgment period, on October 21, 2011," the description said.

The only judgment that should have been made in the past five months is that this old man is completely off his rocker.

Hopefully, we'll only have to endure the 2012 Mayan calendar's supposed prediction of the end of the world once.  http://www.cm-life.com/2011/10/24/column-harold-camping-the-worlds-worst-prophet/
While I am not sure that Harold Camping is any worse than former UCG minister and self-appointed prophet/apostle/one-of-the-two-witnesses Ronald Weinland of CGPFK, the reality is that less people have thus far paid less attention to Ronald Weinland, even though he has made several false prophecies and has his last date for Jesus to return on May 27, 2012.  Yet it is certain that Jesus will not return for many years.
Ronald Weinland in his 6/26/10 sermon transcript declared:
And so because of the 50th Truth and the understanding that God has given us of Christ's return on Pentecost, May 27, 2012 we also came to understand the true date for the sealing of the 144,000 that was to precede Christ's reign by 1335 days – which again is covered in the book of Daniel at the end of those verses that we were reading earlier. And we understand that was a point in time; September 30,  2008 which was the Feast, again, here talking about Trumpets of 2008. What an incredible thing that God uses the same moment in time to go backward – something to do with Satan; and to go forward. I don't know about you but I find that a very powerful, awesome sign – I truly do! It's very motivating, very stirring if we understand.
Now, I am sure that Ronald Weinland will conclude that I am one who does not understand.  But Jesus is NOT going to return on May 27, 2012. And instead of having the physically required signs of the Great Tribulation or even those that the Bible requires from the two witnesses, he seems to claim that his odd interpretation of certain prophetic matters is "a very powerful, awesome sign".  I say this is nonsense.
Ronald Weinland should announce his retirement from the ministry no late than May 28, 2012 if he has any semblance to decency as he will again be proven wrong, just like Harold Camping (Of course, if he takes up an offering on May 27, 2012, this should give his followers pause as according to his predictions he would have no ability to spend any of it–unless his prediction is wrong, which it is).
Notice a couple of warnings from the Bible about false prophets:
22 when a prophet speaks in the name of the LORD, if the thing does not happen or come to pass, that is the thing which the LORD has not spoken; the prophet has spoken it presumptuously; you shall not be afraid of him. (Deuteronomy 18:22).

1 But there were also false prophets among the people, even as there will be false teachers among you, who will secretly bring in destructive heresies, even denying the Lord who bought them, and bring on themselves swift destruction. 2 And many will follow their destructive ways, because of whom the way of truth will be blasphemed. 3 By covetousness they will exploit you with deceptive words; for a long time their judgment has not been idle, and their destruction does not slumber. (2 Peter 2:1-3).
I do not consider that Harold Camping is a real Christian and he has repeatedly proven to be a false prophet.  The world did not end in 1994, there was no "rapture of the Church" in May 2011, and no one should base their life on following the dates of Harold Camping or Ronald Weinland.  They, and other false prophets, have caused the way of truth to be blasphemed. Sadly, people have spent a lot of money to promote something that will cause the way of truth will be blasphemed by some.
Some believe that the stroke that happened to Harold Camping was the result of Divine punishement:
Harold Camping, 89, suffered a mild stroke last week that affected his speech. Could this incident be a sign or punishment from God for his false rapture predictions?…The stroke has reportedly only affected his speech, which has become slurred as a result.For many observers, the stroke – while tragic – seemed like a divine act to punish the radio preacher for his false predictions or at the very least warn him not to do it again. (Phan KT. Harold Camping's Stroke Punishment From God? A Biblical Response. Christian Post, June 14, 2011. http://www.christianpost.com/news/harold-campings-stroke-punishment-from-god-a-biblical-response-51162/)
Similar to others that I have considered to be "false prophets", it is not that Harold Camping cannot accurately read scriptures out loud (Satan can do that Matthew 4:6), but like Satan, he often does not understand what they are supposed to mean in the light of other scriptures (Matthew 4). The fact that he, like other false preachers, frequently gets some correct points made does not mean that he is not a false prophet.
Now as far as the Mayan 2012 stuff, let me make this perfectly clear, when the world does NOT end on December 21, 2012, various scoffers will likely rise up and denounce all prophecy as bogus.  People like Harold Camping will likely also be cited.  False prophets have caused and again will cause the way of truth to be blasphemed.  But Bible prophecy is sure and it will come to pass.
Remember that the Apostle Peter warned:
…scoffers will come in the last days, walking according to their own lusts, 4 and saying, "Where is the promise of His coming? For since the fathers fell asleep, all things continue as they were from the beginning of creation." 5 For this they willfully forget: that by the word of God the heavens were of old, and the earth standing out of water and in the water, 6 by which the world that then existed perished, being flooded with water. 7 But the heavens and the earth which are now preserved by the same word, are reserved for fire until the day of judgment and perdition of ungodly men.

8 But, beloved, do not forget this one thing, that with the Lord one day is as a thousand years, and a thousand years as one day. 9 The Lord is not slack concerning His promise, as some count slackness, but is longsuffering toward us, not willing that any should perish but that all should come to repentance.  (2 Peter 3:3-9)
So, despite false ones who rise up (Matthew 24:4) and scoffers, Jesus will return.
Some articles of possibly related interest may include:
Harold Camping's Teachings About the End of the World Do Not Agree with the Bible Harold Camping teaches that the rapture will be on May 21, 2011 and the world will end on October 21, 2011. What does the Bible show?
What is the Appropriate Form of Biblical Interpretation? Should the Bible be literally understood? What do the writings of the Bible, Origen, Herbert W. Armstrong, and Augustine show?
Why Be Concerned About False and Heretical Leaders? There have been many false leaders–here is some of why you should be concerned about them.
There is a Place of Safety for the Philadelphians. Why it May Be Petra This article discusses a biblical 'place of safety' and includes quotes from the Bible and Herbert W. Armstrong on this subject–thus, there is a biblically supported alternative to the rapture theory.
Is There A Secret Rapture for the Church? When and Where is the Church Protected? What does the Bible really teach? Does the Church flee or is it taken up just prior to the great tribulation? Who really is left behind?
Concerns About Ronald Weinland's Church of God-Preparing for the Kingdom of God Ronald Weinland falsely claims to be one of the two witnesses God is raising up and that the end will come in 2008 (first April 17th, then June 2008, now December 14, 2008). Why does the Bible show that Ron Weinland is a false prophet? He also has at least one other view that suggests that he is not part of the Church of God.
Can the Great Tribulation Begin in 2011, 2012, or 2013? Can the Great Tribulation begin today? What happens before the Great Tribulation in the "beginning of sorrows"? What happens in the Great Tribulation and the Day of the Lord? When is the earliest that the Great Tribulation can begin? What is the Day of the Lord?
End of Mayan Calendar 2012–Might 2012 Mean Something? Are there Mayan calendar predictions for change in 2012? Changes were centuries ago predicted by the Hopi Native Americans. Do Mayan/Hindu/Hopi/Buddhist/New Age/Nostradamus prophecies have any value here? Why might Satan have inspired this date? Does the Dresden codex show destruction of the earth by flood? Can the great tribulation start before 2012? How might the next pope be involved in 2012?
Who Are The Two Witnesses? What is their job? What does the Bible reveal? What has the Church of God taught on this subject? Might even Roman Catholic prophecies give some clues here?