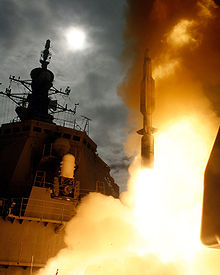 Japanese anti-ballistic missile launch
Early last month Japan announced its understanding of its Constitution just changed.  Some are concerned about its militaristic shift:
August 29, 2014

Pacifist Japan is stepping out of its usual shrinking-violet role to take a more prominent military stance, to the delight of its U.S. ally. Others, namely neighbors and many of its own people, are much less giddy.

Standing before the American and Japanese flags in Tokyo last week, the Pentagon's No. 2, Deputy Defense Secretary Bob Work, declared the two nations were at "an inflection point for our alliance."

It's a simple but fundamental change. Up to now, the U.S. has been obligated by treaty to come to Japan's defense if it's attacked, but Japan's Constitution — as interpreted — has prohibited the Japanese from reciprocating if the United States comes under assault. That's what's changing. Sounds simple, even natural, but not to Korea or China…

The U.S. and Japan have been close allies since the U.S. occupied Japan after World War II and wrote an oft-regretted pacifist clause into the Japanese Constitution. But now it's watching uneasily as America's overwhelming dominance of Asia-Pacific slowly erodes.

The cause: an empowered, assertive China. Beijing's attempt to stake a claim to the Senkaku Islands (Diaoyu to the Chinese) in the East China Sea and provocative actions in international airspace are ticking off both Washington and Tokyo. But tensions between Japan and neighboring South Korea and between North Korea and, well, everyone have also frayed nerves. In response, America and Japan are tightening their embrace, pursuing measures to facilitate ever closer security cooperation.

China's especially twitchy about it.

When Japanese Prime Minister Shinzo Abe announced his Cabinet's decision to ease post-World War II restrictions on the country's military last month, China's state-run Xinhua news agency called the changes a "brutal violation" of Japan's pacifist constitution. Abe also faces domestic blowback from a public that's reflexively anti-war.  http://www.usatoday.com/story/news/world/2014/08/29/ozy-us-japan-grow-closer/14749471/?utm_source=feedblitz&utm_medium=FeedBlitzRss&utm_campaign=usatoday-newstopstories
Japan has technological prowess and wants to act like a superpower.  Japan is intending to produce more of its own weapons:
August 29, 2014

TOKYO (Reuters) – Japan's defense planners are seeking their biggest budget ever for the coming fiscal year to pay for stealth fighters, drones and a hi-tech submarine, as Prime Minister Shinzo Abe bolsters the military amid an intensifying rivalry with China.

The Defense Ministry on Friday requested a 3.5 percent increase to 5.05 trillion yen ($48.7 billion) for the year starting next April. If approved, this third increase in a row will more than reverse the decade of cuts that Abe ended after coming to office in December 2012.

The hawkish premier, taking a more assertive stance on national security, has also ended a ban on Japanese soldiers fighting abroad and eased curbs on weapons exports.

By testing the constraints of Japan's pacifist postwar constitution, Abe has angered some neighbors, especially Beijing, which accuses him of reviving the nation's wartime militarism.  http://news.yahoo.com/japan-defense-budget-request-highest-ever-abe-boosts-024548108.html
Japan has less trust in the USA than it once had and now is going to more openly arm itself. North Korea and China do not like that–nor does even South Korea. Japan took over Korea, much of China, and many of the islands in the Pacific Ocean during WWII. There was a reason that the USA had earlier forced that Constitutional restriction upon Japan.
But now with the USA getting more and more in debt, the Japanese are concluding that they need to be more proactive militarily. The time will come when they will use this military in the future (cf. Daniel 11:44-45; Revelation 16:12).
As regular readers are aware, I have also wondered for years if Japan might end up with more territory, such as New Zealand (see the article Will the Anglo-Saxon Nations be Divided and Have People Taken as Slaves? and/or watch the video Will the USA and other Anglo-nations be Divided and Their People Made Slaves?). We will see if that happens.  By developing more of its military, Japan will likely have more conquest options than if it did not do that.
Some items of possibly related interest would include the following:
Japan, Its Biblical Past and Future, Part 1: Any Witness? Where did the Japanese people come from? Have they had any witness?
Japan, Its Biblical Past and Future, Part 2: Prophecy Japan in prophecy. What is prophesied for Japan? Will God save the Japanese?
Korea in Prophecy, Any Witness? Does God have a plan for the Koreans? Is Korea mentioned in any prophecies? Will Koreans be among the first in the Kingdom of God? 한국의 언어로 : 한국 예언, 모든 증인에?
Asia in Prophecy What is Ahead for Asia? Who are the "Kings of the East"? What will happen to nearly all the Chinese, Russians, Indians, Koreans, and others of Asia? China in prophecy, where? Who has the 200,000,000 man army related to Armageddon?
Barack Obama, Prophecy, and the Destruction of the United States-Second Edition for Second Obama Term This is a 160 page book for people truly interested in prophecies related to Barack Obama and the United States, including learning about many that have already been fulfilled (which the book documents in detail) and those that will be fulfilled in the future. It also has a chapter about a Republican choice. This book is available to order at www.barackobamaprophecy.com. The physical book can also be purchased at Amazon from the following link: Barack Obama, Prophecy, and the Destruction of the United States: Is Barack Obama Fulfilling Biblical, Islamic, Catholic, Kenyan, and other America-Related Prophecies? What About Republican Leaders? Second Edition for Second Obama Term.
Barack Obama, Prophecy, and the Destruction of the United States-Second Term-Amazon Kindle edition. This electronic version is available for only US$2.99. And you do not need an actual Kindle device to read it. Why? Amazon will allow you to download it to almost any device: Please click HERE to download one of Amazon s Free Reader Apps. After you go to for your free Kindle reader and then go to Barack Obama, Prophecy, and the Destruction of the United States-Second Term-Amazon Kindle edition.