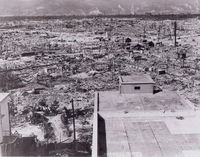 Hiroshima After the Atomic Bomb Was Detonated
In not too many month, Iran might become a nuclear-bomb owning power:

Iran just months from N-bomb

IRAN may be just six months away from developing a nuclear bomb, despite international attempts to thwart the program through sanctions and cyber attacks.

Sunday Times – Sept 26, 2011
IN the past Saudi Arabia has indicated that it will get nuclear weapons if Iran does (see Saudi's Say They Will Get Nukes if Iran Does).  Also notice these relatively recent news items:
Saudis 'eye Pakistani nukes' to face Iran

UPI – Sept 15, 2011

Saudi Arabia has been beefing up its military links with Pakistan to counter Iran's expansionist plans and this reportedly includes acquiring atomic arms from the only Muslim nuclear power or its pledge of nuclear cover…

Turki, who headed Saudi Arabia's General Intelligence Directorate in 1977-2001, didn't spell out what those consequences might be but a senior official in Riyadh observed, "We cannot live in a situation where Iran has nuclear weapons and we don't."

http://www.upi.com/Top_News/Special/2011/09/15/Saudis-eye-Pakistani-nukes-to-face-Iran/UPI-15881316101921/

Saudi Arabia mulls nuclear cooperation with Pak: Report

MSN News – Sept 8, 2011
The situation in the Islamic world is getting more and more tense.  Having the Palestinians apply for recognition at the UN last week did not calm the world–and some feel that it may inflame the situation in the Middle East.
It continues to look to me that, despite whatever else happens, Iran's plan is to provoke an attack by Israel and/or invade Israel.  Iran's goal seems to be to show the rest of the Islamic world that Iran should be looked upon as its leader–and it seems to want this sooner than later.
Back in February 2011, Iran's President Ahmadinejad said that according to him, the traditional and outdated world order is now on the verge of collapse and that the Imam Mahdi is behind the uprisings in the Middle East. The next month, March 2011, a group with ties to his government put out a video (with him in it).
That video quotes someone as saying this Imam Mahdi leader arrives after a time of great earthquakes and sedition. It shows photos of American, Jewish, and European leaders that it does not approve of. It says that, according to the Hadith, Iran is to be among the "preparers" for the arrival of the Imam. It blames the USA and its allies for causing Islamic fear-mongering since 9/2001.  The video indicates that Islamic writings have warned that westerners would invade the Middle East first and its suggests that Iraq and other western military interventions are proof that the Imam Mahdi is about to appear. It tells that a time of Arab cooperation is prophesied, while also claiming that annihilation of the "Zionist regime" needs to happen prior to the arrival of the Mahdi.
It also essentially tries to explain who is Seyed Khorasani (the current top leader of Iran). It also says that 72 months prior to the arrival of the Imam Mahdi that Seyed Khorasani will appoint Shoeib to assist. It then asks if "Doctor" Ahmadinejad could be the Shoeib. It shows Ahmadinejad making various speeches and discusses him taking over Jerusalem in the future–and prior to the arrival of the Imam Mahdi. It basically ends with stating that the Imam Mahdi will rise up soon and that all should praise God with Jihad.
If so, that would be consistent with the 2012 belief that some in Iran have about the Imam Mahdi coming in late 2012 (Islamic year 1434).
Last week at the UN, Iran's President Ahmadinejad publicly stated that Iran would not recognize Israel's right to exist, even if the UN would recognize a Palestinian state.
As I have written before, I suspect that there may need to be a war in the Middle East for a prophesied peace deal (Daniel 9:27) to take place, though a specific war is not absolutely required.  There are leadership protests in Syria, who is a major ally of Iran.   At this time, it is possible that Syria, for example, may launch with Iran's concurrence and or direct cooperation, an attack against Israel, which could result in Syria (Isaiah 17:1-6) becoming devastated and Iran at least weakened (if not worse).
With the unrest in Syria, the Arab Spring, and Palestinian statehood being looked at, it may not be a coincidence that Iran wants to have atomic bombs by 2012, as attacking Israel would fulfill some of its stated goals.
Since Iran, however, is NOT really south of Jerusalem, we in the Living Church of God do not believe that it will be the final King of the South of Bible prophecy (cf. Daniel 11:4-43).  Because of that, I have tended to believe that Iran may somehow get "neutralized" before this final king rises up.  And it may be that provoking some type of conflict with Israel (through an attack or through simply possessing nuclear bombs) may result in Israel hitting Iran hard enough militarily to greatly reduce Iran's influence in the Islamic world.
Something like this would, thus, allow the other Islamic states (like Saudi Arabia and Egypt) to continue to exist and allow for the rising of the prophesied leader (revolution in Iran, is also another possibility).
We will watch and see (Mark 13:37).
Some articles (and books) of possibly related interest may include:
Is There A Future King of the South? Some no longer believe there needs to be. Might Egypt, Islam, Iran, Arabs, or Ethiopia be involved? What does the Bible say?
The Arab World In the Bible, History, and Prophecy The Bible discusses the origins of the Arab world and discusses the Middle East in prophecy. What is ahead for the Middle East and those who follow Islam?
2012 and the Rise of the Secret Sect This is a link related to a book by Bob Thiel (COGwriter). This also has YouTube videos. This book documents and explains hundreds of prophecies. And since it was published, at 17 have already started to come to pass.
2012 and the Rise of the Secret Sect- Kindle edition Dr. Thiel's book is available via Amazon Kindle.
2012 y el surgimiento de la secta secreta Nuevo libro del Dr. Thiel en Español.
2012 und das Auftreten der geheimen Sekte (German Edition) 2012 Buch von Dr. Thiel in deutscher Sprache.
2012 e o Surgimento da Seita Secreta (Edição em português do Brasil) Da Amazon.com
2012 e o Surgimento da Seita Secreta (Edição em português do Brasil) 2012 livro do Dr. Thiel. Edição em português do Brasil. Este livro documenta e explica centenas de profecias. E desde que foi publicado pela primeira vez, pelo menos 17 já começaram a acontecer.
2012 e o Surgimento da Seita Secreta (Portuguese Edition) 2012 livro do Dr. Thiel em português. Este livro documenta e explica centenas de profecias. E desde que foi publicado pela primeira vez, pelo menos 17 já começaram a acontecer.