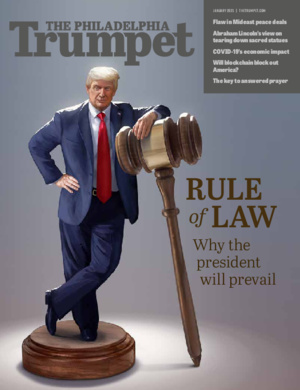 PCG's Trumpet magazine cover for January 2021

PCG's again is insisting that Joe Biden will NOT take office as it expects Donald Trump (who it refers to as a modern Jeroboam) will stay in office. Notice the following from its Joel Hilliker:
By all appearances, the radical left in America is on the cusp of complete victory. There is a legitimate fear that, with its grip on the presidency, the House and Senate, it will have unchecked power to transform America into an utterly different country.

This is why biblical prophecy is such an invaluable source of hope.

Prophecy shows several events that will happen in America's immediate future that would effectively become impossible under a Biden administration. Read this landmark article from our editor in chief to learn more. …

Think of the barefaced hostility to freedom of religion, freedom of assembly, and the right to bear arms. Look at the clampdowns on free speech that Big Tech companies have summarily imposed. Think of the leaders calling for Americans who demonstrated in Washington last week to be treated like terrorists—then think of how these very leaders applauded race riots this past summer and told law enforcement to stand down as cities burned. Think of open borders and more immigration, destructive economic policies aimed at combatting climate change, enforced radical gender and transgender policies, partial birth abortion, and so many other radical positions promoted by the left.

Think of the changes in America's foreign policy with a man named Biden in the Oval Office. Think of his policy toward an ascendant and belligerent China. Think of how he would deal with an Iran that is nearing nuclear breakout. …

God is allowing this drama to play out to a stunning extent. The reason is growing clearer almost by the hour. Nothing exposes the truth like a crisis. Moment by moment, more truth, more reality, is being exposed. The left is showing its totalitarian colors. Many who had aligned themselves with President Trump are turning against him with venom. Everyone's colors are pinned to the mast—in a way they would not have been under any other circumstances.

The more this plays out, the clearer it is just how far gone this nation truly is.

Anyone who thought these prophetically based warnings from Mr. Flurry were hyperbole 14 years ago needs to look at where America is today.

Only one thing prevented all that he foretold from already fully playing out—and that is that, just as prophecy said, God saved Israel temporarily by the hand of a modern-day Jeroboam. …

We are deep in miracle territory.

Bible prophecy is sure. And this continues to inform the Trumpet's view. The reason God has held off the worst of the curses to befall America is that a few more events must first occur that have not yet happened. This is why—in the face of all evidence to the contrary—we remain confident that God will yet intervene.

By all appearances, things in America have never looked darker. But a great deal of history, and of prophecy, shows that it is when things look darkest that God delivers His greatest miracles. 1/12/21 https://www.thetrumpet.com/23426-americas-dark-future-unless-god-intervenes
That "landmark article" link Joel Hilliker has above brings you to an article by PCG's Gerald Flurry that is in the January 2021 edition of his Trumpet magazine. It says in part:
By most appearances, Joe Biden will be America's next president. But I absolutely do not believe that at all. Mr. Trump will weather this storm too. Regardless of what the media says or how things look right now, I am confident Donald Trump will remain president.

I am also certain that we are about to see some of the biggest frauds exposed perhaps ever!

Why? Because a Biden presidency is contrary to Bible prophecy. …


The prophecy in Amos 7 is crucial to understanding the 2020 election. It is about Mr. Trump, and much of it is yet unfulfilled!

Amos 7:7 reads, "Thus he shewed me: and, behold, the Lord stood upon a wall made by a plumbline, with a plumbline in his hand." A plumbline is usually used in measuring a building or in construction. But God uses it differently here: to measure the destruction that is to come upon the nations of Israel, especially America. This destruction is not random. God is measuring it carefully and precisely, and in the end, it will bring about the most wonderful results imaginable.

"And the Lord said unto me, Amos, what seest thou? And I said, A plumbline. Then said the Lord, Behold, I will set a plumbline in the midst of my people Israel: I will not again pass by them any more" (verse 8). This is God talking! He has warned these nations several times to try to wake them up, but they have ignored those warnings. So, He says, I'll warn one last time!

We are living through this final warning right now!

And notice: This final warning occurs during the time of an end-time Jeroboam. "And the high places of Isaac shall be desolate, and the sanctuaries of Israel shall be laid waste; and I will rise against the house of Jeroboam with the sword" (verse 9). When God says, "I will not again pass by them any more," He is talking about the time of Jeroboam.

To understand events in America right now, we must understand the identity of this Jeroboam. This end-time figure is all the way through this prophecy, from verse 9 to verse 17. As I have explained for more than four years now, this end-time Jeroboam is Donald Trump, America's president. And these prophecies about Jeroboam have not yet been completely fulfilled, which is why Mr. Trump must remain president! https://www.thetrumpet.com/23193-why-donald-trump-will-remain-americas-president accessed 01/13/21
While God will fulfill every prophecy of His Bible, Gerald Flurry has a history of misunderstanding and misinterpreting biblical prophecies (for some details, check out the article CG: Teachings Unique to the Philadelphia Church of God). This does not mean is it is absolutely impossible for Donald Trump to remain in office. However, should that be the case, it would not be because of Gerald Flurry's view of Amos 7.
Regarding Amos 7, notice something that Gerald Flurry wrote that was published in the April 2017 edition of his Philadelphia Trumpet article (with bolding added):
Amos 7:7-17 show that our time is very limited. What is going to happen in the next four years or perhaps even less?

This is one of the strongest, most urgent warnings in the Bible!

"Then answered Amos, and said to Amaziah, I was no prophet, neither was I a prophet's son; but I was an herdman, and a gatherer of sycomore fruit" (verse 14). … Verse 14 talks about people who are going to "fall, and never rise up again." This is talking about 50 percent of God's own Laodicean or lukewarm church who will lose their eternal lives! What a tragedy—the greatest tragedy in this end time! …

God is about to send nuclear fire! (see also verses 4, 7, 10, 12, 14; 2:2, 5).
No, 50% of Laodiceans are not to lose their eternal lives by April of 2021, which would be four years after Gerald Flurry's article was officially published (it actually was published a month or so earlier). Gerald Flurry is wrong about that. And while the USA may well experience a nuclear fire, it will not happen before 2025. Gerald Flurry is NOT God's prophet.
Gerald Flurry's view of Jeroboam prophecies are also from his own imagination. The Bible absolutely DOES NOT teach that Donald Trump must REMAIN president.
I suspect that when faced with a failure on his understanding that Gerald Flurry may hold out hope that Donald Trump will return later to be president or that the 'Jeroboam' was only temporary and now is over or someone else will rise up to fulfill the 'Jeroboam' role or Gerald Flurry may otherwise give some explanation.
Hopefully, those associated with PCG will realize that Gerald Flurry is not God's prophet, nor was he ever.
Do not be dissuaded by people who misunderstand prophecies (like PCG's Gerald Flurry). Nor be like those who despise them (1 Thessalonians 5:20) or will not believe that God is providing the last days signs of His Spirit as prophesied in Acts 2:17-18 (see also Does the CCOG have the confirmed signs of Acts 2:17-18?). PCG DOES NOT HAVE THE SIGNS OF ACTS 2:17-18!
Those who consider themselves Christians should heed Jesus' and the Apostle Paul's admonitions to watch world events (Mark 13:33-36; 1 Thessalonians 5:3-6) and pray to be accounted worthy to escape various events that are certain to come to pass (Luke 21:36).
As well as to believe the last days prophecy Peter stated in Acts 2:17-18. Rely on the Bible and NOT Gerald Flurry or those who are trying to defend him.
Some items of possibly related interest may include:
Church of God Leaders on Prophets Have there been prophets throughout the church age? Are any supposed to be around in the last days? What have COG leaders stated or written about prophets? Here is a link to a related sermon: Church of God Leaders on Prophets.
Why Be Concerned About False and Heretical Leaders? There have been many false leaders–here is some of why you should be concerned about them. Here is a related article in the Spanish language ¿Por qué estar preocupado acerca de falsos y heréticos líderes?
Does the CCOG have the confirmed signs of Acts 2:17-18? Does any church have the confirmed dream and prophetic signs of Acts 2:17-18? Should one? Here is a link in the Spanish language: ¿Tiene la CCOG confirmadas las señales de Hechos 2: 17-18? Here is a link in the French language: Est-ce que l'Église Continue de Dieu confirme les signes d'Actes 2:17-18? A related sermon in the English language is also available: 17 Last Days' Signs of the Holy Spirit.
Church of God Leaders on Prophets Have there been prophets throughout the church age? Are any supposed to be around in the last days? What have COG leaders stated or written about prophets? Here is a link to a related sermon: Church of God Leaders on Prophets.
How To Determine If Someone is a True Prophet of God There are many false prophets. How can Christians determine who is a true prophet? There is also a sermon-length video titled How to determine if someone is a true prophet of God. Here is a related link in Spanish/español: ¿Cómo determinar si alguien es un verdadero profeta de Dios?
Who is the King of the West? Why is there no Final End-Time King of the West in Bible Prophecy? Is the United States the King of the West? Here is a version in the Spanish language: ¿Quién es el Rey del Occidente? ¿Por qué no hay un Rey del Occidente en la profecía del tiempo del fin? A related sermon is also available: The Bible, the USA, and the King of the West.
USA in Prophecy: The Strongest Fortresses Can you point to scriptures, like Daniel 11:39, that point to the USA in the 21st century? This article does. Two related sermon are available: Identifying the USA and its Destruction in Prophecy and Do these 7 prophesies point to the end of the USA?
Does God Have a 6,000 Year Plan? What Year Does the 6,000 Years End? Was a 6000 year time allowed for humans to rule followed by a literal thousand year reign of Christ on Earth taught by the early Christians? Does God have 7,000 year plan? What year may the six thousand years of human rule end? When will Jesus return? 2028 or or 2031 or 20xx? There is also a video titled 6000 Years: When will God's Kingdom Come? Here is a link to the article in Spanish: ¿Tiene Dios un plan de 6,000 años?
The Great Tribulation: What Happens First? What events have happened? What are some events that are now happening? And what events need to happen for the Great Tribulation to start? Here is a link to a related sermon video: Counting Down to the Great Tribulation.
When Will the Great Tribulation Begin? 2021, 2022, or 2023? Can the Great Tribulation begin today? What happens before the Great Tribulation in the "beginning of sorrows"? What happens in the Great Tribulation and the Day of the Lord? Is this the time of the Gentiles? When is the earliest that the Great Tribulation can begin? What is the Day of the Lord? Who are the 144,000? Here is a version of the article in the Spanish language: ¿Puede la Gran Tribulación comenzar en el 2020 o 2021? ¿Es el Tiempo de los Gentiles? A related video is: 2021: The Great Tribulation or the Great Reset?
Donald Trump in Prophecy Prophecy, Donald Trump? Are there prophecies that Donald Trump may fulfill? Are there any prophecies that he has already helped fulfill? Is a Donald Trump presidency proving to be apocalyptic? Two related videos are available: Donald: 'Trump of God' or Apocalyptic? and Donald Trump's Prophetic Presidency.
Trump Presidency Magic 8 Ball or Bible Prophecy? BBC reported that one might as well use a 'Magic Eight-Ball' to try to predict what will happen in the remaining time of Donald Trump's presidency. What is a 'Magic Eight-Ball'? Dr. Thiel not only explains that, but also briefly goes over 10 biblically-based warnings he wrote would happen if Donald Trump were elected that have already began to come to pass. He also goes over something he wrote back in 2008 that the Trump presidency is also helping lead to fulfillment. Should you trust Bible prophecy or not? Dr. Thiel says that Bible prophecy can be trusted, despite the view of skeptics and others that either overlook or despise the Bible. This is a video.
Donald Trump and America's Apocalypse This 188 page book is for people truly interested in prophecies related to Donald Trump and the United States, including learning about several that have already been fulfilled and those that will be fulfilled in the future. The physical book can be purchased at Amazon for $12.99 from the following link: Donald Trump and America's Apocalypse.
Donald Trump and America's Apocalypse-Kindle Edition This electronic version of the 188 page print edition is available for only US$3.99. And you do not need an actual Kindle device to read it. Why? Amazon will allow you to download it to almost any device: Please click HERE to download one of Amazon s Free Reader Apps. After you go to for your free Kindle reader and then go to Donald Trump and America's Apocalypse-Kindle Edition.
The Gospel of the Kingdom of God This free online pdf booklet has answers many questions people have about the Gospel of the Kingdom of God and explains why it is the solution to the issues the world is facing. Here are links to three related sermons: The World's False Gospel, The Gospel of the Kingdom: From the New and Old Testaments, and The Kingdom of God is the Solution.
Herbert W. Armstrong, the Philadelphia Church, & the Mantle Herbert Armstrong claims God had him raise the Philadelphia up. Are there reasons to believe that the Philadelphia mantle in now within the CCOG? Here is a link to a related sermon: Herbert W. Armstrong and the Philadelphia Mantle.
6. The Philadelphia Church Era was predominant circa 1933 A.D. to 1986 A.D. The old Radio Church of God and old Worldwide Church of God, now the remnant of that era is basically the most faithful in the Church of God, like who hold to the beliefs and practices of the Continuing Church of God.
7. The Laodicean Church Era has been predominant circa 1986 A.D. to present. The Laodiceans are non-Philadelphians who mainly descended from the old WCG or its offshoots. They do not properly understand the work or biblical prophecies and will face the Great Tribulation if they do not repent. One video of related interest is 17 Laodicean Errors in Prophecy. See also Do You Hold to Any of These Laodicean Prophetic Errors?
PCG: Teachings Unique to the Philadelphia Church of God Simply calling oneself 'Philadelphia' does not make one so (see Revelation 3:7-9), nor does Gerald Flurry calling himself "that prophet" make it so. This article provides many quotes from this group which tries to look faithful.