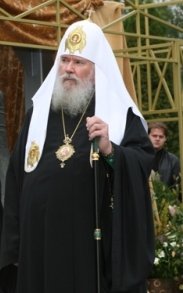 Patriarch Alexius II of Russia (also known as Alexy II)
The following news item was of interest:
Russia embraces its church, leaving western faiths in the cold

International Herald Tribune – April 24, 2008 …

There was a time after the fall of Communism when small Protestant congregations blossomed here in southwestern Russia, when a church was almost as easy to set up as a general store. Today, this industrial region has become emblematic of the suppression of religious freedom under President Vladimir Putin.

Just as the government has tightened control over political life, so, too, has it intruded in matters of faith. The Kremlin's surrogates in many areas have turned the Russian Orthodox Church into a de facto official religion, warding off other Christian denominations that seem to offer the most significant competition for worshipers. They have all but banned proselytizing by Protestants and discouraged Protestant worship through a variety of harassing measures, according to dozens of interviews with government officials and religious leaders across Russia.

This close alliance between the government and the Russian Orthodox Church has become a defining characteristic of Putin's tenure, a mutually reinforcing choreography that is usually described here as working "in symphony."

Putin makes frequent appearances with the church's leader, Patriarch Aleksei II, on the Kremlin-controlled national television networks. Last week, Putin was shown prominently accepting an invitation from Aleksei II to attend services for Russian Orthodox Easter, which is this Sunday.

The relationship is grounded in part in a common nationalistic ideology dedicated to restoring Russia's might after the disarray that followed the end of the Soviet Union. The church's hostility toward Protestant groups, many of which are based in the United States, or have large followings there, is tinged with the same anti-Western sentiment often voiced by Putin and other senior officials.

The government's antipathy also seems to stem in part from the Kremlin's wariness toward independent organizations that are not allied with the government.

Here in Stary Oskol, 300 miles south of Moscow, the police evicted a Seventh-day Adventist congregation from its meeting hall, forcing it to hold services in a ramshackle home next to a construction site. Evangelical Baptists were barred from renting a theater for a Christian music festival, and were not even allowed to hand out toys at an orphanage. A Lutheran minister said he moved away for a few years because he feared for his life. He has returned, but keeps a low profile.

On local television last month, the city's chief Russian Orthodox priest, who is a confidant of the region's most powerful politicians, gave a sermon that was repeated every few hours. His theme: Protestant heretics.

"We deplore those who are led astray — those Jehovah's Witnesses, Baptists, evangelicals, Pentecostals and many others who cut Christ's robes like bandits, who are like the soldiers who crucified Christ, who ripped apart Christ's holy coat," declared the priest, the Rev. Aleksei Zorin…

The Russian Constitution guarantees freedom of religion, and Putin has often spoken against discrimination. "In modern Russia, tolerance and tolerance for other beliefs are the foundation for civil peace, and an important factor for social progress," he said at a meeting of religious leaders in 2006.

Putin has also denounced anti-Semitism. While many Jews have emigrated over the past two decades, the Jewish community — now a few hundred thousand people — is experiencing something of a rebirth here.

Anti-Semitism has not disappeared. But in some regions it seems to have been supplanted by anti-Protestantism and, to a lesser extent, anti-Catholicism.

Mikhail Odintsov, a senior aide in the office of Russia's human rights commissioner, who was nominated by Putin, said most of the complaints his office received about religion involved Protestants.

Odintsov listed the issues: "Registration, reregistration, problems with property illegally taken away, problems with construction of church buildings, problems with renovations, problems with ministers coming from abroad, problems with law enforcement, usually with the police. Problems, problems, problems and more problems."

"In Russia," he said, "there isn't any significant, influential political force, party or any form of organization that upholds and protects the principle of freedom of religion."

This absence looms especially large at the regional level. At the request of a Russian Orthodox bishop, prosecutors in the western region of Smolensk shut down a Methodist church last month, supposedly for running a tiny Sunday school without an educational license. The church's defenders noted that many churches and other religious groups in Russia ran religious schools without licenses and had never been prosecuted.

The FSB has been waging a battle across Russia against Jehovah's Witnesses. In Nizhny Novgorod, in the nation's center, the local Jehovah's Witnesses have had to cancel religious events at least a dozen times in the last few months after the FSB threatened owners of meetings halls, the church's members said.

In February, some officials in the Siberian city of Novosibirsk, Russia's third largest, proposed creating a commission to combat what it called "totalitarian sects." The governor of the Tula region, near Moscow, charged that American military intelligence was using Protestant "sects" to infiltrate Russia.

Officials do not say precisely which groups they are referring to, but Protestant ministers say the epithet is so widespread that most Russians assume the speakers mean all Protestants.

The term has clearly seeped into the public's consciousness.

"As a Russian Orthodox believer, I am against the sects," said Valeriya Gubareva, a retired teacher, who was asked about Protestants as she was leaving a Russian Orthodox church here. "Our Russian Orthodox religion is inviolable, and it should not be shaken."

Like other parishioners interviewed, Gubareva said she supported freedom of religion.

A New Identity

While church attendance in Russia is very low, polls show that Russians are embracing Russian Orthodoxy as part of their identity. In one recent poll, 71 percent of respondents described themselves as Russian Orthodox, up from 59 percent in 2003…

"Naturally, it will be perceived as propaganda directed at our population," Kotenyov said. " 'What kind of propaganda are you preaching?' " they would ask. 'An American faith?' "

"This is how they think: If you are a Russian person, it means that you have to be Russian Orthodox." http://www.iht.com/articles/2008/04/24/europe/24church.php
Few people in the West seem to know much about the "Orthodox" religion or any differences the Russian Orthodox have with the Greek Orthodox or the Living Church of God.
And actually, just the dress of Patriarch Alexius II should should show those interested in biblical Christianity  that Living Church of God leaders are more faithful to the Bible than  Orthodox patriarchs are.

Three articles of related interest may include:
Some Similarities and Differences Between the Orthodox Church and the Living Church of God Both groups claim to represent the original Christian faith. Do you know much about them? Both groups have some amazing similarities and some major differences. Do you know what they are?
Russia: Its Origins and Prophesied Future Where do the Russians come from? What is prophesied for Russia? What will it do to the Europeans that supported the Beast in the end?
What Were the Early Duties and Dress of Elders/Pastors? Were the duties of the clergy primarily pastoral or sacramental? Did they dress with special liturgical vestments? Can "bishops" be disqualified as ministers of Christ based on their head coverings?