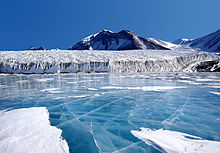 Blue ice covering Lake Fryxell, Antarctica
A new study contradicts climate models that concluded ice levels in Antarctica are decreasing:
March 2, 2015

Climate models can be good tools for predicting future sea ice levels — unless, of course, they are completely wrong.

In the case of Antarctica, the climate models were dead wrong, according to a new study by Chinese scientists published in the journal Cryosphere. The study found that most climate models predicted Antarctic sea ice coverage would shrink as the world warmed and greenhouse gas levels increased.

The opposite happened. Most climate models analyzed in the study predicted Antarctica would shrink between 1979 and 2005, but instead south pole sea ice levels increased during that time. Going a step further, sea ice levels have only increased since 2006, hitting all-time highs for sea ice coverage in September of last year.

"For the Antarctic, the main problem of the [climate] models is their inability to reproduce the observed slight increase of sea ice extent," researchers wrote in their study.

"Both satellite-observed Antarctic [sea ice extent] and [satellite measured] Antarctic [sea ice volume] show[s] increasing trends over the period of 1979–2005, but [climate models'] Antarctic [sea ice extent] and [sea ice volume] have decreasing trends," researchers added. "Only eight models' [sea ice extent] and eight models' [sea ice volume] show increasing trends." …

Last year was the first year on record that Antarctic sea ice coverage rose above 7.72 square miles. By Sept. 22, 2014, sea ice extent reached its highest level on record — 7.76 square miles. Antarctica is now in its melt season, but even so, sea ice levels were very high for late December and early January.

The same can't be said for Arctic sea ice coverage.  http://dailycaller.com/2015/03/02/antarctic-sea-ice-did-the-exact-opposite-of-what-models-predicted/
Regarding 'global warming,' I would also add that scientists were accused to have falsified some data related to temperatures in Australia last year (see Australian researchers accused of falsifying 'global warming' data).  Basically they said that temperature data confirmed 'global warming,' but the accusers said this was not true.
Now do either of these reports mean that air pollution is good?
No.
But what it does confirm is that when politicians and scientists with a political agenda tell us that there can be no debate about something and that something is a scientific fact, that we all need to have caution.
Real scientists know that 'hard data' is almost always more important than theoretical models.  But the whole climate change/global warming matter has mainly become a political matter in the 21st century.  As politicians generally do not wish to admit error, it is not likely that too many will be persuaded to change their views because of the Chinese study–but some may.
Of course, there still are issues with Arctic ice and my own observation of glaciers in Alaska provided my wife and I personal verification that melting has been happening there.
As far as the idea of 'global warming' goes, burning anything causes heat.  Increasingly burning fuels of any sort will cause that.  How much is needed to negatively affect the planet and climate, as well as what the alternatives are, can be the subject of legitimate political debate–if those involved all tell the truth.
But not all do.
That being said, the Bible does teach that humans will be punished for destroying the earth and that a time of high heat is coming:
8 Then the fourth angel poured out his bowl on the sun, and power was given to him to scorch men with fire. 9 And men were scorched with great heat, and they blasphemed the name of God who has power over these plagues; and they did not repent and give Him glory. (Revelation 16:8-9)

18 The nations were angry, and Your wrath has come,
And the time of the dead, that they should be judged,
And that You should reward Your servants the prophets and the saints,
And those who fear Your name, small and great,
And should destroy those who destroy the earth (Revelation 11:18).
Humans were supposed to oversee, tend, and keep the earth (Genesis 1:28-30; 2:15), not destroy it.
But because humans will (Matthew 24:21-22), Jesus will come and the Kingdom of God will fix the problems.
High heat and apparently melting will happen, but the latest report from China indicates that Antarctica is recently gaining, not losing, ice.
Some items of possibly related interest may include:
The Bible, Christians, and the Environment How should Christians view the environment? Does the Bible give any clues? What are some of the effects of air, water, and land pollution? Is environmental pollution a factor in autism and death? Do pollutants seem to double the autism risk? What will Jesus do? A YouTube video is available titled Air Pollution, Autism, and Prophecy.
Weather Blessings and Sorrows Are weather problems a warning? What should be done? What does the Bible teach about weather? What about floods, droughts, heat, earthquakes, tornadoes, and solar storms? Here is a related YouTube video Does God Use Weather? A related item in the Spanish language would be Bendiciones y maldiciones del clima.
Anglo – America in Prophecy & the Lost Tribes of Israel Are the Americans, Canadians, English, Scottish, Welsh, Australians, Anglo-Saxon (non-Dutch) Southern Africans, and New Zealanders descendants of Joseph? Where are the lost ten-tribes of Israel? Who are the lost tribes of Israel? What will happen to Jerusalem and the Jews in Israel? Will God punish the U.S.A., Canada, United Kingdom, and other Anglo-Saxon nations? Why might God allow them to be punished first? Here is a link to the Spanish version of this article: Anglo-América & las Tribus Perdidas de Israel. Information is also in the YouTube sermons titled Where are the Ten Lost Tribes? Why does it matter? and British are the Covenant People. A short YouTube of prophetic interest may be Barack Obama and the State of the Apocalypse.
Will the Anglo-Saxon Nations be Divided and Have People Taken as Slaves? Will the lands of the United States, United Kingdom, Canada, Australia, and New Zealand be divided? What about Jerusalem? What does Bible prophecy teach? Are there non-biblical prophecies that support this idea? Who will divide those lands? Who will end up with the lands and the people? Here is a link to a video titled Will the USA and other Anglo-nations be Divided and Their People Made Slaves? Here is a related item in the Spanish language ¿Serán divididas las naciones anglosajonas?
When Will the Great Tribulation Begin? 2015, 2016, or 2017? Can the Great Tribulation begin today? What happens before the Great Tribulation in the "beginning of sorrows"? What happens in the Great Tribulation and the Day of the Lord? Is this the time of the Gentiles? When is the earliest that the Great Tribulation can begin? What is the Day of the Lord? Who are the 144,000? Here is a version of the article in the Spanish language: ¿Puede comenzar la Gran Tribulación en 2014 o 2015? ¿Es el Tiempo de los Gentiles? You can also see the English language sermon video: The Great Tribulation from the Mount of Olives.
Can the Great Tribulation Begin in 2015? When will the Great Tribulation begin? Can it begin in 2015 as some have indicated? What are the biblical requirements that precede the Great Tribulation? What did Jesus teach would happen prior to the Great Tribulation. Are there definite clues in the Book of Daniel that Christians should look out for? Is there a King of the North or a King of the South yet? Where does the 'prince' of Daniel 9:26-27 come from? What about 'blood moons'? Dr. Thiel videoed this on the Mount of Olives where Jesus specifically discussed events leading up to the Great Tribulation in Matthew 24.