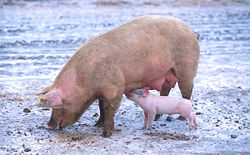 By now, many of you probably have heard that US President Barack Obama declared a "swine flu emergency":
Obama agenda: Swine-flu emergency
Posted: Monday, October 26, 2009 9:24 AM by Domenico Montanaro
Filed Under: Barack Obama
"Responding to a dramatic surge in the number of U.S. swine flu cases, President Barack Obama has signed a proclamation declaring H1N1 influenza a national emergency. The order by Mr. Obama, announced on the weekend, will speed the ability of hospitals and health authorities to take measures to fight the pandemic through such steps as setting up tents in hospital parking lots to establish extra emergency room care and creating health clinics in school gymnasiums or community centers." http://firstread.msnbc.msn.com/archive/2009/10/26/2108211.aspx
Normally in government declared emergencies, some administrative and/or constitutional protections for Americans are put aside to meet governmental objectives.  In this case, the US President apparently sincerely believes that the government needs to prepare for what some suspect will be a major outbreak of swine flu.
And certainly there may be a major outbreak of the swine flu.
It is true that the Bible warns of pestilences in the end-time (Matthew 24:7-8; Revelation 6:7-8) and many will likely die from the swine flu.  However, unless this particular strain of the flu lies dormant and possibly mutates, I do not believe that it will be the one that fulfills the ride of the fourth horseman of the Apocalypse, which ultimately (and probably through more than one pestilence combined with hunger and the sword) kills one quarter of humankind (Revelation 6:7-8).
It is simply a bit too early from a biblical perspective.
Some articles related to timing of end-time events and one even related to pork include:
Does God Have a 6,000 Year Plan? What Year Does the 6,000 Years End? Was a 6000 year time allowed for humans to rule followed by a literal thousand year reign of Christ on Earth taught by the early Christians? When does the six thousand years of human rule end?
Can the Great Tribulation Begin in 2009, 2010, or 2011? Can the Great Tribulation begin today? What happens before in the "beginning of sorrows"? What happens in the Great Tribulation and the Day of the Lord? When is the earliest that the Great Tribulation can begin? What is the Day of the Lord?
End of Mayan Calendar 2012–Might 2012 Mean Something? Are there Mayan calendar predictions for change in 2012? Changes were centuries ago predicted by the Hopi Native Americans. Do Mayan/Hindu/Hopi/Buddhist/New Age/Nostradamus prophecies have any value here? Why might Satan have inspired this date? Does the Dresden codex show destruction of the earth by flood?
The New Testament Church and Unclean Meats Are foods considered to have been unclean in the Old Testament considered to be food in the New Testament? This article discusses this from the perspective of the New Testament. It also has a list of clean and unclean animals. It also answers the question, is pork healthy or is pork dangerous?