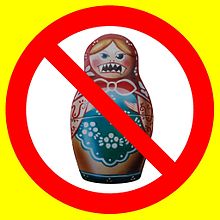 Boycott Russia Logo
The campaign to boycott Russian businesses and goods has ramped up in western Ukraine with technology and 'flash mob' tactics:
July 26, 2014

War might be at their doorstep but Ukrainian citizens are using a more peaceful style of dissent against Russia.

Across the capital Kiev last weekend, young men and women converged on Russian-owned cafes and restaurants. With each sale, the activists feigned their own death. They held signs that said "Russia kills!" against their chest as they lay prone on the floor…

Tymur Pliushch, a founder of Resistance, told Fairfax Media the flash mobs began in 2013 after Russia's trade blockade, but the Crimean crisis and the recent MH17 incident revitalised the campaign…

"The campaign was called 'Russian products are killing'," he says. "That means money that consumers are paying for Russian goods might be used for the financial support of military actions in Ukraine."

Activists have also built a smartphone app telling people which stores to avoid, in order to not send money back to Russia. The app, called "Boycott Invaders", also allows users to scan barcodes as they shop, providing an instant answer on whether the product is Russian-made or owned…

Ukrainian shoppers say they did not usually notice where the products came from, only the price and quality.

"Now I am paying attention," one woman told Radio Free Europe. "If it's manufactured in Russia, I ask for something else."

A man says, "it is just wrong to buy the aggressor's product". Yet another says they now choose Chinese products over Russian. http://www.smh.com.au/world/ukraine-in-campaign-to-boycott-russian-goods-restaurants-sex-20140726-zx5zn.html#ixzz38aE6KcRx
July 26, 2014
With tensions high between Ukraine and Russia, in the city of Kiev a band of youths have employed a lie-down approach to protesting against the Kremlin.

Across the Ukrainian capital young men and women vented their frustrations by converging on Russian-owned cafes and restaurants and lying down on the floor.

The flash mob protest, given the title 'Russian products are killing', has been conceived to make consumers more aware about the products they are buying. Tymur Pliushch, a founder of Resistance and the group responsible for organizing the flash mob, told Fairfax Media that the proceeds from Russian goods might be used for the "financial support of military actions in Ukraine." https://au.news.yahoo.com/a/24556956/ukrainian-s-lie-down-during-flash-mob-russian-kills/
To try to get around this, in April 2014, many Russian manufacturers changed Russian barcodes to those of Ukrainian manufacturers.  Yet sales of Russian-made goods have dropped significantly in Ukraine.
I began to warn last year about potential splits occurring in Ukraine.  If this 'boycott Russia' movement becomes more successful, this may economically force more ethnic Russians who live in Ukraine to want to split from Ukraine.  Some may move to other places, while others may become more inclined to support the separatists there.
Of course, there are now more international boycotts, called sanctions, against Russia related to its involvement with Ukraine.  Russia is not pleased with that.  Here is a report from a Russian news source related to that:
July 26, 2014

MOSCOW, July 26 (RIA Novosti) – By imposing additional sanctions against Russia, the European Union puts under threat international cooperation in security field, Russian Foreign Ministry said in a statement.

"Once again taking the lead from Washington on the issue of additional anti-Russian sanctions, the European Union … basically puts under threat international security cooperation," the statement reads.

Russian Foreign Ministry underlined that additional list of sanctions is "a direct evidence that EU countries set a course for the total rollback of cooperation with Russia in international and regional security, including combating spread of weapons of mass destruction, terrorism, organized crime and other challenges and threats."

"Brussels is now responsible for this step made amid the dramatic worsening of the international situation, in particular in Afghanistan, Middle East, North Africa and other areas," Russian Foreign Ministry stressed.  http://en.ria.ru/russia/20140726/191311888/EU-Sanctions-Against-Russia-Put-Under-Threat-Security.html
Threats to "international security cooperation" should be understood to be very broad and that Russia may veto more in the UN Security Council as well as take some specific military steps.
Notice also the following:
July 26, 2014

MOSCOW, July 26 (RIA Novosti) – Militia forces have managed to take control of the Ukrainian checkpoint Marinivka in Donetsk region, the self-proclaimed Donetsk People's Republic (DNR) said Saturday on Twitter.

"DNR army divisions have fought their way to the state border with the Russian Federation, and took control of the Marinivka checkpoint," the statement said.

On Friday, it was reported that intense shooting and cannonade had been heard in that area. Several shells exploded near a Russian checkpoint – in the field and by the road linking the customs post with the Primiussky village.

Russian Defense Ministry said on Friday that the Russian territory had been shelled by Ukrainian forces nine times already. As a result of one of the attacks, a Russian citizen was killed in the city of Donetsk, Rostov region. Russian Foreign Ministry declared a protest to Ukraine in connection with these attacks and demanded to cease such hostilities. http://en.ria.ru/world/20140726/191308283/Independence-Supporters-Capture-Checkpoint-near.html

July 26, 2014

Fighting neared Donetsk Saturday, and explosions were heard within the rebel-controlled eastern city as the Ukrainian army pressed insurgents who have bolstered defenses after a string of defeats…

U.S. officials have accused Russia of massing more troops on its border, and firing artillery into Ukraine in recent days, most likely in a bid to prevent Ukrainian troops from sealing the border and cutting off weapon supplies to rebels.

Shelling was heard around Donetsk early Saturday. It was not immediately unclear what the damage or casualties were, but residents reported being awoken by heavy explosions.

"Last night was terrible. I was woken up at 3 a.m. by the explosions. The walls shook, the windows shook," Marina, who lives in a southern part of the city, told Reuters. "There was shooting all over the city. And it still goes on. Maybe it's a little quieter now, but it's all around."  http://www.voanews.com/content/ukraine-donetsk-fighting-sanctions/1965751.html

KIEV, Ukraine — Rather than backing down after last week's downing of a civilian passenger jet, Russia appears to be intervening more aggressively in the war in eastern Ukraine in what American and Ukrainian officials call a dangerous escalation that will almost certainly force more robust retaliation from the United States and Europe.

Russia has increased its direct involvement in fighting between the Ukrainian military and separatist insurgents, moving more of its own troops to the border and preparing to arm the rebels with ever more potent weapons, including high-powered Tornado rocket launchers…While Russia flatly denied accelerating its intervention on Friday, American and Ukrainian officials said Moscow appeared anxious to stem gains by government forces that have succeeded in retaking some rebel-held territory…

American and Ukrainian officials said Russia has moved beyond simply helping separatists and is now engaging directly in the war. Multiple Ukrainian military planes have been brought down in recent days by missiles fired from Russian territory, and now artillery batteries are firing from across the border into Ukraine, the officials said.  http://www.nytimes.com/2014/07/26/world/europe/russian-artillery-fires-into-ukraine-kiev-says.html?_r=0
Russia's President Vladimir Putin is planning his next move.  He does not want Kiev to control Donetsk, but also does not seem to wish to have a full war in the east. He wants all former Soviet states to support his Eurasian Union, and is likely calculating what will happen in other lands depending on how he reacts.
A Eurasian Union will come according to biblical prophecy, but it does not have to come for some years, though the small confederation to be called the Eurasian Union is set to start in January 2015.  Yet that new union only has three countries.  As Vladimir Putin wants more than that, he is trying to best decide how Russia will proceed now.  While he does not like sanctions or boycotts, he is also concerned about how other former Soviet states are viewing Russia's actions with Ukraine (such as Moldova, which he also wants).
But he also does not want to lose Ukrainian territory.  War is not only in the present, it is also in the future for Russia and those in Ukraine.
Some items of possibly related interest may include:
Russia and Ukraine: Origins and Prophesied Future Where do the Russians come from? What about those in the Ukraine? What is prophesied for Russia and its allies? What will they do to the Europeans that supported the Beast in the end? You can also watch the short video Ukraine in Prophecy?
Russia in the Bible and in Prophecy Is Russia mentioned in the Bible? It it is where is it? Is there any evidence of a people moving to the land that the Russians now occupy? What do Catholic and other prophecies say about Russia? What does the Bible teach? How are Protestants often in error on this? Is there more in biblical prophecy for Russia than war? Does God have a plan to save Russia and her allies? Does Russia have a history involving Sabbath keepers? Does scripture tie Russia in with Armageddon? Will Russia help defeat the end time Babylonian power? What did the Apostle John, and the prophets Isaiah, Jeremiah, and Daniel, write about Russia? This is a sermon-length video.
Ezekiel 38: For Russia & Iran in Our Day? Is Ezekiel 38 about to be fufilled? A related video is available titled Ezekiel 38: For Russia, Ukraine, & Iran Now?
Bible News Prophecy July-Sept. 2014: The Coming Eurasian Union Here is the latest magazine from the Continuing Church of God. The cover of which shows Vladimir Putin and features an article about the coming Eurasian Union.
Hillary Clinton in Prophecy Prophecy, Hillary Clinton? Are there prophecies that Hillary Clinton may fulfill? Are there any prophecies that she has already helped fulfill? Could Hillary Clinton be apocalyptic? Could Hillary Clinton be the final Antichrist?
When Will the Great Tribulation Begin? 2014, 2015, or 2016? Can the Great Tribulation begin today? What happens before the Great Tribulation in the "beginning of sorrows"? What happens in the Great Tribulation and the Day of the Lord? Is this the time of the Gentiles? When is the earliest that the Great Tribulation can begin? What is the Day of the Lord? Who are the 144,000? Here is a version of the article in the Spanish language: ¿Puede comenzar la Gran Tribulación en 2013 o 2014? ¿Es el Tiempo de los Gentiles? You can also see the English language sermon video: The Great Tribulation from the Mount of Olives.
The 'Peace Deal' of Daniel 9:27 This prophecy could give up to 3 1/2 years advance notice of the coming Great Tribulation. Will most ignore or misunderstand its fulfillment? Here is a link to a related sermon video Daniel 9:27 and the Start of the Great Tribulation.
Blood Moons and Prophecy There are four 'blood moons' expected in 2014 and 2015. Do they signal the Day of the Lord or the return of Jesus Christ? A related YouTube video is also available: Blood Moons, Prophecy, 2014, and 2015.
The Gospel of the Kingdom of God was the Emphasis of Jesus and the Early Church Did you know that? Do you even know what the gospel of the kingdom is all about? You can also see a YouTube video sermon The Gospel of the Kingdom.
Just What Do You Mean the Kingdom of God? A booklet that was written by Herbert Armstrong answers questions about the Kingdom.
Must the Ten Kings of Revelation 17:12 Rule over Ten Currently Existing Nations? Some claim that these passages refer to a gathering of 10 currently existing nations together, while one group teaches that this is referring to 11 nations getting together. Is that what Revelation 17:12-13 refers to? The ramifications of misunderstanding this are enormous.
World War III: Steps in Progress Are there surprising actions going on now that are leading to WWIII? Might a nuclear attack be expected? Does the Bible promise protection to all or only some Christians? How can you be part of those that will be protected? A related video would be Is World War III About to Begin? Can You Escape?
Wars, rumors of wars, and the Apocalypse Jesus foretold a time before the end where there would be wars and rumors of wars. The Apocalypse (the Book of Revelation) warns of the red horseman of war. Now, even secular writers, like Larry Edelson, are worried that wars and rumors of war are the most menacing problem that now haunts the earth? Are they right? What is the solution? This is a sermonette-length video.
Is Russia the King of the North? Some claim it is. But what does the Bible teach? Here is a link to a video, also titled Is Russia the King of the North?
Europa, the Beast, and Revelation Where did Europe get its name? What might Europe have to do with the Book of Revelation? What about "the Beast"? Is an emerging European power "the daughter of Babylon"? What is ahead for Europe? Here is a link to a video titled: Can You Prove that the Beast to Come is European?
The Eurasian Union, the Kings of the East, and Bible Prophecy Is there a Eurasian union that will be formed? Is one being formed right now? Are any leaders working on that in the 21st century? Does the Bible teach that there will be a Eurasian union? If some type of Eurasian union is formed, who might it benefit and who will it destroy? A related video would be Is The Eurasian Union Rising?
Who is the King of the North? Is there one? Do biblical and Roman Catholic prophecies for the Great Monarch point to the same leader? Should he be followed? Who will be the King of the North discussed in Daniel 11? Is a nuclear attack prophesied to happen to the English-speaking peoples of the United States, Great Britain, Canada, Australia, and New Zealand? When do the 1335 days, 1290 days, and 1260 days (the time, times, and half a time) of Daniel 12 begin? When does the Bible show that economic collapse will affect the United States? In the Spanish language check out ¿Quién es el Rey del Norte? Here is a link to a video titled: The Future King of the North.
Barack Obama, Prophecy, and the Destruction of the United States-Second Edition for Second Obama Term This is a 160 page book for people truly interested in prophecies related to Barack Obama and the United States, including learning about many that have already been fulfilled (which the book documents in detail) and those that will be fulfilled in the future. It also has a chapter about a Republican choice. This book is available to order at www.barackobamaprophecy.com. The physical book can also be purchased at Amazon from the following link: Barack Obama, Prophecy, and the Destruction of the United States: Is Barack Obama Fulfilling Biblical, Islamic Catholic, Kenyan, and other America-Related Prophecies? What About Republican Leaders? Second Edition for Second Obama Term.
Barack Obama, Prophecy, and the Destruction of the United States-Second Term-Amazon Kindle edition. This electronic version is available for only US$2.99. And you do not need an actual Kindle device to read it. Why? Amazon will allow you to download it to almost any device: Please click HERE to download one of Amazon s Free Reader Apps. After you go to for your free Kindle reader and then go to Barack Obama, Prophecy, and the Destruction of the United States-Second Term-Amazon Kindle edition.