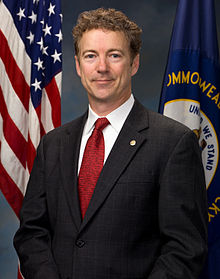 Rand Paul, Official Senate Photo

US Senator Rand Paul has announced his candidacy for the office of US President:
April 7, 2015

WASHINGTON — Kentucky Sen. Rand Paul officially joined the 2016 presidential race today, hoping to remake the Republican Party with a mix of libertarian and conservative ideals that can attract minorities and young people.

On his campaign website, Paul announced, "I am running for president to return our country to the principles of liberty and limited government." The announcement includes a video testimonial from his wife, Kelley Ashby Paul. …

The GOP primary could pit Paul, Cruz and Rubio against each other as they vie for the votes of Tea Party supporters who backed them for the Senate. But the competition is viewed as healthy for Republicans eager to take back the White House.

"It's a positive thing that so many potential candidates do support our values," said Jenny Beth Martin, co-founder of the Tea Party Patriots. "It shows our values are once again front and center in the political discussion in America."

Since his Senate election in 2010, Paul has positioned himself to be a more relatable — and electable — politician than his father, Ron.  http://www.usatoday.com/story/news/politics/elections/2015/04/07/rand-paul-president-2016-announcement/25041783/

April 7, 2015

So far, Paul joins only Texas Sen. Ted Cruz as a declared candidate for the GOP presidential nomination. But the field is certain to grow in the months ahead with Jeb Bush, Chris Christie, Scott Walker, Lindsey Graham and others eyeing a campaign. Marco Rubio, a Florida GOP senator, is expected to launch his campaign next week.

For now, the nomination is up for grabs with no clear front-runner. Paul came in third place at 12% in a CNN/ORC International Poll of Republicans. Bush led the pack at 16% while Walker came in second at 13%. …

He's steered clear of such hot-button issues more recently. Last week, for example, he was one of the few Republicans who didn't weigh in on religious freedom laws in Indiana and Arkansas that critics argued would allow businesses to discriminate against gays and lesbians.

Paul has also worked to maintain a following that includes a large swath of young voters who he partly inherited from his father. Heavy on tech and social media, his political team has opened an office in Austin, Texas, and will soon establish one in the heart of Silicon Valley. Like clockwork, Paul frequently holds up his phone during his stump speech and declares that what people do on their smartphones is "none of the government's damn business."

His nontraditional style is complemented by Paul's wardrobe. The senator is known for wearing blue jeans with boots and a blazer when he's on the trail, and during the winter, he opts for a turtleneck and sport coat rather than a tie.

But in his quest to become a national figure, Paul's comments have come under scrutiny and some of his statements have led critics to question whether he's ready for prime time.  http://www.cnn.com/2015/04/07/politics/rand-paul-president-2016/
While I am in favor of the principles of liberty and limited government, perhaps I should point out that Mother Jones accuses Rand Paul, basically, of hypocrisy:
April 7, 2015
Rand Paul's public position on abortion is similar to that of many in the Democratic party 30 years or so ago:
"My personal religious belief is that life begins at the very beginning," Paul said, before adding that the abortion debate was polarized between believers in "all life and no abortion, or all abortion and no life."

To many conservatives, reducing the idea that life begins at conception to a "personal religious belief" — more or less how Democratic presidential nominee John Kerry characterized it in a 2004 presidential debate — cedes the moral and scientific high ground…

Now, the conventional wisdom is that Paul's relatively libertarian foreign-policy views are the biggest threat to him in the 2016 GOP primaries. That may indeed be what motivates spending on a barrage of anti-Paul ads in the early states, and perhaps beyond. But losing the social conservative vote in Iowa and South Carolina — either to someone like Ted Cruz or a pure Christian right candidate — is actually Paul's most immediate obstacle. http://theweek.com/article/index/260526/rand-pauls-biggest-2016-challenge-social-issues
On the homosexual marriage issue, he too is opposed to it, but not that much. Here is what On The Issues had on Rand Paul's views of this some time back:
He is certainly right that redefining marriage will lead to economic and moral problems. If he truly holds that view, then he should be opposed to homosexual marriages everywhere.  His lack of support of the Indiana law is consistent with my long standing view that he is trying to be less offensive to the homosexual lobby.
Of course, the Bible teaches:
12…. Those who lead you cause you to err, And destroy the way of your paths. (Isaiah 3:12)
At his Senate website, Rand Paul had the following about his positions on certain matters:
He is right about the budget and certain other matters. Whether or not he can fix the budget problem is another matter. But if it is not fixed, the USA will be doomed (Habakkuk 2:6-8).
Last year, Rand Paul beat potential Democratic candidate Hillary Clinton in a poll in Colorado for president (see Rand Paul beats Hillary Clinton in Colorado Presidential Poll).  Hillary Clinton may well be the Democratic candidate (reports out the past couple of days indicate she may announce her own candidacy later this month), but there are many more states than Colorado (and voters in Colorado may change their views).
All that being said, while Rand Paul does have some ideas that could help the USA, the reality is that the type of moral leadership he seems to advocate the way he does is insufficient to turn around the punishments that are beginning to strike the USA.
None of the expected candidates for USA president will turn the nation back to God, thus none will truly fix the problems in the USA.  It will take the return of Jesus Christ and the establishment of the Kingdom of God to do that.
Some items of possibly related interest may include:
The Gospel of the Kingdom of God was the Emphasis of Jesus and the Early Church Did you know that? Do you even know what the gospel of the kingdom is all about? You can also see a YouTube video sermon The Gospel of the Kingdom.
Should a Christian Vote? This article gives some of the Biblical rationale on this subject. Would Jesus vote for president/prime minister? Is voting in the Bible? This is a subject Christians need to understand.
Anglo – America in Prophecy & the Lost Tribes of Israel Are the Americans, Canadians, English, Scottish, Welsh, Australians, Anglo-Saxon (non-Dutch) Southern Africans, and New Zealanders descendants of Joseph? Where are the lost ten-tribes of Israel? Who are the lost tribes of Israel? What will happen to Jerusalem and the Jews in Israel? Will God punish the U.S.A., Canada, United Kingdom, and other Anglo-Saxon nations? Why might God allow them to be punished first? Here is a link to the Spanish version of this article: Anglo-América & las Tribus Perdidas de Israel. Information is also in the YouTube sermons titled Where are the Ten Lost Tribes? Why does it matter? and British are the Covenant People. A short YouTube of prophetic interest may be Barack Obama and the State of the Apocalypse.
Will the Anglo-Saxon Nations be Divided and Have People Taken as Slaves? Will the lands of the United States, United Kingdom, Canada, Australia, and New Zealand be divided? What about Jerusalem? What does Bible prophecy teach? Are there non-biblical prophecies that support this idea? Who will divide those lands? Who will end up with the lands and the people? Here is a link to a video titled Will the USA and other Anglo-nations be Divided and Their People Made Slaves? Here is a related item in the Spanish language ¿Serán divididas las naciones anglosajonas?
Abortion, the Bible, and a Woman's Right to Choose Do you know what the Bible teaches on this? Has the Roman Catholic Church allowed abortions? What about the real Church of God? Some may also, or instead, wish to view the YouTube video Abortion, the Bible, and US Debt.
Cross-dressing and other assaults against your children. What should you do? Is there an agenda to turn your children and/or grandchildren away from biblical morality and towards practices promoted by homosexuals? What does the Bible teach about cross-dressing? What should parents do? If there is an agenda, what has been going on? There is also a YouTube video on this, titled Cross dressing and Other Assaults Against Your Children.
The Bible Condemns Homosexuality "Same-sex marriage" for "gays" and lesbians is becoming more acceptable to many. What does the Bible teach about homosexuality? Can homosexuals change?
Does God Have a 6,000 Year Plan? What Year Does the 6,000 Years End? Was a 6000 year time allowed for humans to rule followed by a literal thousand year reign of Christ on Earth taught by the early Christians? Does God have 7,000 year plan? What year may the six thousand years of human rule end? When will Jesus return? 2022 or 20xx? There is also a video titled The 6000 Year Plan: Is the end of humanity's reign almost up?
Hillary Clinton in Prophecy  Prophecy, Hillary Clinton? Are there prophecies that Hillary Clinton may fulfill?  Are there any prophecies that she has already helped fulfill?  Could Hillary Clinton be apocalyptic?  Could Hillary Clinton be the final Antichrist?
When Will the Great Tribulation Begin? 2015, 2016, or 2017? Can the Great Tribulation begin today? What happens before the Great Tribulation in the "beginning of sorrows"? What happens in the Great Tribulation and the Day of the Lord? Is this the time of the Gentiles? When is the earliest that the Great Tribulation can begin? What is the Day of the Lord? Who are the 144,000? Here is a version of the article in the Spanish language: ¿Puede comenzar la Gran Tribulación en 2014 o 2015? ¿Es el Tiempo de los Gentiles? You can also see the English language sermon video: The Great Tribulation from the Mount of Olives.
Just What Do You Mean — Repentance? Do you know what repentance is? Have you truly repented? Repented of what? Herbert W. Armstrong wrote this as a booklet on this important subject.
When You Sin: Do You Really Repent? This is an article by Charles F. Hunting. A related sermon is Confess to God and truly repent.
Barack Obama, Prophecy, and the Destruction of the United States-Second Edition for Second Obama Term This is a 160 page book for people truly interested in prophecies related to Barack Obama and the United States, including learning about many that have already been fulfilled (which the book documents in detail) and those that will be fulfilled in the future. It also has a chapter about a Republican choice. This book is available to order at www.barackobamaprophecy.com. The physical book can also be purchased at Amazon from the following link: Barack Obama, Prophecy, and the Destruction of the United States: Is Barack Obama Fulfilling Biblical, Islamic Catholic, Kenyan, and other America-Related Prophecies? What About Republican Leaders? Second Edition for Second Obama Term.
Barack Obama, Prophecy, and the Destruction of the United States-Second Term-Amazon Kindle edition. This electronic version is available for only US$2.99. And you do not need an actual Kindle device to read it. Why? Amazon will allow you to download it to almost any device: Please click HERE to download one of Amazon s Free Reader Apps. After you go to for your free Kindle reader and then go to Barack Obama, Prophecy, and the Destruction of the United States-Second Term-Amazon Kindle edition.