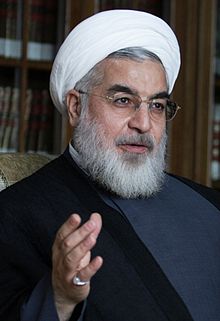 Hassan Rouhani
Iran's President Hassan Rouhani says Iran is not a threat to any country:
April 7, 2016

President Hassan Rouhani said on Thursday Iran posed no threat to any other nation and that it wanted interaction with the rest of the world – remarks contrasting with the view of the country's hardline supreme leader.

Ayatollah Ali Khamenei, Iran's ultimate authority, has ruled out further rapprochement with the United States since the consummation of a deal on Iran's disputed nuclear activity that ended years of political and economic isolation.

The deal, reached with six major powers in 2015, led to Iran curbing its nuclear program in exchange for a lifting of sanctions in January. A standoff between Rouhani's government, which saw the deal through, and Khamenei's allies who opposed it, has intensified in the past few months.

"We are in favor of a policy of moderation … Iran is not a threat to any country … Tehran wants interaction with the world, with its neighboring countries," Rouhani, a relative moderate, said at a gathering to mark National Nuclear Technology Day broadcast live on state television. …

"For years, we have been building power on the presumption of a widespread war with America and its allies," state media quoted the commander of the Islamic Revolutionary Guards Corps (IRGC), Mohammad Ali Jafari, as saying on Tuesday.

"We don't welcome any war, but if the time should come for a military confrontation…, America will not be able to do a damn thing."

The IRGC has test-fired ballistic missiles in recent months, drawing criticism from the West. http://www.reuters.com/article/us-iran-rouhani-moderation-idUSKCN0X40IO
Iran's President is bearing false witness. Iran wants to eliminate Israel and would also prefer to eliminate the USA.
Iranian leaders have threatened to wipe Israel off the map. Notice two items from last Summer:
July 7, 2015

Once again, a top Iranian leader is speaking out and vowing the Jewish State will be obliterated. However, in the meantime the West makes a lot of money by taking advantage of its existence, he says.

"The presence of the Israeli regime is temporary," Iranian Ayatollah Akbar Hashemi Rafsanjani assured the Hezbollah-linked Al Ahd news website in an interview on Monday.

"Eventually one day this alien forged existence that has been forced into the body of an ancient nation and an historical region will be wiped off the map."

Rafsanjani is a former 'centrist' Iranian president and is the current head of the country's Expediency Discernment Council, the advisory body to Iran's Supreme Leader. He is known to be a longtime friend of current President Hassan Rouhani. http://www.jewishpress.com/news/breaking-news/irans-rafsanjani-reiterates-israel-will-be-wiped-off-the-map/2015/07/07/

August 27, 2015

A senior Iranian official on Tuesday said Israel "should be annihilated," and that the thawing relations with the West would not translate into a shift in Tehran's position concerning the Jewish state.

Hussein Sheikholeslam, a foreign affairs adviser to parliament speaker Ali Larijani, told Iranian media that contrary to remarks by British Foreign Secretary Philip Hammond, "Our positions against the usurper Zionist regime have not changed at all; Israel should be annihilated and this is our ultimate slogan." http://www.timesofisrael.com/israel-should-be-annihilated-senior-iran-aide-says/
Iran's Sunni neighbors also consider that Iran is a threat.
Iran has also repeatedly threatened the USA (see also Iran deploys 'suicide drone': a threat to USA and Israel?). Though Iran could not eliminate the USA, it could damage it.
Iran continues to develop its ballistic missile capability.  Iran is also believed to have electromagnetic pulse weapon technology. This combination could harm Israel and even the USA.
Iran just got access to billions of dollars of its frozen assets.  It will use some of that money for its militaristic plans.  Plans that do threaten many nations.
So, what will happen with Iran? What does it really want?
Iran wants to takeover Jerusalem and lead the Islamic world. It then wants to takeover the world. It would prefer to knock out the USA whenever it can and it believes that mystical powers will allow it to do that.
Most people in Iran subscribe to the Shi'ite (often called Shia) Muslim faith. Shi-ites consider that they have a purer understanding Islam than the Sunni Muslims. Shi-ites represent about 10-20% of Muslims and nearly all the rest are Sunni (there are also Sufis, but they seem to represent less than 1% of all Muslims).
Unlike Sunnis who do not believe that Muhammed appointed a successor, Shi-ites believe that during Muhammad's final pilgrimage to Mecca, he appointed his son-in-law, Ali ibn Abi Talib, to succeed him. As a result, Shi-ites believe that Ali ibn Abi Talib was the first Imam (leader), rejecting the legitimacy of the previous Muslim caliphs Abu Bakr, Uthman ibn al-Affan and Umar ibn al-Khattab. Shia Islam has several branches, the largest of which is the Twelvers, followed by Zaidis and Ismailis (Wikipedia, viewed 11/25/13).
Further notice something from a former Iranian president:
In his fiery style, Ahmadinejad, showed his messianic beliefs on Friday, saying the world was witnessing a revolution managed by Imam Mehdi, the 12 Shiite imam who disappeared as a five-year-old in the 10th century and who Shiites believe would return on the judgement day.

"The final move has begun. We are in the middle of a world revolution managed by this dear (12th Imam). A great awakening is unfolding. One can witness the hand of Imam in managing it," said Ahmadinejad, wearing his trademark jacket. (Davari M. US, Israel will soon exit Middle East: Ahmadinejad. AFP – February 11, 2011. http://www.google.com/hostednews/afp/article/ALeqM5j4nERLgb7ILzV-di10ZB5i5GewYg?docId=CNG.680158c3fc877f3521627185c89de338.1f1)
So, somehow Iran believes that the Imam Mahdi is behind what has been going on for several years–and this has not been limited to Ahmadinejad–the Ayatollah has made supporting comments:
Iran's supreme leader, Ayatollah Ali Khamenei… has been heard to say that the coming of the last Islamic Messiah, the Shiites' 12th Imam Mahdi, is near and that specific actions need to be taken to protect the Islamic regime for upcoming events. Mahdi, according to Shiite belief, will reappear at the time of Armageddon. Selected forces within the Revolutionary Guards and Basij reportedly have been trained under a task force called "Soldiers of Imam Mahdi" and they will bear the responsibility of security and protecting the regime against uprisings. Many in the Guards and Basij have been told that the 12th Imam is on earth, facilitated the victory of Hezbollah over Israel in the 2006 war and soon will announce publicly his presence after the needed environment is created. http://www.wnd.com/2012/01/iran-preparing-now-for-armageddon/, January 24, 2012)
Various prophecies of the Mahdi state that he would return in an even numbered year, (Zumwalt J. Iran's Dynamic Duo Dedicated to Global Destruction. August 13, 2010. http://www.humanevents.com/article.php?id=38528). Since the Islamic calendar runs differently than the Roman calendar it is not always obvious when that is to non-Muslims. The Islamic year 1438, for example, runs from 3 October 2016 to 21 September 2017.
Iran's President Hassan Rouhani stated that his own election was because of the intervention of Iran's mystical Imam Madhi, who Shi'ite Muslims (the type that predominate in Iran) believe has been alive for over 1300 years and who will become publicly manifested in the end times to bring victory to Iran over non-Muslims (see Iran's President-elect wants to negotiate with the USA and credits the 'Islamic messiah' for his election).
The Bible shows that it is possible that God will allow Iran to strike the nation of Israel:
1 The burden against the Valley of Vision.

What ails you now, that you have all gone up to the housetops, 2 You who are full of noise, A tumultuous city, a joyous city? Your slain men are not slain with the sword, Nor dead in battle. 3 All your rulers have fled together; They are captured by the archers. All who are found in you are bound together; They have fled from afar. 4 Therefore I said, "Look away from me, I will weep bitterly; Do not labor to comfort me Because of the plundering of the daughter of my people."

5 For it is a day of trouble and treading down and perplexity By the Lord God of hosts In the Valley of Vision — Breaking down the walls And of crying to the mountain. 6 Elam bore the quiver With chariots of men and horsemen, And Kir uncovered the shield. 7 It shall come to pass that your choicest valleys Shall be full of chariots,And the horsemen shall set themselves in array at the gate.

8 He removed the protection of Judah. You looked in that day to the armor of the House of the Forest; 9 You also saw the damage to the city of David, That it was great; And you gathered together the waters of the lower pool. 10 You numbered the houses of Jerusalem, And the houses you broke down To fortify the wall. 11 You also made a reservoir between the two walls For the water of the old pool. But you did not look to its Maker, Nor did you have respect for Him who fashioned it long ago.

12 And in that day the Lord God of hosts Called for weeping and for mourning,For baldness and for girding with sackcloth. 13 But instead, joy and gladness, Slaying oxen and killing sheep, Eating meat and drinking wine: "Let us eat and drink, for tomorrow we die!"

14 Then it was revealed in my hearing by the Lord of hosts,"Surely for this iniquity there will be no atonement for you, Even to your death," says the Lord God of hosts. (Isaiah 22:1-14 NKJV)
Elam seems to be a reference to at least some in Iran. Kir is of interest as it has several possibilities. One is that the Bible tells that after Tiglath-Pileser king of Assyria took over Damascus, he moved Syrians to Kir. While this does not mean that Kir must (or must only) be a reference to Syria, the fact that Syria is an ally of Iran is interesting. Some believe Kir is an area in the south of Iran, while others suggest closer to the Black Sea. The Bible tells of a time when Kir will be destroyed (Isaiah 15:1b) and also says that Syria's capital Damascus will be destroyed (Isaiah 17:1).
Anyway, the point I wish to make is that Isaiah 22 shows, presuming that it has a future application, that a time is coming when God will take away the protection of Judah and the City of David (Jerusalem, cf. 2 Kings 9:28) and that Iran is a threat.
So, what's next for Iran?
It will attempt to improve aspects of its economy so that it can try to persuade the Islamic world to follow it. It may well have a military attack against Israel. But Iran will not do well and will not be the power that leads the Islamic nations in the Middle East and North Africa–that will be an Arabic power (cf. Daniel 11:40-43; Ezekiel 30:2-8)–despite Iranian actions and threats.
I do not believe Iran's president when he states that Iran is not a threat to any country.
Some items of possibly related interest may include:
Iran in Prophecy Is Iran in Bible prophecy? If so, what does the Bible teach? What names, other than Persia, may be used to describe Iran? There is also a YouTube video titled Iran In Prophecy.
Damascus and Syria in Prophecy Will Bashar Assad hold power as he has it? Does the Bible show that Damascus, the capital of Syria, will be destroyed? What will happen to Syria? Will the Syrians support the final King of the South that the Bible tells will rise up? Which scriptures discuss the rise and fall of an Arabic confederation? Does Islamic prophecy predict the destruction of Syria.
Is the Future King of the South Rising Up? Some no longer believe there needs to be a future King of the South. Might Egypt, Islam, Iran, Arabs, or Ethiopia be involved? Might this King be called the Mahdi or Caliph? What does the Bible say? A YouTube video of related interest may be: The Future King of the South is Rising.
The Muslim Brotherhood and the Rise of the King of the South The Bible tells of the formation of a power of nations that are in the Middle East and North Africa that are part of the final "King of the South" (Daniel 11:40-43) The Muslim Brotherhood wishes to have an Islamic empire with basically the same nations. This YouTube video explains what to expect from such a confederation.
Why Terrorism? Is Terrorism Prophesied? What does the Bible teach? Which nations may be affected? Here is a link to a related sermon: Terrorism, Christianity, and Islam.
The Arab and Islamic World In the Bible, History, and Prophecy The Bible discusses the origins of the Arab world and discusses the Middle East in prophecy. What is ahead for the Middle East and those who follow Islam? What about the Imam Mahdi? What lies ahead for Turkey, Iran, and the other non-Arabic Muslims? An item of possibly related interest in the Spanish language would be: Líderes iraníes condenan la hipocresía de Occidente y declaran que ahora es tiempo para prepararse para el Armagedón, la guerra, y el Imán Mahdi.
The Prophesied 'Islamic' Confederation Where is an Islamic caliphate prophesied? Will one happen? Should you be concerned about it? A related video is Will an Arabic Calphiphate Destroy the West?
The 'Peace Deal' of Daniel 9:27 This prophecy could give up to 3 1/2 years advance notice of the coming Great Tribulation. Will most ignore or misunderstand its fulfillment? Here is a link to a related sermon video Daniel 9:27 and the Start of the Great Tribulation.
How Will Middle East Peace be Brought About? Can humans bring peace to the Middle East? Here is a link to a related video: Middle East Peace? When?
Anglo – America in Prophecy & the Lost Tribes of Israel Are the Americans, Canadians, English, Scottish, Welsh, Australians, Anglo-Saxon (non-Dutch) Southern Africans, and New Zealanders descendants of Joseph? Where are the lost ten-tribes of Israel? Who are the lost tribes of Israel? What will happen to Jerusalem and the Jews in Israel? Will God punish the U.S.A., Canada, United Kingdom, and other Anglo-Saxon nations? Why might God allow them to be punished first? Here is a link to the Spanish version of this article: Anglo-América & las Tribus Perdidas de Israel. Information is also in the YouTube sermons titled Where are the Ten Lost Tribes? Why does it matter? and British are the Covenant People. A short YouTube of prophetic interest may be Barack Obama and the State of the Apocalypse.
Will the Anglo-Saxon Nations be Divided and Have People Taken as Slaves? Will the lands of the United States, United Kingdom, Canada, Australia, and New Zealand be divided? What about Jerusalem? What does Bible prophecy teach? Are there non-biblical prophecies that support this idea? Who will divide those lands? Who will end up with the lands and the people? Here is a link to a video titled Will the USA and other Anglo-nations be Divided and Their People Made Slaves? Here is a related item in the Spanish language ¿Serán divididas las naciones anglosajonas?
United Nations: Humankind's Last Hope or New World Order? Is the UN the last hope for humanity? Or might its goals end up with sinister results? A related video would be United Nations and Vatican Are Planning the New World Order.
Hillary Clinton, Prophecy, and the Destruction of the United States-Amazon Kindle edition. This electronic version of the 188 page print edition is available for only US$3.99. And you do not need an actual Kindle device to read it. Why? Amazon will allow you to download it to almost any device: Please click HERE to download one of Amazon s Free Reader Apps. After you go to for your free Kindle reader and then go to Hillary Clinton, Prophecy, and the Destruction of the United States-Amazon Kindle edition.
Barack Obama, Prophecy, and the Destruction of the United States-Second Edition for Second Obama Term This is a 160 page book for people truly interested in prophecies related to Barack Obama and the United States, including learning about many that have already been fulfilled (which the book documents in detail) and those that will be fulfilled in the future. It also has a chapter about a Republican choice. This book is available to order at www.barackobamaprophecy.com. The physical book can also be purchased at Amazon from the following link: Barack Obama, Prophecy, and the Destruction of the United States: Is Barack Obama Fulfilling Biblical, Islamic Catholic, Kenyan, and other America-Related Prophecies? What About Republican Leaders? Second Edition for Second Obama Term.
Barack Obama, Prophecy, and the Destruction of the United States-Second Term-Amazon Kindle edition. This electronic version is available for only US$2.99. And you do not need an actual Kindle device to read it. Why? Amazon will allow you to download it to almost any device: Please click HERE to download one of Amazon s Free Reader Apps. After you go to for your free Kindle reader and then go to Barack Obama, Prophecy, and the Destruction of the United States-Second Term-Amazon Kindle edition.