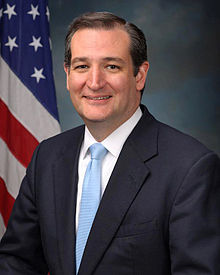 Ted Cruz

Ted Cruz is expected to officially announce tomorrow his hopes to be the next USA president:
March 22, 2015

Texas Sen. Ted Cruz will announce his presidential campaign Monday, becoming the first major presidential candidate to officially enter the 2016 race.

Aides to the Republican senator tell ABC News he will make the announcement during the convocation speech at Liberty University, a Christian college in Lynchburg, Virginia, on Monday morning. …

Cruz, 44, is the first major candidate to enter what is expected to be a crowded Republican primary field that will likely include former Florida Gov. Jeb Bush, Sen. Rand Paul, R-Kentucky, Senator Marco Rubio, R-Florida, and Wisconsin Gov. Scott Walker. By announcing his candidacy, the Texas senator will skip the exploratory process many presidential candidates undergo. http://abcnews.go.com/Politics/ted-cruz-running-president-texas-senator-announce-2016/story?id=29809943

Over the course of the primary campaign, Cruz will aim to raise between $40 million and $50 million, according to advisers, and dominate with the same tea party voters who supported his underdog Senate campaign in 2012. But the key to victory, Cruz advisers believe, is to be the second choice of enough voters in the party's libertarian and social conservative wings to cobble together a coalition to defeat the chosen candidate of the Republican establishment.

The firebrand Texan may have few Senate colleagues who will back his White House bid, but his appeal to his party's base who vote disproportionately in Republican primaries could make him competitive in Iowa and beyond.

Yet critics of Cruz argue that he will have trouble raising high-dollar donations from traditional contributors, will land few endorsements from the nation's political establishment and be unable to escape comparisons to President Barack Obama, who also ran for president in his first Senate term. And if he advances to a general election, Cruz trails likely Democratic nominee Hillary Clinton solidly in early public opinion polls. …

Getting religious voters

Forty percent of the electorate may vote for the establishment candidate, the advisers predict, but Cruz will "crush" with the 25 percent of voters who come from the tea party bracket. He will then peel some second-choice support from the 10 percent who consider themselves libertarians and from the rest of the voters who identify as social conservatives.

Advisers to Cruz, the son of a pastor, believe he can make a special argument to these religious voters like the thousands of students he is expected to address at a basketball arena Monday at Liberty, a school founded by leader of the religious right Jerry Falwell. About half of the voters in the Iowa caucus this year are expected to be evangelical Christians.

That theory – and those percentages – is described by some Republican hands as overly charitable to the element of the party that Cruz represents. Henry Olsen of the Ethics and Public Policy Center, a conservative think tank, said the Cruz campaign was dramatically underestimating the voting power of the liberals, moderates and establishment Republicans in a presidential primary. Olsen argued that about 70 percent of the party will choose the candidate who aligns with the left or the center.  http://www.houstonchronicle.com/news/politics/us/article/Ted-Cruz-to-announce-presidential-bid-Monday-6150894.php
Here is some additional information on Ted Cruz:
Sen. Ted Cruz, a tea party favorite, told CNBC on Thursday the only way the GOP can win the presidency in 2016 is to run a strong conservative candidate. …
Cruz also said he supports the rights of the states to decide whether to allow same-sex marriage even though he personally believes in marriage between one man and one women. …
"I support marriage between one man and one woman," Cruz said. "And I support the Constitution letting each state decide each marriage law consistent with the values of their citizens."

"One of the problems of the 'big government left' is they want everything to be a one-size-fits-all solution from Washington," he said.
He also advocated repealing Obamacare, auditing the Federal Reserve and getting rid of the federal education Common Core standards. http://www.cnbc.com/id/102135645#.

WHO IS TED CRUZ?

Cruz rose to political stardom in 2012 as a Tea Party candidate who secured the Republican nomination in the Texas Senate primary against then Lt. Gov. Ted Dewhurst, the establishment-backed candidate. In November of that year, Cruz won the Senate seat and is currently serving in his third year in the Senate.

He has been an outspoken critic of President Obama's immigration and healthcare plans. In 2013, he led a 21-hour filibuster on the Senate floor in protest against Obamacare just days before a government shutdown.

Cruz, a Cuban-American, was born in Calgary, Canada to an American mother and a father who fled Cuba in the 1950's. Cruz held dual U.S. and Canadian citizenship until 2014 when he formally renounced his Canadian citizenship.

Cruz received his undergraduate degree from Princeton University and graduated magna cum laude from Harvard Law School. From 2003 to 2008, he served as solicitor general in Texas.  http://abcnews.go.com/Politics/ted-cruz-running-president-texas-senator-announce-2016/story?id=29809943
The mainstream media has tended to dislike Ted Cruz more than many other Republicans. And while that will endear him with some voters, he will need more than just them to get elected. But stranger things have happened in USA politics.
Being a Cuban-American, Ted Cruz is not primarily a physical descendant of Israel (see also Anglo-America in Prophecy & the Lost Tribes of Israel).  The Bible warns:
43 The alien who is among you shall rise higher and higher above you, and you shall come down lower and lower (Deuteronomy 28:43).
The above prophecy has applications to the current US President Barack Obama, whose father was from Kenya.  As far as being descended from Israel, let me state for the records that I personally am primarily Gentile and do not believe that race is a factor for spiritual salvation (see also God's Grace is For All).  Several prophecies related to 'Samaria' in the Old Testament are related to the United States.  And like ancient Samaria, the USA is composed of a major mixture of peoples.
As far as Ted Cruz goes, being Hispanic may help him as the Republicans do not tend to get as much support from Hispanics as the Democrats. In terms of being a more 'religious' candidate, Ted Cruz seems to have conceded the rise of the homosexual agenda. Although he is anti-abortion, people should not get the impression that the USA would outlaw abortion if he were to get elected. The immorality lobbies are currently too strong politically in the USA.
Republicans will not be able to fix the problems that the USA has.
Neither will the Democrats.
In the past, Hillary Clinton stated that she planned to announce her presidential intentions around the start of 2015. That did not happen.  With "emailgate" and concerns about Benghazi, etc., some believe she will announce in the late Spring or Summer of 2015.  If she announces she will run, this will reinvigorate some in her party to support her as well as motivate many Republicans to support someone they feel could possibly beat her in an election. Of course, Hillary Clinton lost the primary election to Barack Obama back in 2008, hence while she is considered as 'the favorite' at this time, she is not unbeatable. Though at this moment, it would not seem that Ted Cruz would have much of a chance to defeat her.
The mainstream media in the USA tends to consider that Ted Cruz is too 'radical' and part of that media will work to try to prevent Ted Cruz from becoming the next USA president.
The USA needs national repentance, otherwise it is doomed. The USA needs the return of Jesus Christ and the Kingdom of God.
Several items of possibly related interest may include:
Anglo – America in Prophecy & the Lost Tribes of Israel Are the Americans, Canadians, English, Scottish, Welsh, Australians, Anglo-Saxon (non-Dutch) Southern Africans, and New Zealanders descendants of Joseph? Where are the lost ten-tribes of Israel? Who are the lost tribes of Israel? What will happen to Jerusalem and the Jews in Israel? Will God punish the U.S.A., Canada, United Kingdom, and other Anglo-Saxon nations? Why might God allow them to be punished first? Here is a link to the Spanish version of this article: Anglo-América & las Tribus Perdidas de Israel. Information is also in the YouTube sermons titled Where are the Ten Lost Tribes? Why does it matter? and British are the Covenant People. A short YouTube of prophetic interest may be Barack Obama and the State of the Apocalypse.
Will the Anglo-Saxon Nations be Divided and Have People Taken as Slaves? Will the lands of the United States, United Kingdom, Canada, Australia, and New Zealand be divided? What about Jerusalem? What does Bible prophecy teach? Are there non-biblical prophecies that support this idea? Who will divide those lands? Who will end up with the lands and the people? Here is a link to a video titled Will the USA and other Anglo-nations be Divided and Their People Made Slaves? Here is a related item in the Spanish language ¿Serán divididas las naciones anglosajonas?
Can you see the 'Handwriting on the Wall'? Thousands of years ago, King Belshazzar saw a hand appear at a big party he was hosting. The hand wrote Mene, Mene, Tekel, Upharsin. Shortly after the Prophet Daniel explained it, his empire was taken over and King Belshazzar died. Is this applicable today? Are there signs right before our eyes that show that the end is coming to the United States and its Anglo-descended allies. Do abortions, sexual immorality, celebrity pornography, and increased debt mean anything? What does the Bible show?
Hillary Clinton in Prophecy Are there prophecies that Hillary Clinton may fulfill? Are there any prophecies that she has already helped fulfill? Could Hillary Clinton be apocalyptic? Could Hillary Clinton be the final Antichrist?
When Will the Great Tribulation Begin? 2015, 2016, or 2017? Can the Great Tribulation begin today? What happens before the Great Tribulation in the "beginning of sorrows"? What happens in the Great Tribulation and the Day of the Lord? Is this the time of the Gentiles? When is the earliest that the Great Tribulation can begin? What is the Day of the Lord? Who are the 144,000? Here is a version of the article in the Spanish language: ¿Puede comenzar la Gran Tribulación en 2014 o 2015? ¿Es el Tiempo de los Gentiles? You can also see the English language sermon video: The Great Tribulation from the Mount of Olives.
Abortion, the Bible, and a Woman's Right to Choose Do you know what the Bible teaches on this? Has the Roman Catholic Church allowed abortions? What about the real Church of God? Some may also, or instead, wish to view the YouTube video Abortion, the Bible, and US Debt.
Cross-dressing and other assaults against your children. What should you do? Is there an agenda to turn your children and/or grandchildren away from biblical morality and towards practices promoted by homosexuals? What does the Bible teach about cross-dressing? What should parents do? If there is an agenda, what has been going on? There is also a YouTube video on this, titled Cross dressing and Other Assaults Against Your Children.
The Bible Condemns Homosexuality "Same-sex marriage" for "gays" and lesbians is becoming more acceptable to many. What does the Bible teach about homosexuality? Can homosexuals change?
Just What Do You Mean — Repentance? Do you know what repentance is? Have you truly repented? Repented of what? Herbert W. Armstrong wrote this as a booklet on this important subject.
The Gospel of the Kingdom of God was the Emphasis of Jesus and the Early Church Did you know that? Do you even know what the gospel of the kingdom is all about? You can also see a YouTube video sermon The Gospel of the Kingdom.
Just What Do You Mean the Kingdom of God? A booklet that was written by Herbert Armstrong answers questions about the Kingdom.
God's Grace is For All Is being Jewish a hindrance to salvation? What about not being a descendant of Israel? What does the Bible really teach? Here is a link to a related sermon titled Race and Grace; Do you view race as God does?
Barack Obama, Prophecy, and the Destruction of the United States-Second Edition for Second Obama Term This is a 160 page book for people truly interested in prophecies related to Barack Obama and the United States, including learning about many that have already been fulfilled (which the book documents in detail) and those that will be fulfilled in the future. It also has a chapter about a Republican choice. This book is available to order at www.barackobamaprophecy.com. The physical book can also be purchased at Amazon from the following link: Barack Obama, Prophecy, and the Destruction of the United States: Is Barack Obama Fulfilling Biblical, Islamic Catholic, Kenyan, and other America-Related Prophecies? What About Republican Leaders? Second Edition for Second Obama Term.
Barack Obama, Prophecy, and the Destruction of the United States-Second Term-Amazon Kindle edition. This electronic version is available for only US$2.99. And you do not need an actual Kindle device to read it. Why? Amazon will allow you to download it to almost any device: Please click HERE to download one of Amazon s Free Reader Apps. After you go to for your free Kindle reader and then go to Barack Obama, Prophecy, and the Destruction of the United States-Second Term-Amazon Kindle edition.