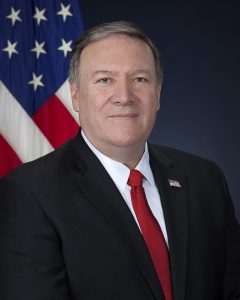 Mike Pompeo, official photo
The USA is insistent upon reimposing sanctions against Iran:
August 6, 2018

U.S. Secretary of State Mike Pompeo says Iran has to start behaving like what he calls a "normal country," as the United States prepares to reimpose sanctions on Tehran.

"This is just about the Iranians' dissatisfaction with their own government and the president's (Trump) been pretty clear. We want the Iranian people to have a strong voice in who their leadership will be," Pompeo told reporters Sunday.

He said the White House would give details Monday about the sanctions that will take effect Tuesday against a wide range of Iranian industries, including its automotive industry, gold, coal and steel. The Iranian government will also no longer be allowed to buy U.S. and European planes and U.S. banknotes.

People and businesses involved in those industries were given a 90-day period to wind down their activities. That period expires Monday.

Sanctions against Iranian energy exports are set to come back into effect in November.

The sanctions that had been lifted are returning after President Donald Trump pulled the United States out of the 2015 nuclear deal with Iran and five other nations. …

Iran and the other signatories remain committed to the agreement. The International Atomic Energy Agency, which is monitoring the implementation of the deal, says Iran is in compliance and that the agreement has allowed for greater verification of Iran's nuclear activities. https://www.voanews.com/a/us-iran-sanctions/4515192.html
Various ones in Europe are not pleased:
EU Blocks Trump's Iran Sanctions To Protect Companies Hours Ahead Of Snapback

August 6, 2018

The European Union issued a statement Monday ahead of when renewed US sanctions are set to snap back against Iran after midnight US Eastern time, saying it "deeply regrets" the sanctions and will take immediate action to protect European companies still doing business with Iran.
The statement by EU diplomatic chief Federica Mogherini and the foreign ministers of Britain, France and Germany pledged to also work to keep "effective financial channels" open with Iran. "We deeply regret the re-imposition of sanctions by the US, due to the latter's withdrawal from the Joint Comprehensive Plan of Action (JCPOA)," the statement issued from Brussels begins.

The US has ordered all other countries to halt imports of Iranian oil by early November or face punitive measures. In a statement on Sunday Secretary of State Mike Pompeo said the White House will detail implementation of the measures sometime Monday morning.

As expected after the Trump administration was unmoved by European leaders' calls for an exemption, the EU will seek legal protection for firms in the 28-nation bloc to work with Iran by invoking its so-called blocking statute, considered the most powerful tool at its immediate disposal. When invoked, it bans any EU company from complying with US sanctions and does not recognize any foreign court rulings seeking to enforce American penalties.

According to the statement:

We are determined to protect European economic operators engaged in legitimate business with Iran, in accordance with EU law and with UN Security Council resolution 2231. This is why the European Union's updated Blocking Statute enters into force on 7 August to protect EU companies doing legitimate business with Iran from the impact of US extra-territorial sanctions.

The EU also restated its commitment to upholding the Iran nuclear deal (JCPOA), calling the 2015 brokered agreement "a matter of international security":

The remaining parties to the JCPOA have committed to work on, inter alia, the preservation and maintenance of effective financial channels with Iran, and the continuation of Iran's export of oil and gas.

At the end of the day Monday, the following sanctions will be re-imposed according to a US Treasury Department official statement:

"Sanctions on the purchase or acquisition of US dollar bank notes by the Government of Iran; sanctions on Iran's trade in gold or precious metals; sanctions on the direct or indirect sale, supply, or transfer to or from Iran of graphite, raw, or semi-finished metals such as aluminum and steel, coal, and software for integrating industrial processes; sanctions on significant transactions related to the purchase or sale of Iranian rials, or the maintenance of significant funds or accounts outside the territory of Iran denominated in the Iranian rial; sanctions on the purchase, subscription to, or facilitation of the issuance of Iranian sovereign debt; sanctions on Iran's automotive sector."

Furthermore, according to the US Treasury, this includes a ban on Iranian-origin carpets and foodstuffs, and notably export or re-export commercial airplanes as well as services and parts. https://www.zerohedge.com/news/2018-08-06/eu-will-keep-open-effective-financial-channels-iran-statement
Well, I would not conclude that the Trump Administration is unmoved by this. I suspect various ones in it will point to this as proof that the EU is not supportive of USA policy and will consider this another reason for applying tariffs against the EU.
The European Union's position is not new. It has stated in the past that it wants to continue to trade with Iran:
15 May 2018

Tehran is being given assurances that European governments will seek to protect companies doing business in Iran from renewed US sanctions, as foreign ministers prepare to meet in Brussels to salvage the nuclear deal.

Iran's foreign minister, Mohammad Javad Zarif, met Federica Mogherini, the EU external affairs chief, on Tuesday morning and will meet the foreign ministers of France, Germany and the UK – the three European signatories to the deal – in the evening.

Iran wants assurances that EU trade with Iran will continue to grow, despite Donald Trump pulling the US out of the nuclear deal. https://www.theguardian.com/world/2018/may/15/eu-tells-iran-it-will-try-to-protect-firms-from-us-sanctions

WASHINGTON – The United States is expecting Europe to fall in line with its decision to reimpose harsh sanctions on Iran and disengage from Iran's economy, after President Donald Trump's decision to exit the nuclear deal last week. …

Since Trump's announcement last Tuesday, European diplomats have attempted to cast doubt over the administration's chances of getting Europe to pull out of business dealings with the Islamic Republic. Officials in Paris, Berlin and Brussels said their governments will work to "defend" Europe's financial interests and, with that, the very survival of the nuclear deal. 05/14/18 https://www.haaretz.com/us-news/.premium-bolton-europe-won-t-have-choice-but-to-join-u-s-sanctions-on-iran-1.6078743
The Iranian matter will increase international trade in Euros and away from the USA dollar. That will not help the USA in the long-run.
Various nations do not like the trade policies that Donald Trump has advocated. China is one. Europe (see Martin Schultz blasts Donald Trump: Some EU leaders believe they would 'win' a trade war with the USA), Russia (see Russia warns of full-scale trade war over US sanctions), Mexico (see EU and Mexico making a trade deal, partially to send Donald Trump a message and/or watch Donald Trump and Mexico's future),  Japan (see EU, Japan Sign Massive Free Trade Deal) and others (see 'Trump overrules cabinet, plots global trade war') have concerns. Trade wars have been listed as part of the 18 items to prophetically watch in 2018 (here is a link to a related sermon: 18 items to prophetically watch in 2018).
Europe is getting more involved in trade disputes with the USA. Europe and China are looking more towards each other and the Eurasian Economic Union. Trade disputes with the USA will increase.
Trade will be a factor in the rise of Europe (cf. Revelation 18).
That will not end well for the USA (cf. Daniel 11:39) nor its Anglo-Saxon descended allies (cf. Daniel 8:24-25; Jeremiah 30:7).
Some items of possibly related interest may include:
Trade Disputes: CCOG Warnings Are Coming to Pass
Trade tensions and talks of trade wars have escalated. US President Donald Trump has put Europe, China, Mexico, and other lands on notice that he wants to change how international trade with the USA has been going. Tariffs, retaliatory tariffs, and even more tariffs are being implemented. Is this all just happenstance? Are we yet in a trade war? What will Europe do? Has the Church of God been warning about trade disputes and a coming trade war for decades? What about the Continuing Church of God (CCOG)? What has been warned, what has been happening, and what will happen? Will trade disputes be a factor in World War III (WW3)? Dr. Thiel explains what has been taught and what to expect.
Trade Wars: Are COG warnings coming to pass?
Trade issues, tariffs, and talk of trade wars are in the news. Can trade wars lead to World War III like they did to World War II? Are the events going on with the USA, UK, Asia, and Europe consistent with warnings published by the true Church of God (COG) over the past several years and decades? Do Germany and China hope to take advantage of trade frictions involving the Trump Administration and the Trans-Pacific Partnership agreement? What about Mexico and South America? Does the Bible teach that Europe will become a major trading power? Will the final European Babylonian trading power be destroyed? Dr. Thiel addresses these issues and more in this video.
Iran in Prophecy
Is Iran in Bible prophecy? If so, what does the Bible teach? What names, other than Persia, may be used to describe Iran? There is also a related YouTube video titled
Iran In Prophecy
.
18 items to prophetically watch in 2018
Much is happening. Dr. Thiel points to 18 in this article. Here is a link to a related sermon:
18 items to prophetically watch in 2018
.
Donald Trump and Mexico's future
Mexico has increasingly been in the news because of statements and policies of US President Donald Trump. Many in Mexico are not intending to sit back and accept whatever Donald Trump attempts to force them to do. What will happen to Mexico? Will it make trade deals with Europe? Will it ultimately go to was against the USA? Will the Mexican economy drop at times and then improve? Dr. Thiel answers these questions and more in this video.
The Eurasian Union, the Kings of the East, and Bible Prophecy
Is there a Eurasian union that will be formed? Is one being formed right now? Are any leaders working on that in the 21st century? Does the Bible teach that there will be a Eurasian union? If some type of Eurasian union is formed, who might it benefit and who will it destroy? A related video would be
Is The Eurasian Union Rising?
US Dollar being challenged by Gold-Petro-Yuan
The US dollar has been the world's primary reserve currency for decades. Is this about to change? What is going on with the Chinese yuan and oil and gold? What do the BRICS nations want? What did Venezuela do? Do the Europeans want to dislodge the US dollar as the world's primary reserve currency? Does US debt play any role? Does the Bible tell us what will happen to the USA and its dollar? What happens if the USA loses its status? Will gold outlast the US dollar? Dr. Thiel addresses those issues and more in this video.
Gentile Cryptocurrency Proposal
Two Russian leaders have called for a BRICS-wide and/or EAEU-wide cryptocurrency. This is hoped to be used to replace the US dollar for international trade. BRICS stands for Brazil, Russia, India, China, and South Africa. The BRICS nations represent 3.6 billion people. The EAEU includes Russia, Armenia, Belarus, Kazakhstan, and Kyrgyzstan. Will Gentiles rise up? Are there any prophetic ramifications of what these nations are looking to do? This is a video.
World War III: Steps in Progress
Are there surprising actions going on now that are leading to WWIII? Might a nuclear attack be expected? Does the Bible promise protection to all or only some Christians? How can you be part of those that will be protected? A related video would be
Is World War III About to Begin? Can You Escape?
Forbes' Brexit Monster is the Beast of Revelation
Various ones have been properly convinced that there is a plan for a European superstate. Forbes' writer Tom Worstall wrote that the Brexit vote was about the United Kingdom "not joining the monster of the European Union to come." The Bible tells of a Beast monster that will arise in the end times in Europe. Dr. Thiel cites news reports, as well as the Old and New Testaments, to show that the monster many fear will arise in Europe, despite the vote by the British to exit the European Union.
Post Brexit Prophecy
On June 23, 2016, the voters of the United Kingdom of Great Britain and Northern Ireland (UK) chose to leave the European Union. Now with this BRitish EXIT (Brexit) vote, what is prophesied to happen to the UK? Will the UK do well or be taken over and made slaves? Dr. Thiel explains from biblical prophecies what is ahead for the UK, Europe, and even the USA, Canada, Australia, and New Zealand. This is a video.
How To Determine If Someone is a True Prophet of God There are many false prophets. How can Christians determine who is a true prophet? There is also a sermon-length video titled How to determine if someone is a true prophet of God. Here is a related link in Spanish/español: ¿Cómo determinar si alguien es un verdadero profeta de Dios?
China, Its Biblical Past and Future, Part 1: Genesis and Chinese Characters Where did the Chinese people come from? This article provides information showing that the Chinese peoples must have known about various accounts in the Book of Genesis up until their dispersion after the Tower of Babel. Here is a link to a version of this article in Spanish: ¿Prueban los caracteres chinos la exactitud de la Biblia?
China, Its Biblical Past and Future, Part 2: The Sabbath and Some of God's Witness in China When did Christianity first come to China? And is there early evidence that they observed the seventh day sabbath?
Asia in Prophecy What is Ahead for Asia? Who are the "Kings of the East"? What will happen to nearly all the Chinese, Russians, Indians, and others of Asia? China in prophecy, where? Who has the 200,000,000 man army related to Armageddon? Two YouTube video are Is China THE Threat to the United States of America? and China: A King of the East.
Who is the King of the North?
Is there one? Do biblical and Roman Catholic prophecies for the Great Monarch point to the same leader? Should he be followed? Who will be the King of the North discussed in Daniel 11? Is a nuclear attack prophesied to happen to the English-speaking peoples of the United States, Great Britain, Canada, Australia, and New Zealand? When do the 1335 days, 1290 days, and 1260 days (the time, times, and half a time) of Daniel 12 begin? When does the Bible show that economic collapse will affect the United States? In the Spanish language check out
¿Quién es el Rey del Norte?
Here is a link to a video titled:
The Future King of the North
.
Does God Have a 6,000 Year Plan? What Year Does the 6,000 Years End?
Was a 6000 year time allowed for humans to rule followed by a literal thousand year reign of Christ on Earth taught by the early Christians? Does God have 7,000 year plan? What year may the six thousand years of human rule end? When will Jesus return? 2026 or 20xx? There is also a video titled
6000 Years: When will God's Kingdom Come?
Here is a link to the article in Spanish:
¿Tiene Dios un plan de 6,000 años?
When Will the Great Tribulation Begin? 2018, 2019, or 2020?
Can the Great Tribulation begin today? What happens before the Great Tribulation in the "beginning of sorrows"? What happens in the Great Tribulation and the Day of the Lord? Is this the time of the Gentiles? When is the earliest that the Great Tribulation can begin? What is the Day of the Lord? Who are the 144,000? Here is a version of the article in the Spanish language:
¿Puede comenzar la Gran Tribulación en 2018 o 2019? ¿Es el Tiempo de los Gentiles?
You can also see the English language sermon videos:
The Great Tribulation from the Mount of Olives
and
Can the Great Tribulation begin before 2020?
A shorter video is:
Can the Great Tribulation begin in 2018?
The Times of the Gentiles
Has there been more than one time of the Gentiles? Are we in it now or in the time of Anglo-America? What will the final time of the Gentiles be like?
A related sermon is available and is titled: The Times of the Gentiles.
Europa, the Beast, and Revelation
Where did Europe get its name? What might Europe have to do with the Book of Revelation? What about "the Beast"? Is an emerging European power "the daughter of Babylon"? What is ahead for Europe? Here is a link to a video titled:
Can You Prove that the Beast to Come is European?
European Technology and the Beast of Revelation
Will the coming European Beast power would use and develop technology that will result in the taking over of the USA and its Anglo-Saxon allies? Is this possible? What does the Bible teach? Here is a related YouTube video:
Military Technology and the Beast of Revelation
.
Must the Ten Kings of Revelation 17:12 Rule over Ten Currently Existing Nations?
Some claim that these passages refer to a gathering of 10 currently existing nations together, while one group teaches that this is referring to 11 nations getting together. Is that what Revelation 17:12-13 refers to? The ramifications of misunderstanding this are enormous. A related sermon is titled
Ten Kings of Revelation and the Great Tribulation
.
WTO/TTIP and the Babylonian Beast
Will international trade agreements like WTO/TTIP/CETA lead to the fulfillment of end time prophecies concerning the Babylonian Beast power that the Book of Revelation warns against? What does the Bible teach? A related video would be
WTO Trade Deal and the Rise of the European Beast Power
.
Anglo – America in Prophecy & the Lost Tribes of Israel
Are the Americans, Canadians, English, Scottish, Welsh, Australians, Anglo-Saxon (non-Dutch) Southern Africans, and New Zealanders descendants of Joseph? Where are the lost ten-tribes of Israel? Who are the lost tribes of Israel? What will happen to Jerusalem and the Jews in Israel? Will God punish the U.S.A., Canada, United Kingdom, and other Anglo-Saxon nations? Why might God allow them to be punished first? Here is a link to the Spanish version of this article:
Anglo-América & las Tribus Perdidas de Israel
.
Information is also in the YouTube sermons titled Where are the Ten Lost Tribes? Why does it matter?
and
British are the Covenant People
. A short YouTube of prophetic interest may be:
Are Chinese threats against Australia for real?
Will the Anglo-Saxon Nations be Divided and Have People Taken as Slaves?
Will the lands of the United States, United Kingdom, Canada, Australia, and New Zealand be divided? What about Jerusalem? What does Bible prophecy teach? Are there non-biblical prophecies that support this idea? Who will divide those lands? Who will end up with the lands and the people? Here is a link to a video titled
Will the USA and other Anglo-nations be Divided and Their People Made Slaves?
Here is a related item in the Spanish language
¿Serán divididas las naciones anglosajonas?
British are the Covenant People
What do 'British' and 'Britain' mean in Hebrew? Are the descendants of the Anglo-Saxons people of the covenant? Does the British royal family connect to the throne of David? What does the Bible teach? What does history show us? Is there any DNA evidence related to British-Israelism? When did Christianity make it to the British Isles? Could Jeremiah have made it to the British Isles? What type of Christians made it to the British Isles? Did the last King of England believe in British Israelism?
Donald Trump in Prophecy
Prophecy, Donald Trump? Are there prophecies that Donald Trump may fulfill? Are there any prophecies that he has already helped fulfill? Is a Donald Trump presidency proving to be apocalyptic? Two related videos are available:
Donald: 'Trump of God' or Apocalyptic?
and
Donald Trump's Prophetic Presidency
.
Trump Presidency Magic 8 Ball or Bible Prophecy?
BBC
reported that one might as well use a 'Magic Eight-Ball' to try to predict what will happen in the remaining time of Donald Trump's presidency. What is a 'Magic Eight-Ball'? Dr. Thiel not only explains that, but also briefly goes over 10 biblically-based warnings he wrote would happen if Donald Trump were elected that have already began to come to pass. He also goes over something he wrote back in 2008 that the Trump presidency is also helping lead to fulfillment. Should you trust Bible prophecy or not? Dr. Thiel says that Bible prophecy can be trusted, despite the view of skeptics and others that either overlook or despise the Bible. This is a video.
Donald Trump and America's Apocalypse
This 188 page book is for people truly interested in prophecies related to Donald Trump and the United States, including learning about several that have already been fulfilled and those that will be fulfilled in the future. The physical book can be purchased at Amazon for $12.99 from the following link:
Donald Trump and America's Apocalypse
.
Donald Trump and America's Apocalypse-Kindle Edition
This electronic version of the 188 page print edition is available for only US$3.99. And you do not need an actual Kindle device to read it. Why? Amazon will allow you to download it to almost any device:
Please click HERE to download one of Amazon s Free Reader Apps
. After you go to for your free Kindle reader and then go to
Donald Trump and America's Apocalypse-Kindle Edition
.