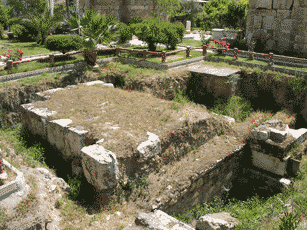 Foundations of Ancient Philadelphia
In its announcements yesterday, LCG had the following:
French Work Update: Visits to Guadeloupe and Martinique

My wife and I just returned from a profitable trip to Guadeloupe and Martinique. We traveled via St. Maarten to Martinique on Thursday, December 15, 2011. The next day, we flew to Guadeloupe with Mr. Ginier, the Elder from Martinique, to spend the Sabbath with the brethren there. We returned to Martinique on Sunday. The rest of the week we visited with the brethren. On Wednesday, I had the opportunity to visit with one of our oldest members, a 96 year old lady who is unable to attend Sabbath services. On Sunday, December 25, the Martinique congregation held its first Spokesman Club meeting since the beginning of the Living Church of God. It was a complete success. Thirteen enthusiastic men were present. We also had one of our leading men from Guadeloupe take a flight on Saturday evening just to participate in Club. Each member of Spokesman Club was asked to participate in the song-leading workshop. Everyone was excited and is looking forward to the next Club meeting. It was a wonderful experience.—Wilner Pierre

2011 Report for the French websites

The tenth year of the French website,

www.MondeDemain.org

saw the third version of this website released in July 2011, using the same design as the new

Tomorrow's World

website released a few months earlier. In addition, we launched a dedicated website for the online Bible Study Course (

www.coursdebible.org

)—pre viously it was integrated within the main website. We also launched the section "News and Prophecy," updated three times a week.

In 2011, the figures are excellent and some set new records, with an average of 850 downloads per day. We recorded 167,286 unique visitors, 235,229 sessions, 812,238 pages viewed and 312,000 items read/downloaded…. This was the second best year for the website. The most active countries were France (continental 50% + overseas 4%), Canada (17%), Belgium (6%), Haiti, U.S.A. and Switzerland (3%).

[With] the "dedicated version" of the Bible Study Course…the registrations increased by 85% and the pages viewed increased by 7%…. [I]n 2011, 12.6% completed the first test and 9.5% completed the 24 lessons. The new design and the new user-friendly interface surely make the online BSC more attractive. The average time spent on the BSC jumped from 1 to 9 minutes. This really is a big improvement!

Since its beginning (2001-2011), the French website has recorded more than 1.7 million visitor sessions, 5.2 million pages viewed and 2.1 million downloads. We recorded visitors from 202 countries and territories. There are 3456 students from 89 countries registered for the online Bible Study Course.—VG Lardé

Guatemalan Youth Camp 2011

This year the Latin American youth met in southern Guatemala, some 117 miles from the nation's capital. Ministers and the youth arrived on Sunday, December 25. A Spanish ministerial conference was held on Monday and Wednesday, with Messrs. Winnail, Hernandez, Schaubeck, Orrego, Roca, Mora, Ortega, Sanchez, Tenorio and Monti.

The Youth Camp activities started on Monday 26. We had an attendance of 27 young people from Mexico, El Salvador and Guatemala. We also had the presence of Misses Deborah Lincoln-Strange and Marcela Arciga. It was an unforgettable experience because God blessed our activities and made them a success. Among the activities held was a Bible Study of the Ten Commandments, sports, games, crafts, arts and music.

On Tuesday, we had a Bible Study held by Messrs. Mora and Ortega. The campers were given bilingual Bibles, the Ten Commandments booklets in Spanish and English, and a T-Shirt with the Church's logo.

The ministers had the opportunity to participate in some of the recreational activities. Also on Tuesday, the Guatemalan members came to the campsite because we had a congregational Bible Study given by Dr. Douglas Winnail to the congregation, campers and ministers.

On Wednesday 28, we resumed activities at 7 in the morning with aerobics, breakfast, and a Bible Study by Mr. Armando Orrego and so we continued our activities. In the evening we had a dinner dance for the youth and ministers. During the dance, we gave diplomas to all the youth who participated; the choir also participated among other activities. The youth fellowshipped and enjoyed each other's company.

On Thursday, activities resumed with a breakfast and a Bible Study led by Mr. Sergio Roca from Guatemala. It was a wonderful and unforgettable experience for all of us. We thank God for allowing us to enjoy this wonderful camp and for being with us and for the people that made it possible. Also we would like to thank in a special way the people that gave us gifts from abroad.

We hope to see the youth in Guatemala in 2012.—Maria Cardona

Australasian News

New TV Opportunities in Australia

Australia recently obtained increased coverage for the Tomorrow's World program throughout regional New South Wales and Victoria on a new television station, TV4. Apparently, the station management felt it was so successful they decided to increase their transmission footprint to include most of the rest of the nation. We were given an early option of buying more time, which we took, and now our program has the potential to be viewed by a possible audience of 22 million viewers in more than 8.3 million homes. We now have almost total national coverage in Australia. This means virtually all of this country and New Zealand has access to the program. Of course, this also means added costs.

India Update

We arrived home safely on Thursday, 1 December, after a very inspiring and successful trip to India. There was a bomb blast in Imphal after we left… My wife Rachel and I left for Kolkata, India on 24 November. We reached Kolkata at 5:00 p.m. Indian time…. From the airport we went to Indismart Hotel, which is about a half an hour drive, and had dinner [with members]. We discussed many matters and had good fellowship….

Sabbath Service: Due to the Prime Minister's visit, and strikes, there was a delay in the morning service. There are militant groups in the state who demand a sovereign state separate from the Union of India. The brethren arrived safely by noon for services and I gave the sermon on "Unlearning Error." After lunch we had a Bible Study on the "three resurrections."

Church Luncheon: On Sunday, 27 November, we held a picnic on a beautiful mountain within sight and sound of a marvelous waterfall. All the brethren were able to attend.

We departed for Kolkata on Monday morning then travelled to Chennai, spending two days there before heading home.

Successful Visit: This is my fourth trip to Manipur and the first trip for Rachel. It was very inspiring and successful. All the members are happy and willing to learn more from the Church and understand and follow God's Truth.—Rajan Moses
LCG continues to try to proclaim the gospel and feed the flock in many lands.
Some articles of possibly related interest may include:
The Philadelphia Church Era was predominant circa 1933 A.D. to 1986 A.D. The old Radio Church of God and old Worldwide Church of God, now basically the Living Church of God.
Unity: Which COG for You? Why so many groups? Why is there lack of unity in the Churches of God? Has it always been this way? What can/should be done about it?
There are Many COGs: Why Support the Living Church of God? This is an article for those who wish to more easily sort out the different COGs. It really should be a MUST READ for current and former WCG/GCI members or any interested in supporting the faithful church. It also explains a lot of what the COGs are all about.
Should the Church Still Try to Place its Top Priority on Proclaiming the Gospel or Did Herbert W. Armstrong Change that Priority for the Work? Some say the Church should mainly feed the flock now as that is what Herbert W. Armstrong reportedly said. Is that what he said? Is that what the Bible says? What did Paul and Herbert W. Armstrong expect from evangelists?
The Laodicean Church Era has been predominant circa 1986 A.D. to present. These are non-Philadelphians who mainly descended from the old WCG.