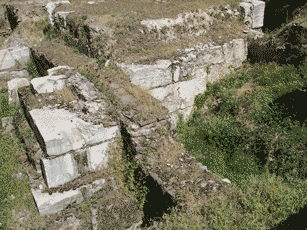 Foundation of Philadelphia Remains
At his website, UCG's John Carmack listed COG options for those currently in UCG a few days ago, and last night IAOM announced that it is expanding its mission in an effort to attract UCG ministers.
Today, I would like to mention some options available to those in UCG.
Number one, and this really is not an option but more of a spiritual imperative, is that those in UCG should pray, study, and perhaps fast about the situation there.
If after doing so, UCG members really believe that the Jesus Christ is pleased with UCG and would not condemn it as part of Laodicea, then they should support it and remain there.
However, let us look at what Jesus said to Laodicea:
14 "And to the angel of the church of the Laodiceans write,

'These things says the Amen, the Faithful and True Witness, the Beginning of the creation of God:  15 "I know your works, that you are neither cold nor hot. I could wish you were cold or hot.  16 So then, because you are lukewarm, and neither cold nor hot, I will vomit you out of My mouth.  17 Because you say, 'I am rich, have become wealthy, and have need of nothing' — and do not know that you are wretched, miserable, poor, blind, and naked —   18 I counsel you to buy from Me gold refined in the fire, that you may be rich; and white garments, that you may be clothed, that the shame of your nakedness may not be revealed; and anoint your eyes with eye salve, that you may see.  19 As many as I love, I rebuke and chasten. Therefore be zealous and repent.  20 Behold, I stand at the door and knock. If anyone hears My voice and opens the door, I will come in to him and dine with him, and he with Me.  21 To him who overcomes I will grant to sit with Me on My throne, as I also overcame and sat down with My Father on His throne.

22 "He who has an ear, let him hear what the Spirit says to the churches."'" (Revelation 3:14-22, NKJV)
Notice that Laodicea was condemned for being "lukewarm".
It may be of interest to note that UCG member John Carmack wrote the following about UCG this week:
Most of the ways that UCG differs from other groups is that it is less strict.  In all honesty, UCG is less concerned about the physical…

UCG is obviously different in how it governs itself.  Most COG groups have a "one-man" rule…However, what's more disconcerting is that it seems that some within UCG don't want to follow the pattern originally set down for governance…

One area of concern, though, is that "born again" is more open to interpretation.  In spite of the view that the doctrine is clarified by the study paper on it, it actually looks more like mud.
Of course, while the spiritual is most important and some (like RCG) go overboard on the physical, Jesus indicated that the physical should not be neglected (Matthew 23:23; Luke 11:42).  UCG fits the definition of being lukewarm, and yes has problems with "born-again", governance, and other doctrines.
Furthermore, even though officially UCG has been touting its results on superstation WGN and its GN card-holder program a lot in the past week or so to apparently hint that it is succeeding in getting the gospel out, the reality is that it spends about as much on its governance and administration as it does on that priority.  Furthermore, I would like to quote from the last three official posts at "UCG Real Time" and make some comments:
Brethren in the U.S. are still welcome to request a supply of bi-fold brochures and displays for distribution. (December 1, 2010)

Beyond Today on WGN America: Another Record-high Response…A total of 1,145 responses were tabulated from the WGN America airing of our program. (November 30, 2010)

"Card Pack" Advertising Results in 309,000 Good News Subscriptions Since 2000 (November 22, 2010)
Presumably UCG made those posts to give the impression that the organization is being effective in public proclamation of the gospel and that members can participate in that work.  And while its members can participate, they may wish to consider the other facts.
UCG production of its Good News magazine dropped from over 500,000 copies per edition to 350,000 as of its November-December 2010 edition.
UCG's production of its Good News magazine has dropped since going on WGN by 12,000 copies (it produced 362,000 copies for its July-August 2010 edition).
Despite being in existence since 1995 and having nearly twice the income and membership of LCG, UCG's "record results" for its Beyond Tomorrow program on WGN are worse than the results of probably every episode of Tomorrow's World that LCG has had on WGN this century.  LCG is averaging 3-4 times UCG's latest record every week. Can UCG's fruits be considered anything beyond lukewarm?
The reality is that public proclamation of the gospel has never been a high financial priority for UCG.  Those interested in more facts on this can check out UCG 2010 Financial Statements Show Income Drop as well the article that tracks spending more years Differences between the Living Church of God and United Church of God.
Again, I ask, can UCG's fruits be considered anything beyond lukewarm?
Now, one group of former UCG supporters has somewhat rallied around a group called International Ambassador Outreach Mission (IAOM).  Last night, it announced that it was expanding:
Press Release 12/1/10: Expansion of International Ambassador Outreach Mission

——————————————————————————–

International Ambassador Outreach (IAO) was formed in 2010 to help support the financial needs of congregations and care for members of the Church of God in areas outside of the United States of America. Special emphasis has been placed to date on the Latin America ministry and membership that has been disenfranchised during the current crisis in the Church of God.

International Ambassador Outreach is dedicated to the preservation of unity within the body of Christ, and sincerely supports any Godly solution that would heal and preserve the unity of the body within the Church of God.

However, as the crisis in the Church of God has continued to escalate, ministers and members in the United States have now become affected as salaried ministers have been terminated or have resigned due to conscience. Should this trend continue, more full-time ministers of good reputation will be terminated or resign, thus impacting and further fracturing unity within the body of Christ.

Because of the aforementioned situation, International Ambassador Outreach is hereby expanding the scope of its mission beyond areas solely outside of the United States, and will now include the support of Church of God ministers and members in transition in the United States of America within its purview. Ministers of good reputation and their families will need financial support to meet basic life needs while working through an unexpected time of transition – and International Ambassador Outreach will seek to assist those needs.
So, IAOM will help former UCG ministers financially, kind of like what UCG originally did with former WCG ministers.  This seems to have been a top priority for the original UCG and current IAOM.
It should be noted that nothing was mentioned in the IAOM Press Release about proclaiming the gospel, nor did UCG devote any of its first year budget to proclaiming the gospel.
Does anyone believe that Jesus will be pleased with former UCG members going into another group that thus far has not shown that it places its top priority on proclaiming the gospel?  Some who were once part of UCG seem to think so, but I would refer all back to Jesus' warnings to Laodicea as thus far the similarities in IAOM's priorities to those associated with the formation of UCG appear to be there.
Now a couple of days ago, John Carmack listed various COGs and properly warned against some of them.  When it came to LCG, here is much of what posted:
Living Church of God

…

COGWriter Dr Robert Thiel has already written an article titled "Some of the Differences between the Living Church of God and the United Church of God"…  While a small few of their stated beliefs are based more upon tradition than the Bible, the honest fact is that you could do far worse in the COG universe.
Now I would like to comment that I do not believe that despite its not being perfect from a human perspective, one could do better than to support LCG at this time.  Despite the fact that not all who attend with it are Philadelphian, LCG is the only organization that seems to meet the criteria that Jesus set for the Philadelphia portion of His Church.
Notice what Jesus said to the Church at Philadelphia:
7 "And to the angel of the church in Philadelphia write,

'These things says He who is holy, He who is true, "He who has the key of David, He who opens and no one shuts, and shuts and no one opens":  8 "I know your works. See, I have set before you an open door, and no one can shut it; for you have a little strength, have kept My word, and have not denied My name.  9 Indeed I will make those of the synagogue of Satan, who say they are Jews and are not, but lie — indeed I will make them come and worship before your feet, and to know that I have loved you.  10 Because you have kept My command to persevere, I also will keep you from the hour of trial which shall come upon the whole world, to test those who dwell on the earth.  11 Behold, I am coming quickly! Hold fast what you have, that no one may take your crown.  12 He who overcomes, I will make him a pillar in the temple of My God, and he shall go out no more. I will write on him the name of My God and the name of the city of My God, the New Jerusalem, which comes down out of heaven from My God. And I will write on him My new name.

13 "He who has an ear, let him hear what the Spirit says to the churches."' (Revelation 3:7-13)
Notice that Philadelphia was praised for its work, while Laodicea was condemned for having a less hot work.  Notice that Philadelphia is praised for holding fast the truths that it had.
Only the Living Church of God meets the two criteria that Jesus set for the Philadelphia portion of His Church.  The late Herbert W. Armstrong, in a sermon on the Philadelphia Church Era, specified that Philadelphia had the proper priority on proclaiming the gospel to the world as a witness and had at least 18 vital truths restored to it.
LCG holds fast to the truths that were restored to the Philadelphia era of the Church of God–all of them.  And that simply is not something that UCG has done–and that is an undisputed fact.  Furthemore, only LCG has kept up with the same proportionate results in television and other areas of public proclamation that the group that the late Herbert W. Armstrong once led under Jesus Christ did.
Yes, there are other COGs (and there are articles on how about two dozen of them differ from the Philadelphia standard at the COGwriter home page), but only the Living Church of God meets the two standards for Philadelphia that Jesus set and that were confirmed in more detail by the late Herbert W. Armstrong.
If you are in UCG, confused about UCG, or have nothing to do with UCG but wish to support the most faithful church on earth today, please pray, study, fast, and compare what LCG is doing with your own Bible.  Are you, or the group you may be associated with, cold or lukewarm?
The following articles may assist you in doing this:
18 Truths Restored to the Churches of God Herbert W. Armstrong wrote that he felt he had restored at least 18 lost truths to the Church, here is Herbert W. Armstrong's list given 12/17/83. This articles also has links to show that these truths were believed by professors of Christ in earlier times, hence they were not some invention of Herbert Armstrong.
Do You Believe God Used Herbert W. Armstrong to Raise Up the Philadelphia Era of the Church of God? Nearly everyone while in WCG used to believe this, most do not seem to anymore.
Polycarp, Herbert W. Armstrong, and Roderick C. Meredith on Church Government What form of governance did the early church have? Was it hierarchical? Which form of governance would one expect to have in the Philadelphia remnant? The people decide and/or committee forms, odd dictatorships, or the same type that the Philadelphia era itself had?
Unity: Which COG for You? Why so many groups? Why is there lack of unity in the Churches of God? Has it always been this way? What can/should be done about it?
Differences between the Living Church of God and United Church of God This article provides quotes information from the two largest groups which had their origins in WCG as well as commentary.
There are Many COGs: Why Support the Living Church of God? This is an article for those who wish to more easily sort out the different COGs. It really should be a MUST READ for current and former WCG/GCI members or any interested in supporting the faithful church. It also explains a lot of what the COGs are all about.
Should the Church Still Try to Place its Top Priority on Proclaiming the Gospel or Did Herbert W. Armstrong Change that Priority for the Work? Some say the Church should mainly feed the flock now as that is what Herbert W. Armstrong reportedly said. Is that what he said? Is that what the Bible says? What did Paul and Herbert W. Armstrong expect from evangelists?
Are the Laodiceans the Modern Sadducees and Pharisees? Discusses similarities of the Sadducees and Pharisees to various COGs in this end-time.
Laodicean Warning for God's People Is there really a place of safety? Do God's people need to be warned? Warned for what?
The Philadelphia Church Era was predominant circa 1933 A.D. to 1986 A.D. The old Radio Church of God and old Worldwide Church of God, now basically the Living Church of God.
The Laodicean Church Era has been predominant circa 1986 A.D. to present. These are non-Philadelphians who mainly descended from the old WCG.