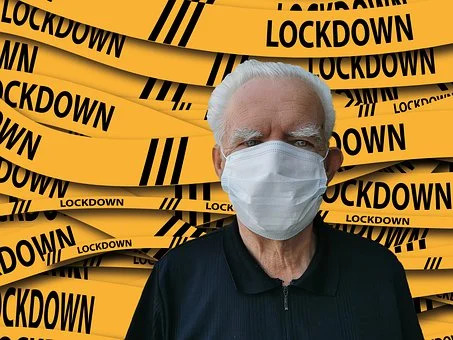 Pixabay photo
The Washington Post reported the following:
Now, a new crop of books dives into the many shades of gray in growing secularism and its important ramifications.

Deploying new research and theories, these writers go beyond the top-level data and argue that many Americans are, in fact, a mix. Someone may be devout personally, for instance, but strongly believe in church-state separation and the primacy of science and observable facts. They may be completely non-religious but also agnostic when it comes to the role of religion in public life. https://www.washingtonpost.com/religion/2022/01/14/secularism-atheism-religion-nones/
Let me state that secularlists and atheists are NOT truly scientific. They tend to deceive themselves that they are, but the Bible says they are fools:
1 The fool has said in his heart,
"There is no God."
They are corrupt, and have done abominable iniquity; (Psalm 53:1)
This corruption has other consequences.
The New Testament teaches:
18 For the wrath of God is revealed from heaven against all ungodliness and unrighteousness of men, who suppress the truth in unrighteousness, 19 because what may be known of God is manifest in them, for God has shown it to them. 20 For since the creation of the world His invisible attributes are clearly seen, being understood by the things that are made, even His eternal power and Godhead, so that they are without excuse, 21 because, although they knew God, they did not glorify Him as God, nor were thankful, but became futile in their thoughts, and their foolish hearts were darkened. 22 Professing to be wise, they became fools, 23 and changed the glory of the incorruptible God into an image made like corruptible man — and birds and four-footed animals and creeping things.

24 Therefore God also gave them up to uncleanness, in the lusts of their hearts, to dishonor their bodies among themselves, 25 who exchanged the truth of God for the lie, and worshiped and served the creature rather than the Creator, who is blessed forever. Amen.

26 For this reason God gave them up to vile passions. For even their women exchanged the natural use for what is against nature. 27 Likewise also the men, leaving the natural use of the woman, burned in their lust for one another, men with men committing what is shameful, and receiving in themselves the penalty of their error which was due.

28 And even as they did not like to retain God in their knowledge, God gave them over to a debased mind, to do those things which are not fitting; 29 being filled with all unrighteousness, sexual immorality, wickedness, covetousness, maliciousness; full of envy, murder, strife, deceit, evil-mindedness; they are whisperers, 30 backbiters, haters of God, violent, proud, boasters, inventors of evil things, disobedient to parents, 31 undiscerning, untrustworthy, unloving, unforgiving, unmerciful; 32 who, knowing the righteous judgment of God, that those who practice such things are deserving of death, not only do the same but also approve of those who practice them.  (Romans 1:18-32)
Despite the clear teachings of scripture on matters such as sexual immorality and the FACT that the Bible says not to condone it, it is pushed as the idea that all should go along with it.
Some seem to get pleasure out of lockdowns, censorship of biblical views, etc. While the following from an American author points to 'leftists,' secularlists of all types should often be included:
For Leftists, Your Freedom Is Their Misery – Your Slavery Is Their Joy

There is a certain level of madness required to reach the state our country is in today. …

To be clear, almost any group can become an exploitable weapon used by psychopaths. There have been times in history where the elites within the Catholic Church used zealotry among Christians to dominate society to the point of torture and terror during the inquisitions and crusades. During the George W. Bush era I remember well the lies about WMDs used to herd Republicans into pointless wars in Iraq and Afghanistan. However, that is the past. Today the problem of zealotry is resoundingly on the side of the political left.

That is to say, the political left is now the side that is most appealing to narcissists, sociopaths, the emotionally unstable, etc., and this attraction is forming a mob that can be easily exploited by the establishment.

What I find interesting is that leftists actually believe that THEY are the underdogs and that they are fighting a "revolution" against the establishment. This is a bizarre disconnect from reality. Every major institution of power and influence in the US is on the side of the political left. How can you be rebelling against the establishment if all your values coincide with the establishment's agenda?

The mainstream media and Hollywood have gone hardline in favor of leftist propaganda from critical race theory to the trans agenda and identity politics to feminism to socialism and centralization. Nearly every commercial, TV show and movie we see today reflects a far-left viewpoint or far left imagery, even though the majority of the population has no interest in woke ideology. Clearly, leftists and their friends in media think that if they force their cultism into people's faces non-stop 24/7 that we will eventually capitulate and embrace it.

Big Tech and major social media platforms ALL operate according to leftist politics. All of their terms of service rules are enforced to protect leftists from criticism and to censor conservatives and any moderates that dare speak up. The evidence overwhelmingly shows a left leaning bias in Big Tech censorship with conservatives being booted off platforms for nothing more than citing facts. We saw this recently with Marjorie Taylor Greene, a Georgia GOP representative, who was banned from Twitter and called a "far-right conspiracy theorist" for posting links to the VAERS database.

Social media is also commonly used as a weapon by leftists in order to "cancel" people that step out of line. …

But where does this mentality come from?

I think it's a combination of a culture of narcissism and collectivism coupled with a desperate desire for weak people to feel as though they are powerful. Leftists are very commonly people you might call the "runners-up" in life. There are a lot of malcontents and socially inept failures in their ranks that grow up feeling powerless. Instead of improving their lot by improving themselves and achieving something of merit, they instead blame others and the world for their lack of accomplishment.

This mentality can also be seen with their academia which often exaggerates their own importance and the importance of their accolades. One can get a masters degree in social sciences or feminist studies, but how useful is that person to the world really? Being an activist alone is not a career and they produce nothing, so the only measure of their education and their life is how much they can destroy, not how much they can build and create.

Joe Rogan's latest move from Twitter over to GETTR is another big story that leftists are losing their minds over. They act as though they just want to be rid of conservatives and argumentative moderates from their "safe spaces," but in reality this does not satisfy them. They don't want us to walk away, they want us to conform. They want us trapped within their echo chambers and going along to get along, or, they want us erased. …

They want you to die for going against the mandates.

01/13/22 https://alt-market.us/for-leftists-your-freedom-is-their-misery-your-slavery-is-their-joy/
Before going further, it should be pointed out the the LGBTQ types believe that they are oppressed. Furthermore, they do not like people quoting scriptures that oppose their 'lifestyles.' Or certain scientific facts for that matter (watch: Gay Gene? Born That Way?)
That being said, as the USA becomes more secularlist, it is losing freedoms.
The Apostle Peter warned:
3 By covetousness they will exploit you with deceptive words; for a long time their judgment has not been idle, and their destruction does not slumber.  (2 Peter 2:3)

10 … They are presumptuous, self-willed. They are not afraid to speak evil of dignitaries, (2 Peter 2:10)

18 For when they speak great swelling words of emptiness, they allure through the lusts of the flesh, through lewdness, the ones who have actually escaped from those who live in error. 19 While they promise them liberty, they themselves are slaves of corruption; for by whom a person is overcome, by him also he is brought into bondage. (2 Peter 2:18-19)
There is an expression that "misery loves company."
Hence, we have seen a lot of anti-freedom moves from those who do not want to retain God in their knowledge.
The end game of what secularists is doing is to attempt to ban a lot of views that the Bible supports.
Jesus warned about that time:
4 … the night is coming when no one can work. (John 9:4, NKJV)

4… the night cometh, when no man can work (John 9:4 KJV)
In an October 23, 1980 co-worker letter, Herbert Armstrong wrote:
The Bible warns us the time is just ahead when NO MAN CAN WORK—in the Lord's Work.
In a November 22, 1982 co-worker letter, Herbert Armstrong wrote:
We have not now much more time. Soon shall come a FAMINE of hearing the Word of the Lord (Amos 8:11). God says, work while it is day, for the night is coming when no man can work – in the Work of God! Nothing else is important in our lives, now, but this all-important Work of God. (http://cog-ff.com/html/pcomments_07_04_08.html, viewed 10/03/13)
So, the Bible tells of a time that will come when the word of God will not be found. And that would seem to be because it will be taken off the internet. In the 21st century, the internet is accessed by people in every country, and thus some type of internet restriction/suspension/site removal is coming. Those who despise the word of God do not want people to proclaim the truths it contains.
This will not end well for the USA or its British-descended allies:
12 Therefore thus says the Holy One of Israel:

"Because you despise this word,
And trust in oppression and perversity,
And rely on them,
13 Therefore this iniquity shall be to you
Like a breach ready to fall,
A bulge in a high wall,
Whose breaking comes suddenly, in an instant.  (Isaiah 30:12-13)
And, probably not too many years from now:
The Continuing Church of God (CCOG) is pleased to announce the following video on our Bible News Prophecy YouTube channel:
Are there prophetic reasons to believe that the USA will not last two complete presidential terms? Yes. There is a tradition attributed to the Hebrew prophet Elijah that humanity had 6,000 years to live before being replaced by God's Kingdom. There are scriptures, writings in the Talmud, early Christian teachings that support this. Also, even certain Hindu writings support it.

Here is a summary of ten items to consider: 1. If as the School of Elijah taught, that God inspired Elijah to state that the world as we have known it would last 6,000 years, to be followed by a thousand year sabbatical time, which Jewish tradition (Talmud, Tractate Sanhedrin [97a]) and early Christian traditions records (e.g. Irenaeus, a hearer of Polycarp. Adversus haereses, Book V, Chapter 30:4), then we are getting close to the end of that time.

2. And if, consistent with scriptures in both the Old and New Testaments, we can apply the concept that a thousand years is as a day to God (Psalm 90:4; 2 Peter 3:8).

3. And if, as generally understood in the Church of God that Jesus was killed and resurrected no later than the Spring of 31 A.D. on Passover.

4. And if we can presume that the "last days" of a 7,000 year prophetic week began AFTER the middle day (day 4), then the last days prior to the "sabbatical" time, which some would refer to as the millennial Kingdom of God would last two thousand years.

5. And if when Peter referred to being in the last days (Acts 2:17-18) and since Hebrews 1:1-12 teaches that "God … has in these last days spoken to us by His Son."

6. Then adding 2,000 years to a period of time leads to the end of the 6,000 years no later than 2031 (and it could be earlier than that).

7. Since the Great Tribulation is expected to start 3 1/2 years prior to that (cf. Revelation 12:14; 13:5) subtracting 3 1/2 years from the Spring of 2031 would be late in 2027.

8. Understand that the U.S.A. is prophesied to be taken over near the rise of the Beast and start of the Great Tribulation (cf. Daniel 11:39; Jeremiah 30:7; Matthew 24:21-22).

9. Therefore, since the end of two full U.S.A. presidential terms would end in January of 2029, these prophetic understandings point to the end of the U.S.A. prior to two full presidential terms.

10. This is also consistent with certain Hindu and Roman Catholic prophetic writings as well. This video gives more details and quotes which point to the destruction of the United States of America by 2028.
Here is a link to the video: Is the USA prophesied to be destroyed by 2028?
More stifling of religious speech will happen.
The prophet Amos was inspired to record the following:
11 "Behold, the days are coming," says the Lord God,
"That I will send a famine on the land,
Not a famine of bread,
Nor a thirst for water,
But of hearing the words of the Lord.
12 They shall wander from sea to sea,
And from north to east;
They shall run to and fro, seeking the word of the Lord,
But shall not find it. (Amos 8:11-12)
But Matthew 24:14 will be fulfilled BEFORE the full 'famine of the word' happens.
After the Gospel of the Kingdom of God has sufficiently reached the world the end comes and the Beast will rise up (Matthew 24:14-22, Revelation 13) and more totalitarian controls will be put in place.
Censorship and surveillance is increasing.
More speech restrictions, censorship. and persecutions are coming (cf. Revelation 13; Amos 8:11-12).
UPDATE 01/23/22. We just put together the following somewhat related video:
The Washington Post reported an increase in American secularism. Is that scientific or foolish? Were will that lead? Are there people who seem to relish in taking away religious and other freedoms? Are there major biases against religious content by Big Tech and many others? What is prophesied to happen to those that despise the Word of God? Dr. Thiel addresses these matters and more.
Here is a link to our video: Increasing Secularism Will Not End Well.
Some items of possibly related interest may include:
Preparing for the 'Short Work' and The Famine of the Word What is the 'short work' of Romans 9:28? Who is preparing for it? Here is a link to a related video sermon titled: The Short Work. ere is a link to another: Preparing to Instruct Many.
22 items to prophetically watch in 2022 Much is happening. Dr. Thiel points to 22 items to watch (cf. Mark 13:37) in this article. Here is a link a related video: 22 items to watch in 2022.
Internet Censorship and Prophecy Are concerns about internet censorship limited to nations such as Russia, China, Iran, and North Korea. But what about the USA, Canada, and Germany? What about the European Union? What about internet media companies such as Facebook, Google, YouTube, or email services like MailChimp? Has the attempt to control information been made by various ones over the centuries? Was the New Testament affected by it? What about the church throughout the centuries? Has the Bible already been partially censored? Which Bible prophecies point to coming Internet censorship? What about the Book of Amos? What about the coming 666 Beast and final Antichrist? Is there anything that can be done about this? Should Philadelphian Christians be working on anything now? Will preaching the Gospel of the Kingdom of God vs. a highly media-supported alternative lead to a 'famine of the word'? More internet censorship is coming as various statements in the Bible support.
The Spanish Inquisition and Early Protestant Persecutions Was the Church of Rome really responsible for this? What happened? Here is a link to a related video sermon: The Past and Future Inquisition.
Persecutions by Church and State This article documents some that have occurred against those associated with the COGs and some prophesied to occur. Will those with the cross be the persecutors or the persecuted–this article has the shocking answer. There is also a YouTube video sermon you can watch: The Coming Persecution of the Church. Here is information in the Spanish language: Persecuciones de la Iglesia y el Estado.
Orwell's 1984 by 2024? In 1949, the late George Orwell wrote a disturbing book about a totalitarian government called "nineteen-eighty four." Despite laws that are supposed to protect freedom of speech and religion, we are seeing governments taking steps consistent with those that George Orwell warned against. We are also seeing this in the media, academia, and in private companies like Google, Facebook, and Twitter. With the advent of technology, totalitarianism beyond what Orwell wrote is possible. Does the Bible teach the coming a totalitarian state similar to George Orwell's? What about the Antichrist and 666? Will things get worse? What is the solution? Dr. Thiel answers these questions and more in this video.
Anglo – America in Prophecy & the Lost Tribes of Israel Are the Americans, Canadians, English, Scottish, Welsh, Australians, Anglo-Saxon (non-Dutch) Southern Africans, and New Zealanders descendants of Joseph? Where are the lost ten-tribes of Israel? Who are the lost tribes of Israel? What will happen to Jerusalem and the Jews in Israel? Will God punish the U.S.A., Canada, United Kingdom, and other Anglo-Saxon nations? Why might God allow them to be punished first? Here is a link to the Spanish version of this article: Anglo-América & las Tribus Perdidas de Israel. Information is also in the YouTube sermons titled Where are the Ten Lost Tribes? Why does it matter? and British are the Covenant People. A short YouTube of prophetic interest may be: Are Chinese threats against Australia for real?
USA in Prophecy: The Strongest Fortresses Can you point to scriptures, like Daniel 11:39, that point to the USA in the 21st century? This article does. Two related sermon are available: Identifying the USA and its Destruction in Prophecy and Do these 7 prophesies point to the end of the USA?
Who is the King of the West? Why is there no Final End-Time King of the West in Bible Prophecy? Is the United States the King of the West? Here is a version in the Spanish language: ¿Quién es el Rey del Occidente? ¿Por qué no hay un Rey del Occidente en la profecía del tiempo del fin? A related sermon is also available: The Bible, the USA, and the King of the West.
COVID 19 is NOT the End, but could it be TEOTWAWKI? The novel coronavirus called COVID-19 is wreaking havoc around the world. Many states of the USA as well as countries in Europe are on lockdown with shelter in place /shelter in residence requirements. In France, a form is required when you are not at your house. In Spain, drones are being used to warn people who are outside to got back to their homes–does that bring up feelings of 'Big Brother'? Italy, France, and other areas are using police and/or military force to encourage people to stay inside. According to the Bible could this be the end? If not, what has to happen first? Have the second and third of the four horsemen of the Apocalypse started their ride? Could COVID-19 be the fourth horseman? Why or why not? Could we be seeing The End of the World as We Know It (TEOTWAWKI) like the R.E.M.'s 1987 single song discussed? Do Christians need to fear? What did Jesus teach? What did the Psalmist teach? This is a video. Here is a link to a version in the Spanish language: Corona 19 no es el final PERO es el TEOTWAWKI.
Does God Have a 6,000 Year Plan? What Year Does the 6,000 Years End? Was a 6000 year time allowed for humans to rule followed by a literal thousand year reign of Christ on Earth taught by the early Christians? Does God have 7,000 year plan? What year may the six thousand years of human rule end? When will Jesus return? 2029 or or 2031 or 20xx? There is also a video titled 6000 Years: When will God's Kingdom Come? Here is a link to the article in Spanish: ¿Tiene Dios un plan de 6,000 años?
Might the U.S.A. Be Gone by 2028? Could the USA be gone by the end of 2028 or earlier? There is a tradition attributed to the Hebrew prophet Elijah that humanity had 6,000 years to live before being replaced by God's Kingdom. There are scriptures, writings in the Talmud, early Christian teachings that support this. Also, even certain Hindu writings support it. Here is a link to a related video: Is the USA prophesied to be destroyed by 2028? In Spanish: Seran los Estados Unidos Destruidos en el 2028?
When Will the Great Tribulation Begin? 2022, 2023, or 2024? Can the Great Tribulation begin today? What happens before the Great Tribulation in the "beginning of sorrows"? What happens in the Great Tribulation and the Day of the Lord? Is this the time of the Gentiles? When is the earliest that the Great Tribulation can begin? What is the Day of the Lord? Who are the 144,000? Here is a version of the article in the Spanish language: ¿Puede la Gran Tribulación comenzar en el 2020 o 2021? ¿Es el Tiempo de los Gentiles? A related video is: Great Tribulation: 2026 or 2027? A shorter video is: Can the Great Tribulation start in 2022 or 2023? Here is a video in the Spanish language: Es El 2021 el año  de La Gran Tribulación o el Grande Reseteo Financiero.
Christian Repentance Do you know what repentance is? Is it really necessary for salvation? A related sermon is also available titled: Real Christian Repentance.
Is God Calling You? This booklet discusses topics including calling, election, and selection. If God is calling you, how will you respond? Here is are links to related sermons: Christian Election: Is God Calling YOU? and Predestination and Your Selection. A short animation is also available: Is God Calling You?