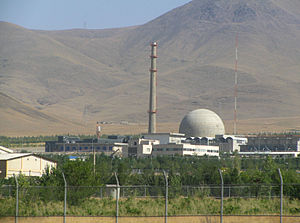 Iranian Heavy Water Nuclear Reactor (Nanking2012)
US President Barack Obama is praising a deal with Iran which does not seem to place long-term limitations on its nuclear ambitions:
July 14, 2015
WHITE HOUSE— Months of international negotiations and years of sanctions targeting Iran's nuclear program led up to this one moment. In the early hours of July 14, U.S. President Barack Obama made his way down a long red-carpeted hallway in the White House to announce a historic agreement.

"The United States, together with our international partners, has achieved something that decades of animosity has not – a comprehensive long-term deal with Iran that will prevent it from obtaining a nuclear weapon," Obama said. …
"Today because America negotiated from position of strength and principal, we have stopped the spread of nuclear weapons in this region," Obama said.

Agreement details

Key Points

Iran will reduce stockpile of low-enriched uranium by 98 percent to 300 kg for 15 years
Iran will reduce by two-thirds the number of centrifuges operating to enrich uranium at its main processing center
Iran is prevented from designing warheads or conducting experiments on nuclear weapons-related technology.
Arms embargo on Iran will be eased, as long as IAEA judges Iran's nuclear program to be peaceful.
International sanctions on Iran will be lifted, enabling it to export oil.
If an international panel finds Iran is not honoring the accord, it can vote to restore sanctions.

President Obama laid out the key points of the deal, noting that "every pathway to a nuclear weapon is cut off."  Under the agreement, he said Iran would no longer produce highly enriched uranium and weapons-grade plutonium that are necessary to make a nuclear bomb. Iran will remove two-thirds of its installed centrifuges, and will not use its advanced centrifuges to produce enriched uranium for the next decade. Iran will also get rid of 98 percent of its stockpiled enriched uranium and modify its core reactor. …

"If Iran violates the deal, all the sanctions will snap back," Obama said.

Congressional review

The president closed his remarks with a message to the U.S. Congress, which now has 60 days to review the deal, saying while he welcomes lawmakers' scrutiny of the agreement, he will "veto any legislation that prevents successful implementation of the deal."

President Obama said now is not the time for "politics and posturing" and warned that an Iran armed with a nuclear weapon would be far more destabilizing to the Middle East and the world.

"History shows that America must lead not just with our might, but with our principals. It shows we are stronger not when we are alone but when we bring the world together," Obama said. "Today's announcement marks one more chapter in this pursuit of a safer, and more helpful, more hopeful world."  http://www.voanews.com/content/obama-iran-nuclear-deal-makes-world-safer/2860882.html
This deal, according to certain experts, will encourage the spread of nuclear weapons in the Middle East, not stop it as Barack Obama just claimed.  Notice that Saudi Arabia now indicates it will to take nuclear and/or actions:
July 14, 2105

Saudi Arabia, Iran's chief adversary in the region, has been one of the strongest critics of a deal that offers a gradual lifting of international sanctions in return for curbs on Tehran's nuclear program.

One Saudi diplomat described the agreement as "extremely dangerous" and said it would give a green light to his own government to start a nuclear energy program.  https://www.washingtonpost.com/world/middle_east/arab-states-fear-dangerous-iranian-nuclear-deal-will-shake-up-region/2015/07/14/96d68ff3-7fce-4bf5-9170-6bcc9dfe46aa_story.html

July 14, 2015

The news anchor on state-run Saudi Channel 1, Mohammed al-Mohya, told Reuters on Tuesday that the deal should cause Sunni nations to seek partnerships with countries other than America.

"Iran made chaos in the Arab world and will extend further after the agreement," he said. "And the [Gulf Cooperation Council] countries should reduce their confidence in America and turn their focus to Russia and China."  http://www.foxnews.com/world/2015/07/14/from-neocon-nut-jobs-to-partners-iranian-language-towards-us-changes-after-deal/
Israeli Prime Minister Benjamin Netanyahu condemned the deal:
July 14, 2015

The news that major world powers and Iran reached a historic deal aimed at ensuring that Iran does not obtain the nuclear bomb was met with condemnation by Israel but hailed by the United Nations and Russia.

Israeli Prime Minister Benjamin Netanyahu called Tuesday's nuclear deal with Iran "a bad mistake of historic proportions" and vowed to keep up efforts to block the Islamic Republic from obtaining an atomic bomb.

United Nations Secretary-General Ban Ki-moon congratulated negotiators in Vienna on finalizing an agreement in a statement Tuesday.

"I warmly welcome the historic agreement in Vienna today and congratulate the P5+1 and Iran for reaching this agreement. This is testament to the value of dialogue," Ban said in the statement.

"I hope – and indeed believe – that this agreement will lead to greater mutual understanding and cooperation on the many serious security challenges in the Middle East. As such it could serve as a vital contribution to peace and stability both in the region and beyond," the statement said.

In Russia, President Vladimir Putin said, with the nuclear agreement, the world can breathe a sigh of relief, and that the negotiating countries made hard choices for stability and cooperation.

The European Union hailed it as a new chapter of hope for the world.

Regional governments

The Iraq, Pakistan and Afghanistan governments released statements welcoming the nuclear agreement.   …

Widely criticized in Israel

However, reaction was critical across the political spectrum in Israel, where concern is high the country's arch enemy has duped the world and will acquire nuclear weapons to use against Israel.

Iran already backs militant groups that attack Israel and its leaders frequently have referred to Israel's destruction in the past.

Netanyahu has been at the forefront of global opposition to the deal and has openly clashed with the Obama administration and other Western powers that have been pushing for an easing of sanctions in return for greater restrictions on its nuclear program.

Netanyahu showed no signs of tempering his criticism Tuesday and added a veiled threat of his own.

"One cannot prevent an agreement when the negotiators are willing to make more and more concessions to those who, even during the talks, keep chanting: 'Death to America,' " he said, before meeting with Dutch Foreign Minister Bert Koenders.

'A short path to nuclear weapons'

Speaking in Jerusalem, he said Israel's "concern is that the militant Islamic state of Iran is going to receive a short path to nuclear weapons. Many of the restrictions that were supposed to prevent it from getting there will be lifted. And in addition Iran will get a jackpot, a cash bonanza, of hundreds of billions of dollars, which will enable it to continue to pursue its aggression and terror in the region and in the world."

He concluded by saying Israel would continue to have to defend its way of life, freedoms and security.

Israel received an official copy of the Iran nuclear agreement Tuesday, according to the Haaretz website.

On Monday, Israeli Defense Minister Moshe Ya'alon criticized the potential nuclear agreement.

Ya'alon told Israeli officials that "even if there are some last-minute improvements, the agreement as we understand it is bad, allowing Iran to legitimately become a nuclear threshold state. The bottom line is, a bad deal is coming, and after it, we will have to be prepared to defend ourselves on our own."

On Tuesday, Ya'alon told The Jerusalem Post that the agreement was built on "lies and deceit."

Lobbying effort

Israel's first course of action looks to be an intense lobbying effort in the U.S. Congress to oppose the deal.

Deputy Foreign Minister Tzipi Hotovely said Israel "will employ all diplomatic means to prevent confirmation of the agreement."

Netanyahu's coalition partners angrily criticized Tuesday's agreement. Education Minister Naftali Bennett, who heads the hawkish Jewish Home party, said July 14 will be remembered a "dark day for the free world." Cabinet Minister Miri Regev said the agreement gave Iran a "license to kill."

The cascade of criticism crossed party lines, reflecting the widespread opposition to the deal in Israel.

"This is a regime based in deceit, and now they are going to do what they did for the last 20 years, which is trying to get themselves nuclear weapons behind the back of the world," Yair Lapid, the head of the opposition Yesh Atid Party, told The Associated Press. "Now they are going to do it with the help of the international community."

Netanyahu called on all sides to "put petty politics aside" and unite behind opposing Iran.

At Tel Aviv's Institute for National Security Studies, Emily Landau, the head of its arms control and regional security program said Tuesday that "if there's a sense in the region that the international actors … have not provided mechanisms for preventing [Iran from acquiring nuclear weapons], then definitely there will be additional motivation in the region to go down the nuclear route."

Noting that acquiring nuclear weapons capability is "irreversible," she added that the "sunset provision" allowing the agreement to expire after some years would allow Iran eventually to pursue legally a nuclear weapons program.

Finally, Landau said the accord "does not change the Iranian narrative," which is to expand its status and influence across and beyond the Middle East.  http://www.voanews.com/content/israel-most-vocal-in-reaction-against-nuclear-deal/2860807.html
Perhaps it should be added that I heard on the radio that some believe that the result of a deal with Iran will mean that Pakistan will be selling/providing nuclear weapons to Saudi Arabia and perhaps others in the Arab world.
The US Congress has an opportunity to review this deal, and Republicans there expressed concerns and doubts:
July 14, 2015

Early Congressional reaction to the landmark nuclear agreement, signed with Iran, appears to be largely split down party lines with Democratic lawmakers appearing cautiously optimistic and Republicans questioning whether the U.S. gave too many concessions to reach a final accord.

U.S. Senator Bob Corker (R-Tenn.), chairman of the Senate Foreign Relations Committee, said he is deeply skeptical that the deal "actually meets the goal of preventing Iran from obtaining a nuclear weapon."  "Congress will need to scrutinize this deal and answer whether implementing the agreement is worth dismantling our painstakingly-constructed sanctions regime that took more than a decade to establish," said Corker, who authored the Iran Nuclear Agreement Review Act which gives Congress the right to approve or disapprove the final agreement.

"Iran continues to be the lead sponsor of terrorism in the world and relieving sanctions would make the Tehran regime flush with cash and could create a more dangerous threat to the United States and its allies," Corker added.

Democratic Leader Nancy Pelosi (D-CA) commended President Barack Obama and Secretary of State John Kerry for their leadership in the negotiations.

Pelosi said "aggressive restrictions and inspections offer the best long-term plan to stop Iran from building a nuclear weapon." "Congress will closely review the details of this agreement."

"The comprehensive nuclear agreement announced today appears to further the flawed elements of April's interim agreement because the Obama Administration approached these talks from a flawed perspective: reaching the best deal acceptable to Iran, rather than actually advancing our national goal of ending Iran's nuclear program," said Senate Majority Leader Mitch McConnell (R-KY).

House Speaker John Boehner (R-OH) chided the Obama administration for "abandoning" its original benchmarks such as affirming that Iran does not have a right to enrich and permanently dismantling the infrastructure of its nuclear programs.

"The American people and our allies were counting on President Obama to keep his word," said Boehner.

"Instead of making the world less dangerous, this 'deal' will only embolden Iran – the world's largest sponsor of terror – by helping stabilize and legitimize its regime as it spreads even more violence and instability in the region," he said.

Democratic Whip Steny Hoyer (D-Md.) says "it is now up to Members of Congress to work carefully through every detail, particularly given Iran's likelihood to exploit any ambiguity or loophole to its benefit and to the detriment of the security of America, Israel, and our allies in Europe and the Gulf."

Barbara Boxer (D-CA), a senior member of the Senate Foreign Relations Committee said she looked forward to hearings on the deal, which she called a "historic, diplomatic breakthrough."

U.S. lawmakers will hold a hearing to examine details of the nuclear deal at 1400 UTC (10 a.m. local time).  http://www.voanews.com/content/us-congress-reacts-to-nuclear-deal-with-iran-/2860918.html
The Congress of the USA may decide to approve the deal.  And while it cannot amend it, it may be possible that it will get certain provisos that military or other action can be taken if Iran is perceived to be violating the agreement.
Here is a report from ABC about aspects of the deal:
July 14, 2105

The history books will show that both sides got their fair share of wins and both made major concessions.

WINS FOR THE WORLD POWERS:

Dismantling

Most importantly for the United States, Iran has agreed to dismantle most of its nuclear program, guaranteeing they would not be able to make a bomb for at least one year, over the course of 10 years.

Centrifuges

Iran's 19,000 installed centrifuges will have to be cut to no more than 6,104 for the next 10 years. The 13,000 decommissioned centrifuges will be sent to monitored storage by the International Atomic Energy Agency (IAEA). …

WINS FOR IRAN:

The selling points in Tehran could be the points of derailment in Washington. While Congress has 60 days to review the agreement, it has no authority to amend it. If Congress were to create legislation to stifle the agreement it would need a two-thirds majority vote to avoid a presidential veto. Secretary of State John Kerry said in Vienna today he doesn't think they'll try it, but look for Congressional Republicans to use each one of the following points to argue this is a bad deal.

Sanctions

Iran is most pleased with the impending relief of economic sanctions. Once it has been verified that Iran has committed to dismantling its centrifuges and diluting or selling its stockpile of enriched uranium, all economic sanctions will be lifted, effectively releasing over $100 billion in frozen Iranian assets. Economic relief was the driving incentive for Iran.

Inspections Military Sites

Most observers are likely to interpret the inspection, as it applies specifically to military sites, as a victory for Iran. UN inspectors can demand access to nuclear facilities on Iran military sites, but they aren't immediate or even guaranteed. Any inspections at those sites would need to be approved by a joint commission composed of one member from each of the negotiating parties. The process for approving those inspections could take as many as 24 days, which critics will claim is enough time for Iran to cover up any non-compliance.

Arms Embargo

The final win for Iran is the gradual lifting of an international arms embargo. The accord states that Iran will be permitted to buy and sell conventional arms on the international market in five years; and in eight years they'll be able to do the same with ballistic missiles. The embargo was a major sticking point throughout the talks, with Iran demanding it be lifted.

Research and Development

Iran gets to continue to conduct research and development related to its nuclear program. There will be certain limitations, but essentially they will be allowed research enrichment activities, as long as it is for peaceful purposes.  http://abcnews.go.com/International/iran-nuclear-deal-winners-losers/story?id=32437227
As far as centrifuges go, it is my understanding that Iran will get rid of its older, less technologically advanced centrifuges which it perhaps could not have really used for nuclear bombs, while keeping those that are better for that.  Nuclear centrifuges basically help enrich uranium to the point that it can be used to develop nuclear energy or nuclear bombs.  While Iran is publicly claiming the former, many believe that its real goal is to produce nuclear weapons, so getting rid of older ones does not really hurt its nuclear ambitions.  I would disagree with ABC that this is a 'win' for powers like the USA.
The time may well come when Iran 'overplays its hand.'  Since Iran is NOT the prophesied King of the South (Daniel 11:40-43), it may well be neutralized (cf. (Jeremiah 49:34-39) before that leader fully rises up.
Because leaders like Iran's past and current presidents credit a non-existent Imam Mahdi for various events and its Supreme Leader has claimed to actually speak to him, the regime in Iran must be considered unstable and capable of taking steps that would seem illogical to outsiders.
This makes Iran dangerous. Iran may well damage Israel (Isaiah 22:1-14) and even the USA. But that will not end well for Iran (cf. Jeremiah 49:34-38)
Some items of possibly related interest may include:
Iran in Prophecy Is Iran in Bible prophecy? If so, what does the Bible teach? What names, other than Persia, may be used to describe Iran? There is also a YouTube video titled Iran in Prophecy. Here is a related video Iran In Prophecy.
Damascus and Syria in Prophecy Will Bashar Assad hold power as he has it? Does the Bible show that Damascus, the capital of Syria, will be destroyed? What will happen to Syria? Will the Syrians support the final King of the South that the Bible tells will rise up? Which scriptures discuss the rise and fall of an Arabic confederation? Does Islamic prophecy predict the destruction of Syria.
Universal Offer of Salvation: There Are Hundreds of Verses in the Bible Supporting the Doctrine of True Apocatastasis Do you believe what the Bible actually teaches on this? Will all good things be restored? Will God call everyone? Will everyone have an opportunity for salvation? Does God's plan of salvation take rebellion and spiritual blindness into account? Related sermon videos include Universal Offer of Salvation I: God is love and Universal Offer of Salvation II: The Age to Come and the 'Little Flock' and Universal Offer of Salvation III: All Are to Know Jesus, But When? and Universal Offer of Salvation IV: Will the Guilty be Pardoned? and Universal Offer of Salvation V: All Israel Will be Saved? A version of the main article was also translated in the Spanish language: Oferta universal de salvación: Hay cientos de versículos en la Biblia que apoyan la verdadera doctrina de la Apocatastasis.
Jerusalem: Past, Present, and Future What does the Bible say about Jerusalem and its future? Is Jerusalem going to be divided and eliminated? Is Jesus returning to the area of Jerusalem? There is also a related YouTube video you can watch titled Jerusalem To be divided and eliminated.
How Will Middle East Peace be Brought About? Can humans bring peace to the Middle East? Here is a link to a related video: Middle East Peace? When?
The Gospel of the Kingdom of God was the Emphasis of Jesus and the Early Church Did you know that? Do you even know what the gospel of the kingdom is all about? You can also see a YouTube video sermon The Gospel of the Kingdom.
Anglo – America in Prophecy & the Lost Tribes of Israel Are the Americans, Canadians, English, Scottish, Welsh, Australians, Anglo-Saxon (non-Dutch) Southern Africans, and New Zealanders descendants of Joseph? Where are the lost ten-tribes of Israel? Who are the lost tribes of Israel? What will happen to Jerusalem and the Jews in Israel? Will God punish the U.S.A., Canada, United Kingdom, and other Anglo-Saxon nations? Why might God allow them to be punished first? Here is a link to the Spanish version of this article: Anglo-América & las Tribus Perdidas de Israel. Information is also in the YouTube sermons titled Where are the Ten Lost Tribes? Why does it matter? and British are the Covenant People. A short YouTube of prophetic interest may be Barack Obama and the State of the Apocalypse.
Will the Anglo-Saxon Nations be Divided and Have People Taken as Slaves? Will the lands of the United States, United Kingdom, Canada, Australia, and New Zealand be divided? What about Jerusalem? What does Bible prophecy teach? Are there non-biblical prophecies that support this idea? Who will divide those lands? Who will end up with the lands and the people? Here is a link to a video titled Will the USA and other Anglo-nations be Divided and Their People Made Slaves? Here is a related item in the Spanish language ¿Serán divididas las naciones anglosajonas?
Barack Obama, Prophecy, and the Destruction of the United States-Second Edition for Second Obama Term This is a 160 page book for people truly interested in prophecies related to Barack Obama and the United States, including learning about many that have already been fulfilled (which the book documents in detail) and those that will be fulfilled in the future. It also has a chapter about a Republican choice. This book is available to order at www.barackobamaprophecy.com. The physical book can also be purchased at Amazon from the following link: Barack Obama, Prophecy, and the Destruction of the United States: Is Barack Obama Fulfilling Biblical, Islamic Catholic, Kenyan, and other America-Related Prophecies? What About Republican Leaders? Second Edition for Second Obama Term.
Barack Obama, Prophecy, and the Destruction of the United States-Second Term-Amazon Kindle edition. This electronic version is available for only US$2.99. And you do not need an actual Kindle device to read it. Why? Amazon will allow you to download it to almost any device: Please click HERE to download one of Amazon s Free Reader Apps. After you go to for your free Kindle reader and then go to Barack Obama, Prophecy, and the Destruction of the United States-Second Term-Amazon Kindle edition.