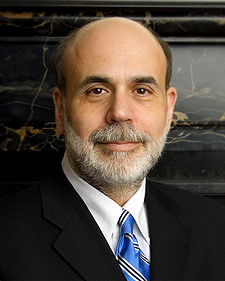 Ben Bernanke
The U.S. Federal Reserve Chairman admitted that US deficits would remain high, at least for a while:
Bernanke warns of high budget deficits…

Bernanke…did, however, say that "economic conditions provide little scope for reducing deficits significantly further over the next year or two" and that "premature fiscal tightening could put the recovery at risk" which implies that the tax cuts should not be allowed to expire in 2010. (Irwin N.  Washington Post,  Tuesday, October 5, 2010. http://www.washingtonpost.com/wp-dyn/content/article/2010/10/04/AR2010100407065.html)
Although he hopes this will change, the reality is that unless some highly efficient technology (or something along those lines) emerges soon in the USA, its deficits will mainly increase.
This increase will likely worsen dramatically once interest rates rise from their current low levels.
In Habakkuk 2:3,6,7, God mentions that that destruction will happen to those that increased their debt at the end time:
3 For the vision is yet for an appointed time; But at the end it will speak, and it will not lie. Though it tarries, wait for it; Because it will surely come, It will not tarry…5 Indeed, because he transgresses by wine, He is a proud man… 6 "Will not all these take up a proverb against him, And a taunting riddle against him, and say, 'Woe to him who increases What is not his–how long? And to him who loads himself with many pledges'? 7 Will not your creditors rise up suddenly? Will they not awaken who oppress you? And you will become their booty. 8 Because you have plundered many nations, All the remnant of the people shall plunder you (Habakkuk 2:3,5,6-8).
The above prophecy will be fulfilled at the time of the end and seems to be directed to one  or more nations like the USA. It makes little sense that it would be directed towards the modern nation of Israel as it does not have enemy creditors. It must be a nation or group of nations with some prominence.
Since the USA has the most debt of any nation of all time, it seems to be a leading (though not necessarily only) candidate to be included in it.  Increasing deficits puts the USA in a dangerous position that Bible prophecy indicates that it will not be able to recover from.
Without massive national repentance, the Bible is clear that complete destruction of the economy, and even government, of the USA is certain.
Some prophetic articles of possibly related interest may include:
Anglo – America in Prophecy & the Lost Tribes of Israel Are the Americans, Canadians, British, Scottish, Welsh, Australians, Anglo-Southern Africans, and New Zealanders descendants of Joseph? Where are the lost ten-tribes of Israel? Who are the lost tribes of Israel? Will God punish the U.S.A., Canada, United Kingdom, and other Anglo nations? Why might God allow them to be punished first?
Will the Anglo-Nations be Divided? Will the lands of the United States, United Kingdom, Canada, Australia, and New Zealand be divided? What does Bible prophecy teach? Are there non-biblical prophecies that support this idea? Who will divide those lands? Who will end up with the lands and the people?
Prophecies of Barack Obama? Eight reasons why Barack Obama is apocalyptic and eight reasons why Barack Obama is not the Antichrist. This article includes many biblical and non-biblical prophecies, from around the world, that seem to discuss Barack Obama. Did Nostradamus predict Barack Obama dealing with the Antichrist?  Might Barack Obama set the stage for the kings of the North and South as at least one Shiite prophecy suggests?  This is the longest and most complete article on this page on Barack Obama prophecies. Read it and decide for yourself if President Obama seems to be fulfilling various prophecies.
Barack Obama, Prophecy, and the Destruction of the United States Some claim that Barack Obama is the prophesied "son of Kenya", based up an early 20th century writing.
Who is the King of the North? Is there one? Do biblical and Roman Catholic prophecies point to the same leader? Should he be followed? Who will be the King of the North discussed in Daniel 11? Is a nuclear attack prophesied to happen to the English-speaking peoples of the United States, Great Britain, Canada, Australia, and New Zealand? When do the 1335 days, 1290 days, and 1260 days (the time, times, and half a time) of Daniel 12 begin?  Where is the nation of Israel in all of this?
Does God Have a 6,000 Year Plan? What Year Does the 6,000 Years End? Was a 6000 year time allowed for humans to rule followed by a literal thousand year reign of Christ on Earth taught by the early Christians? When does the six thousand years of human rule end?
Can the Great Tribulation Begin in 2010, 2011, or 2012? Can the Great Tribulation begin today? When is the earliest that the Great Tribulation can begin? What is the Day of the Lord?