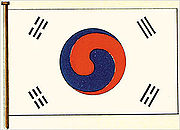 Flag of Korea, 1889
LCG has the following in its announcements yesterday:
North Korea and new leadership.
Last week, North Korea's 19-year supreme leader, Kim Jong Il, died of an apparent heart attack. This militarized nation, unable to sufficiently feed its people, will now be ruled by Kim Jong Il's appointed successor, his third son Kim Jong Un (age 27).
North Korea is known for its extended mourning rituals, so it is not yet known when Kim Jong Un will officially take power. Many expect Kim Jung Un's uncle and aunt to act as regents for a couple of years as he prepares to take control (Associated Press, December 21, 2011; Reuters, December 21, 2011).

North Korea's leadership is known to place the well-being of its people far behind its focus on its military. What the next couple of years hold for North Korea remains to be seen.

Although Bible prophecy does not specifically mention North Korea, it does indicate that near the end of the 3.5-year great tribulation, a massive army "from the east and the north" will come in and devastate the European Beast power–the King of the North (Daniel 11:44-45; Revelation 9:16-18). This 200 million-man army from the east may be a conglomerate of nations that includes Asiatic peoples like the North Koreans. This army will need the hardware and military-industrial force to support such a massive number of troops, and North Korea's military experience could assist in the future development of this prophesied force.
I suspect that the South Koreans will also work with the North by the time of the 200,000,000 man army as biblical prophecy seems to suggest cooperation in Korea in the final time just prior to the return of Jesus Christ (Revelation 16:12). North Korea's newest leader may inadvertently help get the Koreas to fulfill that prophetic passage. Thus, we may be at a time that is making some type of reconciliation (which does not necessarily have to come peaceably).
AP reported the following late 24 December 2011:
PYONGYANG, North Korea (AP) — North Korea hailed Kim Jong Il's son as "supreme leader" of the 1.2-million strong military, ramping up its campaign to install the young man as the nation's next leader even as the mourning for his father continued a week after his death.

Kim Jong Un made a third visit Saturday to the palace where his father's body is lying in state — this time as "supreme leader of the revolutionary armed forces" and accompanied by North Korea's top military brass, according to the official Korean Central News Agency.  http://www.google.com/hostednews/ap/article/ALeqM5gWci7Bq_cUYSXIUVtJ-4Q1vyTD7g?docId=7ede394f7eef4662a47240293277efee
So, the new North Korean leader seems to be consolidating power.  We will see how this unfolds.
The Koreans are Asians and occupy the "land of the sunrise."   As such, I believe that they are part of the kings of the east that the Book of Revelation discusses having a role in the end time.
Two articles of possibly related interest would include the following:
Korea in Prophecy, Any Witness? Does God have a plan for the Koreans? Is Korea mentioned in any prophecies? Will Koreans be among the first in the Kingdom of God? 한국의 언어로 : 한국 예언, 모든 증인에?
Asia in Prophecy What is Ahead for Asia? Who are the "Kings of the East"? What will happen to nearly all the Chinese, Russians, Indians, Koreans, and others of Asia? China in prophecy, where? Who has the 200,000,000 man army related to Armageddon?