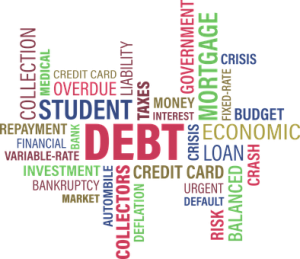 The mainstream media (MSM) realizes that the US has a lot of debt, but pushes the false notion that it should not be a real concern:
The Federal Debt Is Rising. Concern Is Not.

February 15, 2019

WASHINGTON — The federal debt ticked past $22 trillion this week, a record that comes despite continued economic growth, but neither political party appears to be making a priority of debt reduction.

Larry Kudlow, the director of President Trump's National Economic Council, said on Thursday that the president was "concerned" about the rise of the debt, and that the administration would propose some reductions in federal spending in its next budget.

But he said the scale of the debt was not "a problem."  …

The government's borrowing has real costs, notably the need to make interest payments to investors.https://www.nytimes.com/2019/02/15/us/politics/national-debt-trump.html

Why the $22 trillion national debt doesn't matter – here's what you should worry about instead

The U.S. federal government's debt load hit another milestone this month: It's now a record US$22 trillion in nominal terms.

That's $67,000 for every man, woman and child living in the U.S., and it's up $2 trillion since President Donald Trump took office in 2017. For comparison, U.S. debt is more than the total size of the United States' $20 trillion economy and equivalent to the gross domestic products of China, Japan and Germany combined. …

I believe it is worth asking whether we should even care about the size of government debt.

Default isn't imminent

First of all, it's important to note current U.S. debt levels do not indicate any risk of imminent default. …

Why it's irrelevant

Although $22 trillion is a large number, it is essentially irrelevant to proper thinking about the economic role of the U.S. government or about responsible fiscal policy. …

The real burden to worry about

Yet, the $22 trillion "on-balance-sheet" debt is likely to woefully underestimate the federal government's true liabilities and its potential demand on the economy's resources.

The national debt is the government's formal commitment to repay its creditors. But Uncle Sam has many other commitments for future spending that are not on the books, so-called "off-balance-sheet" liabilities. Such liabilities do not show up in standard debt measures. …

Economist Jim Hamilton has recently estimated that such off-balance-sheet liabilities could exceed $70 trillion, more than three times the the current value of outstanding Treasury securities. http://theconversation.com/why-the-22-trillion-national-debt-doesnt-matter-heres-what-you-should-worry-about-instead-111805
While the MSM sees some concerns, they tend to consider them irrelevant as well as manageable.
That being said, not all secular sources agree. Here is something from Peter Schiff:
Peter Schiff, the President and CEO of Euro Pacific Capital, and one of the few who predicted the 2008 Great Recession before it happened has said that what we are experiencing now is "the beginning of the end." Schiff made his comments during his keynote speech at the Vancouver Resource Investment Conference.

The economic guru says that the Federal Reserve has made the decision to halt interest rate hikes in order to attempt to save the flailing stock market … Peter traces the moves of the Federal Reserve all the way back to the first rate hike of December 2015 and shows how the central bank has put the United States on a path toward a financial crisis that will be bigger than 2008. Peter insists he's been right about what would happen all along, it's just taken us a little longer to get to the actual financial disaster than he expected.

"The reason that I originally said that I did not expect the Fed to raise rates again was because I knew that raising rates was the first step in a journey that they could not finish, that in their attempt to normalize rates, the stock market bubble would burst and the economy would reenter recession.

Normalizing interest rates when you've created an abnormal amount of debt is impossible.

I knew all along that at some point, that would be it, you know, the straw that breaks the camel's back. I didn't know how many rate hikes the bubble economy could take, but I knew there was a limit. And I still knew that there's no way they were ever going to get back up to normal or neutral. Whatever that number is, it ain't 2%." –Peter Schiff

People are going to realize that we checked into the monetary roach motel that I talked about from the beginning and that there's no way out, and then the dollar is going to fall like a stone.

When they find out that it's never over and it didn't work, then there's going to be nothing propping up the dollar and it's going to drop like a stone, the price of gold is going to take off, and the recession that we're entering into, which is going to be an inflationary recession, is going to be worse than what we now call the Great Recession.

Maybe it's taken longer than we might have thought to play out, but this is the beginning of the end." Peter Schiff

https://www.zerohedge.com/news/2019-02-14/peter-schiff-beginning-end-economy
Despite some issues that Peter Schiff has had, he is correct that "normalizing" interest rates is virtually impossible as the debt of the US cannot sustain interest payments at historically normal rates (5-10%).
Some in the alternative media have indicated that only a financial "reset" can save the US. The Continuing Church of God (CCOG) put together the following video on our Bible News Prophecy YouTube channel related to some reset talk:
Euro Pacific Capital CEO says the US economy is about to crash because of debt. US National Security Adviser John Bolton declared debt as a threat to society. Forbes writer John Mauldin says that a financial reset is expected in the 2020s, as does Willem Middelkoop, who believes gold may be part of a reset. Morgan Stanley believes the end of the current economic cycle may be in 2021. MIT pointed to changes in the 2020s. How much debt does the USA add daily? Does any of this tie in with biblical prophecies? Does Habakkuk 2 have applicability to the USA? Is it wise to try to discount debt and not pay it back in full? Dr. Thiel addresses these issues in the light of scripture.
Here is a link to the sermonette video: Financial Reset by 2022?
Anyway, the debt situation is serious:
In case anyone is still unaware, government debt is out-of-control. It doubled under President Obama, and it is anticipated to increase for 50 percent in the next ten years.

It's not just the repayment of debt that presents a potential crisis; it's the interest payments. With a clear correlation between government debt and diminished growth, a natural first step would be for the government to ease its deficit spending on programs such Medicaid, Social Security, and Medicare to decrease the waste inherent in some of these programs.

Interest rates are expected to rise to $1 trillion during the next decade. That is more than the US spends each year on Medicaid and its military. It will cost $55,000 per household over the next ten years just to service debt. …

The once-great country of America appears to be on the decline, paralyzed by mounting debts it cannot handle. …

At of January, foreign investors own $6.35 trillion in US bonds, with China and Japan the largest investors, with a total of $2 trillion. When the demand for treasury bonds decreases, the Federal Reserve will need to increase interest rates, which increases the cost of borrowing. http://www.goldtelegraph.com/america-paralyzed-by-mounting-debts
At this moment, I consider the above scenario overly optimistic (cf. Habakkuk 2:6-8).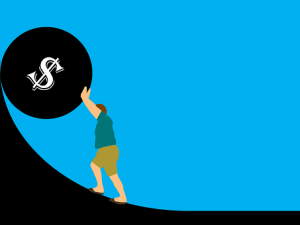 As USA debt rises, the US Federal Reserve may again need to raise interest rates in order to sell the debt (normally in forms of US Treasury bills/bonds).
This puts more pressure on the debt and the ability to repay it.
Shortly after becoming US President, Barack Obama said that the levels of deficit spending that the USA was engaging in was "unsustainable." Something that is unsustainable cannot continue indefinitely. The rise of USA debt is unsustainable–but the politicians seem to not be that concerned.
The rise of US debt was listed by me as number 11 of 19 items to prophetically watch in 2019 (here is a link to a related sermon: 19 items to watch in 2019).
The Anglo-American world order will come to an end. Accumulation of debt, and then having to pay historically 'normal' interest rates will strain the national economies of the USA, UK, and Canada more than almost anyone will believe. It will be a financial crisis beyond what most pundits would consider possible.
Those who think the debt is of no real concern and that current world order with the USA's dollar on top will last until the end of this century are in error.
Repentance is needed. The USA and its Anglo-Saxon allies will not last to the end of this century (watch also End of the Anglo-American Order).
The Bible teaches that debt is a curse:
15 "But it shall come to pass, if you do not obey the voice of the Lord your God, to observe carefully all His commandments and His statutes which I command you today, that all these curses will come upon you and overtake you: … 43 The alien who is among you shall rise higher and higher above you, and you shall come down lower and lower. 44 He shall lend to you, but you shall not lend to him; he shall be the head, and you shall be the tail. 45 Moreover all these curses shall come upon you and pursue and overtake you, until you are destroyed…47 "Because you did not serve the LORD your God with joy and gladness of heart, for the abundance of everything, 48 therefore you shall serve your enemies, whom the LORD will send against you, in hunger, in thirst, in nakedness, and in need of everything; and He will put a yoke of iron on your neck until He has destroyed you. 49 The LORD will bring a nation against you from afar, from the end of the earth, as swift as the eagle flies, a nation whose language you will not understand, 50 a nation of fierce countenance, which does not respect the elderly nor show favor to the young. 51 And they shall eat the increase of your livestock and the produce of your land, until you are destroyed; they shall not leave you grain or new wine or oil, or the increase of your cattle or the offspring of your flocks, until they have destroyed you. 52 They shall besiege you at all your gates until your high and fortified walls, in which you trust, come down throughout all your land; and they shall besiege you at all your gates throughout all your land which the LORD your God has given you (Deuteronomy 28:15, 42-45,47-52).
It needs to be understood that some of the cursings in the "Old Testament" of the Bible are clearly to occur at the latter time of the end:
… evil will befall you in the latter days, because you will do evil in the sight of the LORD, to provoke Him to anger through the work of your hands (Deuteronomy 31:29).
And since national repentance has not occurred, these matters will worsen:
18 'And after all this, if you do not obey Me, then I will punish you seven times more for your sins. 19 I will break the pride of your power; I will make your heavens like iron and your earth like bronze. 20 And your strength shall be spent in vain; for your land shall not yield its produce, nor shall the trees of the land yield their fruit… 26 When I have cut off your supply of bread, ten women shall bake your bread in one oven, and they shall bring back your bread by weight, and you shall eat and not be satisfied. 27'And after all this, if you do not obey Me, but walk contrary to Me, 28 then I also will walk contrary to you in fury; and I, even I, will chastise you seven times for your sins. 29 You shall eat the flesh of your sons, and you shall eat the flesh of your daughters. 30 I will destroy your high places, cut down your incense altars, and cast your carcasses on the lifeless forms of your idols; and My soul shall abhor you. 31 I will lay your cities waste and bring your sanctuaries to desolation, and I will not smell the fragrance of your sweet aromas. 32 I will bring the land to desolation, and your enemies who dwell in it shall be astonished at it. 33 I will scatter you among the nations and draw out a sword after you; your land shall be desolate and your cities waste. 34 Then the land shall enjoy its sabbaths as long as it lies desolate and you are in your enemies' land; then the land shall rest and enjoy its sabbaths. 35 As long as it lies desolate it shall rest–for the time it did not rest on your sabbaths when you dwelt in it (Leviticus 26:18-20;26-35).
A prophecy in Habakkuk 2 shows that God teaches that you should pay attention to the rising debt:
2 Then the Lord answered me and said: "Write the vision And make it plain on tablets, That he may run who reads it. 3 For the vision is yet for an appointed time; But at the end it will speak, and it will not lie. Though it tarries, wait for it; Because it will surely come, It will not tarry…5 Indeed, because he transgresses by wine, He is a proud man… 6 "Will not all these take up a proverb against him, And a taunting riddle against him, and say, 'Woe to him who increases What is not his–how long? And to him who loads himself with many pledges'? 7 Will not your creditors rise up suddenly? Will they not awaken who oppress you? And you will become their booty. 8 Because you have plundered many nations, All the remnant of the people shall plunder you. Because of men's blood And the violence of the land and the city, And of all who dwell in it. (Habakkuk 2:2-3,5,6-8).
The above prophecy will be fulfilled at the time of the end (cf. "The message was true, but the appointed time was long…in the latter days, for the vision refers to many days yet to come," Daniel 10:1,14). Daniel 8:19, 11:27,29,35 use the same Hebrew term for "appointed time" as Habakkuk 2:3, while Daniel 10, using a different term, ties the latter days to the time in Daniel 8:19. Habakkuk 2 was not fulfilled in its entirety anciently.
Notice that those who read the above should take action–this is the opposite of the general position of the MSM (mainstream media) that there is nothing to be concerned about.
Time will run out for the USA.
Some items of possibly related interest include the following:
The End of US Dollar Dominance Is the USA losing its economic status? What about the petro-gold-yuan? A related video is also available: US Dollar being challenged by Gold-Petro-Yuan.
Collapse of the Euro and Dollar? War in 2020? Larry Edelson of Money and Markets described aspects of current economic difficulties and explained why he felt matters would get a lot worse. He said war, like World War III, could break out as early as 2020. What did he call the 'granddaddy of all cycles"? Will matters go as he said? What does the Bible teach? Dr. Thiel provides biblical insights that secular sources often miss. This is a video.
End of the Anglo-American Order In mid-2017, BBC ran an article under the headline of "End of the Anglo-American order?" Is that really a question or the biblical reality? After the Brexit vote, the election of US President Donald Trump, and US rejection of the Paris accords on climate change, is the world really going to put in a different order? Some are claiming that Europe or Germany will head up this new world order–an order that sounds eerily similar to one essentially proposed and approved by the United Nation in 2015. Is the UN's "Agenda 2030" a false gospel? How will this end for the USA, UK, Australia, Canada, and New Zealand? Will there later be something better to replace it? Dr. Thiel addresses these issues and more. This is a video.
s God Calling You? This booklet discusses topics including calling, election, and selection. If God is calling you, how will you respond? Here is a link to a related sermon: Could God be Calling You?
Christians: Ambassadors for the Kingdom of God, Biblical instructions on living as a Christian This is a scripture-filled booklet for those wishing to live as a real Christian. A related sermon is also available: Christians are Ambassadors for the Kingdom of God.
Christian Repentance Do you know what repentance is? Is it really necessary for salvation? A related sermon is also available titled: Real Christian Repentance.
When You Sin: Do You Really Repent? This is an article by Charles F. Hunting. A related sermon is Confess to God and truly repent.
Anglo – America in Prophecy & the Lost Tribes of Israel Are the Americans, Canadians, English, Scottish, Welsh, Australians, Anglo-Saxon (non-Dutch) Southern Africans, and New Zealanders descendants of Joseph? Where are the lost ten-tribes of Israel? Who are the lost tribes of Israel? What will happen to Jerusalem and the Jews in Israel? Will God punish the U.S.A., Canada, United Kingdom, and other Anglo-Saxon nations? Why might God allow them to be punished first? Here is a link to the Spanish version of this article: Anglo-América & las Tribus Perdidas de Israel. Information is also in the YouTube sermons titled Where are the Ten Lost Tribes? Why does it matter? and British are the Covenant People. A short YouTube of prophetic interest may be: Are Chinese threats against Australia for real?
Will the Anglo-Saxon Nations be Divided and Have People Taken as Slaves? Will the lands of the United States, United Kingdom, Canada, Australia, and New Zealand be divided? What about Jerusalem? What does Bible prophecy teach? Are there non-biblical prophecies that support this idea? Who will divide those lands? Who will end up with the lands and the people? Here is a link to a video titled Will the USA and other Anglo-nations be Divided and Their People Made Slaves? Here is a related item in the Spanish language ¿Serán divididas las naciones anglosajonas?
British are the Covenant People What do 'British' and 'Britain' mean in Hebrew? Are the descendants of the Anglo-Saxons people of the covenant? Does the British royal family connect to the throne of David? What does the Bible teach? What does history show us? Is there any DNA evidence related to British-Israelism? When did Christianity make it to the British Isles? Could Jeremiah have made it to the British Isles? What type of Christians made it to the British Isles? Did the last King of England believe in British Israelism?
Canada in Prophecy: What Does Bible Prophecy, Catholic Prophecy, and other Predictions Suggest About the Future of Canada? There are prophecies that suggest involvement with Canada. And many are not positive about its future.
USA in Prophecy: The Strongest Fortresses Can you point to scriptures, like Daniel 11:39, that point to the USA in the 21st century? This article does. A related sermon is titled: Do these 7 prophesies point to the end of the USA?
19 items to prophetically watch in 2019 Much is happening. Dr. Thiel points to 19 items to watch (cf. Mark 13:37), plus another, in this article. Here is a link to a related sermon: 19 items to watch in 2019.
When Will the Great Tribulation Begin? 2019, 2020, or 2021? Can the Great Tribulation begin today? What happens before the Great Tribulation in the "beginning of sorrows"? What happens in the Great Tribulation and the Day of the Lord? Is this the time of the Gentiles? When is the earliest that the Great Tribulation can begin? What is the Day of the Lord? Who are the 144,000? Here is a version of the article in the Spanish language: ¿Puede comenzar la Gran Tribulación en 2018 o 2019? ¿Es el Tiempo de los Gentiles? You can also see the English language sermon videos: The Great Tribulation from the Mount of Olives and Can the Great Tribulation begin before 2020? A shorter and newer video is: Might the Great Tribulation start in 2019?
The Times of the Gentiles Has there been more than one time of the Gentiles? Are we in it now or in the time of Anglo-America? What will the final time of the Gentiles be like? A related sermon is available and is titled: The Times of the Gentiles.
Armageddon Who is involved and when will this gathering happen? Here is also a video from Dr. Thiel, from Tel Megiddo in Israel: Armageddon. Other videos include: Armageddon Will it come on Trump's watch?, Iraq, Armageddon, & Prophecy, Freemasonry, Armageddon, and Rome, Is China paving roads to Armageddon?, and Jordan, Petra, and Armageddon.
Who is the King of the West? Why is there no Final End-Time King of the West in Bible Prophecy? Is the United States the King of the West? Here is a version in the Spanish language: ¿Quién es el Rey del Occidente? ¿Por qué no hay un Rey del Occidente en la profecía del tiempo del fin? A related sermon is also available: The Bible, the USA, and the King of the West.
Protestant and Church of God views of the United States in Bible Prophecy Is the USA mentioned in Bible prophecy? Some Protestants say yes, while others say no. What does the Bible really teach? Learn the truth about this. There is also a video available: Is The United States Mentioned In Bible Prophecy?
Physical Preparation Scriptures for Christians. We all know the Bible prophecies famines. Should we do something? Here is a version in the Spanish language Escrituras sobre Preparación física para los Cristianos. Here is a link to a related sermon: Physical preparedness for Christians.
The Plain Truth About Gold in Prophecy. How Should a Christian View Gold? What do economists and the Bible teach about gold? Gold and silver may drop in value. Inflation/deflation? What do Christians need to know about gold?
Who is the King of the North? Is there one? Do biblical and Roman Catholic prophecies for the Great Monarch point to the same leader? Should he be followed? Who will be the King of the North discussed in Daniel 11? Is a nuclear attack prophesied to happen to the English-speaking peoples of the United States, Great Britain, Canada, Australia, and New Zealand? When do the 1335 days, 1290 days, and 1260 days (the time, times, and half a time) of Daniel 12 begin? When does the Bible show that economic collapse will affect the United States? Here is a link to a video titled: The Future King of the North.
The Gospel of the Kingdom of God This free online pdf booklet has answers many questions people have about the Gospel of the Kingdom of God and explains why it is the solution to the issues the world is facing. Here are links to three related sermons: The World's False Gospel, The Gospel of the Kingdom: From the New and Old Testaments, and The Kingdom of God is the Solution.
Donald Trump in Prophecy Prophecy, Donald Trump? Are there prophecies that Donald Trump may fulfill? Are there any prophecies that he has already helped fulfill? Is a Donald Trump presidency proving to be apocalyptic? Two related videos are available: Donald: 'Trump of God' or Apocalyptic? and Donald Trump's Prophetic Presidency.
Trump Presidency Magic 8 Ball or Bible Prophecy? BBC reported that one might as well use a 'Magic Eight-Ball' to try to predict what will happen in the remaining time of Donald Trump's presidency. What is a 'Magic Eight-Ball'? Dr. Thiel not only explains that, but also briefly goes over 10 biblically-based warnings he wrote would happen if Donald Trump were elected that have already began to come to pass. He also goes over something he wrote back in 2008 that the Trump presidency is also helping lead to fulfillment. Should you trust Bible prophecy or not? Dr. Thiel says that Bible prophecy can be trusted, despite the view of skeptics and others that either overlook or despise the Bible. This is a video.
Donald Trump and America's Apocalypse This 188 page book is for people truly interested in prophecies related to Donald Trump and the United States, including learning about several that have already been fulfilled and those that will be fulfilled in the future. The physical book can be purchased at Amazon for $12.99 from the following link: Donald Trump and America's Apocalypse.
Donald Trump and America's Apocalypse-Kindle Edition This electronic version of the 188 page print edition is available for only US$3.99. And you do not need an actual Kindle device to read it. Why? Amazon will allow you to download it to almost any device: Please click HERE to download one of Amazon s Free Reader Apps. After you go to for your free Kindle reader and then go to Donald Trump and America's Apocalypse-Kindle Edition.
Who is the King of the West? Why is there no End-Time King of the West in Bible Prophecy? Is the United States the King of the West?