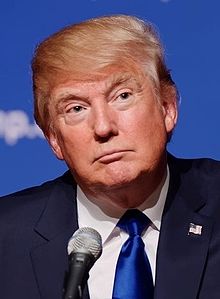 Donald Trump and Hillary Clinton

NBC reports that Hillary Clinton and Donald Trump are the top choices of members of their respective political parties:
March 29, 2016

WASHINGTON—A new U.S. political survey shows Republican voters continue to favor billionaire real estate mogul Donald Trump for the party's presidential nomination by a wide margin over his two remaining challengers, while the Democratic contest between former secretary of state Hillary Clinton and Vermont Senator Bernie Sanders has narrowed.

The NBC News/Survey Monkey poll released Tuesday showed the brash Trump with 48 percent support among Republicans, well ahead of Texas Senator Ted Cruz, a conservative firebrand in the halls of Congress, who has 27 percent. Ohio Governor John Kasich has 18 percent.

Trump also has a significant edge in winning delegates to the Republican national convention in July, where the party will pick its 2016 presidential nominee.  It is not clear if Trump, a political novice and one-time television reality show host, will be able to win a majority of delegates ahead of the quadrennial gathering.  If he falls short, the nomination would be decided in contentious balloting until a nominee is chosen.

In the Democratic contest, the survey showed Clinton, the country's top diplomat from 2009 to 2013, ahead of Sanders by a 49-to-43 percent margin among Democratic voters, her narrowest edge since the tracking poll was started in late December.

Sanders, a democratic socialist who has centered his campaign with attacks on the country's growing income inequality, easily won three state nominating contests against Clinton on Saturday, but trails far behind her in claiming delegates to the party's July national convention where the nominee will be selected.

Even as surveys show Trump with a lead among Republicans, nearly two-thirds of Americans view him unfavorably.  Majorities also have unfavorable views of Clinton and Cruz, but not by as much as Trump.  Sanders and Kasich, who have not been attacked by political partisans as much as the front-running candidates, have positive favorability ratings.

The next contest in the months-long, state-by-state nominating process is April 5 in the midwestern state of Wisconsin, where pre-election surveys show Trump and Cruz locked in a close Republican match, with Kasich trailing.  In the Democratic race, the polls show Clinton with a slight edge over Sanders.

The eventual party nominees will square off in November's national election, with the winner replacing President Barack Obama, who leaves office in January 2017. http://www.voanews.com/content/trump-clinton-polls/3259504.html
These candidates remain the favorites, but have major unfavorable numbers even in their own parties (hence, the closeness, for example of Bernie Sanders). I do not recall there every being nominees from either major USA party who had such unfavorability ratings as Donald Trump and Hillary Clinton.
When I hear Hillary Clinton, in addition to her often denying her seemingly criminal scandals, she usually promotes class-warfare and the LGBT agenda and seems to have (to me at least) communist sympathies. When I hear Donald Trump, in addition to him often launching insults, he usually promotes nationalism and seems (to me at least) to show fascist tendencies.
Are either what the USA needs?
Many people recognize that something is terribly wrong with the direction of the USA. Yet, the answer is not Donald Trump nor Hillary Clinton. The answer is national repentance, which is something neither of those candidates has spoken about.
In my view, both Hillary Clinton and Donald Trump fulfill the following prophecy:
1 But know this, that in the last days perilous times will come: 2 For men will be lovers of themselves, lovers of money, boasters, proud, blasphemers, disobedient to parents, unthankful, unholy, 3 unloving, unforgiving, slanderers, without self-control, brutal, despisers of good, 4 traitors, headstrong, haughty, lovers of pleasure rather than lovers of God, 5 having a form of godliness but denying its power. And from such people turn away! 6 For of this sort are those who creep into households and make captives of gullible women loaded down with sins, led away by various lusts, 7 always learning and never able to come to the knowledge of the truth. (2 Timothy 3:1-7)
Hillary Clinton promotes sexual immorality that the Bible condemns. Donald Trump is an admitted adulterer who said he has never repented before God, and he approves of various behaviours that the Bible condemns.
The following scriptures apply to both of them:
18 For the wrath of God is revealed from heaven against all ungodliness and unrighteousness of men, who suppress the truth in unrighteousness, 19 because what may be known of God is manifest in them, for God has shown it to them. 20 For since the creation of the world His invisible attributes are clearly seen, being understood by the things that are made, even His eternal power and Godhead, so that they are without excuse, 21 because, although they knew God, they did not glorify Him as God, nor were thankful, but became futile in their thoughts, and their foolish hearts were darkened. 22 Professing to be wise, they became fools, 23 and changed the glory of the incorruptible God into an image made like corruptible man — and birds and four-footed animals and creeping things.

24 Therefore God also gave them up to uncleanness, in the lusts of their hearts, to dishonor their bodies among themselves, 25 who exchanged the truth of God for the lie, and worshiped and served the creature rather than the Creator, who is blessed forever. Amen.

26 For this reason God gave them up to vile passions. For even their women exchanged the natural use for what is against nature. 27 Likewise also the men, leaving the natural use of the woman, burned in their lust for one another, men with men committing what is shameful, and receiving in themselves the penalty of their error which was due.

28 And even as they did not like to retain God in their knowledge, God gave them over to a debased mind, to do those things which are not fitting; 29 being filled with all unrighteousness, sexual immorality, wickedness, covetousness, maliciousness; full of envy, murder, strife, deceit, evil-mindedness; they are whisperers, 30 backbiters, haters of God, violent, proud, boasters, inventors of evil things, disobedient to parents, 31 undiscerning, untrustworthy, unloving, unforgiving, unmerciful; 32 who, knowing the righteous judgment of God, that those who practice such things are deserving of death, not only do the same but also approve of those who practice them. (Romans 1:18-32)
The Bible warns against not only those that participate in immoral behaviours, but also those that approve of immoral practices.  And the latter clearly apply to Donald Trump and Hillary Clinton.
National repentance and prayer is what the USA needs or it is biblically-doomed (cf. Habakkuk 2:6-8; Daniel 11:39). The same holds true for its Anglo-Saxon descended allies such as the UK, Canada, Australia, and New Zealand.
The USA needs the Kingdom of God.
Some items of possibly related interest may include:
Should a Christian Vote? This article gives some of the Biblical rationale on this subject. Would Jesus vote for president/prime minister? Is voting in the Bible? This is a subject Christians need to understand. A video of related interest is available titled: Should Christians Vote?
Donald Trump in Prophecy Prophecy, Donald Trump? Are there prophecies that Donald Trump may fulfill? Are there any prophecies that he has already helped fulfill? Could a Donald Trump presidency be apocalyptic? A related video is titled Could Donald Trump be Apocalyptic?
Abortion, the Bible, and a Woman's Right to Choose Do you know what the Bible teaches on this? Has the Roman Catholic Church allowed abortions? What about the real Church of God? Some may also, or instead, wish to view the YouTube video Abortion, the Bible, and US Debt.
Cross-dressing and other assaults against your children. What should you do? Is there an agenda to turn your children and/or grandchildren away from biblical morality and towards practices promoted by homosexuals? What does the Bible teach about cross-dressing? What should parents do? If there is an agenda, what has been going on? There are also two YouTube videos related to this, titled Transgender 'Woe to those who call evil good' and Cross dressing and Other Assaults Against Your Children.
The Bible Condemns Homosexuality "Same-sex marriage" for "gays" and lesbians is becoming more acceptable to many. What does the Bible teach about homosexuality? Can homosexuals change? A related video sermon is titled: What Does the Bible Really Teach about Homosexuality?
Does God Have a 6,000 Year Plan? What Year Does the 6,000 Years End? Was a 6000 year time allowed for humans to rule followed by a literal thousand year reign of Christ on Earth taught by the early Christians? Does God have 7,000 year plan? What year may the six thousand years of human rule end? When will Jesus return? 2023 or 20xx? There is also a video titled The 6000 Year Plan: Is the end of humanity's reign almost up? Here is a link to the article in Spanish: ¿Tiene Dios un plan de 6,000 años?
When Will the Great Tribulation Begin? 2016, 2017, or 2018? Can the Great Tribulation begin today? What happens before the Great Tribulation in the "beginning of sorrows"? What happens in the Great Tribulation and the Day of the Lord? Is this the time of the Gentiles? When is the earliest that the Great Tribulation can begin? What is the Day of the Lord? Who are the 144,000? Here is a version of the article in the Spanish language: ¿Puede comenzar la Gran Tribulación en 2016 o 2017? ¿Es el Tiempo de los Gentiles? You can also see the English language sermon video: The Great Tribulation from the Mount of Olives. A shorter video is: Can the Great Tribulation Start in 2016?
Just What Do You Mean — Repentance? Do you know what repentance is? Have you truly repented? Repented of what? Herbert W. Armstrong wrote this as a booklet on this important subject.
When You Sin: Do You Really Repent? This is an article by Charles F. Hunting. A related sermon is Confess to God and truly repent.
WTO/TTIP and the Babylonian Beast Will international trade agreements like WTO/TTIP/CETA lead to the fulfillment of end time prophecies concerning the Babylonian Beast power that the Book of Revelation warns against? What does the Bible teach? A related video would be WTO Trade Deal and the Rise of the European Beast Power.
Hillary Clinton in Prophecy Prophecy, Hillary Clinton? Are there prophecies that Hillary Clinton may fulfill? Are there any prophecies that she has already helped fulfill? Could Hillary Clinton be apocalyptic? Could Hillary Clinton be the final Antichrist? A video of related interest is titled Hillary Clinton and Bible Prophecy.
The Gospel of the Kingdom of God was the Emphasis of Jesus and the Early Church Did you know that? Do you even know what the gospel of the kingdom is all about? You can also see a YouTube video sermon The Gospel of the Kingdom.
Women and the New Testament Church What roles did women play in the ministry of Jesus and the apostles? Did Jesus and the Apostle Paul violate Jewish traditions regarding their dealings with women? Do women have any biblical limitations on their role in the Church? Were there female prophets? Do women have any special responsibilities in terms of how they dress? What does the New Testament really teach about women? Here is a related sermon titled: New Testament Women.
Anglo – America in Prophecy & the Lost Tribes of Israel Are the Americans, Canadians, English, Scottish, Welsh, Australians, Anglo-Saxon (non-Dutch) Southern Africans, and New Zealanders descendants of Joseph? Where are the lost ten-tribes of Israel? Who are the lost tribes of Israel? What will happen to Jerusalem and the Jews in Israel? Will God punish the U.S.A., Canada, United Kingdom, and other Anglo-Saxon nations? Why might God allow them to be punished first? Here is a link to the Spanish version of this article: Anglo-América & las Tribus Perdidas de Israel. Information is also in the YouTube sermons titled Where are the Ten Lost Tribes? Why does it matter? and British are the Covenant People. A short YouTube of prophetic interest may be Barack Obama and the State of the Apocalypse.
Will the Anglo-Saxon Nations be Divided and Have People Taken as Slaves? Will the lands of the United States, United Kingdom, Canada, Australia, and New Zealand be divided? What about Jerusalem? What does Bible prophecy teach? Are there non-biblical prophecies that support this idea? Who will divide those lands? Who will end up with the lands and the people? Here is a link to a video titled Will the USA and other Anglo-nations be Divided and Their People Made Slaves? Here is a related item in the Spanish language ¿Serán divididas las naciones anglosajonas?
Hillary Clinton, Prophecy, and the Destruction of the United States This is a 188 page book for people truly interested in prophecies related to Hillary Clinton and the United States, including learning about many that have already been fulfilled and those that will be fulfilled in the future. It also discusses Republicans. The physical book can be purchased at Amazon from the following link: Hillary Clinton, Prophecy, and the Destruction of the United States: Is Hillary Clinton Fulfilling Biblical, Islamic Catholic, Hopi, and other America-Related Prophecies? $11.99.
Hillary Clinton, Prophecy, and the Destruction of the United States-Amazon Kindle edition. This electronic version of the 188 page print edition is available for only US$3.99. And you do not need an actual Kindle device to read it. Why? Amazon will allow you to download it to almost any device: Please click HERE to download one of Amazon s Free Reader Apps. After you go to for your free Kindle reader and then go to Hillary Clinton, Prophecy, and the Destruction of the United States-Amazon Kindle edition.