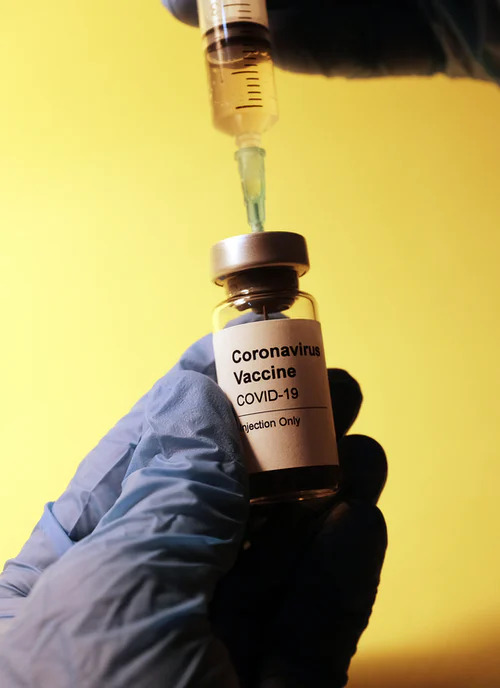 (Unsplash photo)

ZeroHedge reported the following:
January 16, 2021

In what can only be described as a somewhat concerning turn of events, health experts from Wuhan, China, called on Norway and other countries to suspend the use of mRNA-based COVID-19 vaccines produced by companies such as Pfizer, especially among elderly people (following the surge in deaths in Norway described below).

China's Global Times reports Chinese experts said the death incident should be assessed cautiously to understand whether the death was caused by vaccines or other preexisting conditions of these individuals.

Yang Zhanqiu, a virologist from Wuhan University, told the Global Times on Friday that the death incident, if proven to be caused by the vaccines, showed that the effect of the Pfizer vaccine and other mRNA vaccines is not as good as expected, as the main purpose of mRNA vaccines is to heal patients. …

A Beijing-based immunologist, who requested anonymity, told the Global Times on Friday that the world should suspend the use of the mRNA COVID-19 vaccine represented by Pfizer, as this new technology has not proven safety in large-scale use or in preventing any infectious diseases.

Older people, especially those over 80, should not be recommended to receive any COVID-19 vaccine, he said.

All of which is a problem since it is the elderly who are at most risk (quite frankly at any real risk at all) and thus who need the protection the most. The Chinese health experts instead say that the most elderly and frail should be recommended to take medicines to improve their immune system. …


Norway health authorities are reporting COVID-19 vaccine news of monumental importance at a moment the US is rushing to get an initial some 30 million doses into the arms of the elderly and those with chronic health conditions: sick patients over 80 are particularly at risk for devastating side effects.

Thus for this vulnerable demographic which is currently first in line in North America, the "cure" could be worse than the disease. Bloomberg notes that it's "the most cautious statement yet from a European health authority" regarding potential adverse vaccine health risks.

"For those with the most severe frailty, even relatively mild vaccine side effects can have serious consequences," the Norwegian Institute of Public Health said.

The health authority said further in its most blunt statement cautioning against a policy of a blanket promotion of the vaccine for all:

"For those who have a very short remaining life span anyway, the benefit of the vaccine may be marginal or irrelevant."

This comes after a handful of global cases, including an elderly patient in France, where a recipient died within hours of receiving their first-round of the vaccine.

Thus far Norway says it has administered doses to up to 33,000 people, including the elderly, but are already finding it "too risky" for the terminally ill and people over 80 that are in frail condition. Given only 33,000 injected so far, the reported death count is already staggering and is causing officials to sound the alarm:

Norwegian officials said 23 people had died in the country a short time after receiving their first dose of the vaccine. Of those deaths, 13 have so far been autopsied, with the results suggesting that common side effects may have contributed to severe reactions in frail, elderly people, according to the Norwegian Medicines Agency. https://www.zerohedge.com/covid-19/norway-sounds-alarm-over-vaccine-risks-elderly-frail-after-23-deaths
The Vatican's Pope Francis has pushed for universal COVID-19 vaccination. An archbishop who has brought up Pope Francis issues before, opposes his pontiff's position. Here is something from an article written by Archbishop Carlo Maria Viganò:
January 15, 2021 (LifeSiteNews) — A few days ago, an interview was broadcast on Canale5 in which Jorge Mario Bergoglio appeared in the unusual role of sponsor of the pharmaceutical companies. We had already seen him in the role of politician, of trade unionist, of promoter of uncontrolled immigration, of supporter of welcoming illegal immigrants, and of philanthropist. In all of these metamorphoses what has always emerged, alongside his capacity to totally remove himself from his institutional role, is the polyhedric character of the Argentine, who, we now discover, is also the promoter of pharmaceutical companies, a convinced supporter of vaccines and a zealous cheerleader of those who for a year now have been using Covid as a means to control the masses and to impose the Great Reset desired by the World Economic Forum.

The fact that the vaccine does not give any guarantee of efficacy but rather can induce serious side effects; the fact that in some cases it has been produced starting from cells taken from aborted fetuses, and therefore is absolutely irreconcilable with Catholic morality; the fact that treatment with hyper-immune plasma or with alternative protocols are being boycotted despite the evidence of their efficacy — all of this means little to the new "expert" who, on the basis of absolutely zero medical competency, is now recommending the vaccine to the faithful while using his sovereign authority to require the citizens of the Vatican to submit to questionable treatment in the name of an unspecified "ethical duty." … It is disconcerting that, after unscrupulously demolishing no small number of Catholic truths in the name of dialogue with heretics and idolaters, the one dogma which Bergoglio is not ready to renounce is that of obligatory vaccination — mind you, a dogma which he himself unilaterally defined without any synodal process! https://www.lifesitenews.com/opinion/abp-vigano-on-francis-push-for-vaccination-the-salvation-of-the-body-is-the-supreme-law
Well, as Archbishop Viganò, his pontiff has also been promoting various aspects of the totalitarian global agenda. In the past, he has brought up the his view that Pope Francis should resign as he did not take proper action on the pedophile clergy and related Vatican scandals (see Francis says no comment on resignation letter; 'By secular standards, the Catholic Church is a corrupt organization'). He also has indicated that Pope Francis has essentially been pushing the agenda of the Freemasons (see Fratelli Tutti, the Beast, and Freemasonry). Regarding the Great Reset, we have a video: 2021: The Great Tribulation or the Great Reset?

As far as the COVID-19 vaccines go, they cause side effects for many who have taken them.
They can be deadly for some people with severe allergies.
This is not to say that no one should consider getting the COVID vaccinations.
Some may have to for work, educational, travel, or other purposes.
But we are already seeing unintended consequences from a vaccine touted as very safe.
There are short-term and long-term risks associated with vaccines. And many are not known.
Since at least two of the COVID vaccines are mRNA (messenger RiboNucleic Acid) vaccines. Notice some information about mRNA vaccines from the University of Cambridge:
Unlike a normal vaccine, RNA vaccines work by introducing an mRNA sequence (the molecule which tells cells what to build) which is coded for a disease specific antigen, once produced within the body, the antigen is recognised by the immune system, preparing it to fight the real thing
RNA vaccines are faster and cheaper to produce than traditional vaccines, and a RNA based vaccine is also safer for the patient, as they are not produced using infectious elements …
Unintended effects: the mRNA strand in the vaccine may elicit an unintended immune reaction. To minimise this the mRNA vaccine sequences are designed to mimic those produced by mammalian cells.
Delivery: delivering the vaccine effectively to cells is challenging since free RNA in the body is quickly broken down. To help achieve delivery, the RNA strand is incorporated into a larger molecule to help stabilise it and/or packaged into particles or liposomes.
Storage: many RNA vaccines, like conventional vaccines, need to be frozen or refrigerated. Work is ongoing to reliably produce vaccines that can be stored outside the cold chain, since these will be much more suitable for use in countries with limited or no refrigeration facilities. https://www.phgfoundation.org/briefing/rna-vaccines accessed 12/09/20
Notice that one of the "Unintended effects" is an "unintended immune reaction." That includes allergies.
So, the idea that the RNA vaccines could cause allergic reactions is something that should have been known before the roll-out in the UK.
The Bible warns:
3 Do not put your trust in princes, Nor in a son of man, in whom there is no help. (Psalms 146:3)
By princes, it can be presumed that this means government leaders. Furthermore, one of the official titles for the head of the Church of Rome is "Successor of the Prince of the Apostles."
Throughout this COVID-19 year, the media and government officials have continually pushed the narrative to trust in public health officials and in science to come up with a vaccine.
Yet, much that is called science is not science:
20 … keep that which is committed to thy trust, avoiding profane and vain babblings, and oppositions of science falsely so called:
(1 Timothy 6:20, KJV)
Yes, not all that is called science is true or science.
Christians are to trust God:
5 Trust in the Lord with all your heart,
And lean not on your own understanding;
6 In all your ways acknowledge Him,
And He shall direct your paths.

7 Do not be wise in your own eyes;
Fear the Lord and depart from evil.
8 It will be health to your flesh,
And strength to your bones. (Proverbs 3:5-8)
This does not mean that no one should consider taking any vaccine.
But Christians should pray, not be fearful, rely on God's protection, and live God's way (see the free online booklet Christians: Ambassadors for the Kingdom of God, Biblical instructions on living as a Christian), while taking care to attempt to improve our health during a time with multiple strains of the coronavirus, is something all should do.
Do not live in the type of fear that much of the media and certain government officials have put forth.
Remember, Jesus said:
32 Do not fear, little flock, for it is your Father's good pleasure to give you the kingdom. (Luke 12:32)
Christians realize that our confidence is not in a vaccine nor Pope Francis, but in Jesus.
Jesus can totally be relied on. The same cannot be said of vaccines nor the Roman Catholic pontiff.
Some items of possibly related interest may include:
CCOG on vaccines What about vaccines? Could a Christian get them? What has the Continuing Church of God written about that?
Obesity, processed foods, health risks, and the Bible Does the Bible warn about the consequences of being obese? Is overeating dangerous? Is gluttony condemned? What diseases are associated with eating too much refined foods? A related video would be Eating Right, Eating Too Much, and Prophecy.
Should Christians Exercise? What does the Bible teach? What are some of the benefits and risks of exercise? Here is a link to a related video: The Plain Truth About Exercise.
How Do I Become a Member of the Continuing Church of God? This article has scriptures, links, and other information for those interested in being part of the CCOG. Here is a link to a related sermonette: 10 Steps to Be a Member of the CCOG.
Ten Steps to Rid Yourself of Fear This is a vastly expanded version of a shorter article by the late Dr. Herman Hoeh on getting past fear. Here is a link to a related sermon: Ten Plus Steps to Rid Yourself of Fear.
Christian courage vs. cowardice As you courageous? What biblically is cowardice? Do YOU really understand this? Two sermons related to this article are available and are titled Courage and Cowardice and Cowardice and Overcoming Fear. A Spanish language article is also available: Valor Cristiano vs Cobardía.
The New Testament Church, History, and Unclean Meats Are foods considered to have been unclean in the Old Testament considered to be food in the New Testament? This article discusses this from the perspective of the New Testament. It also has a list of clean and unclean animals. It also answers the question, is pork healthy or is pork dangerous? There is also a sermon-length video on this: Christians and Unclean Meats; a short video is also available: Did Jesus declare all animal flesh food?
Fourth Horseman of the Apocalypse What is the pale horse of death and pestilences? What will it bring and when? Here is a link to a related sermon: Fourth Horseman, COVID, and the Rise of the Beast of Revelation. Some shorter related videos may include Amphibian Apocalypse: Threat to Humans? and Zombie Deer Disease is Here! Are the 10 Plagues on Egypt Coming? Here is a version of the article in Spanish: El cuarto jinete de Apocalipsis, el caballo pálido de muerte y pestilencia.
COVID 19 is NOT the End, but could it be TEOTWAWKI? The novel coronavirus called COVID-19 is wreaking havoc around the world. Many states of the USA as well as countries in Europe are on lockdown with shelter in place /shelter in residence requirements. In France, a form is required when you are not at your house. In Spain, drones are being used to warn people who are outside to got back to their homes–does that bring up feelings of 'Big Brother'? Italy, France, and other areas are using police and/or military force to encourage people to stay inside. According to the Bible could this be the end? If not, what has to happen first? Have the second and third of the four horsemen of the Apocalypse started their ride? Could COVID-19 be the fourth horseman? Why or why not? Could we be seeing The End of the World as We Know It (TEOTWAWKI) like the R.E.M.'s 1987 single song discussed? Do Christians need to fear? What did Jesus teach? What did the Psalmist teach? This is a video. Here is a link to a version in the Spanish language: Corona 19 no es el final PERO es el TEOTWAWKI.
COVID-19 Leading to 666? The novel coronavirus of Wuhan, China fame, is now called COVID-19. It has also been called the 'Coronapocalypse.' Does COVID-19 have any prophetic ramifications? What did Jesus teach about pestilences and sorrows in the Olivet prophecy in Matthew 24? Could COVID-19 be the ride of the fourth horseman of the Apocalypse? Why was this type of disease expected according to the O. Here is a link to a version in the Spanish language: ld Testament prophecies in Deuteronomy and Leviticus? What has the US Centers for Disease Control warned about? What has the CDC reported about the flu? Were there lessons about fear and infections in the 2011 movie 'Contagion'? Because of COVID-19, the World Health Organization (WHO), nation of Iran, and certain French locations are telling people not to use cash, but instead electronic forms of payment. The US Federal Reserve is now quarantining money repatriated from Asia to reduce the potential spread of the coronavirus on US currency bills. Is COVID-19 worse than we have been told or could this all be a 'false flag' event to encourage people to move towards a cashless society? If the thousands of deaths associated with COVID-19 are pushing parts of the world towards cashlessness, how much more likely will the ride of the fourth horseman and over a billion human deaths motivate people to move to making electronic payments that can be monitored? The Bible tells of a soon coming society that controls buying and selling to force allegiance to a coming European Beast power, known as 666 (Revelation 13:16-18). Does the 'great tribulation' begin before ride of the fourth horseman or with the opening of the fifth seal of Revelation 6? Do the words of Jesus helps us better understand the sequence of the four horsemen of the Apocalypse and the start of the Great Tribulation? Will the ride of the fourth horseman help lead to the rise of 666? Is that ride very close? Dr. Thiel addresses these issues and more in this video. Here is a link to a version in the Spanish language: El COVID-19 ¿Conduce al 666?
Biological Warfare and Prophecy Is biological warfare possible? Was it prophesied? Scientists have long warned that pathogenic organisms like the coronavirus could be weaponized. Furthermore, back in 2017, there were concerns that the biological research facility being constructed in Wuhan, China was risky and that a coronavirus from it could be released. On January 25, 2020, China's President Xi Jinping publicly stated that the situation with the Wuhan-related strain of the coronavirus was grave. Did Church of God writers like the late evangelist Raymond McNair warn that engineered viruses (the "Doomsday bug") were consistent with prophecies from Jesus? Did a warning from CCOG leader Bob Thiel warn about risks of genetically-modified (GMO) mosquitoes come to pass? Could human research and/or the consumption of biblically-unclean animals such as bats and snakes be a factor in current outbreaks or coming future pestilences? What about famines? How devastating have pestilences been? How devastating are the prophesied ones going to be? Dr. Thiel addresses these issues and more in this video.
Physical Preparation Scriptures for Christians. We all know the Bible prophecies famines. Should we do something? Here is a version in the Spanish language Escrituras sobre Preparación física para los Cristianos. Here is a link to a related sermon: Physical preparedness for Christians.
Who is the King of the West? Why is there no Final End-Time King of the West in Bible Prophecy? Is the United States the King of the West? Here is a version in the Spanish language: ¿Quién es el Rey del Occidente? ¿Por qué no hay un Rey del Occidente en la profecía del tiempo del fin? A related sermon is also available: The Bible, the USA, and the King of the West.
Anglo – America in Prophecy & the Lost Tribes of Israel Are the Americans, Canadians, English, Scottish, Welsh, Australians, Anglo-Saxon (non-Dutch) Southern Africans, and New Zealanders descendants of Joseph? Where are the lost ten-tribes of Israel? Who are the lost tribes of Israel? What will happen to Jerusalem and the Jews in Israel? Will God punish the U.S.A., Canada, United Kingdom, and other Anglo-Saxon nations? Why might God allow them to be punished first? Here is a link to the Spanish version of this article: Anglo-América & las Tribus Perdidas de Israel. Information is also in the YouTube sermons titled Where are the Ten Lost Tribes? Why does it matter? and British are the Covenant People. A short YouTube of prophetic interest may be: Are Chinese threats against Australia for real?
Will the Anglo-Saxon-Celtic Nations be Divided and Have People Taken as Slaves? Will the lands of the United States, United Kingdom, Canada, Australia, and New Zealand be divided? What about Jerusalem? What does Bible prophecy teach? Are there non-biblical prophecies that support this idea? Who will divide those lands? Who will end up with the lands and the people? Here is a link to a video titled Will the USA and other Anglo-nations be Divided and Their People Made Slaves? Here is a related item in the Spanish language ¿Serán divididas las naciones anglosajonas?
The Gospel of the Kingdom of God This free online pdf booklet has answers many questions people have about the Gospel of the Kingdom of God and explains why it is the solution to the issues the world is facing. Here are links to three related sermons: The World's False Gospel, The Gospel of the Kingdom: From the New and Old Testaments, and The Kingdom of God is the Solution.
Does God Have a 6,000 Year Plan? What Year Does the 6,000 Years End? Was a 6000 year time allowed for humans to rule followed by a literal thousand year reign of Christ on Earth taught by the early Christians? Does God have 7,000 year plan? What year may the six thousand years of human rule end? When will Jesus return? 2028 or or 2031 or 20xx? There is also a video titled 6000 Years: When will God's Kingdom Come? Here is a link to the article in Spanish: ¿Tiene Dios un plan de 6,000 años?
The Great Tribulation: What Happens First? What events have happened? What are some events that are now happening? And what events need to happen for the Great Tribulation to start? Here is a link to a related sermon video: Counting Down to the Great Tribulation.
When Will the Great Tribulation Begin? 2021, 2022, or 2023? Can the Great Tribulation begin today? What happens before the Great Tribulation in the "beginning of sorrows"? What happens in the Great Tribulation and the Day of the Lord? Is this the time of the Gentiles? When is the earliest that the Great Tribulation can begin? What is the Day of the Lord? Who are the 144,000? Here is a version of the article in the Spanish language: ¿Puede la Gran Tribulación comenzar en el 2020 o 2021? ¿Es el Tiempo de los Gentiles? A related video is: 2021: The Great Tribulation or the Great Reset?
Ten Steps to Rid Yourself of Fear This is a vastly expanded version of a shorter article by the late Dr. Herman Hoeh on getting past fear. Here is a link to a related sermon: Ten Plus Steps to Rid Yourself of Fear.