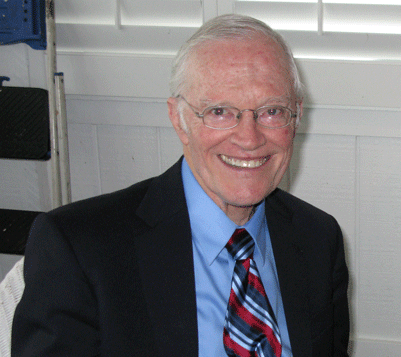 Roderick C. Meredith (Photo by Joyce Thiel)
In his latest co-worker letter (3/15/12), Presiding Evangelist R.C. Meredith of the Living Church of God (LCG) reported the following (bolding in the letter):
It is sobering to read the Apostle John's warning written near the end of his life, "We know that we are of God, and the whole world lies under the sway of the wicked one" (1 John 5:19). So, today, we increasingly read and hear about professing Christians being sorely persecuted all over the world. In a news bulletin I heard just this morning on the radio, a famous preacher was describing how ferocious the persecution of professing Christians is becoming in many African and Middle Eastern nations. Even in the United States, Canada and Britain, Christians are quite often persecuted or prosecuted if they truly stand up for what the Bible says.

It is soon going to get much worse…
Remember, dear brethren and friends, our Creator is the God who gives us life and breath. He gives us the sunshine and the rain, the food we eat, the clothing we wear. Overall, especially to the degree that we try to serve Him, He guides our lives in hundreds of different ways. As God inspired David to tell us in the Psalms, "The Lord looks from heaven; He sees all the sons of men. From the place of His dwelling He looks on all the inhabitants of the earth; He fashions their hearts individually; He considers all their works" (Psalm 33:13-15). May God help us each be sensitive to His will and try with all of our hearts to "walk with God" as did Abraham, and all the great men and women of God throughout human history. Are you "walking with God"? Are you profoundly studying the Bible as the Instruction Manual to learn God's way of life? Are you meditating on God' s Word and picturing how you ought to put it into action? Are you fervently praying to God for understanding and for the strength to do what God says—regardless of persecution?

We in this Work are moving ahead to warn our peoples of what is just ahead. We are also commanded by Almighty God, "Cry aloud, spare not; lift up your voice like a trumpet; tell My people their transgression, and the house of Jacob their sins" (Isaiah 58:1). As we see our beloved nations descending into the cesspool of deeper and deeper immorality—men "marrying" men, literally millions of young people simply "living together" without benefit of marriage or involvement from Almighty God in their lives, increasing vilification of all professing Christians and those who try to stand up for the Truth—it should become increasingly evident that the time is near when God will say "enough" and will send Jesus Christ back to this earth as King of kings. For Jesus is the prophesied "Rock" who will, in love and understanding have to crush the rebellious nations of t his earth and all rebellious institutions in order to bring about an entire different way of life based on His spiritual Law (Daniel 2:44-45)…

Let all of us pray fervently for one another. And may God give all of us the understanding and knowledge that we need to go through these coming years of trial, test, persecution and ultimate joy and exhilaration in His coming Kingdom.
The rest of the co-worker letter can be viewed at the following link News of the Living Church of God at the 03/15/12 p.m. post.
Persecutions will get much worse.  Many do not wish to hear about their sins and many have hatred of anything connected to Christ.
We in LCG are serious about trying to fulfill Matthew 24:14 and hope others will catch the vision and join us, even though more persecutions are expected.
But we remember that Jesus said:
23 When they persecute you in this city, flee to another. For assuredly, I say to you, you will not have gone through the cities of Israel before the Son of Man comes (Matthew 10:23).

12… they will lay their hands on you and persecute you, delivering you up to the synagogues and prisons. You will be brought before kings and rulers for My name's sake (Luke 21:12).

20 If they persecuted Me, they will also persecute you (John 15:20)

33 These things I have spoken to you, that in Me you may have peace. In the world you will have tribulation; but be of good cheer, I have overcome the world. (John 16:33)
Persecutions will worsen and affect the most faithful (Daniel 11:32-35).
Some articles of possibly related interest may include:
Persecutions by Church and State This article documents some that have occurred against those associated with the COGs and some prophesied to occur. Will those with the cross be the persecutors or the persecuted–this article has the shocking answer.
Should the Church Still Try to Place its Top Priority on Proclaiming the Gospel or Did Herbert W. Armstrong Change that Priority for the Work? Some say the Church should mainly feed the flock now as that is what Herbert W. Armstrong reportedly said. Is that what he said? Is that what the Bible says? What did Paul and Herbert W. Armstrong expect from evangelists?
Are You Saved? Do You Love Jesus? What is a True Christian? What is the Gospel? Evangelist Richard Ames answers those important questions.
True vs. False Conversion Are you really converted or willing to be? What is true conversion? What is false conversion? What are the dangers of false conversion? Evangelist Roderick Meredith provides information on those important questions.
Getting the Gospel Out is More than a Local Job Discusses Biblical rationale for doing an international, and not just a local, work.
The Gospel of the Kingdom of God was the Emphasis of Jesus and the Early Church Did you know that? Do you even know what the gospel of the kingdom is all about? True religion should be based upon the true gospel.
There are Many COGs: Why Support the Living Church of God? This is an article for those who wish to more easily sort out the different COGs. It really should be a MUST READ for current and former WCG/GCI members or any interested in supporting the faithful church. It also explains a lot of what the COGs are all about.