The Associated Press reported the following:
December 3, 2021

Pope Francis lamented centuries of hostility and prejudice that have divided Catholics and Orthodox as he met Friday with the leader of Cyprus' Greek Orthodox Church and pointed to works of charity as a means to help heal the rift between Catholic West and Orthodox East.

Archbishop Chrysostomos II hosted Francis for private talks at his residence and then invited the pope to the brand new Orthodox Cathedral of St. Barnabas for an encounter with the Holy Synod, the highest decision-making body of the Greek Orthodox Church. …

"Centuries of division and separation have made us assimilate, even involuntarily, hostility and prejudice with regard to one another, preconceptions often based on scarce and distorted information, and spread by an aggressive and polemical literature," Francis said. "This too makes crooked the path of God, which is straight and directed to concord and unity."

He said concrete joint works of charity, education and efforts to promote human dignity can help Catholics and Orthodox "rediscover our fraternity, and communion will mature by itself, to the praise of God."

In a sign of that unity, two Orthodox bishops attended Francis' Mass later Friday at Nicosia's main sports stadium for Cyprus' tiny Catholic community. https://apnews.com/article/pope-francis-europe-middle-east-religion-christianity-960363771a9963bc3300002a7d256501
The Eastern Orthodox Church (officially known as the Orthodox Catholic Church) considers itself the "Church of the Seven Councils," which they consider to have been "Holy Synods."
Bartholomew I, Ecumenical Patriarch of Constantinople, has encouraged Catholic-Orthodox ecumenical dialogue and has stated that to finalize this will take an Ecumenical Council or "synod":
Patriarch of Constantinople's new encyclical defends Catholic-Orthodox dialogue

Istanbul, Turkey, Feb 20, 2010 / 06:14 pm (CNA).- Patriarch Bartholomew of Constantinople's newest encyclical encourages dialogue between the Orthodox Church and other Christian churches and laments those who are "unacceptably fanatical" in challenging such dialogue…"They disseminate false rumors that union between the Roman Catholic and Orthodox Churches is imminent, while they know well that the differences discussed in these theological dialogues remain numerous and require lengthy debate; moreover, union is not decided by theological commissions but by Church Synods," Bartholomew wrote. (Patriarch of Constantinople's new encyclical defends Catholic-Orthodox dialogue. February 20, 2010. http://www.catholicnewsagency.com/news/patriarch_of_constantinoples_new_encyclical_defends_catholic-orthodox_dialogue/ viewed 11/22/11).
COGwriter has been one of the few non-Roman, non-Orthodox sites to warn against the coming unity for years.
Now I actually agree with the Orthodox Patriarch that the Orthodox will likely need to have a church synod for unity.  But what he did not mention is that Orthodox prophets have expected such a meeting to take place and result it unity. According to an Eastern Orthodox, Byzantine, prophet the final (the Orthodox recognize seven previous ones) ecumenical synod council satisfies what "heretics" want:
Saint Neilos the Myrrh-Gusher (died 1592): During that time the Eighth and last Ecumenical Synod will take place, which will satisfy the contentions of the heretics…(Tzima Otto H. The Great Monarch and WWIII in Orthodox, Roman Catholic and Scriptural Prophecies. Verenikia Press, Rock Hill (SC), 2000, p. 111).
By satisfying "heretics", clearly this council compromises and changes the religion, which will be called "Catholic."  If heretics are truly heretics, should their complaints be satisfied?
As it turns out, when may wife and I we were in Istanbul in May 2008, we visited the offices of the Ecumenical Patriarch of Constantinople, who was then, and is now, Patriarch Bartholomew.  One of his people told us that when then Pope Benedict XVI visited there, a papal representative of Benedict XVI told Patriarch Bartholomew that Rome would change all doctrines necessary to attain full unity with the Orthodox, if the Orthodox would accept papal authority. The representative told me that while Patriarch Bartholomew was interested in ecumenical unity, that the subject of papal supremacy vs. primacy was the major sticking point to unity.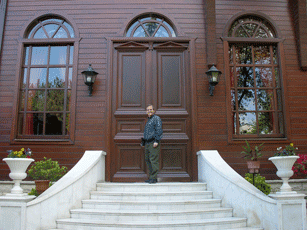 COGwriter Leaving the Ecumenical Patriarch of Constantinople's Administrative Building
These doctrinal changes definitely included changing Rome's position on the Filioque clause–which is a claimed cause of the 'schism' between the Roman and Orthodox Catholics. Hence, those associated with the Church of Rome need to understand that this means that the Vatican's current (and likely future) leadership has been willing to compromise on something that Rome has long held as being of "great dogmatic and historical importance." Thus, this strongly suggests that those leading the Church of Rome have embarked on an ecumenical program of change such as the Bible and various Greco-Roman Catholic prophecies have warned about.
It also needs to be understood that while some of the Eastern Orthodox are looking forward to a Roman Catholic Great Monarch to be the "King of the Romans and the Greeks," (Tzima Otto, H.  The Great Monarch and WWIII in Orthodox, Roman Catholic and Scriptural Prophecies.  Verenikia Press, Rock Hill (SC), 2000, pp. 5-6) other Greek Orthodox (The Voice of the Fathers) believe that they only should follow a Greek Orthodox future monarch (The Voice of the Fathers is apparently a Greek Orthodox publication that opposes a Roman Catholic, as opposed to Greek Orthodox, Great Monarch, see Tzima Otto, pp, 34-38).  The Orthodox should definitely not follow a Roman Catholic Great Monarch if they wish to follow the teachings of the Bible.
In 1302, Pope Boniface VIII issued what is known as the bull Unam Sanctum that claimed:
We are obliged by the faith to believe and to hold—and we do firmly believe and sincerely confess—that there is one Holy Catholic and Apostolic Church and that outside this Church there is neither salvation nor remission of sins…

Therefore, if the Greeks or others say that they are not committed to Peter and his successors, they necessarily confess that they are not Christ's sheep…

…in this Church and in her power are two swords…Both are in the power of the Church, the spiritual sword and the material. But the latter is to be used for the Church, the former by her; the former by the priest, the latter by kings and captains but at the will of the priest…

Furthermore, we declare, state, define, and pronounce that it is altogether necessary for salvation for every human creature to be subject to the Roman Pontiff. (Bull Unam Sanctum as cited in Bettenson H, ed., Documents of the Christian Church. London: Oxford University Press, 1943, pp. 126-127).

Notice that his position was quite definite. I mention that because I believe that many within the Vatican now have a different view and will compromise in many, many ways, to ultimately entice most of the Orthodox (called the Greeks above) and others into a revised ecumenical faith that will call itself "Catholic."
Since Vatican II (a major Roman Catholic ecumenical council that ran from 1962–1965), many Roman Catholics have been justifiably concerned that doctrinal compromise for the sake of ecumenical unity with those outside of fellowship of Rome was inevitable.
The Orthodox have long taught that the Church of Rome (known sometimes as Latins) will change doctrines to those of the Orthodox.  A document known as the Anonymou Prophecy of 1053 refers to this as the "Deferring of the Latins to the error-free faith of the Orthodox," it then claims "The Orthodox Faith will expand from East to West" (Tzima Otto, p. 116).
Here is an explanation from Orthodox scholar H. Tzima-Otto (bolding in original):
Many Catholic prophecies speak of the victory of the 'true Catholic faith', while Orthodox prophecies, although they agree on everything else, predict a victory of the 'true Orthodox faith'…When we speak of the future Council, it is bound to be ecumenical…there will come a true re-unification of the Christian Churches…This Holy Catholic and Apostolic Church is not going to be Roman Catholic as understood today…

The error-free Orthodox faith…The Orthodox did not experience a Vatican II, they did not begin to rewrite Scriptures…Hence, error-free in the sense that it has not been contaminated by satan…(Tzima Otto, pp. 120-122)
Thus, the Orthodox expect Rome to change its doctrines, because they feel that the Roman Catholic Church adopted errors from satan.
Roman Catholics should beware of the unity talks.
Actually, so should the Eastern Orthodox.
And, so should the Protestants.
A type of unity that the Bible warns against will happen.
We are seeing discussion and moves towards it now.
Some items of related interest may include:
Why Should American Catholics Fear Unity with the Orthodox? Are the current ecumenical meetings a good thing or will they result in disaster? Is doctrinal compromise good? Here is a link to a related video Should you be concerned about the ecumenical movement?
Orthodox Must Reject Unity with the Roman Catholics Unity between these groups will put them in position to be part of the final end time Babylon that the Bible warns against as well as require improper compromise.
Some Similarities and Differences Between the Eastern Orthodox Church and the Continuing Church of God Both groups claim to be the original church, but both groups have differing ways to claim it. Both groups have some amazing similarities and some major differences. Do you know what they are? Here is a link to a related sermon: Eastern Orthodox 40+ Similar Beliefs to the CCOG.
Beliefs of the Original Catholic Church. Did the original "catholic church" have doctrines held by the Continuing Church of God? Did Church of God leaders uses the term "catholic church" to ever describe the church they were part of? Here are links to related sermons: Original Catholic Church of God?, Original Catholic Doctrine: Creed, Liturgy, Baptism, Passover, and What Type of Catholic was Polycarp of Smyrna?, Tradition, Holy Days, Salvation, Dress, & Celibacy, and Early Heresies and Heretics, and Doctrines: 3 Days, Abortion, Ecumenism, Meats, Tithes, Crosses, Destiny, and more, and Saturday or Sunday?, The Godhead, Apostolic Laying on of Hands Succession, and Church in the Wilderness Apostolic Succession List.
Beware: Protestants Going Towards Ecumenical Destruction! What is going on in the Protestant world? Are Protestants turning back to their 'mother church' in Rome? Does the Bible warn about this? What are Catholic plans and prophecies related to this? Is Protestantism doomed? See also World Council of Churches Peace Plan.
Hope of Salvation: How the Continuing Church of God Differs from Protestantism The CCOG is NOT Protestant. This free online book explains how the real Church of God differs from mainstream/traditional Protestants. Several sermons related to the free book are also available: Protestant, Baptist, and CCOG History; The First Protestant, God's Command, Grace, & Character; The New Testament, Martin Luther, and the Canon; Eucharist, Passover, and Easter; Views of Jews, Lost Tribes, Warfare, & Baptism; Scripture vs. Tradition, Sabbath vs. Sunday; Church Services, Sunday, Heaven, and God's Plan; Seventh Day Baptists/Adventists/Messianics: Protestant or COG?; Millennial Kingdom of God and God's Plan of Salvation; Crosses, Trees, Tithes, and Unclean Meats; The Godhead and the Trinity; Fleeing or Rapture?; and Ecumenism, Rome, and CCOG Differences.
Will the Interfaith Movement Lead to Peace or Sudden Destruction? Is the interfaith movement going to lead to lasting peace or is it warned against? A video sermon of related interest is: Will the Interfaith Movement lead to World War III? and a video sermon is also available: Do You Know That Babylon is Forming?
The Last Pope Do Biblical and Catholic Prophecies Point to Pope Francis? Why might Pope Francis be the last pope? What happens if he is? Biblical and other prophecies help explain what to expect.
The Last Pope: Do Biblical and Catholic Prophecies Point to Pope Francis? Amazon Book What does the Bible say about a pope near this time? Is the final pope to be an antipope and antichrist? Does Catholic prophecy point to Pope Francis as being the dreaded "Peter the Roman"? This 186 page book provides information and answers.
The Last Pope: Do Biblical and Catholic Prophecies Point to Pope Francis? Kindle This electronic version of the printed book which is available for only US$2.99. And you do not need an actual Kindle device to read it. Why? Amazon will allow you to download it to almost any device: Please click HERE to download one of Amazon s Free Reader Apps. After you go to for your free Kindle reader and then go to The Last Pope: Do Biblical and Catholic Prophecies Point to Pope Francis? Kindle.