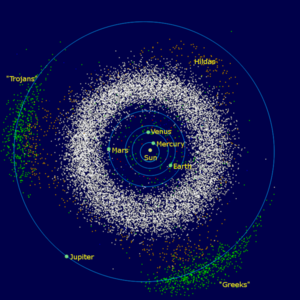 The asteroid belt (shown in white) is located between the orbits of Mars and Jupiter.
Today, a meteor exploded over Russia:
15 February 2013

A meteor streaked through the sky and exploded Friday over Russia's Ural Mountains with the power of an atomic bomb, its sonic blasts shattering countless windows and injuring more than 750 people. The spectacle deeply frightened thousands, with some elderly women declaring the world was coming to an end…

The meteor — estimated to be about 10 tons — entered the Earth's atmosphere at a hypersonic speed of at least 33,000 mph and shattered about 18-32 miles above the ground, the Russian Academy of Sciences said in a statement…

Small pieces of space debris — usually parts of comets or asteroids — that are on a collision course with the Earth are called meteoroids. They become meteors when they enter the Earth's atmosphere. Most meteors burn up in the atmosphere, but if they survive the frictional heating and strike the surface of the Earth they are called meteorites.

Meteors typically cause sizeable sonic booms when they enter the atmosphere because they are traveling much faster than the speed of sound.  http://www.foxnews.com/science/2013/02/15/injuries-reported-after-meteorite-falls-in-russia-ural-mountains/#ixzz2KykOYOp3

15 February 2013

Russian experts believe the blast was caused by a 10-ton meteor known as a bolide, which created a powerful shock wave when it reached the

Earth

's atmosphere, the Russian Academy of Sciences said in a statement. Scientists believe the bolide exploded and evaporated at a height of around 20 to 30 miles above the Earth's surface, but that small fragments may have reached the ground, the statement said…

A small asteroid, known as 2012 DA14, is expected to pass close to Earth later on Friday, NASA reported on its Web site. Aleksandr Y. Dudorov, a physicist at Chelyabinsk State University, said it was possible that the meteorite may have been flying alongside the asteroid.

"What we witnessed today may have been the precursor of that asteroid," said Mr. Dudorov in a telephone interview…
So, something fairly small from space injured 750+ people.  But there are much bigger objects, with much bigger risks.
Time is reporting concerns that some scientists have about the potential that nearby asteroids have to strike the earth:
Asteroid Hits Earth! How the Doomsday Scenario Would Play Out…
As TIME reports in this week's issue (available to subscribers here), astronomers have known for the better part of a year that asteroid 2012 DA14—a medium sized, 150 ft (50 m) rock weighing 143,000 tons—was closing in on us…

Astronomers estimate there are 2,400 objects in the vicinity of

Earth

that are at least 0.5 km (0.3 mi) across and 860 of those are a full 1 km (.62 mi.). A 0.5 km rock would produce a 5,000 megaton blast—not to mention a 7.1 Richter-scale shock. Let's split the difference then, but err on the size of conservatism: Our death rock would be a comparatively modest 100 m, or 330 ft., across…
Asteroids that have traces of water—and in a cosmos as heavily  hydrated as ours that's not uncommon—can outgas tiny amounts of vapor, which act as small, natural thrusters that perturbs the flight path further…
As with a nuclear blast, the devastation would be greatest at the epicenter of the event and fade the farther away you moved, and while there would be no radiation to contend with, the immediate destruction would be pretty much the same. In a 6.5 mi. radius, all that would be left of most buildings would be the foundations, though some sturdier, reinforced structures like stocky old banks might survive. Out to 11 or so miles, multi-story buildings would be skeletonized—their curtain walls stripped away and only their frameworks left standing. Small, individual family homes would be destroyed completely. It would not be until about 20 miles away that most tall buildings would survive—windowless, to be sure—and some single-family dwellings would too. The economic damage—nationally and globally—would be incalculable. http://science.time.com/2013/02/14/asteroid-hits-earth-how-the-doomsday-scenario-would-play-out/#ixzz2KsqicMPG
Here is some additional information about asteroids and the asteroid belt:
Most asteroids lie in a vast ring between the orbits of Mars and Jupiter. This main belt holds more than 200 asteroids larger than 60 miles (100 kilometers) in diameter. Scientists estimate the asteroid belt also contains more than 750,000 asteroids larger than three-fifths of a mile (1 kilometer) in diameter and millions of smaller ones. Not everything in the main belt is an asteroid — for instance, comets have recently been discovered there, and Ceres, once thought of only as an asteroid, is now also considered a dwarf planet.

Many asteroids lie outside the main belt. For instance, a number of asteroids called Trojans lie along Jupiter's orbital path…An asteroid capable of global disaster would have to be more than a quarter-mile wide. Researchers have estimated that such an impact would raise enough dust into the atmosphere to effectively create a "nuclear winter," severely disrupting agriculture around the world. Asteroids that large strike Earth only once every 1,000 centuries on average, NASA officials say.  http://www.space.com/51-asteroids-formation-discovery-and-exploration.html

About 1,000 asteroids big enough to cause catastrophic damage if they hit Earth are orbiting relatively nearby, a NASA survey shows…An asteroid or comet between 5 and 10 km (3.1 and 6.2 miles) in diameter is believed to have smashed into Earth some 65 million years ago, triggering global climate changes that led to the extinction of dinosaurs and other animals. "We know something that big could wipe out mostly all life on Earth," Mainzer said. http://www.reuters.com/article/2011/12/07/us-space-asteroids-idUSTRE7B615O20111207
Despite the relatively small odds of a significantly large asteroid hitting the earth this century, something from space, probably an asteroid or a comet, is prophesied to do so.
Over 1900 years ago, the Apostle John was inspired to write the following in the Book of Revelation 8:10-11:
Then the third angel sounded: And a great star fell from heaven, burning like a torch, and it fell on a third of the rivers and on the springs of water. The name of the star is Wormwood. A third of the waters became wormwood, and many men died from the water, because it was made bitter.
A large comet hitting the earth would also seem to have similar effects to that of a medium-sized asteroid.  And having something actually hit the earth and do massive damage is predicted in the Bible.
Although the biblical Wormwood does not have to be a comet, and possibly could be an asteroid (or at least possibly come from the asteroid belt), it sounds more like a comet than an asteroid.
Why?
In addition to looking like a star falling from the heavens looking like a torch (and an asteroid could possibly do that), comets normally appear with cyanogen. Astronomers state hydrogen cyanide on comets may be their source of cyanogen gas.
Interestingly, the cyanogen gas mixes with water to form hydrogen cyanide, which has an almond odor and bitter taste, and reportedly causes death at concentrations over 5 parts per million.
And thus for Bible skeptics, the fact that before humans had any idea that comets could produce a poisonous bitter water, it is recorded in the Bible. This should be additional proof to those willing to see that the Bible has been inspired by God.
And while comets are still more likely to fulfill the Wormwood prophecy than asteroids, humans still have no real effective way to deal with potential asteroid devastation, and some day, a major object from the sky will strike the earth according to biblical prophecy.
NASA scientists now know that at least 1,000 nearby asteroids could do that, and have long known that certain comets could do this as well.
And part of Russia today, got to experience just a small foretaste of what objects from outer space can do.
Some articles of possibly related interest may include:
Bible: Superstition or Authority? Should you rely on the Bible? Is it reliable? Herbert W. Armstrong wrote this as a booklet on this important subject.
Read the Bible Christians should read the Bible. This article gives some rationale for regular bible reading.
What is the Appropriate Form of Biblical Interpretation? Should the Bible be literally understood? What do the writings of the Bible, Origen, Herbert W. Armstrong, and Augustine show?
Bible and Historical Resources on the Internet Electronic bibles, Two Babylons, early Christian literature, photos, and even links to old Herbert W. Armstrong materials.
Is God's Existence Logical? Some say it is not logical to believe in God. Is that true?
What is the Meaning of Life? Who does God say is happy? What is your ultimate destiny? Do you really know?
Russia: Its Origins and Prophesied Future Russia in prophecy. Where do the Russians come from? What about those in the Ukraine? What is prophesied for Russia and its allies? What will they do to the Europeans that supported the Beast in the end?
Is Russia the King of the North? Some claim it is. But what does the Bible teach?
Does God Have a 6,000 Year Plan? What Year Does the 6,000 Years End? Was a 6000 year time allowed for humans to rule followed by a literal thousand year reign of Christ on Earth taught by the early Christians? What year may the six thousand years of human rule end? When will Jesus return? 2018 or 2019?
When Will the Great Tribulation Begin? 2013, 2014, or 2015? Can the Great Tribulation begin today? What happens before the Great Tribulation in the "beginning of sorrows"? What happens in the Great Tribulation and the Day of the Lord? Is this the time of the Gentiles? When is the earliest that the Great Tribulation can begin? What is the Day of the Lord? Who are the 144,000?