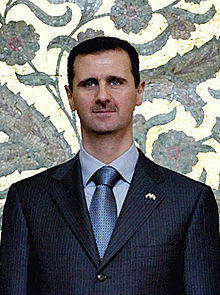 Syria's President Bashar al-Assad (Source: Agência Brasil, Wikipedia)
Syria is again receiving international attention:
28 June 2102

World leaders are scrabbling for purchase, calling an emergency meeting in Geneva as the Syrian conflict descends into a full-fledged war. With President Bashar al-Assad's pronouncement two days ago that the conflict is now a war, it seems any modicum of restraint is likely over.

The United Nations Security Council (the US, Britain, France, Russia, and China) and Turkey will gather in Geneva this weekend for a meeting to discuss a plan for an interim government in Syria that was hastily announced late yesterday by UN/Arab League special envoy to Syria Kofi Annan.

Human rights monitors say that the past week has been the bloodiest in the 16-month uprising-turned-civil-war. Almost 160 were killed yesterday alone, according to Agence France-Presse.   http://www.csmonitor.com/World/terrorism-security/2012/0628/As-Assad-talks-war-US-and-UN-talk-peace

28 June 2012

(CBS/AP) MOSCOW – Russia on Thursday said it would not endorse a call for Syrian President Bashar Assad to give up power and criticized as inappropriate claims that it had agreed to plans by international envoy Kofi Annan for a new national unity government in Syria that could include the opposition.

Foreign Minister Sergey Lavrov insisted that major powers meeting Saturday in Geneva for talks on Syria must concentrate on convincing opposition groups to soften their demands…Moscow also has rejected efforts by outside forces to end the country's bloody conflict or any plan to force regime change in Damascus, insisting that any plans for the future rest entirely with Syria.  http://www.cbsnews.com/8301-202_162-57462578/russia-no-backing-for-any-plan-that-calls-for-syrias-assad-to-step-down/?tag=stack
Russia keeps playing an unusual role in this as it has made statements different than its current position.  And, in my view, Russia is using its position on Syria as leverage for something else.  Ultimately, while it will sell arms to Syria and provide certain support, Russia will not stand behind Syria in a total and complete way.
Some, including the Protestant Hal Lindsey (on his telecast) and Donald Blake (in the Wall Street Journal), have suggested that the stage is being set for Ezekiel 38 being fulfilled with Russia and Iran, and possibly Syria working together to invade Israel. However, for many reasons, including the fact that the tiny nation of Israel is not really a nation of unwalled villages, it is not. Ezekiel 38 is for a future time well after the USA itself is eliminated (some details are in the news article WSJ Suggests that Israel Should Destroy Iran; Ezekiel 38?).  Russia may supply arms and have other involvement, but Russia, Iran, and Syria are NOT about to take over the nation of Israel.
What may happen is a regional war (that somewhat gets out of control and may involve Syria who is becoming a closer Iranian ally at this time) and others (including many based in Lebanon), beyond Iran and Israel is something I have warned could happen for some time now and really could be a factor that ultimately leads to the fulfillment of Daniel 9:27.
"And what I say to you, I say to all: Watch!" (Mark 13:37). Ezekiel 38 is not about to be fulfilled, but other prophecies are getting closer to being fulfilled.
Some articles of possibly related interest may include:
Anglo – America in Prophecy & the Lost Tribes of Israel Are the Americans, Canadians, British, Scottish, Welsh, Australians, Anglo-Southern Africans, and New Zealanders descendants of Joseph? Where are the lost ten-tribes of Israel? Who are the lost tribes of Israel? What will happen to Jerusalem and the Jews in Israel? Will God punish the U.S.A., Canada, United Kingdom, and other Anglo nations? Why might God allow them to be punished first?
Will the Anglo-Nations be Divided? Will the lands of the United States, United Kingdom, Canada, Australia, and New Zealand be divided? What about Jerusalem? What does Bible prophecy teach? Are there non-biblical prophecies that support this idea? Who will divide those lands? Who will end up with the lands and the people?
End of Mayan Calendar 2012–Might 2012 Mean Something? Are there Mayan calendar predictions for change in 2012? Changes were centuries ago predicted by the Hopi Native Americans. Do Mayan/Hindu/Hopi/Buddhist/New Age/Nostradamus prophecies have any value here? Why might Satan have inspired this date? Does the Dresden codex show destruction of the earth by flood? Can the great tribulation start before 2012? How might Barack Obama and Julia Gillard be involved in 2012? Have predictions written by Bob Thiel related to Barack Obama and Julia Gillard began to come to pass?
Russia: Its Origins and Prophesied Future Russia in prophecy. Where do the Russians come from? What about those in the Ukraine? What is prophesied for Russia and its allies? What will they do to the Europeans that supported the Beast in the end?
Is Russia the King of the North? Some claim it is. But what does the Bible teach?
Is There A Future King of the South? Some no longer believe there needs to be. Might Egypt, Islam, Iran, Arabs, or Ethiopia be involved? Might this King be called the Mahdi? What does the Bible say?
The Arab and Islamic World In the Bible, History, and Prophecy The Bible discusses the origins of the Arab world and discusses the Middle East in prophecy. What is ahead for the Middle East and those who follow Islam? What about the Imam Mahdi? What lies ahead for Turkey, Iran, and the other non-Arabic Muslims?