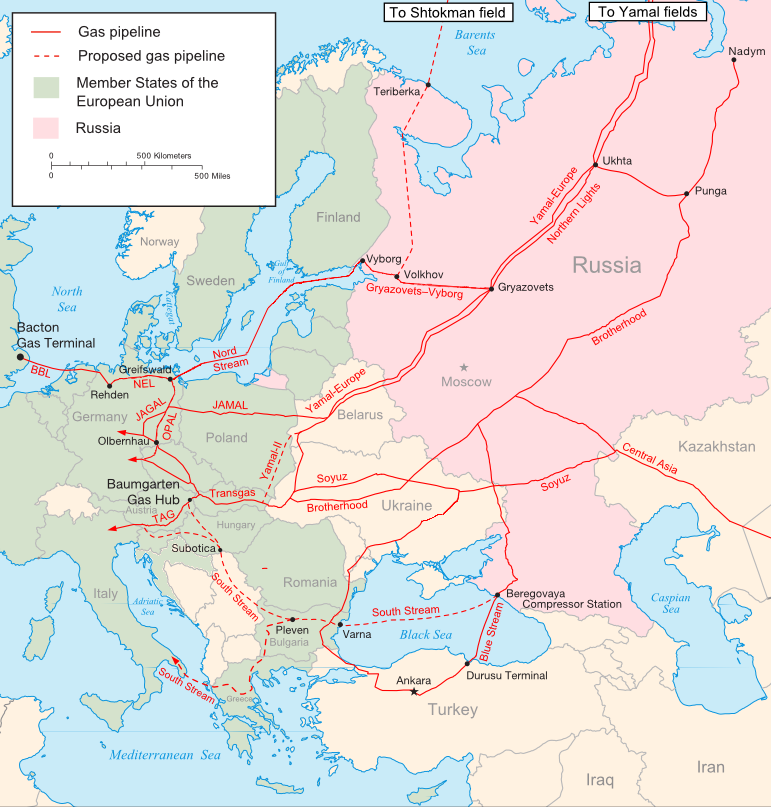 Current and proposed Russian gas pipelines to Europe
(by Samuel Bailey)
US Secretary of State Mike Pompeo is in Germany:
November 7, 2019
WASHINGTON – The United States is warning a key European ally on growing threats from Russia, as Germany gears up to mark the 30th anniversary of the fall of the Berlin Wall. Secretary of State Mike Pompeo arrived in Germany Wednesday, for a trip that marks three decades since the demolition of the wall and to underscore what U.S. officials say is the need for continuing a strengthened transatlantic partnership. …
The top U.S. diplomat's meetings with leaders in Germany also come days after Denmark cleared one of the last legal hurdles to a proposed natural gas pipeline connecting Russia and Germany, known as Nord Stream 2. A senior State Department official said the U.S. is concerned about the "energy security" for European partners, calling Nord Stream 2 "primarily a political tool" of Russia and "not a purely commercial project." "Our concerns have been regularly expressed. We see this as a tool through which Russia seeks to use energy to advance Russia's geopolitical agenda," the official told VOA on Tuesday during a background briefing. That official added Nord Stream 2 "jeopardizes" the priority of energy security by "making European countries and our allies more reliant on single country sources of energy." Germany is Europe's largest natural gas consumer, as it produces very little energy domestically and is heavily dependent on imports. Officials there are downplaying U.S. concerns on security and geopolitics.
In another move seen as counter to U.S. warnings, Germany is not excluding Huawei Technologies, a leading telecom equipment vendor based in Shenzhen, China, from taking part in the rollout of Germany's 5G networks. "We've urged all countries, particularly partners and allies, to carefully assess long-term impact of allowing untrusted vendors to have access to important 5G network infrastructure," the senior State Department official told VOA on Tuesday. https://www.voanews.com/europe/pompeo-arrives-germany-boost-transatlantic-ties
The USA wants to supply Germany the natural gas instead, and at a higher cost to Germany. Germany not only does not want to pay more, it is concerned about trade with the US and does not feel safer going towards US energy than Russian. Notice something that came out last year:
Germans fear Donald Trump more than Vladimir Putin, poll finds

15 July 2018
The United States may be Germany's No. 1 ally, but two-thirds of Germans think that the US president is more dangerous than his Russian counterpart. … When asked which world leader was the greater threat to world security, 64 percent of respondents chose US President Donald Trump over his Russian counterpart, Vladimir Putin. That's according to a YouGov poll published on the eve of Trump's meeting with Putin in Helsinki.
And the German antipathy for Trump doesn't end there: 56 percent of respondents thought that Putin was more competent than Trump, with only 5 percent preferring the latter on that score. Thirty-six percent of Germans find Putin more likable than Trump, while 6 percent say the opposite — although most respondents refused to indicate a preference on that question.
And, perhaps most surprisingly, 44 percent said Putin was more powerful than Trump, compared with only 29 percent who thought the US president has more power. … The distrust of Trump's motivations and leadership capabilities is apparent in how Germans see the United States as a whole. In a YouGov poll published earlier in July, Germans were asked whether they had a generally positive or negative view of the United States. Fifty-nine percent of respondents said they viewed the US negatively, compared with only 29 percent who chose positively. https://www.dw.com/en/germans-fear-donald-trump-more-than-vladimir-putin-poll-finds/a-44680092
Basically, Germany has concerns about US sanctions' policies, tariffs and other trade policies, US withdraw from the Paris climate accords, and the US withdrawing from the Iranian nuclear deal. It sees Donald Trump's negotiating style and does not want to become more dependent upon the US. It has less distrust of Russia. While US Energy Secretary Perry hopes to push Europe away from Russia, the Germans are not convinced. Notice also the following:
Russia dumps U.S. dollar: Country's top oil producer chooses euro for all future deals

October 7, 2019
One of the world's top oil producers and exporters, Russia's Rosneft, is ditching the U.S. dollar for euros when it comes to all future deals. … The switch to euros is said to limit the company's vulnerability to potential future sanctions by the U.S., Reuters reported on Thursday. "Rosneft has recently adjusted all the new contracts for export supplies to euros. We've been notified," a trader from a company that regularly buys from Rosneft told Reuters. Three more traders confirmed that Rosneft has chosen the euro as the default currency going forward.
Since the benchmark oil prices are quoted in U.S. dollars, Rosneft is now asking traders to use Bloomberg's euro/dollar exchange rate when calculating the final payment. "Rosneft used to have the euro as one of the options, but since last month it's the main option. We've been notified, but still, it's a visible change," one trader said. Rosneft is Russia's largest oil company, exporting about 120 million tonnes of oil a year. https://www.kitco.com/news/2019-10-07/Russia-dumps-U-S-dollar-Country-s-top-oil-producer-chooses-euro-for-all-future-deals.html
Europe wants the Euro to be more widely used and prefers to make payments in it, as opposed to the US dollar, which it would have to do to more of if it does not go through with the Nord Stream 2 project. It has long been my view that the Germans (and other Europeans) would make a deal with Russia against the US. We are seeing deals starting to take place. A decade or so after I came to the conclusion that the Germans/Europeans would make a deal with Russia against the US, I saw for the first time the following items from the old Radio Church of God:
Modern Europe is counseling and making treaties and alliances and agreements to conquer this earth! … Germany, those living in Germany, even the German government, may not yet know that they are going to join in a treaty with the Russians to destroy the United States and bring it to its knees-it is not in his "heart" to think so, but on the other hand it IS in his "heart" to destroy-the very characteristic of the Assyrian, the modern German, is a harsh, cruel, iron, dedication to militarism and destruction! …
MAN'S ONLY HOPE LIES IN TURNING TO HIS CREATOR GOD! "At what instant I shall speak concerning a nation, and concerning a kingdom. to pluck up, and to pull down, and to destroy it; If that nation, against whom I have pronounced, TURN FROM THEIR EVIL, I will repent of the evil that I thought to do unto them… Behold, I frame evil against YOU, and devise a device against YOU: return ye now EVERY ONE from his evil way and make your ways and your doings good!" (Jer. 18:7, 8, 11). The case of America and Great Britain is hopeless! The case of America and Great Britain is hopeless! (Hill DJ, God's Destiny for Germany. Plain Truth, March 1962, pp. 28-29)
The German people are now asking themselves: "Can we rely on the Americans and British?" … These questions lead to the logical conclusion that maybe the only people the Germans can rely on are themselves. They are now thinking: "Perhaps we can strike a better bargain with the Russians ourselves." … Once a German-dominated Europe is fully established, Germany will be ready to negotiate and bargain with Russia- and behind the backs of the Western Allies if necessary. …
When will a Russo-German deal be made?
Here is a quotation from a circular letter issued in September, 1950 by the Nazi Geo-political Center in Madrid: "However long we may continue to milk the Americans of millions of dollars, there must come the inevitable moment when we shall have to make it crystal clear to them that we are not willing to join the fight against Russia for American interests … (Germany Plots with the Kremlin by T H. Terens, p. 15). …
Most Americans and Britons are not aware of what Germany and Europe are planning against them. This is partly due to the cunning of German. politics. …
World events are moving swiftly toward the climax when Great Britain and the United. States will be attacked, conquered and DESTROYED! (Boraker R. Are the Germans Secretly Dealing with Moscow? Plain Truth, May 1962, pp. 45-47)
Russia will make a deal with the Europeans that will not end well for the US. While Nord Stream 2, per se, is not the deal I am referring to, it helps set the stage for a deal that could take place in just a relatively few years.
A while back, a Russian Professor predicted that Russia would end up with Alaska:
MOSCOW — For a decade, Russian academic Igor Panarin has been predicting the U.S. will fall apart … Prof. Panarin, 50 years old, is not a fringe figure. A former KGB analyst, he is dean of the Russian Foreign Ministry's academy for future diplomats …

When the going gets tough, he says, wealthier states will withhold funds from the federal government and effectively secede from the union. Social unrest up to and including a civil war will follow. The U.S. will then split along ethnic lines, and foreign powers will move in…

"It would be reasonable for Russia to lay claim to Alaska; it was part of the Russian Empire for a long time." A framed satellite image of the Bering Strait that separates Alaska from Russia like a thread hangs from his office wall. "It's not there for no reason," he says with a sly grin. (Osborn A. As if Things Weren't Bad Enough, Russian Professor Predicts End of U.S. Wall Street Journal, Dec 29, 2008 http://online.wsj.com/article/SB123051100709638419.html).
It is certainly possible that if Russia makes a deal with the rising European Beast power that it may end up with Alaska. Notice the following prophecy:
39 Thus he shall act against the strongest fortresses with a foreign god, which he shall acknowledge, and advance its glory; and he shall cause them to rule over many, and divide the land for gain (Daniel 11:39).
The "he" is the European King of the North (cf. Daniel 11:40) and the "strongest fortresses" currently belong to the USA–this shows the defeat of the US by Europe. Since Bible prophecy points to Anglo-lands being divided in various scriptures (for more than Daniel 11:39, see Will the Anglo-Nations be Divided?), Russia may well end up with some of all of Alaska and maybe even parts of Canada. People do not realize who perturbed the Germans are getting with the USA. And this will not end well for the USA (Daniel 11:39) nor Germany (cf. Isaiah 10:12-19). Policies and statements from US President Trump are pushing the Europeans away from the US and more towards Russia. We made a couple of videos related to this:
Is Donald Trump pushing Europe to Russia?
US President Trump's tough talk in various areas (like trade and banking sanctions) are encouraging the EU, Russia, and others to take steps to protect themselves from aspects of his threats. Now, the time will come when a deal will be made with Russia by the Europeans that will not end well for the US. Germany has recently been signalling that it is working towards dominance. Notice, for example, the following video on our Bible News Prophecy YouTube channel:
Are German leaders serious about putting together a new world order that is dominated by Germany? At least ten statements made by Germany's current Foreign Minister Heiko Maas point to this. Does Germany want Europe to have a military which is independent of the United States? Have German elites concluded that Germany is too small to have a sufficiently dominate influence in the world without European nations to align with it? Are steps being taken to dethrone the US dollar as the world's primary reserve currency? Are statements by US President Donald Trump helping push Germany and Europe together? Is there an 'Alliance for Multilateralism'? Is there any United Nations' connection? Could a German-dominated Europe be the Beast of Bible prophecy? Does Isaiah 10 point to Germany being used by God against powers such as the United States? Dr. Thiel addresses these issues and more.
Here is a link to our latest uploaded video: 10 German 'New World Order' Moves.
We made a few BibleNewsProphecy videos related to Germany and the European military:
9:49
Germany and World War 3 Could preparations for WWIII have begun? German Chancellor Angela Merkel and French President Emmanuel Macron called for a European army to be independent of the USA and NATO. One of the reasons was to be able to protect against the USA. Is the fourth German Reich in progress? What does the Bible teach about Germany, Europe, and WW3? Dr. Thiel addresses these matters in this video.
Here is a link to the sermonette video: Germany and World War 3.
15:25
PESCO and a Great European Army In November 2018, French President Macron called for a "true European army" because of China, Russia, and the USA. Some others in Europe have echoed that sentiment. On November 9, 2018, US President Donald Trump called that an insult, but the next day said that the USA wanted "a very strong Europe." Emmanuel Macron referred to Donald Trump as "my friend" and indicated a desire to strengthen Europe's military spending. In December 2017, 25 European nations agreed to be part of a military alliance called PESCO. Europe also has NATO and IEI. Will Europe end up with "a great army"? Has Donald Trump's announcement to withdraw from the 1987 Intermediate-Range Nuclear Forces Treaty gotten some to say that Europe must rebel against the USA? Is the idea of a United States of Europe and a European army a "paranoid fantasy" or a biblical reality? Will the USA regret Europe becoming a stronger military power? Will the USA be betrayed by "friends" such as its continental European allies? Does the Bible teach any or all of this? Are there connections to the Beast of Revelation or the King of the North of Daniel 11? Dr. Thiel addresses these matters in this video.
Here is a link to that video: PESCO and a Great European Army.
15:27
Nuclear bombers for the Beast? It is reported that the Germans are looking for a new bomber to be able to be used to deliver US B61-12 atomic bombs. Does Germany already have access to American nuclear weapons it can now use? What about Belgium, Italy, and the Netherlands? Has there been increased interest in more independent European nuclear capacity since the election of US President Donald Trump? What has Berthold Kohler, Herbert W. Armstrong, Nigel Farage, Jean-Claude Juncker, and Maximilian Terhalle said about Europe's militaristic ambitions? What about Bible prophecy? Could the Great Tribulation begin with a thermonuclear strike? What has Time, NTI, and Global Research reported about European nuclear weapons available to European nations? Is a nuclear attack consistent with prophecies? Might the coming Beast use nuclear weapons against the USA? Dr. Thiel addresses these issues and more.
Here is a link to the sermonette video: Nuclear bombers for the Beast?
Note that Lamentations 1:1-2, indicates that the USA will be betrayed and destroyed militarily by its "friends." A German-dominated Europe does not have to be stronger in all areas than the USA, only enough to win when the USA is not expecting it.
While the American media seems fixated on impeachment matters related to Donald Trump, the rest of the world is moving towards the final times of the Gentiles that Jesus said would happen (cf. Luke 21:24).
Notice something about Eurasia:
Eurasia has most of the world's wealth, resources, and population — yet there is very low economic connectivity. A Sino-Russian partnership can collectively create a gravitational pull that allows them to capture the geoeconomic levers of power by creating an alternative to the Western-centric model. This entails developing new global value chains that captures the high-value activities in strategic industries and energy markets, developing new transportation corridors through Eurasia and the Arctic, and constructing new financial instruments such as development banks, trade/reserve currencies, technical standards, and trade regimes. Russia's comparative advantage derives from its geographical expanse by developing an East-West corridor connecting Northeast Asia with Europe, and a North-South Corridor that links India, Iran and Russia. Moscow sees itself as a stabilising factor in Eurasia by bringing together the entire continent with economic connectivity to ensure that it becomes multipolar and no one state or region can dominate. … socio-economic and political decisions will be made by BRICS, the Eurasian Economic Union, the Shanghai Cooperation Organisation, and the Belt and Road Initiative. The EU is faced with a dilemma as it has strong economic incentives to cooperate with the development taking place in Greater Eurasia, yet this would contribute to the shift away from the Western-centric geoeconomic infrastructure.  …
The European Union, occupying Eurasia's Western peninsula, is tired of the status quo. President Macron said, "We are undoubtedly experiencing the end of Western hegemony over the world…Things change, and they have been deeply shaken by the mistakes of Westerners in certain crises, by the choices that have been made by Americans for several years..And then there is the emergence of new powers whose impact we have probably underestimated for a long time. China is at the forefront, but also the Russian strategy, which has, it must be said, been pursued more successfully in recent years…They think about our planet with a true logic, a true philosophy, an imagination that we've lost a little bit." [Saker's Translation]. Mark Carney, Governor of the Bank of England added, "The world's reliance on the US dollar won't hold' and needs to be replaced by a new international monetary and financial system… It is worth considering how an SHC [synthetic hegemonic currency] in the IMF could support better global outcomes."6 Germany is completing Nord Stream II and installing Huawei despite US threats, and Hungary, Greece, and Italy are turning east. One more downturn in the US economy (where manufacturing is already in recession) and the rest of the EU will follow. …
The Belt and Road Initiative. Scheduled to launch on June 1, 2021, the BRI integrates four billion people in one-hundred thirty countries across Eurasia, Africa, Latin America and the South Pacific. BRI focuses on policy coordination, infrastructure connectivity, unimpeded trade, financial integration and people-to-people ties. It is building power plants in Pakistan, train lines in Hungary and ports from Africa to Greece, replacing Western institutions, refashioning the global economic order, forging new ties, creating new markets, deepening economic connections and strengthening diplomatic bonds. 11/01/19 http://thesaker.is/russia-china-and-the-european-peninsula/
Yes, steps by the US have gotten Europe to consider that it needs to take steps to look more towards other parts of the world, including Asia. Europe is prophesied to dominate world trade for a time (cf. Revelation 17-18), as well as become a military power that will cause amazement in the world (cf. Revelation 13:1-10).
As far as the Belt and Road Initiative goes, remember that most roads go two ways. The BRI, also known as the Silk Road project, will better connect Europe with Asia and Africa. The Continuing Church of God (CCOG) put together the following video on our Bible News Prophecy YouTube channel:
China has been embarking on a multi-trillion dollar project to build roads and ports to connect more of Asia, Africa, the Middle East, and Europe to it. This has been called the 'Belt and Road Initiative,' Silk Road Project, Silk Road 2.0, and the One Belt, One Road Initiative. While this is expected to benefit Chinese trade (as well as provide infrastructure for the gathering at Armageddon), could this also benefit the rise of Babylon the Great foretold in the Book of Revelation and scriptures in the Old Testament? What about the proposed Polar Silk Road? Will the benefits to Europe last or will the end time 'daughter of Babylon' possibly face invasion from nations involved with the Silk Road project? Dr. Thiel addresses these issues with scriptures from the Bible.
Here is a link to our video: China's Silk Road and Babylon the Great. This Eurasian project will economically benefit Europe and Asia.
It remains my view that technological advances, which Europe is working on, will also be a factor in its rise and its temporary dominance of the world economic scene. See also the article: European Technology and the Beast of Revelation.
What about US pressure? The fact that the US trying to push Germany away from Nord Stream 2 is another reason why the Germans do not want to rely on the US.
US pressure is a factor in many areas is a reason t hat many in Europe want to be able to function without listening to the US.