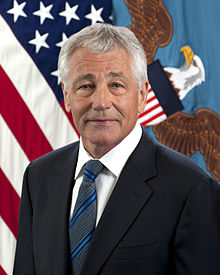 Chuck Hagel, USA Secretary of Defense
The USA, along with some others in Asia, had some stern words towards China:
May 31, 2014

US Warns China at Asia Security Forum

BANGKOK — At Asia's largest security forum, China found itself on the defensive with top officials from several countries, including the United States, Japan and Vietnam, calling on Beijing to moderate its behavior amid maritime territorial disputes in the region.

China was the target of unusually blunt remarks from the U.S. defense secretary, Chuck Hagel, who spoke of a modern world with no boundaries and great opportunities but also "great threats."

Hagel, in a public speech at a conference in Singapore, noted "China has undertaken destabilizing, unilateral actions asserting its claims in the South China Sea."

"The United States will not look the other way when fundamental principles of the international order are being challenged. We will uphold those principals," he said.

The United States, as Hagel reiterated, takes no stance on the merits of rivals' territorial claims in the disputed waters…
Japan's defense minister, Itsunori Onodera, in his speech to the Singapore conference called for dialogue with China on territorial disputes in the East China Sea…
Vietnam's defense minister, speaking of a regional trust deficit, reiterated his government's demand for China to remove an oil rig from disputed waters.  http://www.voanews.com/content/us-hagel-asia/1926636.html
China was not pleased and one of its officials made some comments of his own:
May 31, 2014

Major General Zhu Chenghu told The Wall Street Journal that the charges of destabilizing actions by China were "groundless" and that "the Americans are making very, very important strategic mistakes right now" in their approach to dealing with China. Gen. Zhu, who is a professor at China's National Defense University, accused Mr. Hagel of hypocrisy in his assessment of the region's security landscape, suggesting that in his view "whatever the Chinese do is illegal, and whatever the Americans do is right."

The "Chinese are not so stupid" as to believe that Washington wants to work with China, or that the U.S. government is truly neutral when it comes to territorial disputes between China and American allies, he said.

"If you take China as an enemy, China will absolutely become the enemy of the U.S.," he warned.

Gen. Zhu's comments were echoed during a spirited question and answer session following Mr. Hagel's speech. Major General Yao Yunzhu of the Chinese People's Liberation Army questioned America's repeated claim that it doesn't take sides in territorial disputes, asking how that can be true when the U.S. also claims that disputed islands in the East China Sea are covered by a U.S. treaty with Japan.

She said the fact that the U.S. claims its defense treaties cover disputed matters amounts to a "threat of force, coercion or intimidation."  http://online.wsj.com/articles/asian-u-s-military-chiefs-raise-criticism-of-china-1401542106?tesla=y&mg=reno64-wsj&url=http://online.wsj.com/article/SB10001424052702303633604579595803041693222.html
The USA itself is more and more being called hypocritical.  This is of prophetic importance because the Bible (KJV) in Isaiah 10:6 says that punishment will come to "an hypocritical nation" (called "a deceitful nation" in the DRB).
Right now, more and more Asian nations are concerned about China and its long term plans and hope that they can rely on the USA.  Although that will work for a time, once they realize that the USA cannot be relied upon, however, most will be willing to cooperate more with China as the Bible tells of an end-time alliance between those it calls the "kings of the east" (Revelation 16:12) or more literally "kings of the sunrise"–and that would include such nations as China, Japan, and Korea.
China will not be taken over by the USA.  Instead, it is quite likely that China may have a role in taking over some of the USA's allies, not only in some territories in Asia, but perhaps Australia and New Zealand themselves.
Some items of related interest may include the following:
China, Its Biblical Past and Future, Part 1: Genesis and Chinese Characters Where did the Chinese people come from? This article provides information showing that the Chinese peoples must have known about various accounts in the Book of Genesis up until their dispersion after the Tower of Babel. Here is a link to a version of this article in Spanish: ¿Prueban los caracteres chinos la exactitud de la Biblia?
China, Its Biblical Past and Future, Part 2: The Sabbath and Some of God's Witness in China When did Christianity first come to China? And is there early evidence that they observed the seventh day sabbath?
Asia in Prophecy What is Ahead for Asia? Who are the "Kings of the East"? What will happen to nearly all the Chinese, Russians, Indians, and others of Asia? China in prophecy, where? Who has the 200,000,000 man army related to Armageddon? A YouTube video of interest may be Is China THE Threat to the United States of America?
Korea in Prophecy, Any Witness? Where did the Korean people come from? Does God have a plan for the Koreans? Is Korea mentioned in any prophecies? Will Koreans be among the first in the Kingdom of God? Here is a machine-translated link to that article in Korean: 한국의 언어로 : 한국 예언, 모든 증인에?; here is a link to that article in Mandarin Chinese: 在预言中的韩国:有任何证人吗?
Japan, Its Biblical Past and Future, Part 1: Any Witness? Where did the Japanese people come from? Have they had any witness?
Japan, Its Biblical Past and Future, Part 2: Prophecy Japan in prophecy. What is prophesied for Japan? Will God save the Japanese?
The Eurasian Union, the Kings of the East, and Bible Prophecy Is there a Eurasian union that will be formed? Is one being formed right now? Are any leaders working on that in the 21st century? Does the Bible teach that there will be a Eurasian union? If some type of Eurasian union is formed, who might it benefit and who will it destroy? A related video would be Is The Eurasian Union Rising?
Anglo – America in Prophecy & the Lost Tribes of Israel Are the Americans, Canadians, English, Scottish, Welsh, Australians, Anglo-Saxon (non-Dutch) Southern Africans, and New Zealanders descendants of Joseph? Where are the lost ten-tribes of Israel? Who are the lost tribes of Israel? What will happen to Jerusalem and the Jews in Israel? Will God punish the U.S.A., Canada, United Kingdom, and other Anglo-Saxon nations? Why might God allow them to be punished first? Here is a link to the Spanish version of this article: Anglo-América & las Tribus Perdidas de Israel. Information is also in the YouTube sermons titled Where are the Ten Lost Tribes? Why does it matter? and British are the Covenant People. A short YouTube of prophetic interest may be Barack Obama and the State of the Apocalypse.
Will the Anglo-Saxon Nations be Divided and Have People Taken as Slaves? Will the lands of the United States, United Kingdom, Canada, Australia, and New Zealand be divided? What about Jerusalem? What does Bible prophecy teach? Are there non-biblical prophecies that support this idea? Who will divide those lands? Who will end up with the lands and the people? Here is a link to a video titled Will the USA and other Anglo-nations be Divided and Their People Made Slaves? Here is a related item in the Spanish language ¿Serán divididas las naciones anglosajonas?
Prophecies of Barack Obama? Reasons why Barack Obama is apocalyptic and reasons why Barack Obama is not the Antichrist. This article includes many biblical and non-biblical prophecies, from around the world, that seem to discuss Barack Obama. Did Nostradamus predict Barack Obama dealing with the Antichrist?  Might Barack Obama set the stage for the kings of the North and South as at least one Shiite prophecy suggests?  Read it and decide for yourself if President Obama seems to be fulfilling various prophecies. Watch also the YouTube Barack Obama and the State of the Apocalypse.