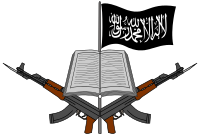 Logo of Boko Haram (ArnoldPlaton)

There more disturbing reports about the Islamic terrorist group called Boko Haram:
August 18, 2014

YAOUNDE—Fotocol, a Cameroonian town across the border from Nigeria's Borno state – the base of the Islamist group Boko Haram – looks deserted.So, too, are many surrounding villages where stray bullets regularly strike houses, killing people and animals, when Boko Haram gunmen carry out attacks.

Cameroon's border area are becoming increasingly deserted due to persistent attacks, looting and kidnappings by suspected members of the militant group.

Government officials are pleading with the former residents to return, but the residents say they fear for their safety. …

The extremists opened fire on residents in May in an attack people said left at least 300 villagers dead.

Kolofata, a town not far from Fotocol, is deserted. …

The hardline Boko Haram group has massacred, kidnapped and looted several times in the areas, even with the government military nearby.

About 500 soldiers have been deployed in Kolofata, Fotocol and the surrounding area to provide security for residents.

Cameroon shares a 2,000-kilometer border with Nigeria and is increasingly targeted by Boko Haram. http://www.voanews.com/content/cameroon-villagers-flee-boko-haram-cross-border-attacks/2416852.html
Notice also the following two reports (a reader forwarded me the second one):
Extremist Muslim organisation Boko Haram ravaged the predominantly Christian town of Gwoza, Borno State last week.

Over 100 people were killed in the attack, and many citizens were forced to flee their homes and run into the hills to save their lives, BosNewsLife reports.  http://www.christiantoday.com/article/at.least.100.dead.in.boko.haram.attack.on.christian.area.in.northern.nigeria/39605.htm

Muslims, all belonging to Boko Haram, entered the Christian village of Gwoza and butchered one thousand Christians. Why hasn't this made the news? This should be on headlines everywhere! They were shot, burned alive, and slashed to death. They were slaughtered with bullets, cooked alive, and hacked to death. Nigerian relations expert Adeniyi Ojutiku received a report from a trusted colleague:

The terrorists seized a number of residents as hostages and killed nine hundred and ninety seven an eye witness whose mother among the women that are burying the … bodies confirmed… The insurgents took over the Emirs (mayor's) Palace as well as a Government Lodge in Gwoza, and have appointed a replacement for the town's fleeing Emir. They have hoisted their black flags with Arabic insignia all over Gwoza in a show of their total control of the territory.

Ojutiku received from Nigeria marked a phone call and was told that "an unprecedented emergency request for prayers for the inhabitants of the Christian village of Gwoza… The town has … been under siege of Boko Haram for the past nine days".

Shoebat.com reported before that the Boko Haram Muslims in this same Christian village killed 100, but now a new report says 1000. http://shoebat.com/2014/08/16/muslims-go-christian-village-take-1000-christians-slaughter-bullets-cook-alive-chop-pieces/

Boko Haram calls itself the Congregation of the People of Tradition for Proselytism and Jihad. It is a deviant Islamic faction. It, in certain ways, is similar to the group calling itself the Islamic State in Iraq. It basically, however, has less arms and less money. The goal of terror and forced conversion to Islam seems to be shared by both groups.
Boko Haram, its tactics, and its objectives are horrible.
The world needs the return of Jesus Christ and the establishment of the millennial kingdom.  My prayers go out to those affected by Islamic terrorist groups like Boko Haram.
Some items of possibly related interest may include:
Africa: Its Biblical Past and Prophesied Future What does the Bible teach about Africa and its future? Did the early Church reach Africa? Will God call all the Africans?
The Prophesied 'Islamic' Confederation Where is an Islamic caliphate prophesied? Will one happen? Should you be concerned about it? A related video is Will an Arabic Calphiphate Destroy the West?
Iraq, the King of the South, Armageddon, and Prophecy What will happen to Iraq? Is it the prophesied Mystery Babylon? What is Armageddon and how does that have to do with Iraq? Here is a related video Iraq, Armageddon, & Prophecy.
The Gospel of the Kingdom of God was the Emphasis of Jesus and the Early Church Did you know that? Do you even know what the gospel of the kingdom is all about? You can also see a YouTube video sermon The Gospel of the Kingdom.
Just What Do You Mean the Kingdom of God? A booklet that was written by Herbert Armstrong answers questions about the Kingdom.
Did The Early Church Teach Millenarianism? Was the millennium (sometimes called chiliasm) taught by early Christians? Who condemned it? Will Jesus literally reign for 1000 years on the earth? Is this time near? A related sermon is titled The Millennium.
The Arab and Islamic World In the Bible, History, and Prophecy The Bible discusses the origins of the Arab world and discusses the Middle East in prophecy. What is ahead for the Middle East and those who follow Islam? What about the Imam Mahdi? What lies ahead for Turkey, Iran, and the other non-Arabic Muslims? An item of possibly related interest in the Spanish language would be: Líderes iraníes condenan la hipocresía de Occidente y declaran que ahora es tiempo para prepararse para el Armagedón, la guerra, y el Imán Mahdi.
Is the Future King of the South Rising Up? Some no longer believe there needs to be a future King of the South. Might Egypt, Islam, Iran, Arabs, or Ethiopia be involved? Might this King be called the Mahdi or Caliph? What does the Bible say? A YouTube video of related interest may be: The Future King of the South is Rising.
The Ten Commandments Reflect Love, Breaking them is Evil Some feel that the ten commandments are a burden. Is that what Jesus, Paul, Peter, James, and John taught? For a more detailed discussion of the first four commandments, please see the video The Ten Commandments: Loving God. For a more detailed discussion of the last six commandments, please see: The Ten Commandments: Loving Your Neighbor. Here is a link to a related article in Mandarin Chinese 十条诫命显示爱,违反诫命的就是邪恶的