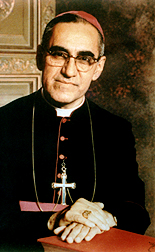 Óscar Arnulfo Romero y Galdámez
Pope Francis answered a reporters question about China and lifted a beatification ban related to a bishop from El Salvador:
August 19, 2014

Here below we publish a Vatican-approved English translation of Pope Francis' hour-long airborne press conference, given Monday on the flight back from South Korea. …

Q. My question is about China.  China allowed you to fly over its airspace. The telegram that you sent (en route to Korea) was received without negative comments.  Do you think these are step forward towards a possible dialogue? And have you a desire to go to China? [Father Lombardi intervenes.  I can inform you that we are now flying in the airspace over China at this moment. So the question is pertinent.]

A.   When we were about to enter into the Chinese airspace (en route to Korea), I was in the cockpit with the pilots, and one of them showed me a register and said, we're only ten minutes away from entering the Chinese airspace, we must ask authorization.  One always asks for this.  It's a normal thing, one asks for it from each country. And I heard how they asked for the authorization, how they responded.  I was a witness to this.  The pilot then said we send a telegram, but I don't know how they did it.

Then I left them and I returned to my place and I prayed a lot for that beautiful and noble Chinese people, a wise people.  I think of the great wise men of China, I think of the history of science and wisdom.  And we Jesuits have a history there with Father Ricci.  All these things came into my mind.

If I want to go to China?  For sure! To-morrow!

We respect the Chinese people.  The Church only asks for liberty  for its task, for its work.  There's no other condition.

Then we should not forget that fundamental letter for the Chinese problems which was the one sent to the Chinese by Pope Benedict XVI. This letter is actual (relevant) today. It is actual. It's good to re-read it.

The Holy See is always open to contacts Always. Because it has a true esteem for the Chinese people.  http://www.zenit.org/en/articles/vatican-approved-transcript-of-pope-francis-airborne-press-conference-from-korea
So, the Pope was allowed to fly over Chinese airspace twice on this trip–once going over and once coming back.  That represents a change for the Chinese as they did not allow Pope John Paul II to do so (see Pope Francis in South Korea after sending a message to China).
Pope Francis wants the Chinese as part of his interfaith agenda and keeps making overtures towards them.
Yesterday, Pope Francis also did the following:
August 18, 2014

Pope Francis has lifted a ban on the beatification of murdered Salvadoran Archbishop Oscar Romero.

For years, the Roman Catholic Church blocked the process because of concerns that he had Marxist ideas.

An outspoken critic of the military regime during El Salvador's bloody civil war, Archbishop Romero was shot dead while celebrating Mass in 1980.

Beatification, or declaring a person "blessed", is the necessary prelude to full sainthood.

The bishop was one of the main proponents of Liberation Theology – an interpretation of Christian faith through the perspective of the poor.

'Death squads'

On Monday, the Pope said he was hoping for a swift beatification process.

"For me Romero is a man of God," the pontiff told journalists on the plane bringing him back from a trip to South Korea.

"There are no doctrinal problems and it is very important that [the beatification] is done quickly."

It seems Francis hasn't finished wielding his new broom at the Vatican just yet, despite being Pope for more than a year now. After peering into the dark corners of the Vatican's banking system, and pushing an inclusive brand of Catholicism, he's now tackling what's been a painful episode for many Catholics.

Francis's decision to send the case of the Archbishop Romero to the Vatican's saint-making office flies in the face of what his two predecessors advocated.  http://www.bbc.com/news/world-latin-america-28845998
Typically, the Vatican used to require proof of two 'miracles' for beatification, but Pope Francis waived this earlier this year for John XXIII and apparently wishes to waive it for the bishop from El Salvador.  Many in El Salvador will be pleased with this.
Was this also done to further send a signal to China?  Perhaps.
Both the Chinese (e.g. China moving toward one world religion! Pope to conduct mass in South Korea.) and the Vatican have been sending signals of more cooperation with each other in the past several weeks.  Partially, this may be because of Pope Francis' socialistic/communistic economic statements along with China's own international plans.
The Pope's agenda is to create strong cooperation and bonds between peoples around the world, so that all we be part of a one-world endorsed religion with the top leader in Rome.
He keeps taking steps to accomplish this.
On other matters, Pope Francis seemed to endorse the idea of papal retirements and also indicated that he expects to die in 2-3 years:
77-year-old Pope Francis is one of the hardest-working world leaders, rarely taking breaks or vacations despite a punishing schedule. It appears that this lifestyle could be taking its toll, as the pope told reporters during a press conference that he feels he may only have a few more years left to live.

On his way back from a trip to Korea, Pope Francis told journalists aboard the papal plane that he is able to cope with his immense popularity because he knows that it will not last forever. In the full transcript provided by America Magazine, the pope said, "Interiorly, I try to think of my sins, my mistakes, so as not to think that I am somebody. Because I know this will last a short time, two or three years, and then to the house of the Father."

Though he has not previously spoken publicly about his long-term physical health,the Guardian reported that a Vatican source said that he has told those close to him that he may only have a few years left in his life. http://www.huffingtonpost.com/2014/08/19/pope-francis-retire-death_n_5691299.html?ncid=txtlnkusaolp00000592
If Francis does die in 2-3 years, he obviously would not be the last pope.  But if somehow he 'dies' and comes back, that would be an indication that he could be.
Some items of possibly related interest may include:
Will the Interfaith Movement Lead to Peace or Sudden Destruction? Is the interfaith movement going to lead to lasting peace or is it warned against?
Beware: Protestants Going Towards Ecumenical Destruction! What is going on in the Protestant world? Are Protestants turning back to their 'mother church' in Rome? Does the Bible warn about this? What are Catholic plans and prophecies related to this? Is Protestantism doomed?
Do You Know That Babylon is Forming? How is the final Babylon forming? Are Protestants such as Joel Osteen and Kenneth Copeland are endorsing something dangerous? Could Pope Francis be the 'False Prophet' that the Bible warns against? Is an antipope expected to endorse a one-world religion? Here is a link to a related written article In Vatican City: New Babylon more openly forming!
Pope Francis: Could this Marian Focused Pontiff be Fulfilling Prophecy? Pope Francis has taken many steps to turn people more towards his version of 'Mary.' Could this be consistent with biblical and Catholic prophecies? This article documents what has been happening. There is also a video version titled Pope Francis: Could this Marian Focused Pontiff be Fulfilling Prophecy?
Why Should American Catholics Fear Unity with the Orthodox? Are the current ecumenical meetings a good thing or will they result in disaster? Is doctrinal compromise good? Here is a link to a related video Should you be concerned about the ecumenical movement?
United Nations: Humankind's Last Hope or New World Order? Is the UN the last hope for humanity? Or might its goals end up with sinister results? A related video would be United Nations and Vatican Are Planning the New World Order.
Which Is Faithful: The Roman Catholic Church or the Continuing Church of God? Do you know that both groups shared a lot of the earliest teachings? Do you know which church changed? Do you know which group is most faithful to the teachings of the apostolic church? Which group best represents true Christianity? This documented article answers those questions.
Could Pope Francis be the Last Pope and Antichrist? According to some interpretations of the prophecies of the popes by the Catholic saint and Bishop Malachy, Pope Francis I is in the position of "Peter the Roman," the pontiff who reigns during tribulations until around the time of the destruction of Rome. Do biblical prophecies warn of someone that sounds like Peter the Roman? Could Francis I be the heretical antipope of Catholic private prophecies and the final Antichrist of Bible prophecy? This is a YouTube video.
Korea in Prophecy, Any Witness? Where did the Korean people come from? Does God have a plan for the Koreans? Is Korea mentioned in any prophecies? Will Koreans be among the first in the Kingdom of God? Here is a machine-translated link to that article in Korean: 한국의 언어로 : 한국 예언, 모든 증인에?; here is a link to that article in Mandarin Chinese: 在预言中的韩国:有任何证人吗?
Asia in Prophecy What is Ahead for Asia? Who are the "Kings of the East"? What will happen to nearly all the Chinese, Russians, Indians, and others of Asia? China in prophecy, where? Who has the 200,000,000 man army related to Armageddon? A YouTube video of interest may be Is China THE Threat to the United States of America?
The Last Pope Do Biblical and Catholic Prophecies Point to Pope Francis? Why might Pope Francis be the last pope? What happens if he is? Biblical and other prophecies help explain what to expect.
The Last Pope: Do Biblical and Catholic Prophecies Point to Pope Francis? Amazon Book What does the Bible say about a pope near this time? Is the final pope to be an antipope and antichrist? Does Catholic prophecy point to Pope Francis as being the dreaded "Peter the Roman"? This 186 page book provides information and answers.
The Last Pope: Do Biblical and Catholic Prophecies Point to Pope Francis? Kindle This electronic version of the printed book which is available for only US$2.99. And you do not need an actual Kindle device to read it. Why? Amazon will allow you to download it to almost any device: Please click HERE to download one of Amazon s Free Reader Apps. After you go to for your free Kindle reader and then go to The Last Pope: Do Biblical and Catholic Prophecies Point to Pope Francis? Kindle.
CCOG.ASIA We in the Continuing Church of God also have the url www.ccog.asia which has a focus on Asia and has various articles in Mandarin Chinese as well as some in English, plus some items in other Asian languages. 我们在继续神的教会也提供此网址 www.ccog.asia, 关注于亚洲并且有各种各样的中英文文章,其中一些用菲律宾语翻译的文章也正在进行中,准备添加到这个网站中。 Here is a link to our Statement of Beliefs in Mandarin Chinese 继续神的教会的信仰声明.