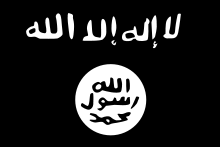 Black Flag of Jihad

The USA has agreed to help Nigeria try to thwart a major terrorist threat against schoolgirls:
May 6, 2014
ABUJA, NIGERIA — U.S. intelligence officials will head to Nigeria to help with the search for 276 schoolgirls abducted last month by the Islamist militant group Boko Haram, Secretary of State John Kerry announced Tuesday.

Kerry, who discussed the coordinated approach with Nigerian President Goodluck Jonathan by phone Tuesday, said the two countries would move immediately to establish a task force at the U.S. embassy in the capital city to provide more expertise on intelligence, investigations and hostage negotiations, as well as information sharing and victim assistance.

"We remain deeply concerned about the welfare of these young girls and we want to provide whatever assistance is possible in order to help for their safe return to their families," Kerry said at a news conference at the State Department in Washington.

He was joined by European Union foreign policy chief Cathy Ashton, with whom he'd met earlier in the day.

The young women represent Nigeria's future, Ashton said.

"They are teachers, dancers, politicians. They are scientists. They are mothers.  They are women in the making who have a right to play their full part in their society.  And what has happened to them is devastating for all of us. And we must do, like you, everything possible to try and reunite them with their families and to prevent this ever, ever happening again."

State Department spokeswoman Jen Psaki said the team heading to the U.S. embassy in Nigeria's capital city would include U.S. military personnel and law enforcement officials trained in investigations and hostage negotiations.
The announcement follows widespread condemnation and anger inside Nigeria and abroad that Jonathan's government has not done enough to rescue the girls, who were kidnapped April 14 from a secondary school…
Meanwhile, suspected Boko Haram gunmen kidnapped eight more girls between the ages of 12 and 15 from a village near one of their strongholds in northeastern Nigeria overnight, police and residents said earlier Tuesday.

Lazarus Musa, a resident of the village of Warabe, told Reuters that armed men had opened fire during the raid.

"They were many, and all of them carried guns. They came in two vehicles painted in army color. They started shooting in our village," Musa said by telephone from the village in the hilly Gwoza area, Boko Haram's main base.

A police source, who could not be named, said the girls were taken away on trucks, along with looted livestock and food.

Militants threaten to sell girls

On Tuesday, analysts said an announcement by the terrorist group Boko Haram earlier this week may have been timed to coincide with the World Economic Forum on Africa, a three-day event that begins Wednesday in Abuja, Nigeria.

On Monday, Boko Haram leader Abubakar Shekau threatened in a video released to the media to sell the abducted girls "on the market." No girls appeared in the video.  http://www.voanews.com/content/suspected-boko-haram-gunmen-kidnap-eight-more-girls-in-nigeria/1908567.html
This hopefully will be good news for the families of the kidnapped girls and hopefully for the girls themselves.  Boko Haram calls itself the Congregation of the People of Tradition for Proselytism and Jihad.  It is a deviant Islamic faction.
I have been horrified about this kidnapping and threat to sell the schoolgirls.  The girls and their families are in my prayers.  Hopefully, the USA will be able to help the Nigerian government rescue the schoolgirls.
The Bible condemns kidnapping:
16 "He who kidnaps a man and sells him, or if he is found in his hand, shall surely be put to death. (Exodus 21:16)
In addition to being kidnapped, the schoolgirls also are at risk of being sold into prostitution (cf. Leviticus 19:29).  This is wrong and the so-called Islamic leaders of Bokom Haran should realize this.
The Bible is supposed to be a book that Islam believes–and though many Muslims claimed it was corrupted in parts, I do not believe that they believe the admonitions against kidnapping, etc. were modified.
Kidnapping is wrong. Prostitution is wrong.
Some items of possibly related interest may include:
Africa: Its Biblical Past and Prophesied Future What does the Bible teach about Africa and its future? Did the early Church reach Africa? Will God call all the Africans?
The Arab and Islamic World In the Bible, History, and Prophecy The Bible discusses the origins of the Arab world and discusses the Middle East in prophecy. What is ahead for the Middle East and those who follow Islam? What about the Imam Mahdi? What lies ahead for Turkey, Iran, and the other non-Arabic Muslims? An item of possibly related interest in the Spanish language would be: Líderes iraníes condenan la hipocresía de Occidente y declaran que ahora es tiempo para prepararse para el Armagedón, la guerra, y el Imán Mahdi.
Is the Future King of the South Rising Up? Some no longer believe there needs to be a future King of the South. Might Egypt, Islam, Iran, Arabs, or Ethiopia be involved? Might this King be called the Mahdi or Caliph? What does the Bible say? A YouTube video of related interest may be: The Future King of the South is Rising.
The Ten Commandments Reflect Love, Breaking them is Evil Some feel that the ten commandments are a burden. Is that what Jesus, Paul, Peter, James, and John taught? For a more detailed discussion of the first four commandments, please see the video The Ten Commandments: Loving God. For a more detailed discussion of the last six commandments, please see: The Ten Commandments: Loving Your Neighbor. Here is a link to a related article in Mandarin Chinese 十条诫命显示爱,违反诫命的就是邪恶的