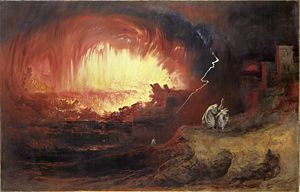 The Destruction of Sodom and Gomorrah
Sadly, the top court in Austria has decided against the Bible, but in favor of another part of the LGBTQ agenda:
5 December 2017

Same-sex couples will be allowed to marry in Austria from 2019, according to a ruling by the country's Constitutional Court announced on Tuesday..

Same-sex couples in Austria have been able to enter only into "registered partnerships" since 2010, with nearly the same rights of married couples. But the court ruled that "the distinction between marriage and registered partnership … cannot be upheld at this day and age without discriminating against same-sex couples."

Read more: Germans celebrate first gay marriages

"The resulting discriminatory effect is seen in the fact that through the different title of the family status, people living in same-sex partnerships have to disclose their sexual orientation even in situations in which it is not, and must not be, relevant and … are highly likely to be discriminated against," the court said in its ruling. http://www.dw.com/en/gay-marriage-in-austria-approved-by-constitutional-court/a-41654156
The Bible teaches that homosexuality is an abomination:
22 You shall not lie with a male as with a woman. It is an abomination. (Leviticus 18:22)

13 If a man lies with a male as he lies with a woman, both of them have committed an abomination. (Leviticus 20:13)
The Bible not only condemns those who practice homosexuality, it also condemns those that endorse it:
22 Professing to be wise, they became fools, 23 and changed the glory of the incorruptible God into an image made like corruptible man — and birds and four-footed animals and creeping things.

24 Therefore God also gave them up to uncleanness, in the lusts of their hearts, to dishonor their bodies among themselves, 25 who exchanged the truth of God for the lie, and worshiped and served the creature rather than the Creator, who is blessed forever. Amen.

26 For this reason God gave them up to vile passions. For even their women exchanged the natural use for what is against nature. 27 Likewise also the men, leaving the natural use of the woman, burned in their lust for one another, men with men committing what is shameful, and receiving in themselves the penalty of their error which was due.

28 And even as they did not like to retain God in their knowledge, God gave them over to a debased mind, to do those things which are not fitting; 29 being filled with all unrighteousness, sexual immorality, wickedness, covetousness, maliciousness; full of envy, murder, strife, deceit, evil-mindedness; they are whisperers, 30 backbiters, haters of God, violent, proud, boasters, inventors of evil things, disobedient to parents, 31 undiscerning, untrustworthy, unloving, unforgiving, unmerciful; 32 who, knowing the righteous judgment of God, that those who practice such things are deserving of death, not only do the same but also approve of those who practice them. (Romans 1:22-32)
In Canada, government officials have tried taking steps to stop the quoting of biblical passages against homosexuality (watch Canadian censoring of the Bible).
Online platforms like YouTube and Facebook have also taken anti-biblical steps.
Related to immorality, including homosexuality and lesbianism, the New Testament states this about various sinners:
18 For the wrath of God is revealed from heaven against all ungodliness and unrighteousness of men, who suppress the truth in unrighteousness, (Romans 1:18).
Those who push the LGBTQ agenda suppress the righteous truth–homosexuality is wrong and harmful to its participants (see also The Bible Condemns Homosexuality).
As far as marriage goes, Jesus taught that marriage was between a man and a woman:
6 But from the beginning of the creation, God 'made them male and female.' 7 'For this reason a man shall leave his father and mother and be joined to his wife, 8 and the two shall become one flesh'; so then they are no longer two, but one flesh. 9 Therefore what God has joined together, let not man separate. (Mark 10:6-9)
From the beginning of creation marriage was to be between a man and a woman, a male and a female. Jesus never hinted that there was any type of same-sex marriage He would sanction.
Jesus had the Apostle John make statements in the Book of Revelation that would include condemnation of those who practice homosexuality:
14 Blessed are those who do His commandments, that they may have the right to the tree of life, and may enter through the gates into the city. 15 But outside are dogs and sorcerers and sexually immoral and murderers and idolaters, and whoever loves and practices a lie. (Revelation 22:14-15)
Here are statements from two commentaries on what the term 'dogs' in Revelation 22:15 may mean:
κύνες, an archaic metaphor, coloured by the nomad's hatred of hounds; cf. Arabia Deserta, i. 337, 339 ("only the dog has no citizenship in the nomad life". "It is the only life mishandled by the gentle Arab, who with spurns and blows cast out these profane creatures from the tent.") Here κύνες are not merely impure pagans, but the impudently impure, possibly in the special and darker sense of "sodomites" (cf. 1 Timothy 1:10; Deuteronomy 23:17-20, collated with πόρνη and βδέλυγμα). cf. on Revelation 21:8 and Cooke's North Sem. Inscriptions, p. 68. Such loathsome practices were not uncommon in the Oriental cults. Expositor's Greek Testament

For without are dogs,…. That is, without the holy city are such persons who are comparable to dogs for their filthiness, impudence, and voraciousness, as are persecutors, heretics, and apostates, Matthew 7:6. Some think Sodomites are intended, as in Deuteronomy 23:18. So Abarbinel and others interpret the law; and who abound in the Roman jurisdiction, called therefore Sodom, Revelation 11:8 and indeed all wicked men, who will be cast out into outer darkness, may be signified hereby. Gill's Exposition of the Entire Bible
Sodomy is a practice of male homosexuals. Even if the term translated as 'dogs' does not mean homosexuals, Revelation 22:14-15 condemns all sexual immorality, which includes homosexual relations.
Those practicing immorality, including homosexuality, will not inherit the Kingdom of God:
9 Do you not know that the unrighteous will not inherit the kingdom of God? Do not be deceived. Neither fornicators, nor idolaters, nor adulterers, nor homosexuals, nor sodomites, 10 nor thieves, nor covetous, nor drunkards, nor revilers, nor extortioners will inherit the kingdom of God. (1 Corinthians 6:9-10)
Sadly, like people in many other nations, many in Australia just approved something that God condemns and warns against approving.
Early Christian leaders, like Polycarp of Smyrna and Melito of Sardis, also condemned illicit sexual behaviors including homosexuality:
Knowing, then, that "God is not mocked," we ought to walk worthy of His commandment and glory …For it is well that they should be cut off from the lusts that are in the world, since "every lust warreth against the spirit; " and "neither fornicators, nor effeminate, nor abusers of themselves with mankind, shall inherit the kingdom of God," nor those who do things inconsistent and unbecoming (Polycarp. Letter to the Philippians, Chapter V. From Ante-Nicene Fathers, Volume 1as edited by Alexander Roberts & James Donaldson. American Edition, 1885).

53. But in addition to this there were to be found among men many things still more monstrous and terrifying and brutal: father cohabits with his child, and son and with his mother, and brother with sister, and male with male, and each man lusting after the wife of his neighbor. (Melito's Homily on the Passover)
Encouraging the homosexual agenda is something that the Bible warns against:
9 The look on their countenance witnesses against them, And they declare their sin as Sodom; They do not hide it. Woe to their soul! For they have brought evil upon themselves. (Isaiah 3:9)

13 The fear of the Lord is to hate evil; Pride and arrogance and the evil way And the perverse mouth I hate. (Proverbs 8:13)

18 Pride goes before destruction, And a haughty spirit before a fall. (Proverbs 16:18)

7 as Sodom and Gomorrah, and the cities around them in a similar manner to these, having given themselves over to sexual immorality and gone after strange flesh, are set forth as an example, suffering the vengeance of eternal fire. (Jude 7)

6…the cities of Sodom and Gomorrah into ashes, condemned them to destruction, making them an example to those who afterward would live ungodly (2 Peter 2:6)
So the Bible shows that Sodom was destroyed for many things including its pride and the committing of abominations. Homosexuality is an abomination. Sodom and Gomorrah were turned into ashes making them an example. (More wrong arguments from Protestant leaders are also dealt with in the video sermon: What Does the Bible Really Teach about Homosexuality?).
No one should be ignoring the warnings of the Bible. No one should be pushing the homosexual agenda. Yet, many in the West, judges included, foolishly are–and this will be to their peril.
Some items of possibly related interest may include:
The Bible Condemns Homosexuality "Same-sex marriage" for "gays" and lesbians is becoming more acceptable to many. What does the Bible teach about homosexuality? Can homosexuals change? A sermon of related interest is titled What Does the Bible Really Teach about Homosexuality?
Cross-dressing and other assaults against your children. What should you do? Is there an agenda to turn your children and/or grandchildren away from biblical morality and towards practices promoted by homosexuals? What does the Bible teach about cross-dressing? What should parents do? If there is an agenda, what has been going on? There is also a YouTube video on this, titled Cross dressing and Other Assaults Against Your Children.
Weather Blessings and Sorrows Are weather problems a warning? What should be done? What does the Bible teach about weather? What about floods, droughts, heat, earthquakes, tornadoes, and solar storms? Here is a related YouTube video Does God Use Weather? ; another is Hurricanes and Prophecy. A weather article in the Spanish language would be Bendiciones y maldiciones del clima.
Love, Marriage, and Sex It is important to get them in the right order.
Hope of Salvation: How the Continuing Church of God differs from most Protestants How the real Church of God differs from mainstream/traditional Protestants, is perhaps the question I am asked most by those without a Church of God background. As far as some changes affecting Protestantism, watch the video Charismatic Kenneth Copeland and Anglican Tony Palmer: Protestants Beware! [Português: Esperança do salvação: Como a igreja do deus difere da maioria de protestantes]. A sermon is also available: How Does the Church of God Differ from Protestantism?
Abortion, the Bible, and a Woman's Right to Choose Do you know what the Bible teaches on this? Has the Roman Catholic Church allowed abortions? What about the real Church of God? Some may also, or instead, wish to view the YouTube video Abortion, the Bible, and US Debt.
Pornography: A scourge on society Is pornography harmless fun? Does the Bible teach anything about it? What are the views of some involved with it? Here is a link to a YouTube video Pornography: Harmless Fun or a Scourge on Society?
British and American Moral Decay Public nudity is becoming more prevalent in the Anglo-Saxon lands. What are some of the consequences?
Can those in the USA/UK see the Handwriting on the Wall? Is everything fine in the USA/UK or is it like the days of Noah? Can we learn from the handwriting that appeared on a wall thousands of years ago? Here is a link to a related YouTube video Can you see the 'Handwriting on the Wall'?
Anglo – America in Prophecy & the Lost Tribes of Israel Are the Americans, Canadians, English, Scottish, Welsh, Australians, Anglo-Saxon (non-Dutch) Southern Africans, and New Zealanders descendants of Joseph? Where are the lost ten-tribes of Israel? Who are the lost tribes of Israel? What will happen to Jerusalem and the Jews in Israel? Will God punish the U.S.A., Canada, United Kingdom, and other Anglo-Saxon nations? Why might God allow them to be punished first? Here is a link to the Spanish version of this article: Anglo-América & las Tribus Perdidas de Israel. Information is also in the YouTube sermons titled Where are the Ten Lost Tribes? Why does it matter? and British are the Covenant People.
Will the Anglo-Saxon Nations be Divided and Have People Taken as Slaves? Will the lands of the United States, United Kingdom, Canada, Australia, and New Zealand be divided? What about Jerusalem? What does Bible prophecy teach? Are there non-biblical prophecies that support this idea? Who will divide those lands? Who will end up with the lands and the people? Here is a link to a video titled Will the USA and other Anglo-nations be Divided and Their People Made Slaves? Here is a related item in the Spanish language ¿Serán divididas las naciones anglosajonas?
British are the Covenant People What do 'British' and 'Britain' mean in Hebrew? Are the descendants of the Anglo-Saxons people of the covenant? Does the British royal family connect to the throne of David? What does the Bible teach? What does history show us? Is there any DNA evidence related to British-Israelism? When did Christianity make it to the British Isles? Could Jeremiah have made it to the British Isles? What type of Christians made it to the British Isles? Did the last King of England believe in British Israelism?
When Will the Great Tribulation Begin? 2017, 2018, or 2019? Can the Great Tribulation begin today? What happens before the Great Tribulation in the "beginning of sorrows"? What happens in the Great Tribulation and the Day of the Lord? Is this the time of the Gentiles? When is the earliest that the Great Tribulation can begin? What is the Day of the Lord? Who are the 144,000? Here is a version of the article in the Spanish language: ¿Puede comenzar la Gran Tribulación en 2016 o 2017? ¿Es el Tiempo de los Gentiles? You can also see the English language sermon videos: The Great Tribulation from the Mount of Olives and Can the Great Tribulation begin before 2020? A shorter video is: Will the Great Tribulation Start in 2017?
The Ten Commandments: The Decalogue, Christianity, and the Beast This is a free draft/unedited pdf book explaining the what the Ten Commandments are, where they came from, how early professors of Christ viewed them, and how various ones, including the Beast of Revelation, will oppose them. A related sermon is titled: The Ten Commandments and the Beast of Revelation.