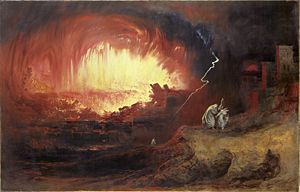 The Destruction of Sodom and Gomorrah
The President of the United States says he supports efforts to stop people from trying to turn youth away from the homosexual/transgender agenda:
April 9, 2015
President Obama is lending support to efforts to end "conversion therapy" that seeks to change the sexual orientation of gay, lesbian, and transgender youth.

Responding to a petition on the White House website calling for a ban on conversion therapy, Obama writes that "tonight, somewhere in America, a young person, let's say a young man, will struggle to fall to sleep, wrestling alone with a secret he's held as long as he can remember. Soon, perhaps, he will decide it's time to let that secret out."

Obama adds: "What happens next depends on him, his family, as well as his friends and his teachers and his community. But it also depends on us — on the kind of society we engender, the kind of future we build."

The White House petition, which has more than 120,000 signatures, calls for enactment of "Leelah's Law to Ban All LGBTQ+ Conversion Therapy." …

The petition says conversion therapies "have been documented to cause great harms and in this case, Leelah's death. Therapists that engage in the attempt to brainwash or reverse any child's gender identity or sexual orientation are seriously unethical and legislation is needed to end such practices."

Also responding to the petition, White House senior adviser Valerie Jarrett writes that "we share your concern about its potentially devastating effects on the lives of transgender as well as gay, lesbian, bisexual, and queer youth." …

"The White House says lawmakers in 18 states have introduced legislation similar to measures already in place in California, New Jersey and Washington, D.C., banning licensed professionals from using conversion therapy on minors. http://www.usatoday.com/story/theoval/2015/04/09/obama-conversion-therapy-white-house-petition-leelah-alcorn/25505091/

April 8, 2015

WASHINGTON — A 17-year-old transgender youth, Leelah Alcorn, stunned her friends and a vast Internet audience in December when she threw herself in front of a tractor-trailer after writing in an online suicide note that religious therapists had tried to convert her back to being a boy.

In response, President Obama is calling for an end to such therapies aimed at "repairing" gay, lesbian and transgender youth. His decision on the issue is the latest example of his continuing embrace of gay rights.

In a statement that was posted on Wednesday evening alongside a WhiteHouse.gov petition begun in honor of Ms. Alcorn, Mr. Obama condemned the practice, sometimes called "conversion" or "reparative" therapy, which is supported by some socially conservative organizations and religious doctors. …

Mr. Obama began his political life opposed to gay marriage and accepting of limits on gays' serving in the military. But he now supports same-sex marriage and has sought greater equality of treatment for gay men and lesbians in the government and the private work force. In his first term, he pushed the Pentagon to end the "don't ask, don't tell" policy that had kept gay service members from serving openly. …

Officials also announced the creation of an "all-gender restroom" in the Eisenhower Executive Office Building, where many of the White House staff members work, to provide an additional option for transgender individuals who are not comfortable using either the men's or women's restrooms. http://www.nytimes.com/2015/04/09/us/politics/obama-to-call-for-end-to-conversion-therapies-for-gay-and-transgender-youth.html?_r=0
The homosexual agenda continues to get more and more political support.
Note also that some are claiming it is "unethical" to attempt to counsel towards biblical ethics.
The Bible warns:
20 Woe to those who call evil good, and good evil;
Who put darkness for light, and light for darkness;
Who put bitter for sweet, and sweet for bitter!

21 Woe to those who are wise in their own eyes,
And prudent in their own sight! (Isaiah 5:20-21)
By calling attempts to convert youth away from sinful behavior "unethical," many leaders in the USA are calling good evil and evil good.
Notice something that the Apostle Paul wrote that was quoted by Polycarp of Smyrna:
Knowing, then, that "God is not mocked," we ought to walk worthy of His commandment and glory …For it is well that they should be cut off from the lusts that are in the world, since "every lust warreth against the spirit; " and "neither fornicators, nor effeminate, nor abusers of themselves with mankind, shall inherit the kingdom of God," nor those who do things inconsistent and unbecoming (Polycarp. Letter to the Philippians, Chapter V. From Ante-Nicene Fathers, Volume 1as edited by Alexander Roberts & James Donaldson. American Edition, 1885).
Notice a slightly longer version of the quote from the Apostle Paul's writings:
9 Or do you not know that the unrighteous will not inherit the kingdom of God? Do not be deceived; neither fornicators, nor idolaters, nor adulterers, nor effeminate, nor homosexuals,  10 nor thieves, nor the covetous, nor drunkards, nor revilers, nor swindlers, will inherit the kingdom of God.  11 Such were some of you; but you were washed, but you were sanctified, but you were justified in the name of the Lord Jesus Christ and in the Spirit of our God. (1 Corinthians 6:9-11, New American Standard Bible)
Notice that the Apostle Paul teaches that homosexuals, the effeminate, and those with other sexual sins can change.  The US President and many others are not only taking the opposite approach, they want to make it illegal to attempt to help confused youth who have fallen into various sins.  This does not bode well for the USA:
25 They traded the truth about God for a lie. So they worshiped and served the things God created instead of the Creator himself, who is worthy of eternal praise! Amen. 26 That is why God abandoned them to their shameful desires. Even the women turned against the natural way to have sex and instead indulged in sex with each other. 27 And the men, instead of having normal sexual relations with women, burned with lust for each other. Men did shameful things with other men, and as a result of this sin, they suffered within themselves the penalty they deserved.

28 Since they thought it foolish to acknowledge God, he abandoned them to their foolish thinking and let them do things that should never be done. 29 Their lives became full of every kind of wickedness, sin, greed, hate, envy, murder, quarreling, deception, malicious behavior, and gossip. 30 They are backstabbers, haters of God, insolent, proud, and boastful. They invent new ways of sinning, and they disobey their parents. 31 They refuse to understand, break their promises, are heartless, and have no mercy. 32 They know God's justice requires that those who do these things deserve to die, yet they do them anyway. Worse yet, they encourage others to do them, too. (Romans 1:18-32, New Living Translation)
Notice also the last verse above from a different translation:
32 Who having understood the righteousness of God, they did not understand that those who do such things are worthy of death, not only those that do the same, but even those who encourage those that do them. (Romans 1:32, Jubilee Bible 2000).
It not just those who practice homosexuality, lesbianism, and other forms of sexual immorality that the Bible condemns, but also those that approve such actions.  It is abominable that more and more US government officials not only approve of these behaviors, but that they also want to make it illegal to help those who sin this way.
Consider also the following prophecy:
12 As for My people, children are their oppressors, And women rule over them. O My people! Those who lead you cause you to err, And destroy the way of your paths." (Isaiah 3:12)
The USA is rapidly turning more and more away from biblical morality and will reap what it sows (Galatians 6:8).
The Bible tells of an early event that occurred in the towns of Sodom and Gomorrah between three thousand and four thousand years ago:
24 Then the Lord rained brimstone and fire on Sodom and Gomorrah, from the Lord out of the heavens. 25 So He overthrew those cities, all the plain, all the inhabitants of the cities, and what grew on the ground. (Genesis 19:24-25)
And why did it happen?
7 as Sodom and Gomorrah, and the cities around them in a similar manner to these, having given themselves over to sexual immorality and gone after strange flesh, are set forth as an example, suffering the vengeance of eternal fire. (Jude 7)
Homosexuality is a form of sexual immorality that involves going after "strange flesh."
Why mention this in the 21st century?
Because God turned:
6…the cities of Sodom and Gomorrah into ashes, condemned them to destruction, making them an example to those who afterward would live ungodly (2 Peter 2:6)
Thus, the destruction of Sodom and Gomorrah were to serve as an example to those who would live as they did. Yet despite biblical warnings, many modern leaders are endorsing so-called homosexual "rights" and "same-sex marriage." The Bible, however, warns about such leaders:
12…Those who lead you cause you to err, And destroy the way of your paths. (Isaiah 3:12)

16 For the leaders of this people cause them to err, And those who are led by them are destroyed (Isaiah 9:16).
So, leaders that ignore what the Bible teaches are leading others toward destruction.
Of course, not everyone in Sodom and Gomorrah were homosexuals as those that strictly practice that could not reproduce. Yet, notice that the destruction that hit their cities destroyed all that were there.
Destruction is coming to the USA (cf. Daniel 11:39; Habakkuk 2:6-8).  Do not put your faith in political leaders that will not urge repentance.
No one should be ignoring the warnings of the Bible. No one should be pushing the homosexual agenda. Yet, many leaders in the U.S.A. foolishly are–and this will be not only to their peril, but to the peril of the nation.
Some items of possibly related interest may include:
The Bible Condemns Homosexuality "Same-sex marriage" for "gays" and lesbians is becoming more acceptable to many. What does the Bible teach about homosexuality? Can homosexuals change?
Cross-dressing and other assaults against your children. What should you do? Is there an agenda to turn your children and/or grandchildren away from biblical morality and towards practices promoted by homosexuals? What does the Bible teach about cross-dressing? What should parents do? If there is an agenda, what has been going on? There is also a YouTube video on this, titled Cross dressing and Other Assaults Against Your Children.
Making Your Marriage Work Marriage is not also easy, but it pictures a divine relationship. How can you make your marriage work? Here is a link to the video sermon: You Can Make YOUR Marriage Work.
Weather Blessings and Sorrows Are weather problems a warning? Could odd weather have anything to do with the homosexual agenda? What should be done? What does the Bible teach about weather? What about floods, droughts, heat, earthquakes, tornadoes, and solar storms? Here is a related YouTube video Does God Use Weather? A related item in the Spanish language would be Bendiciones y maldiciones del clima.
Love, Marriage, and Sex It is important to get them in the right order.
Pornography: A scourge on society Is pornography harmless fun? Does the Bible teach anything about it? What are the views of some involved with it? Here is a link to a YouTube video Pornography: Harmless Fun or a Scourge on Society?
British and American Moral Decay Public nudity is becoming more prevalent in the Anglo-Saxon lands. What are some of the consequences?
Can those in the USA/UK see the Handwriting on the Wall? Is everything fine in the USA/UK or is it like the days of Noah? Can we learn from the handwriting that appeared on a wall thousands of years ago? Here is a link to a related YouTube video Can you see the 'Handwriting on the Wall'?
Anglo – America in Prophecy & the Lost Tribes of Israel Are the Americans, Canadians, English, Scottish, Welsh, Australians, Anglo-Saxon (non-Dutch) Southern Africans, and New Zealanders descendants of Joseph? Where are the lost ten-tribes of Israel? Who are the lost tribes of Israel? What will happen to Jerusalem and the Jews in Israel? Will God punish the U.S.A., Canada, United Kingdom, and other Anglo-Saxon nations? Why might God allow them to be punished first? Here is a link to the Spanish version of this article: Anglo-América & las Tribus Perdidas de Israel. Information is also in the YouTube sermons titled Where are the Ten Lost Tribes? Why does it matter? and British are the Covenant People. A short YouTube of prophetic interest may be Barack Obama and the State of the Apocalypse.
Will the Anglo-Saxon Nations be Divided and Have People Taken as Slaves? Will the lands of the United States, United Kingdom, Canada, Australia, and New Zealand be divided? What about Jerusalem? What does Bible prophecy teach? Are there non-biblical prophecies that support this idea? Who will divide those lands? Who will end up with the lands and the people? Here is a link to a video titled Will the USA and other Anglo-nations be Divided and Their People Made Slaves? Here is a related item in the Spanish language ¿Serán divididas las naciones anglosajonas?
British are the Covenant People What do 'British' and 'Britain' mean in Hebrew? Are the descendants of the Anglo-Saxons people of the covenant? Does the British royal family connect to the throne of David? What does the Bible teach? What does history show us? Is there any DNA evidence related to British-Israelism? When did Christianity make it to the British Isles? Could Jeremiah have made it to the British Isles? What type of Christians made it to the British Isles? Did the last King of England believe in British Israelism?
When Will the Great Tribulation Begin? 2015, 2016, or 2017? Can the Great Tribulation begin today? What happens before the Great Tribulation in the "beginning of sorrows"? What happens in the Great Tribulation and the Day of the Lord? Is this the time of the Gentiles? When is the earliest that the Great Tribulation can begin? What is the Day of the Lord? Who are the 144,000? Here is a version of the article in the Spanish language: ¿Puede comenzar la Gran Tribulación en 2014 o 2015? ¿Es el Tiempo de los Gentiles? You can also see the English language sermon video: The Great Tribulation from the Mount of Olives.
Barack Obama, Prophecy, and the Destruction of the United States-Second Edition for Second Obama Term This is a 160 page book for people truly interested in prophecies related to Barack Obama and the United States, including learning about many that have already been fulfilled (which the book documents in detail) and those that will be fulfilled in the future. It also has a chapter about a Republican choice. This book is available to order at www.barackobamaprophecy.com. The physical book can also be purchased at Amazon from the following link: Barack Obama, Prophecy, and the Destruction of the United States: Is Barack Obama Fulfilling Biblical, Islamic Catholic, Kenyan, and other America-Related Prophecies? What About Republican Leaders? Second Edition for Second Obama Term.
Barack Obama, Prophecy, and the Destruction of the United States-Second Term-Amazon Kindle edition. This electronic version is available for only US$2.99. And you do not need an actual Kindle device to read it. Why? Amazon will allow you to download it to almost any device: Please click HERE to download one of Amazon s Free Reader Apps. After you go to for your free Kindle reader and then go to Barack Obama, Prophecy, and the Destruction of the United States-Second Term-Amazon Kindle edition.