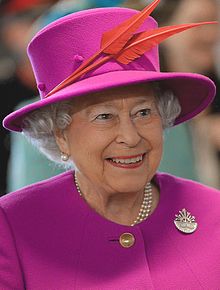 Queen Elizabeth II (Ministry of Defence photo)

Queen Elizabeth II is believed to have broken the record for being the UK's longest reigning monarch:
Queen Elizabeth II becomes longest-reigning UK monarch

September 9, 2015

The Queen has thanked well-wishers at home and overseas for their "touching messages of kindness" as she becomes Britain's longest-reigning monarch.

Speaking in the Scottish Borders, the 89-year-old monarch said the title was "not one to which I have ever aspired".

The Queen will have reigned for 63 years and seven months – calculated at 23,226 days, 16 hours and approximately 30 minutes at about 17:30 BST.

David Cameron said the service she had given was "truly humbling". …

Victoria became queen at 18, while Elizabeth was 25
Elizabeth II rides in the same coach as Victoria did for the annual State Opening of Parliament
Both queens were shot at by a lone gunman while out riding near Buckingham Palace
Elizabeth loves the private royal estate at Balmoral, which was bought by Victoria
Victoria ruled over an empire of 400 million people. Elizabeth is head of state for 138 million people

Queen Victoria became queen at the age of 18 and ruled for 63 years, seven months and two days.

Queen Elizabeth's reign has included 12 prime ministers, two more than served under Victoria. http://www.bbc.com/news/uk-34177107
Of course, in Queen Victoria's day, the monarch reigned as a monarch.  Queen Elizabeth II has mainly reigned ceremonially, with little actual reigning.  But perhaps I should mention that Queen Elizabeth II, like the late Queen Victoria, holds the titled of 'Supreme Governor' of the Church of England.
As far as being humbled for the length of her reign, she has lived over a time when the British Empire basically dissolved (much of which happened after she was born, but before she took office).  There are nations still in the Commonwealth, however, that she has some limited influence in.
Yet, when Queen Elizabeth had an opportunity to take a moral stand against aspects of the homosexual agenda, she refused (see Queen allegedly ready to allow "gay rights").  Instead she endorsed something that essentially was interpreted as condoning homosexual marriage and the lifting of the bans on homosexuality when she signed the new Charter of the Commonwealth on March 11, 2013.  Instead of going along with these moves, she should have exercised moral leadership and opposed them.
Here is something else about that:
March 11, 2013

And according to a Palace spokesman, the charter's words are not even the monarch's: "In this charter, the Queen is endorsing a decision taken by the Commonwealth… The Queen does not take a personal view on these issues. The Queen's position is apolitical." http://www.theguardian.com/commentisfree/2013/mar/11/queen-gay-rights-commonwealth
The Queen should have refused to sign.
The Bible teaches:
7 Do not withhold good from those to whom it is due, When it is in the power of your hand to do so. (Proverbs 3:27)

10 If you faint in the day of adversity,  Your strength is small.  11 Deliver those who are drawn toward death, And hold back those stumbling to the slaughter. (Proverbs 24:10-11)
Queen Elizabeth II failed to do that when she had a chance as Head of the Commonwealth.
That will not end well for the UK, Australia, Canada, and even New Zealand (which has a more distant relationship to the Commonwealth, but took the wrong position about homosexual marriage).
The Bible warns the following related to females:
12 As for My people, children are their oppressors, And women rule over them. O My people! Those who lead you cause you to err, And destroy the way of your paths. (Isaiah 3:12)
Just because Queen Elizabeth has a generally positive public persona, this does not mean that she lead properly when she had a chance.
The Bible warns against those that support homosexuality and other forms of sexual immorality:
22 Professing to be wise, they became fools, 23 and changed the glory of the incorruptible God into an image made like corruptible man — and birds and four-footed animals and creeping things.

24 Therefore God also gave them up to uncleanness, in the lusts of their hearts, to dishonor their bodies among themselves, 25 who exchanged the truth of God for the lie, and worshiped and served the creature rather than the Creator, who is blessed forever. Amen.

26 For this reason God gave them up to vile passions. For even their women exchanged the natural use for what is against nature. 27 Likewise also the men, leaving the natural use of the woman, burned in their lust for one another, men with men committing what is shameful, and receiving in themselves the penalty of their error which was due.

28 And even as they did not like to retain God in their knowledge, God gave them over to a debased mind, to do those things which are not fitting; 29 being filled with all unrighteousness, sexual immorality, wickedness, covetousness, maliciousness; full of envy, murder, strife, deceit, evil-mindedness; they are whisperers, 30 backbiters, haters of God, violent, proud, boasters, inventors of evil things, disobedient to parents, 31 undiscerning, untrustworthy, unloving, unforgiving, unmerciful; 32 who, knowing the righteous judgment of God, that those who practice such things are deserving of death, not only do the same but also approve of those who practice them. (Romans 1:22-32)
While Queen Elizabeth II has tended to act as a dignified monarch, she has not been properly discerning concerning the homosexual agenda.  Furthermore, and sadly, many in her Royal Family have been involved in a variety of sexual and other scandals (e.g. British and American Moral Decay).
Notice also the following:
35 Thus every one of you shall say to his neighbor, and every one to his brother, 'What has the Lord answered?' and, 'What has the Lord spoken?' 36 And the oracle of the Lord you shall mention no more. For every man's word will be his oracle, for you have perverted the words of the living God, the Lord of hosts, our God. 37 Thus you shall say to the prophet, 'What has the Lord answered you?' and, 'What has the Lord spoken?' 38 But since you say, 'The oracle of the Lord!' therefore thus says the Lord: 'Because you say this word, "The oracle of the Lord!" and I have sent to you, saying, "Do not say, 'The oracle of the Lord!'" 39 therefore behold, I, even I, will utterly forget you and forsake you, and the city that I gave you and your fathers, and will cast you out of My presence. 40 And I will bring an everlasting reproach upon you, and a perpetual shame, which shall not be forgotten.'"  (Jeremiah 23:35-40)
Because many will not heed the clear prophetic word, it will lead to shame.  That will be one of the results of the Queen's support of the homosexual agenda.
The UK needs national repentance, otherwise it is doomed–Bible prophecy shows that it will have trouble (Jeremiah 30:7).  It will also be taken over because of its immorality (Jude 6-7; Hosea 4:6-9; 2 Chronicles 28:19) and debts (Ezekiel 22:13-15; Habakkuk 2:6-8).
The Bible also says that most people will NOT believe that even if it were told to them:
5 "Look among the nations and watch —
Be utterly astounded!
For I will work a work in your days
Which you would not believe, though it were told you.
6 For indeed I am raising up the Chaldeans,
A bitter and hasty nation
Which marches through the breadth of the earth,
To possess dwelling places that are not theirs. (Habakkuk 1:5-6)
While people will not believe it, the UK (along with the USA and its Anglo-Saxon descended allies) will be destroyed. Habakkuk also warned that the time will come when people should run as the prophecies for what will happen are so severe (Habakkuk 2:2-3). While we are NOT yet at that time (cf. Matthew 24:6), we are getting closer.
It is almost impossible to believe that the next UK monarch would call for meaningful repentance before the UK is hit with more massive problems. The USA needs the return of Jesus Christ and the Kingdom of God.
I have long wondered if a member of the British Royal family survives part of the Great Tribulation, that he/she might partially fulfill the following verses in the Bible in trying to get help from the Assyrians (modern Germany with its allies) after they have destroyed the U.S.A. and its Anglo-Allies:
1 "Ephraim also is like a silly dove, without sense–They call to Egypt, They go to Assyria. 12 Wherever they go, I will spread My net on them; I will bring them down like birds of the air;  I will chastise them According to what their congregation has heard (Hosea 7:11-12).

8 Israel is swallowed up; Now they are among the Gentiles  Like a vessel in which is no pleasure. 9 For they have gone up to Assyria, Like a wild donkey alone by itself; Ephraim has hired lovers (Hosea 8:8-9).

1 Ephraim feeds on the wind, And pursues the east wind; He daily increases lies and desolation. Also they make a covenant with the Assyrians, And oil is carried to Egypt (Hosea 12:1).
We will see if the Royal Family is involved in fulling any of those prophecies.
Irrespective of those, I do believe that there remain prophetic ramifications related to the 'British' Royal Family.
Notice something from two late Church of God leaders:
God made a remarkable promise to King David of ancient Israel. Speaking through Nathan the prophet, God told David: "When your days are fulfilled and you rest with your fathers, I will set up your seed after you, who will come from your body, and I will establish his kingdom. He shall build a house for My name, and I will establish the throne of his kingdom forever. I will be his Father, and he shall be My son. If he commits iniquity, I will chasten him with the rod of men and with the blows of the sons of men. But My mercy shall not depart from him, as I took it from Saul, whom I removed from before you. And your house and your kingdom shall be established forever before you. Your throne shall be established forever" (2 Samuel 7:12–16).

God explained to David that while he might punish his descendants for their sins, he would not remove the kingdom from their line as he had done with Saul. What happened to that line of kings? History records that King Zedekiah, a descendant of David, was the last king to sit upon the throne of Judah in Jerusalem. In 586bc Nebuchadnezzar of Babylon took Zedekiah captive to Babylon, burned the temple, and destroyed the city of Jerusalem. Notice the statement in 2 Kings 25:7: "Then they killed the sons of Zedekiah before his eyes, put out the eyes of Zedekiah… and took him to Babylon."

Did God's promise to David fail?

For the rest of the story, notice the prophecy that God inspired Ezekiel to record in Ezekiel 17. It starts out by posing a riddle that describes an eagle coming to a large cedar tree and cropping off the topmost branch. This small branch was taken to the "city of merchants" (v. 4). What is this riddle describing? Verse 12 tells us: "Say now to the rebellious house: Do you not know what these things mean? Tell them, Indeed the king of Babylon went to Jerusalem and took its king and princes, and led them with him to Babylon."

That is not the end of the story, however. God went on to tell Ezekiel in verses 22 and 23: "I will take also one of the highest branches of the high cedar and set it out. I will crop off from the topmost of its young twigs a tender one, and will plant it on a high and prominent mountain. On the mountain height of Israel I will plant it; and it will bring forth boughs, and bear fruit, and be a majestic cedar. Under it will dwell birds of every sort; in the shadow of its branches they will dwell."

We have already seen that the "top branch" of the cedar symbolized Judah's last king, Zedekiah. A twig coming out from that branch would be one of his children. As we have also seen, his sons were killed. This "tender" twig must clearly refer to one of his daughters! God talks of her being taken to a high mountain (used in Bible prophecy to symbolize a nation) where she would be "planted" and would grow into a great tree. This shows that she would marry and produce offspring and that the dynasty would continue! Also note, while David's line had been reigning over Judah, it would now be "replanted" ruling over Israel.

Irish history records the remainder of this story. It tells of the prophet Jeremiah and his scribe Baruch coming to Ireland after the fall of Judah with a young princess and the coronation stone, called in Gaelic lia fail. In ancient Irish records, the princess was named Tea Tephi. She married the son of the High King of Ireland. Their descendants reigned from Tara in Ireland for many centuries. Later, in the days of Kenneth McAlpine, they transferred their place of rule to Scone in Scotland. This same dynasty continues on down to today in the person of Queen Elizabeth II, a direct descendant of Tea Tephi and her husband. God has fulfilled his promises to King David just as He said! (Ogwyn J. The United States and Great Britain in Prophecy.  Charlotte, 2006)

David's Dynasty Forever

David succeeded Saul.  David sat on the Eternal's throne.  David's son Solomon succeeded him, also sitting on the Eternal's throne.  "Then Solomon sat on the throne of the Eternal as king instead of David his father" (I Chron. 29:23; see also II Chron. 9:8).

I wish here to impress another special point.  Before Saul, the Eternal had been King over Israel.  These human kings were sitting upon the Eternal's throne.  The Eternal – "LORD" – is Jesus Christ who was with the Father before the world was (John 17:5 and 1:1-2, 14).  Jesus is both the "root" and the "offspring" of David (Rev. 22:16).  Since He was the "root," the throne was His before David was born.  David merely sat upon the Eternal's throne.  Secondly, since Jesus was David's lawful fleshly Son, this same throne shall once more become His right by inheritance, continuing David's dynasty.  And so, when Christ returns to earth, David's throne will be doubly His right!

Now we come to a seemingly incredible fact – fantastic – almost unbelievable, but true!  While David was king, God made with him a perpetual covenant, unconditionally, which God cannot and will not break!  This covenant is even more amazing, and less understood, than the unconditional covenant with Abraham!

I want you now to plant firmly in mind the specific nature and character of the covenant the Almighty made with David.  For it is a vital link in the purpose and mission of Christ – an important KEY to Bible understanding!

In II Samuel 23:1, 5, we find: "Now these be the last words of David . . . . God . . . hath made with me an everlasting covenant, ordered in all things, and sure."  In other words, a covenant that shall endure forever and cannot fail! (Armstrong HW. The United States and Britain in Prophecy. WCG booklet)
Jesus is to return to become King of Kings (Revelation 17:14).  The British Royal Family should strive to stand for biblical morality, not endorse the wrong direction the world is heading in.
Several items of possibly related interest may include:
Anglo – America in Prophecy & the Lost Tribes of Israel Are the Americans, Canadians, English, Scottish, Welsh, Australians, Anglo-Saxon (non-Dutch) Southern Africans, and New Zealanders descendants of Joseph? Where are the lost ten-tribes of Israel? Who are the lost tribes of Israel? What will happen to Jerusalem and the Jews in Israel? Will God punish the U.S.A., Canada, United Kingdom, and other Anglo-Saxon nations? Why might God allow them to be punished first? Here is a link to the Spanish version of this article: Anglo-América & las Tribus Perdidas de Israel. Information is also in the YouTube sermons titled Where are the Ten Lost Tribes? Why does it matter? and British are the Covenant People. A short YouTube of prophetic interest may be Barack Obama and the State of the Apocalypse.
Will the Anglo-Saxon Nations be Divided and Have People Taken as Slaves? Will the lands of the United States, United Kingdom, Canada, Australia, and New Zealand be divided? What about Jerusalem? What does Bible prophecy teach? Are there non-biblical prophecies that support this idea? Who will divide those lands? Who will end up with the lands and the people? Here is a link to a video titled Will the USA and other Anglo-nations be Divided and Their People Made Slaves? Here is a related item in the Spanish language ¿Serán divididas las naciones anglosajonas?
British are the Covenant People What do 'British' and 'Britain' mean in Hebrew? Are the descendants of the Anglo-Saxons people of the covenant? Does the British royal family connect to the throne of David? What does the Bible teach? What does history show us? Is there any DNA evidence related to British-Israelism? When did Christianity make it to the British Isles? Could Jeremiah have made it to the British Isles? What type of Christians made it to the British Isles? Did the last King of England believe in British Israelism?
British and American Moral Decay Public nudity is becoming more prevalent in the Anglo-Saxon lands. What are some of the consequences?
Should a Christian Vote? This article gives some of the Biblical rationale on this subject. Would Jesus vote for president/prime minister? Is voting in the Bible? This is a subject Christians need to understand.
When Will the Great Tribulation Begin? 2015, 2016, or 2017? Can the Great Tribulation begin today? What happens before the Great Tribulation in the "beginning of sorrows"? What happens in the Great Tribulation and the Day of the Lord? Is this the time of the Gentiles? When is the earliest that the Great Tribulation can begin? What is the Day of the Lord? Who are the 144,000? Here is a version of the article in the Spanish language: ¿Puede comenzar la Gran Tribulación en 2014 o 2015? ¿Es el Tiempo de los Gentiles? You can also see the English language sermon video: The Great Tribulation from the Mount of Olives.
Can you see the 'Handwriting on the Wall'? Thousands of years ago, King Belshazzar saw a hand appear at a big party he was hosting. The hand wrote Mene, Mene, Tekel, Upharsin. Shortly after the Prophet Daniel explained it, his empire was taken over and King Belshazzar died. Is this applicable today? Are there signs right before our eyes that show that the end is coming to the United States and its Anglo-descended allies. Do abortions, sexual immorality, celebrity pornography, and increased debt mean anything? What does the Bible show?
Pornography: A scourge on society Is pornography harmless fun? Does the Bible teach anything about it? What are the views of some involved with it? Here is a link to a YouTube video Pornography: Harmless Fun or a Scourge on Society?
Cross-dressing and other assaults against your children. What should you do? Is there an agenda to turn your children and/or grandchildren away from biblical morality and towards practices promoted by homosexuals? What does the Bible teach about cross-dressing? What should parents do? If there is an agenda, what has been going on? There is also a YouTube video on this, titled Cross dressing and Other Assaults Against Your Children.
The Bible Condemns Homosexuality "Same-sex marriage" for "gays" and lesbians is becoming more acceptable to many. What does the Bible teach about homosexuality?  Can homosexuals change? A related video sermon is titled What Does the Bible Really Teach about Homosexuality?
Just What Do You Mean — Repentance? Do you know what repentance is? Have you truly repented? Repented of what? Herbert W. Armstrong wrote this as a booklet on this important subject.
The Gospel of the Kingdom of God was the Emphasis of Jesus and the Early Church Did you know that? Do you even know what the gospel of the kingdom is all about? You can also see a YouTube video sermon The Gospel of the Kingdom.