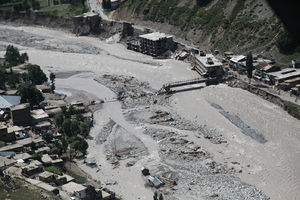 Extreme weather is hitting various parts of the world:
Greece wildfires: 60 dead in holiday area

24 July 2018

At least 60 people have died in wildfires in the Attica region around Athens, in Greece's worst fire disaster in more than a decade.

Flames fanned by strong winds devastated the seaside village of Mati, devouring homes and cars. …

A spokesperson for the International Federation of the Red Cross and Red Crescent Societies, Georgia Trismpioti, told the BBC some people had lost everything.

"The death toll rises every hour, many people lost their loved ones, many people lost their houses, lost everything, and they will need long-term support in order to recover," she said. https://www.bbc.com/news/world-europe-44932366

24 July 2018

Germany's weather service (DWD) issued a heat warning for large parts of Germany on Monday and advised the elderly and sick people to sit in the shade, drink plenty of water and avoid the heat. https://www.dw.com/en/swimmers-warned-against-baltic-sea-as-german-heat-wave-approaches/a-44800814

Extreme weather wallops both coasts with flooding, scorching heat, wildfires

Extreme, potentially dangerous weather is affecting large portions of the U.S. this week, with flooding in the East and heat advisories in effect across the West.

In the East, a powerful coastal storm brought an onslaught of rain that pounded the mid-Atlantic and Northeast, prompting flood watches and warnings from the Carolinas all the way up to New York state. The system is now stalled, lashing parts of Pennsylvania and New York with downpours, CBS News' Tony Dokoupil reports.

Flooding has inundated streets in Pennsylvania, with some people needing to be rescued from their homes. In Schuylkill County, floodwaters turned streets into a fast-moving rivers. The town of Tremont declared a disaster emergency. First responders dove into action, scanning for people in need and making several rescues.

In some areas, cars were covered by rising floodwaters, forcing stalled drivers onto to their own hoods in search of higher ground.

The rain along the East Coast follows a weekend of absolute downpours. The National Weather Service says weather conditions are not going to let up anytime soon, with heavy rain expected through at least the middle of the week.

In the West, temperatures are expected to be even higher Tuesday, making the battle against wildfires in California all the more difficult …

A massive relentless wildfire keeps raging in the California Sierra, threatening hundreds of homes and burning perilously close to Yosemite National Park. More than 3,000 firefighters are confronting winds and high heat. Temperatures on the fire lines are soaring to well over 100 degrees.

It is just the beginning of a heat wave that could bring the summer's hottest temperatures so far to Southern California and Arizona. The temperature hit 120 degrees in Palm Springs and Phoenix may smash its record of 114. By Tuesday, temperatures could hit 117. https://www.cbsnews.com/news/extreme-weather-temperatures-wildfires-flooding-forecast-today-2018-07-23/

Japan declares heatwave a natural disaster

24 July 2018

Japan's weather agency has declared a heatwave sweeping the country a natural disaster, with at least 65 deaths recorded in the past week.

An agency spokesman warned that "unprecedented levels of heat" were being seen in some areas.

More than 22,000 people have been admitted to hospital with heat stroke, nearly half of them elderly, emergency officials say.

The heatwave shows no sign of abating, forecasters say.

On Monday, the city of Kumagaya reported a temperature of 41.1°C, the highest ever recorded in Japan.

In central Tokyo, temperatures over 40° were also registered for the first time.

The Japan Meteorological Agency warned that temperatures of 35° or higher would continue until early August.

"We are observing unprecedented levels of heat in some areas," spokesman Motoaki Takekawa said, adding that the heatwave was "a threat to life and we recognise it as a natural disaster". https://www.radionz.co.nz/news/world/362555/japan-declares-heatwave-a-natural-disaster
Notice also the following:
July 24, 2018

The fires are a "national tragedy" and a "biblical disaster with human losses," Greek Interior Minister Panos Skourletis told Sky News. https://abcnews.go.com/International/biblical-disaster-greek-official-wildfires-killed-50/story?id=56774845

Despite all of the other crazy news that is happening all around the world, the top headlines on Drudge on Monday evening were all about the record heatwave that is currently pummeling the Southwest.  Of course it is always hot during the summer, but the strange weather that we have been witnessing in recent months is unlike anything that we have seen since the Dust Bowl days of the 1930s.  At this moment, almost the entire Southwest is in some stage of drought. http://theeconomiccollapseblog.com/archives/we-are-seeing-heat-and-drought-in-the-southwest-united-states-like-we-havent-seen-since-the-dust-bowl-of-the-1930s
So, we are seeing some extreme weather.
God controls the weather and sometimes provides extreme weather for correction. Notice the following from the old WCG:
The Bible makes plain who is in control of the weather! "Fire and hail, snow and clouds; stormy wind, fulfilling His word" (Ps . 148:8 , RAV).

God intervenes in weather to work out his purposes among nations…

Plagues of disastrous weather are a warning to humanity. Weather for the most part operates according to natural laws. Damaging weather patterns sometimes develop. God simply may not choose to intervene to stop them because of nations' various sins and idolatry.

The Bible reveals God also directly intervenes to cause weather plagues to warn certain nations. "I have smitten you with blasting and mildew . .. yet have ye not returned unto me, saith the Lord" (Amos 4:9). He, in his great purpose, may also allow Satan-the god of this world (II Cor. 4:4)-to have a role in producing calamitous weather, for man's ultimate learning (see Job, chapter 1). (Schroeder D. CHAOTIC WEATHER Return of the dust bowl? Plain Truth. 1984, pp. 19-20)
The Bible repeatedly warns, especially in the Hebrew scriptures, that various sins will result in destructive weather (see Weather Blessings and Sorrows). Weather is not as random as most seem to want to believe.
Back in 2009, in a book that accurately laid out what would and would NOT happen in 2012, I mentioned the following was about to happen:
Considering all of the natural disasters such as earthquakes, floods, food shortages, and economic problems in the past few years, perhaps this would be a good time to explain that the Bible shows that these problems were expected to occur prior to the great tribulation. Those outside the Bible have sometimes referred to a time such as this as a time of transition or chaos. …

There will be a generation that will experience end-time events, beginning with "sorrows," including the Great Tribulation, heavenly signs, and finally the return of Jesus Christ (Matthew 24:5-34). …

Mark recorded the same account of this time from his perspective:

3 Now as He sat on the Mount of Olives opposite the temple, Peter, James, John, and Andrew asked Him privately, 4 "Tell us, when will these things be? And what will be the sign when all these things will be fulfilled?" 5 And Jesus, answering them, began to say: "Take heed that no one deceives you. 6 For many will come in My name, saying, 'I am He,' and will deceive many. 7 But when you hear of wars and rumors of wars, do not be troubled; for such things must happen, but the end is not yet. 8 For nation will rise against nation, and kingdom against kingdom. And there will be earthquakes in various places, and there will be famines and troubles. These are the beginnings of sorrows. 9 But watch out for yourselves, for they will deliver you up to councils, and you will be beaten in the synagogues. You will be brought before rulers and kings for My sake, for a testimony to them. 10 And the gospel must first be preached to all the nations. 11 But when they arrest you and deliver you up, do not worry beforehand, or premeditate what you will speak. But whatever is given you in that hour, speak that; for it is not you who speak, but the Holy Spirit…" (Mark 13:3–11).

Thus, in both Matthew and Mark it is clear that a time called "the beginning of sorrows" precedes the Great Tribulation.

Notice that in Mark's account he uses the term troubles. Troubles would seem to include economic and political problems, in addition to those specifically mentioned, such as wars, famines, natural disasters, and pestilences. …

| | |
| --- | --- |
| Odd weather patterns result in food shortages and natural disasters. | Matthew 24:7 |
| The world is actually in a berserk transition, as the real age of peace is not yet here. It may be a period of chaos. It is the beginning of sorrows. | Matthew 24:8 |

(Thiel B. 2012 and the Rise of the Secret Sect. Nazarene Books, 2009)
The above was published because it was consistent with Bible prophecy. We have been seeing odd weather patterns and the United Nations and others are concerned about related food shortages.
Extreme weather should be a wake-up call to repent.
The warnings from the Bible are going out, but many will ignore them. Will you?
Some items of possibly related interest may include:
Weather Blessings and Sorrows Are weather problems a warning? What should be done? What does the Bible teach about weather? What about floods, droughts, heat, earthquakes, tornadoes, and solar storms? Here is a related YouTube video Does God Use Weather? A related item in the Spanish language would be Bendiciones y maldiciones del clima.
Hurricanes and Prophecy Hurricane Harvey dropped the greatest amount of rainfall in any USA storm. Hurricane Irma was the strongest hurricane ever in the Atlantic. Hurricane Irma wiped out most of the island of Barbuda, caused a million to lose power in Puerto Rico, devastated St. Martin's, hit Cuba, and hit Florida. A news headline stated " 'Nature's gone crazy': Winds, fire, floods and quakes plague North America." Is there any tie to prophecy? Are heavy winds and rains discussed in the Bible? Any ties to homosexuality and other forms of immorality? What about Donald Trump and Jennifer Lawrence? Does God control the weather? What does God want people to do? Dr. Thiel addresses these issues and more. This is a video.
Earthquakes Today and Bible Prophecy Are we having more earthquakes? What did Jesus teach about earthquakes? Is "the big one" coming? When?
The 'Unpardonable Sin' and 'Climate Change'? On September 7, 2016, Olav Fykse Tveit, Church of Norway Pastor, and the General Secretary of the World Council of Churches, essentially declared that those who ignore 'climate change' are committing the 'unpardonable sin' against the Holy Spirit. Are those two even related? In this video, Dr. Thiel answers that and explains from the Bible what the 'unpardonable sin' is and how you can avoid it. He also discusses aspects of Christianity and the environment.
The Bible, Christians, and the Environment How should Christians view the environment? Does the Bible give any clues? What are some of the effects of air, water, and land pollution? Is environmental pollution a factor in autism and death? Do pollutants seem to double the autism risk? What will Jesus do? A YouTube video is available titled Air Pollution, Autism, and Prophecy.
Electrical End of the USA? Could problems with the electrical power grid caused by one or more electro-magnetic pulse bombs, solar flares, and/or other phenomena help weaken the USA to the point of allowing it to be taken over? Does such potential exist? If so, is this consistent with any biblical prophecies? What are some of the severe consequences that the USA would face in the event of a electrical power grid failure? Is there evidence in scripture that the USA will be taken over in the 21st century? Dr. Thiel addresses these issues and more in this video.
Physical Preparation Scriptures for Christians. We all know the Bible prophecies famines. Should we do something? Here is a version in the Spanish language Escrituras sobre Preparación física para los Cristianos. Here is a link to a related sermon: Physical preparedness for Christians.
When Will the Great Tribulation Begin? 2018, 2019, or 2020? Can the Great Tribulation begin today? What happens before the Great Tribulation in the "beginning of sorrows"? What happens in the Great Tribulation and the Day of the Lord? Is this the time of the Gentiles? When is the earliest that the Great Tribulation can begin? What is the Day of the Lord? Who are the 144,000? Here is a version of the article in the Spanish language: ¿Puede comenzar la Gran Tribulación en 2018 o 2019? ¿Es el Tiempo de los Gentiles? You can also see the English language sermon videos: The Great Tribulation from the Mount of Olives and Can the Great Tribulation begin before 2020? A shorter video is: Can the Great Tribulation begin in 2018?
The Plain Truth About Gold in Prophecy. How Should a Christian View Gold? What do economists and the Bible teach about gold? Gold and silver may drop in value. Inflation/deflation? What do Christians need to know about gold? A video of related interest may be: Germany, Gold, and the US Dollar.
Christian Repentance Do you know what repentance is? Is it really necessary for salvation? A related sermon is also available titled: Real Christian Repentance.
Is God Calling You? This is a draft booklet discussing calling, election, and selection. If God is calling you, how will you respond?
Anglo – America in Prophecy & the Lost Tribes of Israel Are the Americans, Canadians, English, Scottish, Welsh, Australians, Anglo-Saxon (non-Dutch) Southern Africans, and New Zealanders descendants of Joseph? Where are the lost ten-tribes of Israel? Who are the lost tribes of Israel? What will happen to Jerusalem and the Jews in Israel? Will God punish the U.S.A., Canada, United Kingdom, and other Anglo-Saxon nations? Why might God allow them to be punished first? Here is a link to the Spanish version of this article: Anglo-América & las Tribus Perdidas de Israel. Information is also in the YouTube sermons titled Where are the Ten Lost Tribes? Why does it matter? and British are the Covenant People. A short YouTube of prophetic interest may be Barack Obama and the State of the Apocalypse.
Will the Anglo-Saxon Nations be Divided and Have People Taken as Slaves? Will the lands of the United States, United Kingdom, Canada, Australia, and New Zealand be divided? What about Jerusalem? What does Bible prophecy teach? Are there non-biblical prophecies that support this idea? Who will divide those lands? Who will end up with the lands and the people? Here is a link to a video titled Will the USA and other Anglo-nations be Divided and Their People Made Slaves? Here is a related item in the Spanish language ¿Serán divididas las naciones anglosajonas?
The Gospel of the Kingdom of God This free online pdf booklet has answers many questions people have about the Gospel of the Kingdom of God and explains why it is the solution to the issues the world is facing. Here are links to three related sermons: The World's False Gospel, The Gospel of the Kingdom: From the New and Old Testaments, and The Kingdom of God is the Solution.
God's Grace is For All Is being Jewish a hindrance to salvation? What about not being a descendant of Israel? What does the Bible really teach? Here is a link to a related sermon titled Race and Grace; Do you view race as God does?