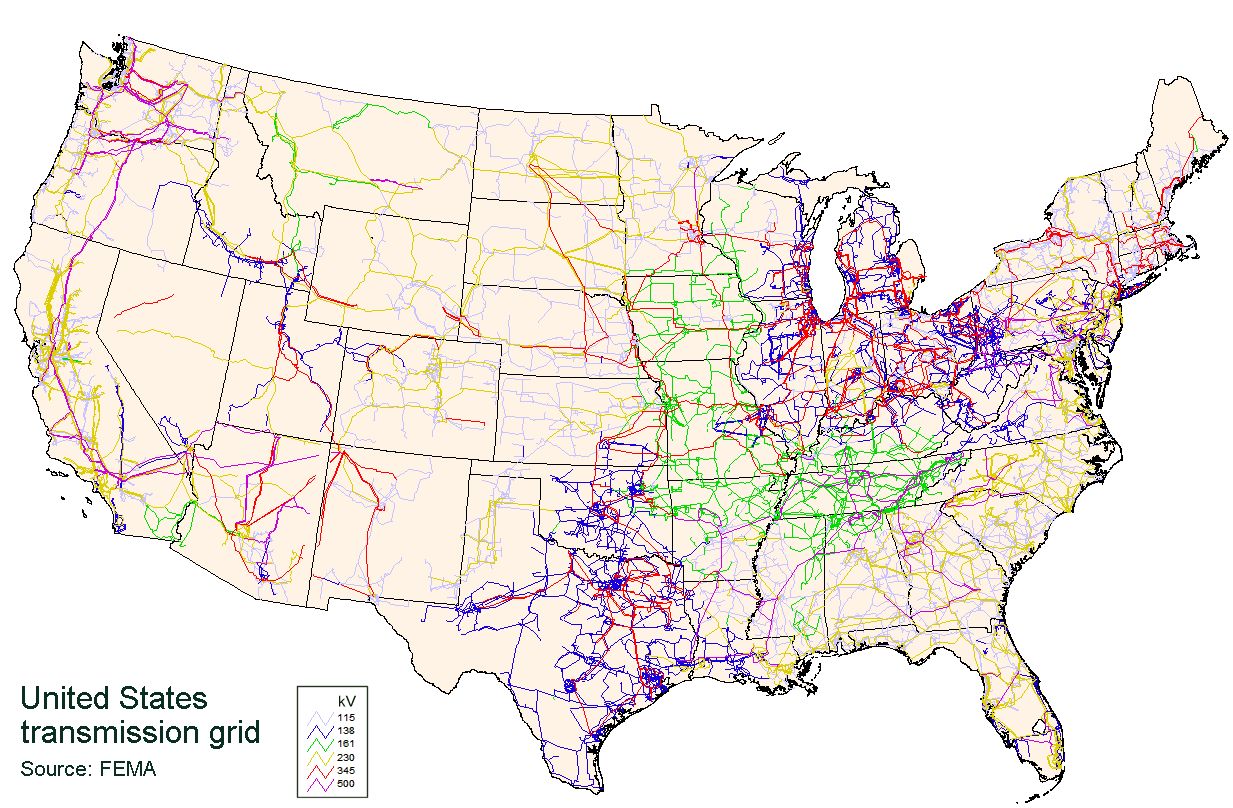 USA electrical power grid

The Islamic Republic of Iran and the Islamic State are believed to be trying to figure out how to interfere with the power grids in the USA in an attempt to stop access to electrical power:
December 21, 2015

SAN JOSE, Calif. (AP) — Security researcher Brian Wallace was on the trail of hackers who had snatched a California university's housing files when he stumbled into a larger nightmare: Cyberattackers had opened a pathway into the networks running the United States power grid.

Digital clues pointed to Iranian hackers. And Wallace found that they had already taken passwords, as well as engineering drawings of dozens of power plants, at least one with the title "Mission Critical." The drawings were so detailed that experts say skilled attackers could have used them, along with other tools and malicious code, to knock out electricity flowing to millions of homes.

Wallace was astonished. But this breach, The Associated Press has found, was not unique.

About a dozen times in the last decade, sophisticated foreign hackers have gained enough remote access to control the operations networks that keep the lights on, according to top experts who spoke only on condition of anonymity due to the sensitive nature of the subject matter.

The public almost never learns the details about these types of attacks – they're rarer but also more intricate and potentially dangerous than data theft. Information about the government's response to these hacks is often protected and sometimes classified; many are never even reported to the government.

These intrusions have not caused the kind of cascading blackouts that are feared by the intelligence community. But so many attackers have stowed away in the systems that run the U.S. electric grid that experts say they likely have the capability to strike at will.

And that's what worries Wallace and other cybersecurity experts most.

"If the geopolitical situation changes and Iran wants to target these facilities, if they have this kind of information it will make it a lot easier," said Robert M. Lee, a former U.S. Air Force cyberwarfare operations officer. "It will also help them stay quiet and stealthy inside."  …

Even the Islamic State group is trying to hack American power companies, a top Homeland Security official told industry executives in October.  http://hosted.ap.org/dynamic/stories/U/US_INFRASTRUCTURE_POWER_GRID_CYBERATTACKS?SITE=AP&SECTION=HOME&TEMPLATE=DEFAULT&CTIME=2015-12-21-03-27-59
The Iranians, Islamic State, and others have realized that since the USA is so dependent upon electrical power, that the USA can be hit hard if its power is gone.  Notice also something I reported this past September:
America unprepared for devastating 'Black Swan'

September 22, 2015

WASHINGTON – Supply-chain disruptions often are the result of adverse weather, unplanned telecom outages, data breaches or even cyber hacking.

However, the one "Black Swan" event that would make these instances pale by comparison and result in a cascading disruption is a natural or man-made electromagnetic pulse event.

A "Black Swan" is an event regarded at the time of its occurrence as unprecedented and unexpected but later, in hindsight, understood to have been inevitable. …

Barrett Moore, a security specialist and founder of the security company Triple Canopy, told WND that federal officials have modeled the effects of a "Black Swan" event on the timely delivery of food, water, fuel, medical care and technology. But they have done it primarily for the government's benefit. …

"Seeing potential for large-scale chaos," Barrett said, "they have mitigated this risk for themselves by investing hundreds of billions of dollars in a continuity-of-government plan that has overseen the construction, equipping and provisioning of over 100 classified 'haven' facilities accessible only to families and staff of government officials," he said.

"No parallel provisions have been made in our country for the general population," he said. …

A natural EMP event would be a direct hit on Earth from a massive solar storm, while a man-made EMP would be a high-altitude nuclear bomb burst instigated by any adversarial country with a nuclear weapon and a missile-delivery system.

Given the level of U.S. unpreparedness, it is estimated that within 12 months of an EMP event, two-thirds to 90 percent of the U.S. population would likely perish from starvation, disease and societal breakdown, according to the Secure the Grid Coalition. …
There are various economic catastrophes including war, famine, and pestilences (Matthew 24:4-8) and troubles (Mark 13:8; Jeremiah 30:7), like debt, will cause a massive catastrophe in the future. And a man-made downing of the electrical power grid through hacking and/or an EMP (electromagnetic pulse) event could be one of the coming troubles as I have warned readers for many years.
An EMP attack could also possibly come from hostile nations, like Iran as it is believed to have that capability.  The Bible warns of a deal between the Europeans and those in the Islam-dominated regions of the Middle East and Africa (Psalm 83:2-8).  Psalm 83:3 discusses taking "crafty counsel," which sounds like encouraging terrorist plots. This could involve bombs, dirty bombs, EMP matters, shootings, interfering with the power supply, demonstrations, civil unrest, riots, chemical warfare, biological warfare, cyber-warfare, electrical interference, and other forms of terrorism.
The USA faces a massive threat from many things that could knock-out its electrical power grid. The USA itself has been developing its own cyber-warfare and EMP technologies), which, of course, also encourages other nations to do so. Plus, the USA is likely to share that technology with Europe.
Jesus taught of a time of "troubles" that would come in Mark 13. While most in the USA act like it will go on indefinitely and cannot truly be brought down, the reality is that electrical, weather, pestilence, and other events can devastate the USA. I believe a combination of 'black swan' events including terrorism, weather issues, debt problems, and crop failures, which are consistent with Jesus' words in Matthew 24:4-8, etc. will hit the USA and make it vulnerable to its prophesied takeover (cf. Daniel 11:39).
Are you ready spiritually to deal with what can happen in the USA? Even if you do not live in the USA, consider how its devastation could affect you and the country you are currently living in.
Some items of possibly related interest may include:
Anglo – America in Prophecy & the Lost Tribes of Israel Are the Americans, Canadians, English, Scottish, Welsh, Australians, Anglo-Saxon (non-Dutch) Southern Africans, and New Zealanders descendants of Joseph? Where are the lost ten-tribes of Israel? Who are the lost tribes of Israel? What will happen to Jerusalem and the Jews in Israel? Will God punish the U.S.A., Canada, United Kingdom, and other Anglo-Saxon nations? Why might God allow them to be punished first? Here is a link to the Spanish version of this article: Anglo-América & las Tribus Perdidas de Israel. Information is also in the YouTube sermons titled Where are the Ten Lost Tribes? Why does it matter? and British are the Covenant People. A short YouTube of prophetic interest may be Barack Obama and the State of the Apocalypse.
Why Terrorism? Is Terrorism Prophesied? What does the Bible teach? Which nations may be affected? Here is a link to a related sermon: Terrorism, Christianity, and Islam.
Differences Between Islam and the Continuing Church of God What are some of the main differences? Are there any similarities? A video of related interest is titled: Islam: Any Christian Concerns or Similarities?
Will the Anglo-Saxon Nations be Divided and Have People Taken as Slaves? Will the lands of the United States, United Kingdom, Canada, Australia, and New Zealand be divided? What about Jerusalem? What does Bible prophecy teach? Are there non-biblical prophecies that support this idea? Who will divide those lands? Who will end up with the lands and the people? Here is a link to a video titled Will the USA and other Anglo-nations be Divided and Their People Made Slaves? Here is a related item in the Spanish language ¿Serán divididas las naciones anglosajonas?
Iran in Prophecy Is Iran in Bible prophecy? If so, what does the Bible teach? What names, other than Persia, may be used to describe Iran? There is also a YouTube video titled Iran in Prophecy. Here is a related video Iran In Prophecy.
Europa, the Beast, and Revelation Where did Europe get its name? What might Europe have to do with the Book of Revelation? What about "the Beast"? Is an emerging European power "the daughter of Babylon"? What is ahead for Europe? Here is a link to a video titled: Can You Prove that the Beast to Come is European?
European Technology and the Beast of Revelation Will the coming European Beast power would use and develop technology that will result in the taking over of the USA and its Anglo-Saxon allies? Is this possible? What does the Bible teach? Here is a related YouTube video: Military Technology and the Beast of Revelation.
Hillary Clinton, Prophecy, and the Destruction of the United States-Amazon Kindle edition. This electronic version of the 188 page print edition is available for only US$3.99. And you do not need an actual Kindle device to read it. Why? Amazon will allow you to download it to almost any device: Please click HERE to download one of Amazon s Free Reader Apps. After you go to for your free Kindle reader and then go to Hillary Clinton, Prophecy, and the Destruction of the United States-Amazon Kindle edition.
Barack Obama, Prophecy, and the Destruction of the United States-Second Edition for Second Obama Term This is a 160 page book for people truly interested in prophecies related to Barack Obama and the United States, including learning about many that have already been fulfilled (which the book documents in detail) and those that will be fulfilled in the future. It also has a chapter about a Republican choice. This book is available to order at www.barackobamaprophecy.com. The physical book can also be purchased at Amazon from the following link: Barack Obama, Prophecy, and the Destruction of the United States: Is Barack Obama Fulfilling Biblical, Islamic Catholic, Kenyan, and other America-Related Prophecies? What About Republican Leaders? Second Edition for Second Obama Term.
Barack Obama, Prophecy, and the Destruction of the United States-Second Term-Amazon Kindle edition. This electronic version is available for only US$2.99. And you do not need an actual Kindle device to read it. Why? Amazon will allow you to download it to almost any device: Please click HERE to download one of Amazon s Free Reader Apps. After you go to for your free Kindle reader and then go to Barack Obama, Prophecy, and the Destruction of the United States-Second Term-Amazon Kindle edition.