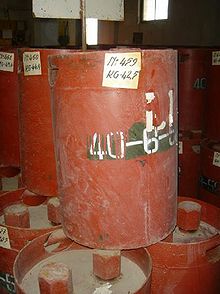 Chemical Weapons Canisters
Syria reportedly still has 96% of its chemical weapons and has missed various agreed upon deadlines:
SYRIAN dictator Bashar al-Assad's contemptuous failure to meet another key deadline for the dismantling of his chemical weapons arsenal is a reminder of the imperative for the international community to be uncompromising in the pressure it exerts on him to fulfil his obligations. Clearly, as US President Barack Obama's top intelligence official, James Clapper, has told a congressional committee, Assad feels his hold on power has been significantly strengthened as a result of the chemical weapons agreement brokered by Russia, which has obviated any immediate threat of US cruise missile strikes being launched…

Assad has so far handed over a meagre 59 tonnes of chemical weapons surrendered (out of an arsenal of 1433 tonnes). And that is just what he has admitted to; US intelligence suspicions are he has declared only 32 of 50 chemical sites. ..

Not only is Assad slow-walking his chemical weapons for delivery, he is also now reneging on promises to destroy seven hardened aircraft hangars and five underground structures where he has been producing the weapons — facilities that can be rapidly reactivated. More than Assad's recalcitrance is the belief he is secretly stockpiling weapons, including biological and chemical, in the heartland of his heterodox Shia Alawite sect for use if Syria is partitioned.  http://www.theaustralian.com.au/opinion/editorials/syrias-chemical-intransigence/story-e6frg71x-1226820049293

As the final deadline for the removal of all chemical weapons (CW) from Syria, February 5, 2014, comes and goes with 96% still in country, the International Community (IC) and UN/OPCW seem apprehensive about looking at alternative plans.  http://2paragraphs.com/2014/02/chemical-weapons-destroyed-in-libya-why-not-syria/

In a closed-door meeting, two senators say, the Secretary of State admitted to them that he no longer believes the administration's approach to the crisis in Syria is working. Peace talks have failed, he conceded, and now it's time to arm the moderate opposition—before local al Qaeda fighters try to attack the United States.

Secretary of State John Kerry has lost faith in his own administration's Syria policy, he told fifteen U.S. Congressmen in a private, off-the-record meeting, according to two of the senators who were in the room.

Kerry also said he believes the regime of Bashar al Assad is failing to uphold its promise to give up its chemical weapons according to schedule…http://www.thedailybeast.com/articles/2014/02/03/senators-kerry-admits-obama-s-syria-policy-is-failing.html
The USA knows that what it hoped to have happen in Syria, simply has not.  In addition to the Assad regime holding on to nearly all of its chemical weapons, the USA has been concerned that many of those that it backed in Syria against the Assad government have turned out to be Islamic 'extremists.'  Of course, the fact that the USA did not bomb Syria like many of the rebels thought it might last Summer essentially told the more 'moderate' factions that they could not rely on the USA.  Hence, many decided there was no point in acting like they shared certain USA interests in Syria.  It probably also should be mentioned that many of the atrocities done against professing Christians in Syria have come from forces in opposition to the Assad regime.
Despite what the USA might hope for, there really is no major 'good side' in this conflict.  A variety of interim deals and battles will likely occur, but not result in what the USA claims it wants.
The reality is that ultimately, the Bible shows that Syria's capital Damascus will be destroyed:
7 thus says the Lord God: "It shall not stand, Nor shall it come to pass. 8 For the head of Syria is Damascus (Isaiah 7:7-8)

3 Thus says the Lord: "For three transgressions of Damascus, and for four, I will not turn away its punishment, Because they have threshed Gilead with implements of iron. (Amos 1:3)

1 The burden against Damascus. "Behold, Damascus will cease from being a city, And it will be a ruinous heap. (Isaiah 17:1)

23 Against Damascus. "Hamath and Arpad are shamed, For they have heard bad news. They are fainthearted; There is trouble on the sea; It cannot be quiet. 24 Damascus has grown feeble; She turns to flee, And fear has seized her. Anguish and sorrows have taken her like a woman in labor. 25 Why is the city of praise not deserted, the city of My joy? 26 Therefore her young men shall fall in her streets, And all the men of war shall be cut off in that day," says the Lord of hosts. 27 "I will kindle a fire in the wall of Damascus, And it shall consume the palaces of Ben-Hadad." (Jeremiah 49:23-27)
While this destruction could come as the result of the current civil war (and that is likely to be a factor), the reality is that the Syrian rebel forces at this instant may not have the military ability to do so. The Bible also suggests that Syria will be involved in a confederation of North African and Middle Eastern nations (Ezekiel 30:1-8; Psalm 83:4-8) who will support a leader that the Bible refers to as the final King of the South (Daniel 11:40-43).
Partially because of the internal civil war in Syria, Syria's President Assad may decide that attacking Israel, probably in conjunction with support from Iran, is his best carnal option (which could include supporting Iran if it attacks Israel or Israel attacks it). Attacking Israel, however, will not be his best option (he should repent and probably leave office), though he may do that. The Bible suggests that Syria will support the coming final King of the South (Daniel 11:40-43; Ezekiel 30:1-8) and a change in or from the Assad regime will be necessary for this to happen–and it will come to pass.
More trouble is coming to Damascus as it will be destroyed (Isaiah 17:1). An Islamic confederation that will include the land of Syria is coming (Daniel 11:40-43; Ezekiel 30:1-8; Psalm 83:4-8) is coming. A worsening situation in Syria would seem to be a factor in speeding up this occurrence.
"And what I say to you, I say to all: Watch!" (Mark 13:37).

Some articles of possibly related interest may include:
Damascus and Syria in Prophecy
Will Bashar Assad hold power as he has it? Does the Bible show that Damascus, the capital of Syria, will be destroyed? What will happen to Syria? Will the Syrians support the final King of the South that the Bible tells will rise up? Which scriptures discuss the rise and fall of an Arabic confederation? Does Islamic prophecy predict the destruction of Syria. This is a YouTube video.
The Arab World In the Bible, History, and Prophecy
The Bible discusses the origins of the Arab world and discusses the Middle East in prophecy. What is ahead for the Middle East and those who follow Islam? What does Islam teach about the Imam Mahdi?

Is the Future King of the South Rising Up?
Some no longer believe there needs to be a future King of the South. Might Egypt, Islam, Iran, Arabs, or Ethiopia be involved? Might this King be called the Mahdi or Caliph? What does the Bible say?

The Future King of the South is Rising
Does the Bible teach that there will be a future King of the South in Daniel 11? Is this kingdom rising up now? Did the old Worldwide Church of God (WCG) teach that there would be another one? And who is the King of the South? How will this involve Egypt? Is the final King of the South some type of Arab-Muslim confederation? Can Iran be involved? Is there a group that seems to be supporting the goals of the King of the South? Has the Obama Administration supported the rise of this power? This is a YouTube video.

The Muslim Brotherhood and the Rise of the King of the South
The Bible tells of the formation of a power of nations that are in the Middle East and North Africa that are part of the final "King of the South" (Daniel 11:40-43) The Muslim Brotherhood wishes to have an Islamic empire with basically the same nations. This YouTube video explains what to expect from such a confederation.
Barack Obama, Prophecy, and the Destruction of the United States
This is a 160 page book for people truly interested in prophecies related to Barack Obama and the United States, including learning about many that have already been fulfilled (which the book documents in detail) and those that will be fulfilled in the future. It also has a chapter about a Republican choice. This book is available to order at
www.barackobamaprophecy.com
. The physical book can also be purchased at Amazon from the following link:
Barack Obama, Prophecy, and the Destruction of the United States: Is Barack Obama Fulfilling Biblical, Islamic, Catholic, Kenyan, and other America-Related Prophecies?