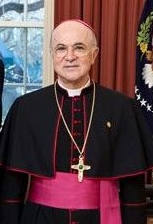 Carlo Maria Viganò (Wikipedia)
A reader tipped me off to the following which is scheduled to appear in the upcoming July 15, 2021 edition of The Remnant Newspaper (a Roman Catholic source) and was written by a Roman Catholic priest referring to himself as Celatus:
Archbishop Viganò and the Spirit of Elijah

ONE OF THE truly great figures of the Old Testament period was the prophet Elijah; so great, in fact, that he was preserved from death and will reappear at the end of time to prepare the faithful for the Day of the Lord. Among other things, this prophet denounced the wicked leader of Israel, King Ahab, for which reason he had to flee into hiding for his life and for the sake of continuing his divine ministry. Prior to his departure from earth on a heavenly chariot, he left a double portion of his spirit to his successor, Elisha.

The spirit of Elijah has reappeared once more on the face of the earth, in the person of Archbishop Carlo Maria Viganò, now nearly three millennia after the original Prophet was whisked away into the heavens. Three years ago, the Archbishop went public regarding unprecedented moral and ecclesiastical corruption within the institutional Catholic Church at the highest levels of the hierarchy, to include Jorge Bergoglio.

As for The Last Word, we got down on our knees and thanked God that finally, someone of the stature of Archbishop Viganò had gone public with what we have known for decades: the institutional Church has been infiltrated and corrupted by homosexual predators and their perverted protectors.

Among other revelations, the Archbishop related in great detail a conversation that he had with Francis of Rome early in his reign, regarding the now infamous Mister Theodore McCarrick. Archbishop Viganò informed Francis that McCarrick had been sidelined by Pope Benedict XVI, based upon credible evidence that he was a serial homosexual predator upon seminarians and young priests. Shortly after hearing this from the Nuncio, Bergoglio reinstated McCarrick and restored him to public ministry and administration. We now know that McCarrick abused young boys as well, in his forty-year span of perverted sex abuse. …

It was fifty years ago, as a minor seminarian, that I became personally aware of this infiltration. How bad was it? One classmate was drugged and sodomized as a teen seminarian; other classmates were similarly abused. Later, when I was in major seminary, all but one of my classmates were homosexual—80 percent. The reality was that many—maybe a majority—of priests and prelates were homosexuals, promoting and protecting each other. But very few believed us about this scandal, until Archbishop Viganò went public. …

But as Elijah returned like a roaring lion from the wilderness, so too the Archbishop continues to roar, from the wilderness of his exile. …

In addition to showing himself a faithful son of the Church and a friend of our nation, Archbishop Viganò has extended his solicitude as broadly as the fallen world, in his prophetic warnings that the manifestly evil, unprecedented events of the present are contributing to the rise of the Anti-Christ in the near future.

Certainly, at the top of the list of the evils perpetrated by the Globalist Children of Darkness has been the massive fraud related to a virus. This virus—probably man-made as a tool for Globalists—has been used as a rationale for unprecedented evil worldwide. …

If the final Day of the Lord is approaching, we will know for certain with the return of the great Prophet. Meanwhile, it is clear that the spirit of Elijah is even now at work, in the person of Archbishop Viganò. posted 07/03/21, accessed 07/06/21 https://remnantnewspaper.com/web/index.php/articles/item/5453-the-spirit-of-elijah
Yes, as reported here before (see 'Vatican Expels Former US Cardinal McCarrick' and 'Salacious new book says homosexuality is rampant at the Vatican'), we have long known that the Roman Catholic clergy was infested with homosexuals. The 80% figure was also reported by others (see 'Vatican Expels Former US Cardinal McCarrick' and 'Salacious new book says homosexuality is rampant at the Vatican').
We have reported about Roman Catholic Archbishop Carlo Maria Viganò here before as he has blasted some of the Vatican's moves towards globalism and Freemasonry (see LSN: Viganò on Vatican 'health' conference with Fauci: Holy See is 'making itself the servant of the New World Order' and Norway advised to stop COVID-19 vaccine for the elderly; Archbishop Viganò decries Pope Francis' totalitarian endorsement).
But, no, Carlo Maria Viganò  has not come in the spirit and power of Elijah (see also The Elijah Heresies).
Notice something from Jesus in the New Testament related to an Elijah prophecy:
11 Jesus answered and said to them, "Indeed, Elijah is coming first and will restore all things. …" (Matthew 17:1-11).
In Matthew 17:11, the term translated "will restore" is the Greek term apokathistemi which means "to reconstitute" or "restore (again)" (Biblesoft's New Exhaustive Strong's Numbers and Concordance with Expanded Greek-Hebrew Dictionary. Copyright (c) 1994, Biblesoft and International Bible Translators, Inc.) and is preceded by the Greek term men which means "truly" in the asseverative sense.
Carlo Maria Viganò, while right for condemning Vatican homosexuality and globalism, has NOT tried to restore original Christianity.
The Remnant Newspaper says the following about itself:
The Remnant strives to adhere to Catholic teaching in every aspect of its journalism. There has been great upheaval and revolution within the Catholic Church over the past five decades — not unlike that encountered in the fourth century by St. Athanasius, called the Arian Heresy  …

The Remnant sees itself as one of the many voices crying out against abusive liturgical and doctrinal aberrations such as Clown Masses, women priests, Communion in the hand, erroneous Theology, abusive and sacrilegious liturgical innovations, the abandonment of preaching the Four Last Things, the denial of sin and hell, the rise of phony ecumenism (which states that there is little or no difference between Catholicism and Protestantism, or between Catholicism and Mohammedanism or any other monotheistic religion, and that all religions are good), the annulment abuse, the abuse of NFP, etc. …

We fight that which is novel and goes against the traditional Catholic liturgies and infallible teachings of the past. accessed 07/06/21 https://remnantnewspaper.com/web/index.php/more/about
Despite the above claims, the reality is that neither The Remnant nor Carlo Maria Viganò seem to understand what the original catholic Christian church taught on areas such as the liturgy, Godhead, salvation, etc.
However, we have a highly referenced free online book that does.
Some items of related interest may include:

The Elijah Heresies Does the Bible teach that there will be a future Elijah? Must it be Herbert W. Armstrong? Two related sermons are  available Elijah: Prophecies and Heresies and Elijah, Herbert W. Armstrong, and CCOG.
Freemasonry and the Destruction of Rome? What is Freemasonry? What about ties to the Illuminati? Could they be involved in the fulfillment of prophecy? Here is a link to a related sermon: Freemasonry, Armageddon, and Rome.
Will the Interfaith Movement Lead to Peace or Sudden Destruction? Is the interfaith movement going to lead to lasting peace or is it warned against? A video sermon of related interest is: Will the Interfaith Movement lead to World War III? and a video sermon is also available: Do You Know That Babylon is Forming?
Armageddon Who is involved and when will this gathering happen? Here is also a video from Dr. Thiel, from Tel Megiddo in Israel: Armageddon. Another video is related to China's One Belt, One Road Initiative (Silk Road project): watch Is China paving roads to Armageddon?
Satan's Plan Does Satan have a plan? What is it? Has it already been successful? Will it be successful in the future? Here are links to a two-part sermon series: What are Some of the Parts of Satan's Plan? and Satan's Plan is More Dramatic than Many Realize.
Mystery of Iniquity What is the mystery of iniquity? How did it start? How will it end? Two related sermons are also available: The Mystery of Iniquity and The Mystery of Lawlessness.
Hope of Salvation: How the Continuing Church of God Differs from Protestantism The CCOG is NOT Protestant. This free online book explains how the real Church of God differs from mainstream/traditional Protestants. Several sermons related to the free book are also available: Protestant, Baptist, and CCOG History; The First Protestant, God's Command, Grace, & Character; The New Testament, Martin Luther, and the Canon; Eucharist, Passover, and Easter; Views of Jews, Lost Tribes, Warfare, & Baptism; Scripture vs. Tradition, Sabbath vs. Sunday; Church Services, Sunday, Heaven, and God's Plan; Seventh Day Baptists/Adventists/Messianics: Protestant or COG?; Millennial Kingdom of God and God's Plan of Salvation; Crosses, Trees, Tithes, and Unclean Meats; The Godhead and the Trinity; Fleeing or Rapture?; and Ecumenism, Rome,
Where is the True Christian Church Today? This free online pdf booklet answers that question and includes 18 proofs, clues, and signs to identify the true vs. false Christian church. Plus 7 proofs, clues, and signs to help identify Laodicean churches. A related sermon is also available: Where is the True Christian Church? Here is a link to the booklet in the Spanish language: ¿Dónde está la verdadera Iglesia cristiana de hoy? Here is a link in the German language: WO IST DIE WAHRE CHRISTLICHE KIRCHE HEUTE? Here is a link in the French language: Où est la vraie Église Chrétienne aujourd'hui?
Continuing History of the Church of God This pdf booklet is a historical overview of the true Church of God and some of its main opponents from Acts 2 to the 21st century. Related sermon links include Continuing History of the Church of God: c. 31 to c. 300 A.D. and Continuing History of the Church of God: 4th-16th Centuries and Continuing History of the Church of God: 17th-20th Centuries. The booklet is available in Spanish: Continuación de la Historia de la Iglesia de Dios, German: Kontinuierliche Geschichte der Kirche Gottes, and Ekegusii Omogano Bw'ekanisa Ya Nyasae Egendererete.
Beliefs of the Original Catholic Church. Did the original "catholic church" have doctrines held by the Continuing Church of God? Did Church of God leaders uses the term "catholic church" to ever describe the church they were part of? Here are links to related sermons: Original Catholic Church of God? , Original Catholic Doctrine: Creed, Liturgy, Baptism, Passover, and What Type of Catholic was Polycarp of Smyrna?, Tradition, Holy Days, Salvation, Dress, & Celibacy, Early Heresies and Heretics, and Doctrines: 3 Days, Abortion, Ecumenism, Meats.