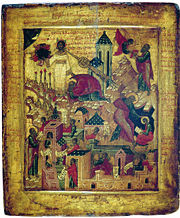 "Orthodox" 16th Century Representation of the "Apocalypse"
The Times of London had an interesting article yesterday:
The armageddon portfolio comes
The Sunday Times, London – Feb 15, 2009
Is armageddon round the corner? Not quite, but it may not be too soon to start planning for it.
Frontrunner for the Cassandra of the month award is Ed Balls, the schools secretary, for his prediction that this could be the worst financial shock for more than a century.
He has hit a nerve. Attempts by Margaret Beckett and Baroness Vadera to hint at green shoots have been dismissed. Last month's rises in consumer spending and house prices are regarded as no more than blips.
Bank of England governor Mervyn King is talking of a collapse in confidence and admitting that the Bank has little idea of what is going to happen. http://www.timesonline.co.uk/tol/money/investment/article5732533.ece
The author is correct that the mainstream did not expect this financial problem.  However, regular readers of the COGwriter page have been being warned about this for quite some time.
And while not relying on the government is certainly wise, the Bible warns against trusting ones self as God is the one who can only be trusted in these times:
5 Trust in the LORD with all your heart,
And lean not on your own understanding;
6 In all your ways acknowledge Him,
And He shall direct your paths.
7 Do not be wise in your own eyes;
Fear the LORD and depart from evil.
8 It will be health to your flesh,
And strength to your bones.
9 Honor the LORD with your possessions,
And with the firstfruits of all your increase;
10 So your barns will be filled with plenty,
And your vats will overflow with new wine. (Proverbs 3:5-10)
So God says to trust in Him and give to Him.  That is a different approach than the secular author has taken.  And while many will listen to the secular author, only those that will live the way of give and trust in God can truly have the strength to their bones during these times (see also Tithing Questions and Some Answers).
Furthermore, while physical preparation is a good idea (see Physical Preparation Scriptures for Christians), the idea that wealth will truly really work in the end times is simply a contradiction to the Bible.
Notice:
1 Come now, you rich, weep and howl for your miseries that are coming upon you! 2 Your riches are corrupted, and your garments are moth-eaten. 3 Your gold and silver are corroded, and their corrosion will be a witness against you and will eat your flesh like fire. You have heaped up treasure in the last days. (James 5:1-3).
19'They will throw their silver into the streets, And their gold will be like refuse; Their silver and their gold will not be able to deliver them
In the day of the wrath of the LORD; They will not satisfy their souls, Nor fill their stomachs, Because it became their stumbling block of iniquity. (Ezekiel 7:19)
Now that does not mean that having additional cash, metals (see Norman Edwards: Silver) , foods (see Physical Preparation Scriptures for Christians), certain investments, etc. cannot have any value, but the Bible is warning against trusting in riches in these end times.
Carnal "solutions" in this age simply will not go to the ROOT of the problem. The ROOT is NOT the Federal Reserve, international bankers, corporations, the United Nations, plans for a "one-world order", sub-prime mortgages, etc.
The ROOT is SIN that is the result of humankind cutting itself off from God and following their ways as influenced by Satan.
And while the solution for society's problems would be repentance now, since that is unlikely, the ultimate solution is the return of Jesus Christ and the establishment of His kingdom on the earth. That is the good news.
But what about you now and your personal "armageddon portfolio" (to borrow that expression)?
Notice what Jesus taught:
19 "Do not lay up for yourselves treasures on earth, where moth and rust destroy and where thieves break in and steal; 20 but lay up for yourselves treasures in heaven, where neither moth nor rust destroys and where thieves do not break in and steal. 21 For where your treasure is, there your heart will be also. (Matthew 6:19-21)
You shall love the LORD your God with all your heart, with all your soul, and with all your mind.'  38 This is the first and great commandment. 39 And the second is like it: 'You shall love your neighbor as yourself.'  40 On these two commandments hang all the Law and the Prophets. (Matthew 22:37-40)
Notice, specifically, what the first two things that people really need to do according to the Apostle Peter:
38 Then Peter said to them, "Repent, and let every one of you be baptized in the name of Jesus Christ for the remission of sins; and you shall receive the gift of the Holy Spirit. 39 For the promise is to you and to your children, and to all who are afar off, as many as the Lord our God will call."
40 And with many other words he testified and exhorted them, saying, "Be saved from this perverse generation."  (Acts 2:38-40)
Also notice:
1 Therefore, leaving the discussion of the elementary principles of Christ, let us go on to perfection, not laying again the foundation of repentance from dead works and of faith toward God, 2 of the doctrine of baptisms, of laying on of hands, of resurrection of the dead, and of eternal judgment. (Hebrews 6:1-2)
The world's systems and ways are dead works.  They are something that true Christians need to repent of.
Then they can go on to perfection and support the work of proclaiming the good news of Christ's coming kingdom to this earth.
Focus on repentance, fully serving and trusting God, and loving your neighbor.  That is the only "armageddon porfolio" that can truly work.
Several articles of possibly related interest may include:
What is the Meaning of Life? Who does God say is happy? What is your ultimate destiny? Do you really know? Does God actually have a plan for YOU personally?
The Gospel of the Kingdom of God was the Emphasis of Jesus and the Early Church Did you know that? Do you even know what the gospel of the kingdom is all about? True religion should be based upon the true gospel.
Are You Saved? Do You Love Jesus? What is a True Christian? What is the Gospel? Evangelist Richard Ames answers those important questions.
Getting the Gospel Out is More than a Local Job Discusses Biblical rationale for doing an international, and not just a local, work.
Physical Preparation Scriptures for Christians. We all know the Bible prophecies famines. Should we do something?
Hope of Salvation: How the Living Church of God differ from most Protestants How the Living Church of God differs from mainstream/traditional Protestants, is perhaps the question I am asked most by those without a Church of God background.
What Did Jesus Teach About the Ten Commandments? This article quotes what Jesus actually said about them (His words are in red).
Were the Ten Commandments Nailed to the Cross? Some have said so. This article provides some biblical quotes to answer this important question.
What Did Paul Actually Teach About the Ten Commandments? Many say Paul taught against the ten commandments. Is this true? This article quotes Paul with his words in green.
Are the Ten Commandment Still in Effect? This article quotes the ten commandments and combines some of the previous articles into one article about the ten commandments. The commandments are shown at Mount Sinai, before Mount Sinai, in the teachings of Jesus, after the crucifixion, and in the teachings of Paul. It addresses the most common "traditions of men" regarding them as well.
Were the Pharisees Condemned for Keeping the Law or Reasoning Around it? Many believe that the Pharisees were condemned for keeping the law, but what does your Bible say? If they were not condemned for that, what were they condemned for?
The Ten Commandments Reflect Love, Breaking them is Evil Some feel that the ten commandments are a burden. Is that what Jesus, Paul, Peter, James, and John taught?
Was the Commandment to Love the Only Command? Some have stated that John's writings teach this, but is that what the Bible really says?
The Ten Commandments and the Early Church Did Jesus and the Early Church keep the ten commandments? What order were they in? Here are quotes from the Bible and early writings.