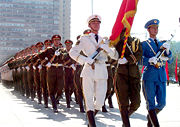 Chinese Soldiers
Europe (see Civil Unrest in Europe) is not the only area where civil unrest is becoming a concern.  Notice what was in the news today about China:
Hu calls for PLA loyalty as fears grow of trouble ahead
South China Morning Post – Feb 2, 2009
President Hu Jintao told leaders of the People's Liberation Army to "strengthen military discipline" and make sure the army stays absolutely loyal to the Communist Party as China enters a year of harsh economic reality and sensitive anniversaries…
He asked the PLA generals to "step up political education" – a catchword when the party demands greater loyalty from the military.
"We should unify the thinking of all soldiers and officials to the same direction as the central authorities. We must make sure the army will follow the instruction of the CMC and the Communist Party at any time, under any circumstances," Mr Hu said. "We must always be sure of the army's stability and its unity."
All top generals of the PLA attended the meeting, which was held at an unspecified date. China's Central Television reported the event as the top news at its evening news programme last night.
Mr Hu also called on the army to modernise itself and prepare for possible "military struggle".
He said domestic and international environments were changing fast and the military leaders must stay in sync with the changes.
"We have entered a new era and the army's responsibilities and missions have also changed. All these pose higher demands for the CMC leaders and they should work constantly to improve themselves," he said.
His comments come as the mainland economy faces a slump and the country enters a year full of sensitive political anniversaries. Economic growth last year slowed to the lowest in five years and many doubted if the country could achieve an 8 per cent gross domestic product growth target this year.
A wave of factory shutdowns in the wake of falling exports has left millions of migrant workers unemployed, adding to worries among officials about a rise in social unrest. http://www.scmp.com/portal/site/SCMP/menuitem.2af62ecb329d3d7733492d9253a0a0a0/?vgnextoid=974bf25ecb23f110VgnVCM100000360a0a0aRCRD&ss=China&s=News
This is interesting for many reasons, but perhaps this might be a good time to remind people what Roderick C. Meredith of the Living Church of God wrote about China nearly two years ago:
Many publications have suggested that the 21st century will be "China's century." Even though the Chinese are fiercely moving forward, and their progress in developing their industries is obvious, these publications are dead wrong for two reasons.
First, the inspired word of God describes specifically how a coming European Union will be the dominant force in this world—obviously within the next several years. Therefore, brethren, I would like to focus your mind on this matter so you can more intelligently "watch" world events along this line as they unfold before your very eyes.
In the coming years, you will perhaps even see a revolt of the peasants in the outlying Chinese cities, who have lagged far behind the standard of living afforded those who have moved to Beijing and Shanghai. Plus, the tremendous pollution of the water, air and foodstuffs may bring about massive disease epidemics and other problems for the Chinese. (Meredith R.C. An Inspiring and Successful Trip. Living Church News. May-June 2007, p. 21)
It now seems that the Chinese government is suspecting revolts may happen as well.
Some articles of possibly related interest may include:
China, Its Biblical Past and Future, Part 1: Genesis and Chinese Characters This article provides information showing that the Chinese peoples must have known about various accounts in the Book of Genesis up until their dispersion after the Tower of Babel.
China, Its Biblical Past and Future, Part 2: The Sabbath and Some of God's Witness in China When did Christianity first come to China? And is there early evidence that they observed the seventh day sabbath?
Asia in Prophecy What is Ahead for China? Is it a "King of the East"? What will happen to nearly all the Chinese, Russians, and others of Asia? China in prophecy, where?
The Dramatic Story of Chinese Sabbathkeepers This reformatted Good News article from 1955 discusses Sabbath-keeping in China in the 1800s.