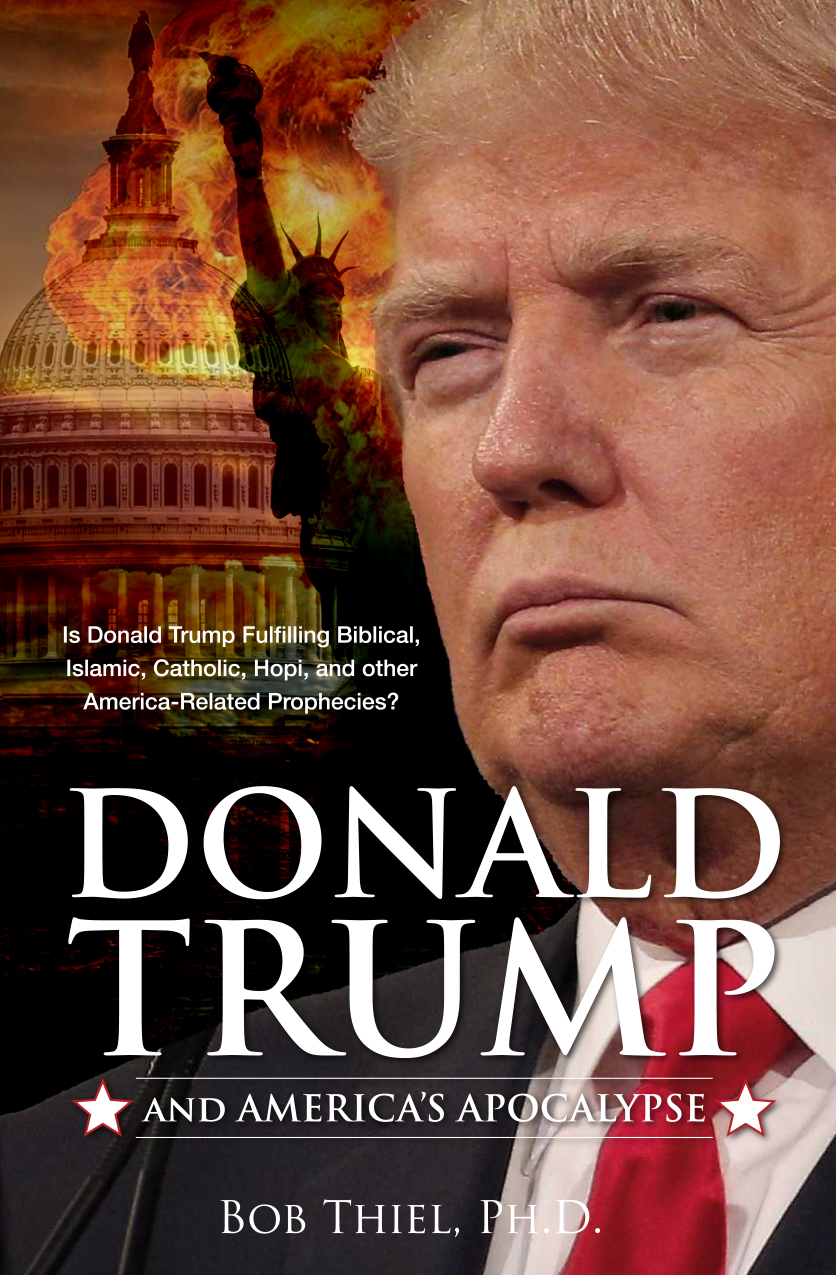 Defying most political pundits, Donald J. Trump is now the 45th President of the United States.
He is a controversial figure, both in the USA and abroad.
So what's next?
Well, Donald Trump is expected to issue executive orders to reverse a variety of executive orders by the 44th President of the United States, Barack Obama.
Some evangelicals consider that Donald Trump is the "trump of God" and will fulfill his campaign promise to "make America great again."
The United States needs national repentance. An admitted adulterer and promoter of pornography, Donald Trump has stated that he has never seen the need to repent before God. Nor has he called for national repentance. He also has stated that he is fine with homosexual marriage.
Many of the Protestants and Catholics who support him hope that he will appoint judges to the US Supreme Court who are anti-abortion. Donald Trump may well attempt to do that.
But even if he can do that, understand that abortions will remain legal in most, if not all, states if the union.
There were violent protests in Washington, D.C. today:
January 20, 2017

An inauguration protest in Washington, D.C., turned confrontational on Friday, as several hundred black-clad protesters broke windows and police responded with pepper spray and a concussive device.

Ninety-five people have been arrested across the city, according to the Metropolitan Police Department. The city's interim chief of police, Peter Newsham, told CNN that the violent group comprised a small proportion of the overall protests, distinguishing between that group and others protesting peacefully elsewhere.

Much of the violence broke out in Northwest D.C., not directly along the parade route. During clashes between police and protesters there, officers have used pepper spray in attempts to contain the protests, reports Patrick Madden of member station WAMU.

Patrick says that earlier in the day, protesters were running through streets, breaking windows with hammers and knocking over trash cans. http://www.npr.org/sections/thetwo-way/2017/01/20/510770716/in-d-c-group-of-protesters-breaks-windows-police-use-pepper-spray
Expect more violent protests now that Donald Trump is president (cf. Deuteronomy 32:25).
A few hours after I wrote the above, I saw the following:
January 20,, 2017

Washington (CNN) Six police officers were injured and 217 protesters arrested after they smashed windows, damaged cars and threw rocks at police near Donald Trump's inauguration ceremony on Friday in Washington.
Donald Trump has stated that he will increase the debt of the USA to rebuild infrastructure and handle other projects. The Bible warns that debt is a curse (Deuteronomy 28:15, 44) and that the highly indebted nation will be destroyed in the end (Habakkuk 2:2-8).
Donald Trump has stated that he wants the Europeans to pay more for defense.  And he is correct that most European nations are not paying their agreed upon share:
January 20, 2017

Trump renewed his criticism of the 67-year-old North Atlantic Treaty Organization, saying more European countries than just the current four need to meet the target to invest at least 2 percent of gross domestic product on defense. https://www.bloomberg.com/news/articles/2017-01-20/trump-will-keep-u-s-wedded-to-nato-alliance-s-stoltenberg-says
The USA actually spends more than twice as much on its military than all the other 27 NATO nations do combined.
Yet, when the Europeans start to pay more for their militaries, they will want more control.  The Bible shows that this will end in disaster for the USA (Daniel 11:39).
Not everything that President Donald Trump will do will be good. Not everything that Donald Trump will do will be bad.
But he is NOT the "Trump of God" that some hope he is and attempt to tie to him in with New Testament scriptures like 1 Thessalonians 4:16, KJV.
As far more of what to expect with Donald Trump and prophecy, we have just produced a brand new book: Donald Trump and America's Apocalypse. The print edition is available at Amazon for $12.99 at the following link: Donald Trump and America's Apocalypse.
This 188 page book, has 11 chapters that deal with these exciting topics:
Donald Trump: Background, Controversies, and Hebrew Prophecy
Immorality has Prophetic Consequences
Europeans are Not Pleased
Islam and Prophecy
Is Donald Trump the Antichrist?
'Trump of God' and Christianity?
20 Reasons Why Donald Trump is Apocalyptic
Native American Prophecies
Nostradamus and Donald Trump
The King of the North, Donald Trump, and the End of the United States, and its Anglo-Saxon Allies
Donald Trump is Fulfilling End Time Prophecy
We have arranged with Amazon Kindle to give the Kindle edition away free for five days beginning yesterday (five days is the maximum that Amazon Kindle allows in this type of promotion). Otherwise, the electronic version will be $3.99.
Anyway, you DO NOT need a Kindle device to get it for free. Simply go to the link: Donald Trump and America's Apocalypse and then Amazon has an app there you can also get for free so that you should be able to download it for many electronic devices for free.
Some items of possibly related interest include:
Donald Trump and America's Apocalypse This 188 page book is for people truly interested in prophecies related to Donald Trump and the United States, including learning about several that have already been fulfilled and those that will be fulfilled in the future. The physical book can be purchased for $12.99 at Amazon from the following link: Donald Trump and America's Apocalypse.
Donald Trump and America's Apocalypse: Kindle Edition This electronic version of the 188 page print edition is available for only US$3.99. And you do not need an actual Kindle device to read it. Why? Amazon will allow you to download it to almost any device: Please click HERE to download one of Amazon s Free Reader Apps. After you go to for your free Kindle reader and then go to Donald Trump and America's Apocalypse: Kindle Edition.
Canada in Prophecy: What Does Bible Prophecy, Catholic Prophecy, and other Predictions Suggest About the Future of Canada? There are prophecies that suggest involvement with Canada. And many are not positive about its future.
Protestant and Church of God views of the United States in Bible Prophecy Is the USA mentioned in Bible prophecy? Some Protestants say yes, while others say no. What does the Bible really teach? Learn the truth about this. There is also a video available: Is The United States Mentioned In Bible Prophecy?
Dangerous Protestant Prophetic Errors What are some errors that various Protestants hold to that will tend to prevent them from knowing when the Great Tribulation will begin? A related video is titled Ten Dangerous Protestant Prophetic Errors.
The Dangerous Rise of Preterists Has the Great Tribulation finished? What was the view of early Christians? Why is the preterist view dangerous? A related sermon video is titled Preterism: You've Gotta Be Kidding…Right?
Is the USA now an Evil Empire? Dr. Thiel gives many reasons to consider. A related video is also available: Is the USA an Evil Empire?
USA in Prophecy: The Strongest Fortresses Can you point to scriptures, like Daniel 11:39, that point to the USA in the 21st century? This article does. A related sermon is titled: Do these 7 prophesies point to the end of the USA?
Who is the King of the West? Why is there no Final End-Time King of the West in Bible Prophecy? Is the United States the King of the West? Here is a version in the Spanish language: ¿Quién es el Rey del Occidente? ¿Por qué no hay un Rey del Occidente en la profecía del tiempo del fin?
Who is the King of the North? Is there one? Do biblical and Roman Catholic prophecies for the Great Monarch point to the same leader? Should he be followed? Who will be the King of the North discussed in Daniel 11? Is a nuclear attack prophesied to happen to the English-speaking peoples of the United States, Great Britain, Canada, Australia, and New Zealand? When do the 1335 days, 1290 days, and 1260 days (the time, times, and half a time) of Daniel 12 begin? When does the Bible show that economic collapse will affect the United States? In the Spanish language check out ¿Quién es el Rey del Norte? Here is a link to a video titled: The Future King of the North.
Anglo – America in Prophecy & the Lost Tribes of Israel Are the Americans, Canadians, English, Scottish, Welsh, Australians, Anglo-Saxon (non-Dutch) Southern Africans, and New Zealanders descendants of Joseph? Where are the lost ten-tribes of Israel? Who are the lost tribes of Israel? What will happen to Jerusalem and the Jews in Israel? Will God punish the U.S.A., Canada, United Kingdom, and other Anglo-Saxon nations? Why might God allow them to be punished first? Here is a link to the Spanish version of this article: Anglo-América & las Tribus Perdidas de Israel. Information is also in the YouTube sermons titled Where are the Ten Lost Tribes? Why does it matter? and British are the Covenant People. A short YouTube of prophetic interest may be: Are Chinese threats against Australia for real?
Will the Anglo-Saxon Nations be Divided and Have People Taken as Slaves? Will the lands of the United States, United Kingdom, Canada, Australia, and New Zealand be divided? What about Jerusalem? What does Bible prophecy teach? Are there non-biblical prophecies that support this idea? Who will divide those lands? Who will end up with the lands and the people? Here is a link to a video titled Will the USA and other Anglo-nations be Divided and Their People Made Slaves? Here is a related item in the Spanish language ¿Serán divididas las naciones anglosajonas?
British are the Covenant People What do 'British' and 'Britain' mean in Hebrew? Are the descendants of the Anglo-Saxons people of the covenant? Does the British royal family connect to the throne of David? What does the Bible teach? What does history show us? Is there any DNA evidence related to British-Israelism? When did Christianity make it to the British Isles? Could Jeremiah have made it to the British Isles? What type of Christians made it to the British Isles? Did the last King of England believe in British Israelism?
The 'Lost Tribe' of Reuben: France in Prophecy? What is the origin of this in France? What is prophesied to happen to them? A two-part sermon related to history and prophecy is available online: The 'Lost Tribe' of Reuben and France and Prophecy.
Ten clues tying Belgium and Luxembourg with the tribe of Asher Who did some in Belgium and Luxembourg descend from?
Ten clues tying Zebulun with the Dutch Who did some in the Netherlands descend from?
When Will the Great Tribulation Begin? 2017, 2018, or 2019? Can the Great Tribulation begin today? What happens before the Great Tribulation in the "beginning of sorrows"? What happens in the Great Tribulation and the Day of the Lord? Is this the time of the Gentiles? When is the earliest that the Great Tribulation can begin? What is the Day of the Lord? Who are the 144,000? Here is a version of the article in the Spanish language: ¿Puede comenzar la Gran Tribulación en 2016 o 2017? ¿Es el Tiempo de los Gentiles? You can also see the English language sermon videos: The Great Tribulation from the Mount of Olives and Can the Great Tribulation begin before 2020? A shorter video is: Will the Great Tribulation Start in 2017?