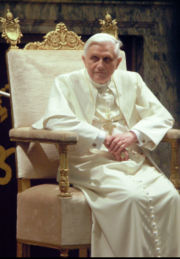 Pope Benedictus XVI
A reader (and regular news contributor to this page) sent in the following news item:
Vatican to join EU judicial co-operation group
EUobserver – Jan 12, 2009
The Vatican is considering whether to join Eurojust, EU's judicial co-operation group against serious cross-border crime, the city's chief prosecutor Nicola Picardi has said.
Mr Picardi proposed the Eurojust membership as he outlined the state of law and order in the tribunals of the Vatican during a ceremony to start the city-state's judicial year, AP reports.
The increased threat of international terrorism requires new forms of co-operation among countries, he explained.
In October, the Vatican joined Interpol, the world's largest police co-operation organisation. The city-state's gendarmes have been attending meetings of the Organisation for Security and Co-operation in Europe since 2006, he added.
Joining Eurojust would be another "important step" in the fight against terrorism, both at home and abroad, Mr Picardi argued.
The Hague-based Eurojust was established in 2002 and includes senior investigators and prosecutors from each EU member state. In 2007, the European Commission proposed legislation for increasing the powers of Eurojust and granting member states automatic access to national databases, terrorist cases, criminal, DNA and prison records.
Eurojust is seen as a preliminary form of any future European Public Prosecutor's office, the creation of which is provided for under the Lisbon Treaty. http://euobserver.com/9/27384
That same reader made the following observations and comments:
Vatican preparing for the coming Inquisition…
The real meaning behind the news…hunting down heretics and dragging them before tribunals involves police and Judicial powers.  That is why the Vatican joined Interpol, the world's largest police organization and Eurojust, the EU prosecutor's office.
I would add that before becoming Pope Benedict XVI, Joseph Ratzinger was the leader of the office that used to head up the inquisition.
I should also add that we in the Living Church of God do teach that persecution is coming.  And we believe that much of it will be due to misguided ones affiliated with what will later come out of the Vatican.
Some articles of related interest may include:
Persecutions by Church and State This article documents some that have occurred against those associated with the COGs and some prophesied to occur.
Which Is Faithful: The Roman Catholic Church or the Living Church of God? Do you know that both groups shared a lot of the earliest teachings? Do you know which church changed? Do you know which group is most faithful to the teachings of the apostolic church? Which group best represents true Christianity? This documented article answers those questions. Português: Qual é fiel: A igreja católica romana ou a igreja viva do deus? Tambien Español: Cuál es fiel: ¿La iglesia católica romana o La Iglesia del Dios Viviente? Auch: Deutsch: Welches zuverlässig ist: Die Römisch-katholische Kirche oder die lebende Kirche von Gott?
Apostolic Succession What really happened? Did structure and beliefs change? Are many of the widely-held current understandings of this even possible? Did you know that Catholic scholars really do not believe that several of the claimed "apostolic sees" of the Orthodox have apostolic succession–despite the fact that the current pontiff himself seems to wish to ignore this view?  Is there actually a true church that has ties to any of the apostles that is not part of the Catholic or Orthodox churches?  Read this article if you truly are interested in the truth on this matter!