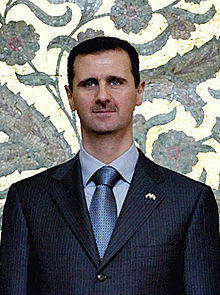 Syria's President Bashar al-Assad (Source: Agência Brasil, Wikipedia)
Syria is in the news on several militaristic fronts today:
May 30, 2103

.

"Syria has received the first shipment of Russian anti-aircraft S-300 rockets," Al-Manar quoted Assad as saying. The Syrian leader added: "All our agreements with Russia will be implemented and parts of them have already been implemented."…

May 30, 2013

Lebanese Hezbollah media is quoting Syrian President Bashar al-Assad as saying the first shipment of an advanced Russian air defense system has been delivered to his country.Assad's comments were released Thursday by Al-Manar, a Lebanese media outlet owned by the pro-Assad militant group Hezbollah.There was no independent verification or Russian comment. But if confirmed, the delivery of the sophisticated S-300 anti-aircraft missiles would represent a major upgrade to Syria's air defenses.Syria's ally Russia has promised to go ahead with the long-delayed sale of the missiles, saying it would help prevent intervention by foreign forces.There was no public comment from Israel, where defense chief Moshe Yaalon suggested this week that Israel may take out the S-300s if they are delivered.Israel is concerned its airspace could be within the range of the surface-to-air missiles. It could also limit its ability to carry out airstrikes in Syria to stop weapons shipments bound for Hezbollah.

Analysts say the flow of additional weapons into Syria could complicate the U.S.- and Russian-proposed peace talks aimed at ending the 26-month conflict.  http://www.voanews.com/content/un-chief-progess-slow-on-syria-peace-talks/1671183.html
Israel allegedly has plans to eliminate Syria if these Russian supplied missiles are used (see Israel allegedly tells Russia it will bring down the Syrian Assad Regime if attacked).  It has also indicated that it may simply decide to eliminate those missiles before they could be used.
It is not just the arrival (or suspected arrival) of missiles that are complicating peace talks.  Europe is sending some military support to the Syrian opposition, who wants the equipment immediately. Notice the following three headlines:
Some in also Europe have concerns about what this means for the EU (see EU official seemingly blaming UK for making 'peace organisation' EU a warring organization because of Syria).
Furthermore, the Syrian National Coalition (SNC), the leading opposition group in Syria, stated that it will not participate in them anyway until Assad is gone or says he will leave:
May 30, 2013

ISTANBUL: Syria's main opposition group said Thursday it will not take part in proposed US-Russia peace talks while key allies of President Bashar al-Assad's regime are waging war alongside government forces.

"The National Coalition will not take part in any international conference or any such efforts so long as the militias of Iran and Hezbollah continue their invasion of Syria," the opposition's acting chief George Sabra told reporters in Istanbul…

Government troops and Hezbollah fighters have been battling for more than a week to retake Qusayr from rebel hands.

Rebel sources say the army has also made new advances east of Damascus in the past week, in a bid to crush the rebellion there.  http://www.dailystar.com.lb/News/Middle-East/2013/May-30/218903-syria-opposition-says-no-peace-talks-until-hezbollah-iran-halt-invasion.ashx#ixzz2UmaXxkLj

May 30, 2013

Syria's opposition is demanding a deadline for Bashar al-Assad to leave power if it is to attend proposed international peace talks.

Meeting in Istanbul Wednesday, opposition leaders say they want "binding international guarantees," including what they call the "removal of the head of the regime" and its military command.

Syrian Foreign Minister Walid al-Mollem says the Assad government is willing to attend the talks with no preconditions.

Plans for the U.S.-Russian sponsored conference are still not firm. Russia is demanding that Iran be allowed to come, which France says it is unacceptable. It is also not clear who will represent the Syrian government and the opposition is in disarray, with separate groups inside and outside Syria clashing over leadership.  http://www.voanews.com/content/syrian-opposition-demands-assad-departure/1671239.html
Since the Bible suggests that Syria will support the coming final King of the South (Daniel 11:40-43; Ezekiel 30:1-8), a change in or from the Assad regime will be necessary for this to happen–and it will come to pass. Syria's Assad will either change, break his prior public commitment to not step down or go into exile, or die. He will not keep Syria as he has forever.
The military situation in Syria will intensify.
More trouble is coming to Syria. Damascus (Syria's capital) will be destroyed:
1 The burden against Damascus.

"Behold, Damascus will cease from being a city,
And it will be a ruinous heap. (Isaiah 17:1).
Damascus will be destroyed and Syria will change.
An Islamic confederation that will include the land of Syria is coming (Daniel 11:40-43; Ezekiel 30:1-8; Psalm 83:4-8) is coming. Russian missiles and possible peace talks will not change that.
"And what I say to you, I say to all: Watch!" (Mark 13:37).
Some articles of possibly related interest may include:
Is There A Future King of the South? Some no longer believe there needs to be. Might Egypt, Islam, Iran, Arabs, or Ethiopia be involved? Might this King be called the Mahdi? What does the Bible say?
The Arab and Islamic World In the Bible, History, and Prophecy The Bible discusses the origins of the Arab world and discusses the Middle East in prophecy. What is ahead for the Middle East and those who follow Islam? What about the Imam Mahdi? What lies ahead for Turkey, Iran, and the other non-Arabic Muslims?
Damascus and Syria in Prophecy Will Bashar Assad hold power as he has it? Does the Bible show that Damascus, the capital of Syria, will be destroyed? What will happen to Syria? Will the Syrians support the final King of the South that the Bible tells will rise up? Which scriptures discuss the rise and fall of an Arabic confederation? Does Islamic prophecy predict the destruction of Syria.
The Muslim Brotherhood and the Rise of the King of the South The Bible tells of the formation of a power of nations that are in the Middle East and North Africa that are part of the final "King of the South" (Daniel 11:40-43) The Muslim Brotherhood wishes to have an Islamic empire with basically the same nations. This YouTube video explains what to expect from such a confederation.
Is There an Islamic Antichrist? Is Joel Richardson correct that the final Antichrist will be Islamic and not European? Find out.
Jerusalem: Past, Present, and Future What does the Bible say about Jerusalem and its future? Is Jerusalem going to be divided and eliminated? Is Jesus returning to the area of Jerusalem? There is also a related YouTube video you can watch titled Jerusalem To be divided and eliminated.
Anglo – America in Prophecy & the Lost Tribes of Israel Are the Americans, Canadians, English, Scottish, Welsh, Australians, Anglo (non-Dutch) Southern Africans, and New Zealanders descendants of Joseph? Where are the lost ten-tribes of Israel? Who are the lost tribes of Israel? What will happen to Jerusalem and the Jews in Israel? Will God punish the U.S.A., Canada, United Kingdom, and other Anglo nations? Why might God allow them to be punished first?
Russia: Its Origins and Prophesied Future Russia in prophecy. Where do the Russians come from? What about those in the Ukraine? What is prophesied for Russia and its allies? What will they do to the Europeans that supported the Beast in the end?
Is Russia the King of the North? Some claim it is. But what does the Bible teach? Here is a link to a video, also titled Is Russia the King of the North?